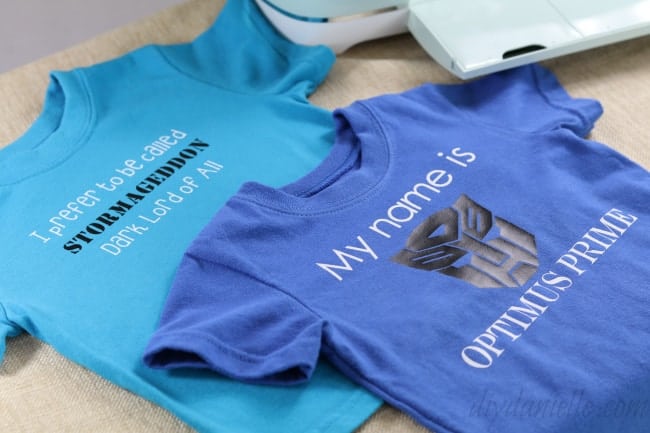 How to design a geeky gender reveal with the Cricut Air 2 in Design Space.
This post may contain affiliate links which may earn me commissions should you click through them and take certain actions. As an affiliate for Amazon, Cricut, xTool, Home Depot, and other sites, I earn from qualifying purchases. Please DIY carefully. View my full legal disclosures here.
Please read the whole post so you don't miss any important information!
This post was sponsored by Cricut. This blog is not associated with Hasbro or the BBC, or any of their affiliates. Tutorial is for personal use only.
As those of you who follow my blog may be aware, I am pregnant with our third baby. My oldest two sons are really into The Rescue Bots which is a cartoon based off the Transformers and tailored more towards young children. It's such a cute show.
My 3 year old is particularly obsessed and it's become the running joke in our home that this baby is either a Baby Optimus Prime or a Baby Quick Shadow. This poor kid will probably expect the baby to transform when he's born, but I thought it'd be cute to reveal the baby's gender with some Rescue Bots/Transformers references.
I used my Cricut Air 2 and Design Space to put the logo for Rescue Bots/Transformers on the shirt. This was super easy. I also made a Doctor Who themed shirt because we're huge geeks and love allllll the geeky stuff. If you haven't read the post yet, make sure to check out my post, "What is the Cricut Air 2" to see all of the neat features and accessories you can get for it, as well as the supplies you may want to pick up.
Supplies
Shirt in the size of your choice: I had a couple of larger blank shirts that I used.
Iron
Piece of scrap fabric
Use the Discount Code DIYDANIELLE on cricut.com for 10% off any cutting machine or heatpress (no minimum). Excludes: materials/accessories/mystery boxes/etc. Applies to US/CA only, code expires 12/31/23.
DIY Geeky Baby Shirts for Our Gender Reveal
I was really nervous about trying to put the logo on the shirt because it wasn't something I could purchase on the Cricut library. I've seen people talk about how they "trace" an internet image with the Silhouette software and it sounded really complicated and time consuming. I'm a lazy crafter so this didn't appeal to me.
I was nervous to try it on the Cricut, particularly as I'm new to the software, but wow. It was so simple to figure out because the Design Studio walks you through it all.
First, you need to find an image to use. Something with very clear color differentiation is easier. This image is black on white which makes it super easy to do. I uploaded it to my Cricut project and chose "Simple image." If you have a more complicated image, you'll need to adjust accordingly.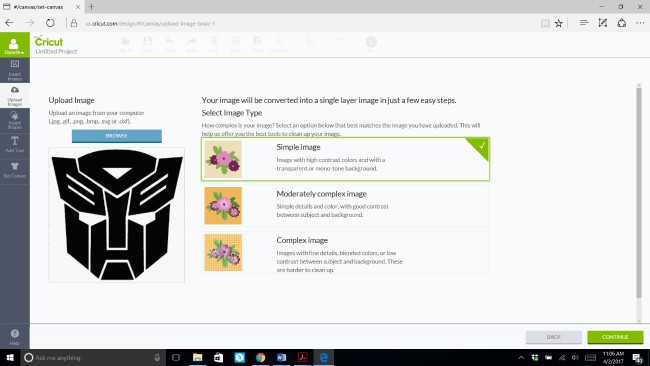 The system will then cue you to erase the parts you don't want. I erased the white background.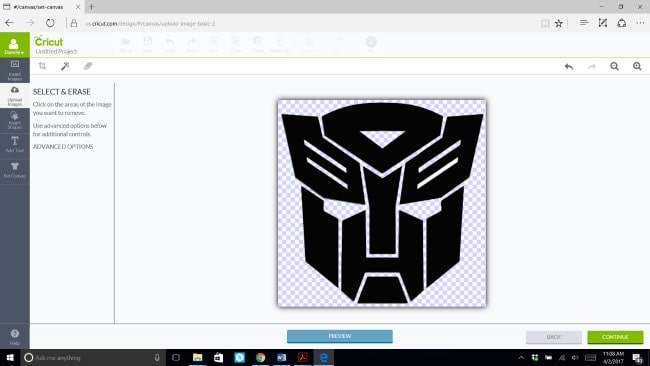 "Continue" and it will allow you to place the image on your project. Then I just added my text around it. I like to mess around with the fonts and mix them up. I have found that certain fonts and sizes are easier to weed than others.
The program allows you to choose the size of your shirt and place it like it's on a shirt. It's a pretty neat feature, even though it prints out normally when you go to print. I try to squish my lines together to use the least amount of HTV then just cut and place them separate on the shirt once I'm done.
Once you print the image and words, you'll weed it. To "weed" vinyl means you pull away all of the excess vinyl that isn't part of the design. You have to be pretty careful, particularly for some designs. The logo was easy, the lettering was not so easy. Don't lose the dots to your i's. They're sneaky.
Then you'll want to place them on the shirt, exactly how you want it to appear.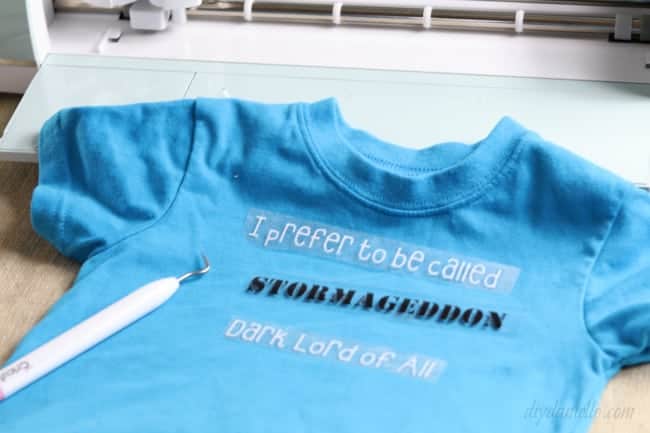 I place my shirt on a table, covered in a piece of fabric to protect it (be careful not to damage your table with the heat. My table is pretty beat up). You can iron this on an ironing board, but I've found that the firmer the surface, the better. My ironing board has a padded surface and I can't quite get the vinyl to stick if I use it for iron on vinyl.
Cover your shirt and design with a piece of scrap fabric. Using a hot iron, press down hard and hold for a few seconds. I will put as much of my weight as possible on it… just to give you an idea how hard I press. Don't hurt yourself… that's the other reason I don't use my ironing board, it collapses on me. Yes, I did find that out the hard way.
I usually do a quick check to see if the HTV is fully attached, then I'll repeat if it comes up when I pull up an edge of the clear plastic backing.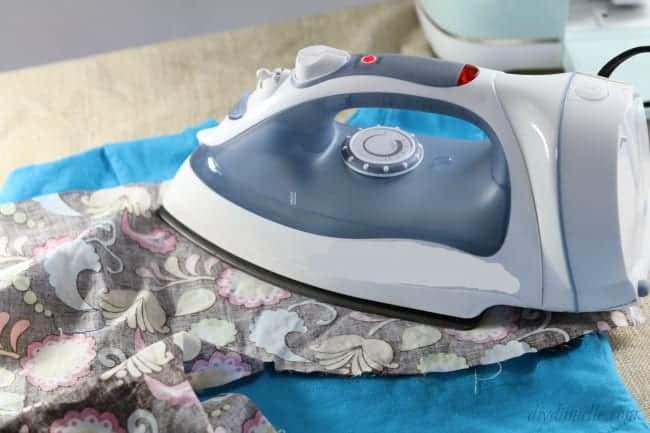 Once the HTV is attached, you can pull up the backing and it's done. Pull it up slowly to make sure everything is attached… that way you can put it back down and repress if needed.
Very, very simple. Make sure to save scraps of HTV that look big enough for a design. Even small squares work for monograms on small items.
For those who really want to make a business of designing shirts using HTV, a heat press is a good purchase and apparently makes this process a lot easier. I don't own one… yet. We'll see how addicting shirt making is before I make that investment.
Useful Features of the Cricut Air 2
Now I wanted to mention how much I like the Cricut Air 2's setup. It was designed to make things easier for the user and to reduce waste. For example, it's a common mistake to forget to flip the image when printing on heat transfer vinyl. A very expensive mistake. This is what popped up when I forgot to flip my image (also remember that the HTV needs to be face down on your mat):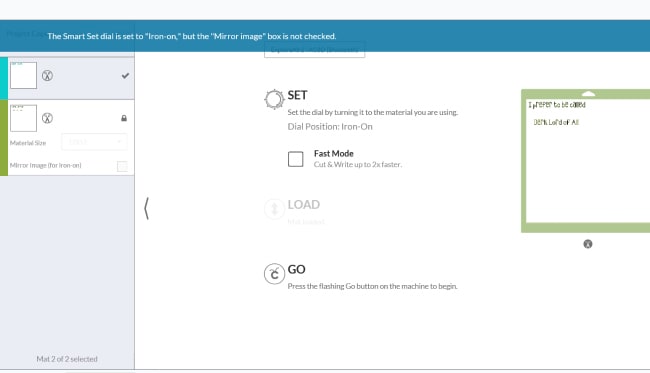 Obviously it's not absolutely fool proof, but the warning is nice.
I'm really excited to work on some more geek attire for baby boy now. This was so quick and easy… it's the perfect project for when I feel a bit "meh" during pregnancy and want to do a little crafting, but can't really manage much.
I own an embroidery machine that has just been sitting there because it's so complicated and I hated destroying shirts. This machine is such a game changer… I may sell the embroidery machine because it is just sooooo unnecessarily difficult and requires way too much supervision. I also like that you can even remove heat transfer vinyl from shirts and other items with a special product… this allows me to customize something, then remove the vinyl if I mess up or if we want to donate the shirt after it's been outgrown. Embroidering a name on a shirt is FOREVER.
If you love this post, check out How to Decorate the Cricut Air 2.
Please share and pin this post!