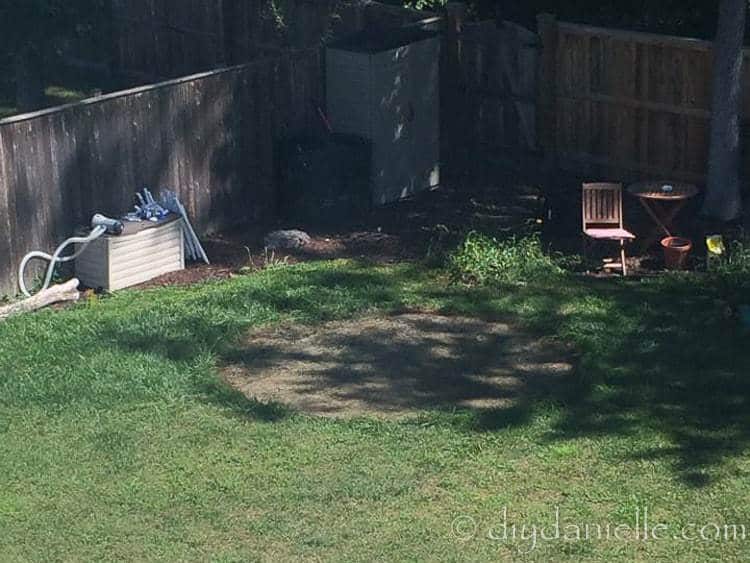 Simple landscaping idea for the dead grass or 'crop circle' left by an above ground pool. This easy fix is affordable and is perfect for the off season.
This post contains affiliate links. If you use these links to make a purchase, I may receive a commission. This does not affect the price of your purchase. Thank you.
Every year we put up an above ground pool that our boys can swim in… we weren't ready for them to have a deep pool (or an in ground pool), but this shallow pool setup is just big enough for them to swim in and still be able to touch the bottom. In the Fall, we take it down and unfortunately we're left with a big messy 'crop circle' that just isn't attractive.
You have a few options for the area.
Option One: Fix the Grass
If your area is similar to ours, the grass is completely dead. If you don't plan to put the pool up in the same location next year, you may want your grass to come back.
Unfortunately you can't 'revive' dead things. Sorry.
Instead, you could purchase sod to place in the circle or you can aerate the soil, then reseed. Keep it watered and you'll hopefully have new grass growing by next year.
We've been attempting to do this between seasons, but it's not realistic in Maryland weather to grow the grass back…. then to just kill it again by placing the pool back. We found that it took quite some time for the grass to thicken, even if you can see sprouts earlier on.
Option Two: Landscape the Dead Area
This year we were selling our home and I was struggling to figure out what to do with the dead spot. Either we had to buy sod… which was expensive and REALLY gross at the store due to the excessive amount of rain we got this year (it seemed like it was melted together, yuck). Or we needed to seed it.
My realtor suggested a different option- making the area look intentional. I was so thrilled. It was such a simple way to fix the circle and if we were planning to stay in this house, I could easily put the pool back each year without destroying any hard work.
The first thing we did was move our swing into the circle and center it towards the back.
I added bricks along the back edge of the circle because the rain flows down my lawn and I didn't want mulch to flow out of the area. Have I mentioned how bad the rain has been? It's been INSANE this year.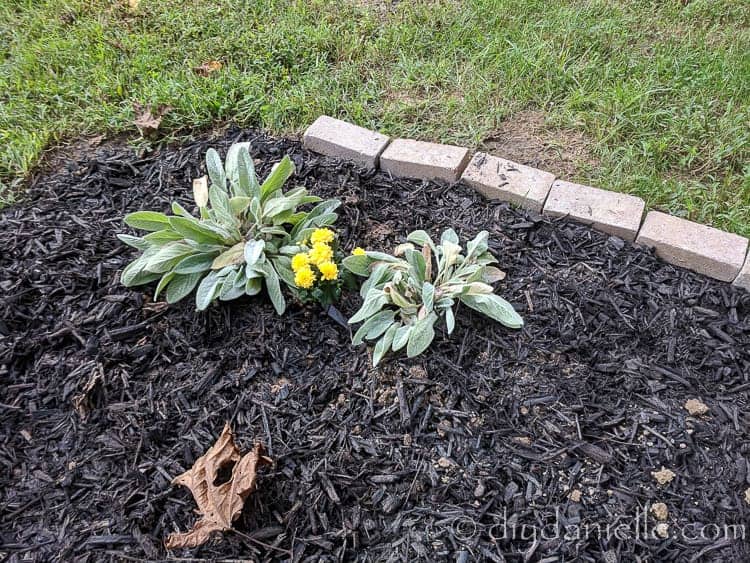 Next I bought 6-8 bags of mulch to place in the area. I spread it around the whole circle.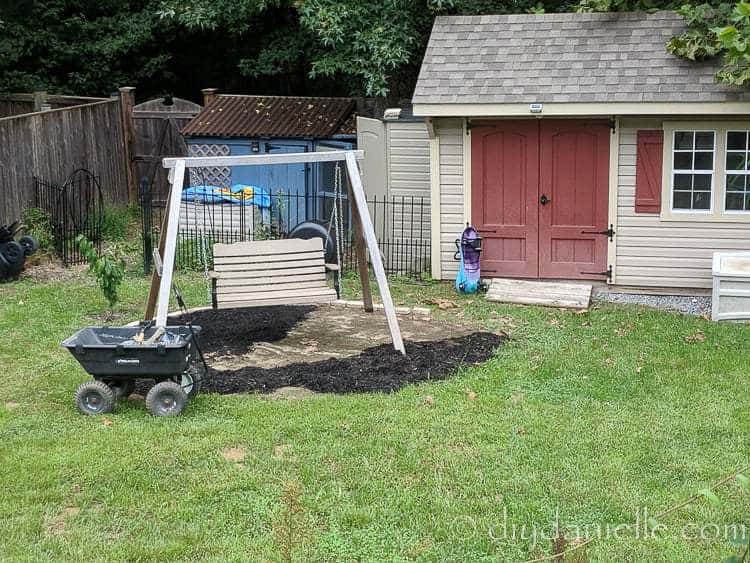 After that, I added a few $0.50 mums that I bought at the store. I also transplanted some lambs ear from my side rain garden. The lambs ear tends to take over so there's plenty to transplant without worrying about ruining the look of my front garden. I also wouldn't be terribly frustrated if it died over the winter because of the late transplant (although 'lambs ear finds a way' could be this plant's motto)… after all, it's free and there's more of where it came from.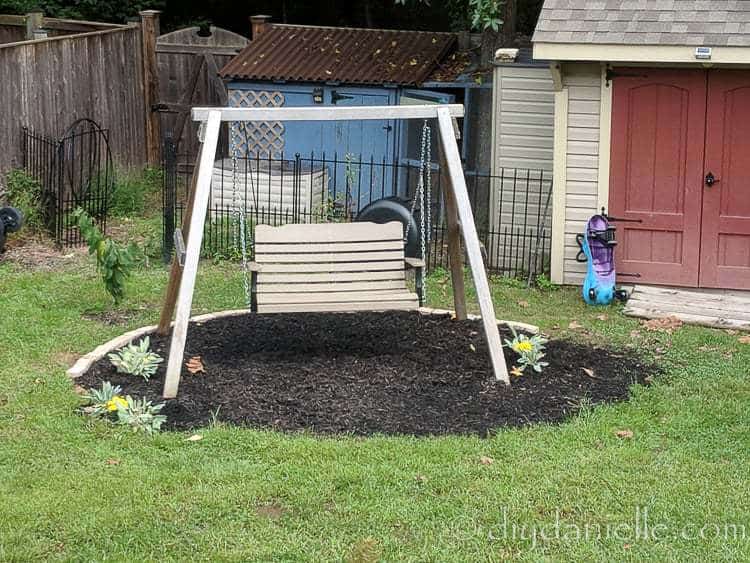 Replacing the Pool for the Following Year
Here's how I would deal with the pool circle next year, if we were still living here.
I would rake up all of the mulch and use it in my other garden beds to reduce the costs of mulch in the spring. I'm not hung up on the color being perfect so this would work for me. I'd dig up the plants, assuming they were still alive, and transplant to other areas.
Then I could lay my tarp down under my pool again for the year, killing any weeds, and place my pool again.
Super easy.
What do you think? How do you deal with the 'pool crop circle?'
More landscaping ideas on DIYDanielle
Red Barn Rock Landscaping Ideas | Pond Setup | Gifts to Make from Your Garden | Fun Outdoor Kids Spaces | Privacy Planters with Trellis
Please pin this!