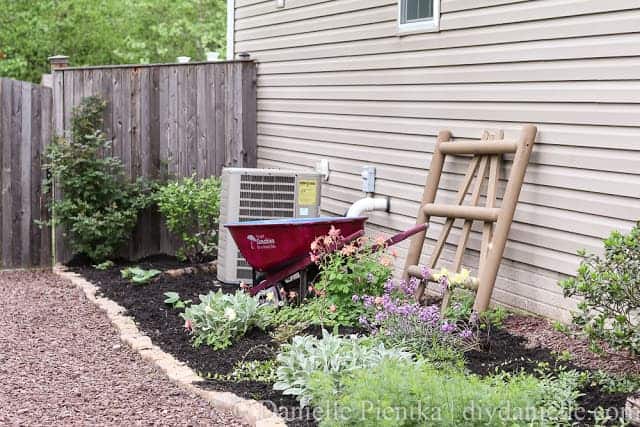 How to landscape and create a path and garden that can cut down on mud and soak up excess water to prevent flooding in your yard.
This post may contain affiliate links which may earn me commissions should you click through them and take certain actions. As an affiliate for Amazon, Cricut, xTool, Home Depot, and other sites, I earn from qualifying purchases. Please DIY carefully. View my full legal disclosures here.
Please read the whole post so you don't miss any important information!
We have a path going out to our backyard and the area, previously grass, was worn down from wear and tear over time. This is made worse by our neighbor's pipes that are supposed to transport sump pump water to the drains on the street; this continues to break and drain into our yard. The grass in that zone is very green, but it's soggy and the path gets muddy. It's been over two years that it's been an issue, and so far nobody has fixed it so I decided to just landscape the area in our favor. When life gives you lemons, make lemonade?
This is the "before" picture of the space… it makes me chuckle to see the path of green.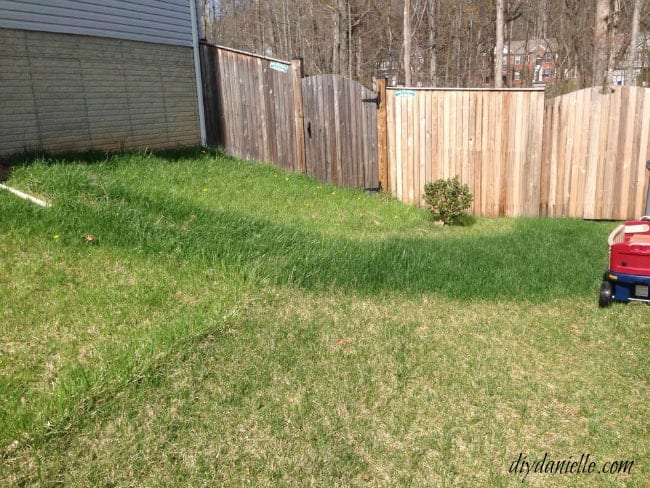 Rain gardens are made up of plants that love a good drink of water, but can survive if they don't get it too. Our garden isn't really the traditional rain garden in the sense that we didn't dig out areas that are different levels for different varieties of plants and it's not completely full yet. I just tried to be mindful of what type of plants I was adding along that particular garden bed. I need to still add more plants, but it was so expensive to do this landscaping project that I didn't want to go crazy all at once.
Here's a photo of the garden path when I originally began it… you can see the wear and tear near the gate entrance.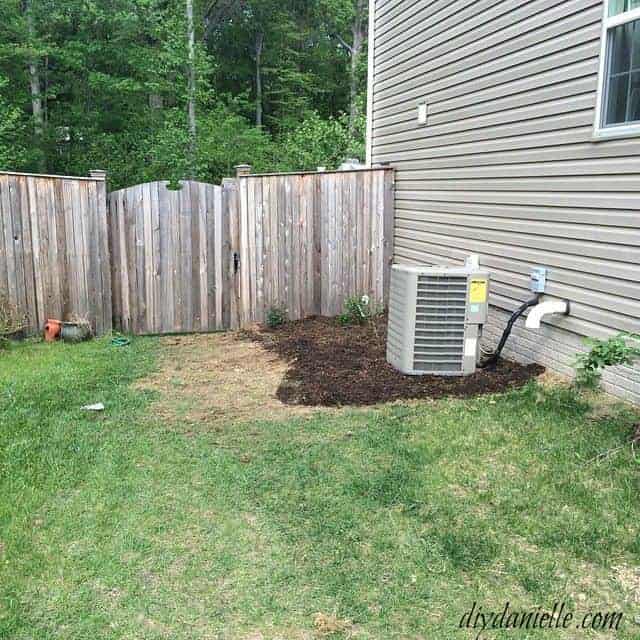 Now I started this post back in 2015 when I put in this garden. It's taken me two years to finally finish the post and get some good photos. I would get it mostly done… then get distracted with something else… or the weeds would grow in… and then I wouldn't get it all mulched and weeded the same week to take photos. GAH! I was hoping to get our other garden finished too so I could take a picture of the whole front of our house, but alas… I ran out of mulch doing just this garden (for my future reference, I need 14 bags of mulch for just the side garden).
But I am patting myself on the back because I finished it up at 23 weeks pregnant, and originally laid the rock (2 years ago) with two little boys "helping."
First, let me share some of the other posts that I created around this whole project.
To see how I created the garden beds, I used the tiller we purchased and that I wrote about in the post Easy Garden Bed Creation
The wheelbarrow project can be found in my Wheelbarrow Planter post
We ordered too much stone when we calculated the amount for the path so I wrote a post about what we did with the rest of the rock. This post is about adding a stone barrier around our foundation. It was supposed to help keep water away from the foundation of the house and hopefully prevent ants. Not sure if it's worked, but it hasn't hurt.
If you're wondering, I would do things a bit different if I did this again. I would definitely do a solid concrete path like our new patio which I'll show you in our pond and patio post (coming soon). It would be a better weed barrier, smoother to walk on barefoot (we do so love to walk barefoot), easier to roll a wheelbarrow over, and easier to kneel on when weeding the garden.
Otherwise the garden has been great and substantially helped reduce the amount of muck and mud in our yard. We still get a lot of drainage issues along the back of the property, but I think the garden and landscaping above help prevent more from draining towards that area.
I still haven't looked into if we qualify for a tax credit in our county for installing a rain garden… ours might not qualify, but one exists. It's something to consider checking into if you're installing something similar.
Supplies
Some type of rock to lay down and bricks for the border
Landscaping fabric
Soil
Mulch
Plants: Preferably ones that come back each year. You want a mix of high and low plants throughout, and all plants should be happy with wet soil. Ideally you want native plants to your area as well.
Tiller
How to Create Your Rain Garden & Path
We started this all by tilling the soil for the area. If I did this again, I would also till in composted materials (or just quality soil from the store) to the soil used in the garden areas. I used the natural soil which has been okay, but the plants would do so much better if I'd added something extra in. We laid landscaping fabric through the whole area, including the path. I took the bricks and laid them out to line the path. This allowed me to easily see and adjust the path as we added the loose red rock.
Once we added that, we added our plants. I recommend trying to get a good mix of plants that come back yearly and that range from tall (along the fence) to low. I seem to have gotten a lot of lower plants and I added a few thing year that should grow taller and add more interest in height. The side of my house is pretty boring.
When planting the plants, I cut an "X" in the landscape fabric, planting each flower in its own spot, then covering with mulch. The whole area was eventually mulched. I used natural rocks and wood that I found while tilling to help add interest in the garden. I love how this old log looks (below) and it's a convenient crutch for these flowers which were falling over.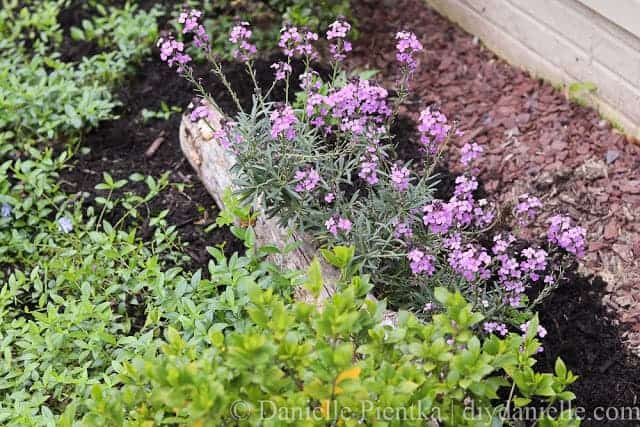 I upcycled an old wagon to use as a planter in the garden as well. The wheel had given out and proved too difficult to repair so I spray painted the metal, added holes for drainage, added soil and seeds.
I like to grow lettuce in this. If it gets too sunny in that area, I can relocate the wheelbarrow (it sort of moves) to a shadier spot so the lettuce won't bolt.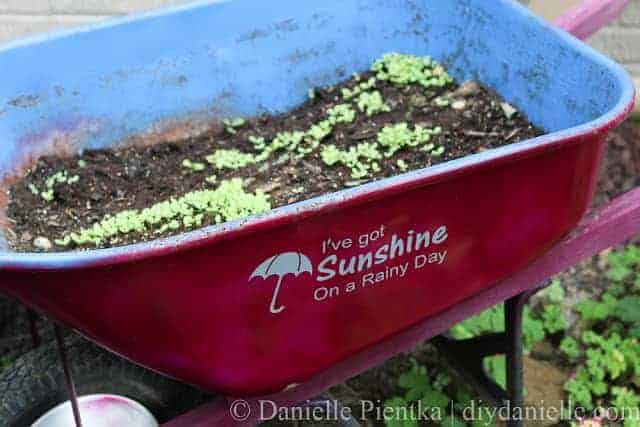 I need to eventually add some more decorative flowers to the other side of the garden… it seems like I put all my pretties on one side. The left side is looking a bit boring. I'd love to add some more colors to it. Of course, it may be more colorful later on in the season. The lamb's ears (if I'm getting the name right) do have a pretty purple bloom. My friend Nena gave those to me as her garden was overgrown with them and I love them.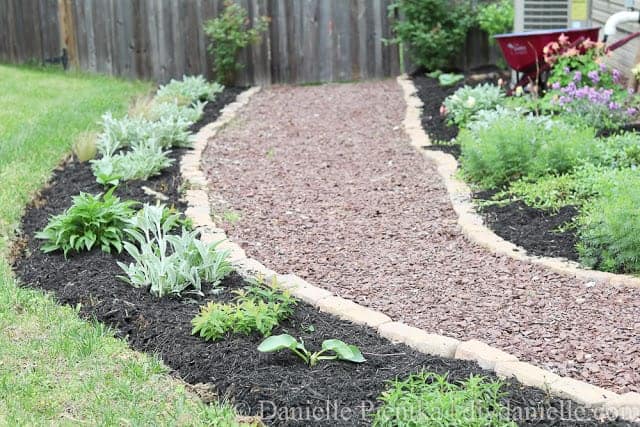 Here's a few of the garden from the back gate. I need to spread out some of the plant love to other areas at some point. That middle portion has really taken off. Lots of prettiness.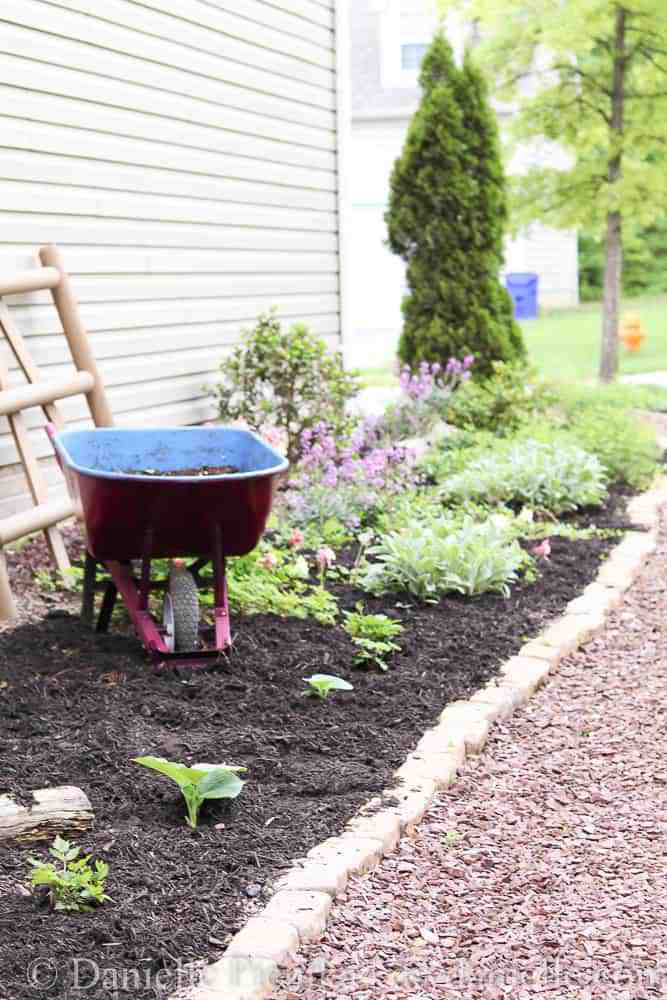 Here's another picture of the wheelbarrow. Someone was giving away that gate a while back so I grabbed it, hauled it home, and stained it. I think I should probably try a different color, but I haven't been motivated enough to redo it. Someday.
I've been told a bulk of the flowering plants in this zone are columbine… which I'm fairly sure I didn't plant, but I love. I'm a big fan of any native plants that are pretty and grow into my garden. They get to stay.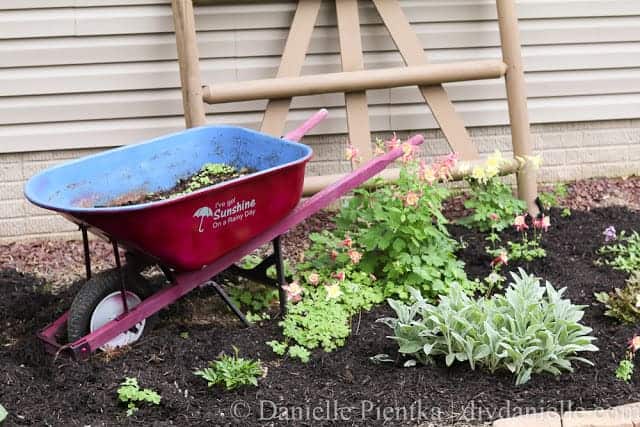 I desperately tried to get a good shot of the entire garden, but had to do a substantial amount of moving and cropping so alas… it's not quite the full glory. But you get the idea.
The two plants surrounding the gate at the end of the path are knockout roses. They've started to go a bit crazy and I'm hoping to add a archway trellis this summer. I tried to buy one, but couldn't find the right width so alas… building one it is.
Tucked away behind the HVAC are two blueberry bushes.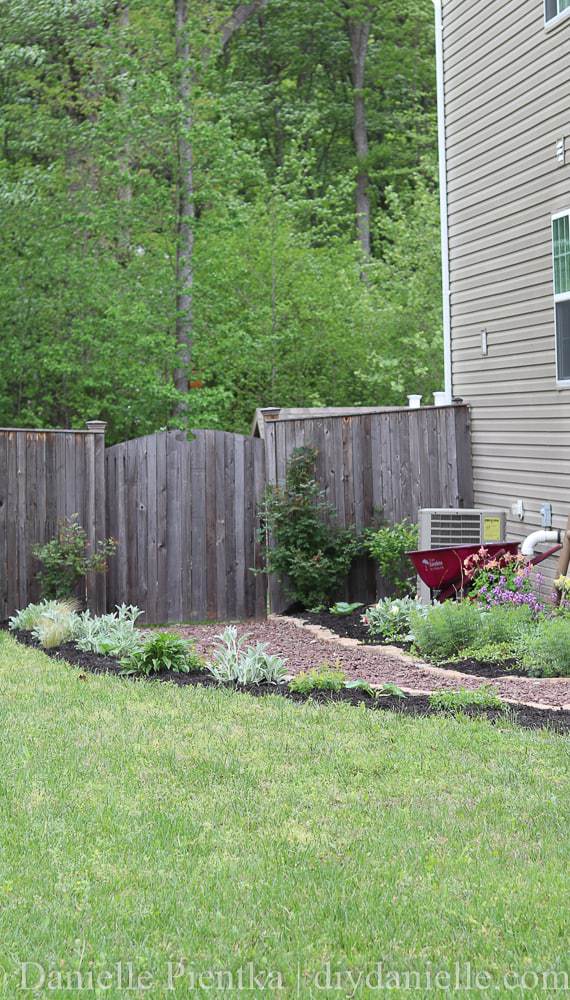 Any suggestions for good additions to the garden? I am always looking for new plants to add… we're in Maryland though and try to stick with perennials (because everything else is expensive to replace yearly!).
Please share and pin this post!