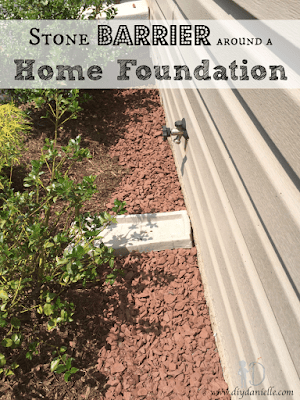 Creating a stone barrier around a home foundation. Instructions and ideas to add the rock and to direct water drainage away from your home.
I ordered tons of stone… literally 3 tons… for our path out to the backyard and apparently I overestimated. We had a LOT left and it was all sitting on our driveway so we needed ideas QUICK. My husband had the idea to line around our foundation with it. This would create a barrier around the house to keep the grass away from it, and a barrier between to garden's mulch as well.
The benefit, we hoped, would be to keep the ants' nests away from the foundation. We've been getting a lot of ants inside our house and it's driving me nuts.

The other thing I decided to add after looking around some online forums was pond liner. I cut it into strips to lay around the house, laying the rock over it. This prevents (hopefully) water from seeping into the house right at the foundation base.
To make sure this worked as intended, I curled up the edge of the pond liner (see video) so it wasn't curving down back towards the house.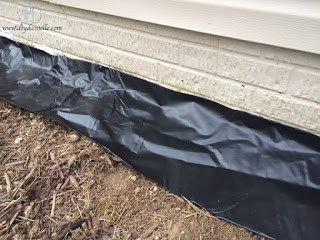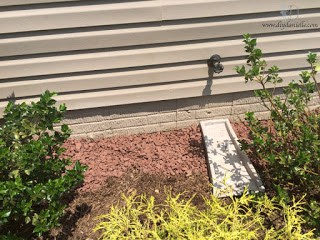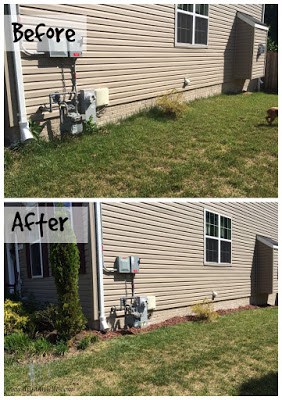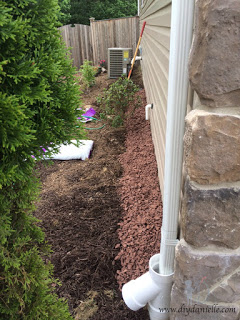 For more ways to use this stone, check out my post:
Projects for 3 Tons of Red Barn Rock.