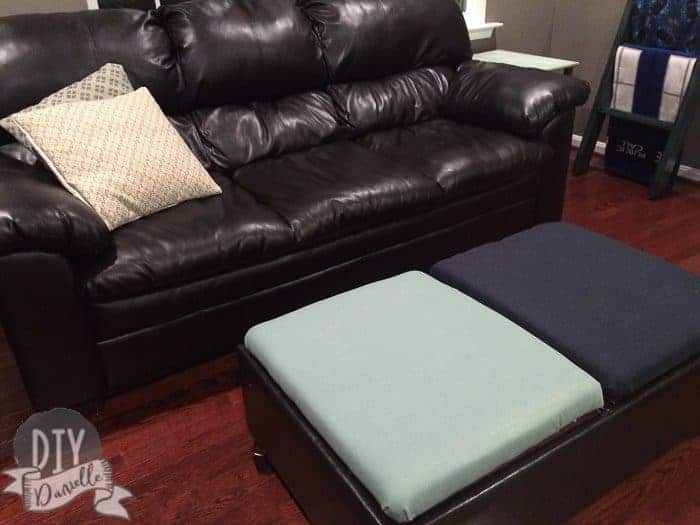 How to reupholster a leather storage ottoman if the leather is scratched and cracked.
This post may contain affiliate links which may earn me commissions should you click through them and take certain actions. As an affiliate for Amazon, Cricut, xTool, Home Depot, and other sites, I earn from qualifying purchases. Please DIY carefully. View my full legal disclosures here.
Please read the whole post so you don't miss any important information!
Post updated August 17, 2019
Our leather storage ottoman has been considerably beat up for a very long time. I used to have two cats who liked to sharpen their claws on it, and then I had two dogs and two toddlers. I wrote a post back when I first started blogging about repairing the leather; it helped, but it certainly didn't fix it to be like new again. And again, time passed and the kids beat up on this thing further so it's sort of an eye sore.
Fortunately, I discovered that it was pretty easy to pull off the top of this ottoman, remove the leather fabric on the top, and replace it.
I had the perfect fabric for replacing the leather- it was the remnants from my roman shades that I made for the room. All it took was some time ripping the staples out (use a staple remover- or you can just rip the fabric up too which isn't as neat).
Reupholstering a Leather Ottoman
The problem with "leather" on "cheaper" furniture (this wasn't cheap by my definition sigh) is that the furniture maker often saves money by using a thin layer of leather over a thin inflexible fabric. This keeps the leather from naturally stretching and can cause cracking. Of course, my cats and dogs also did a lot of 'wear and tear' on this piece of furniture, but that certainly wasn't the only issue. I have learned my lesson about buying "cheap" leather and will stick with furniture that isn't leather or that has removable covers from now on.
Supplies
Staple Remover and Heavy Duty Staple Gun: This set on Amazon includes both for around $20 (prices may change)
Quality Upholstery Fabric: Outdoor fabric like Sunbrella would be excellent because it's easy to clean without washing. Old jeans or new denim could work. Or any type of upholstery fabric should work. This stuff tends to get pricey so check the bargain remnant bins at the fabric store.
Padding if needed
Removing the Leather
Your first step is to remove the leather. Assuming it's in as bad of condition as mine was, you probably won't be reusing it for another purpose. If it IS in good condition, you could be more careful removing it and reuse it for other purposes.
A heavy duty staple remover is ideal here. I am updating this post and it's been 4 years since I wrote this, but I'm pretty sure I used some scissors (and ruined them) removing these. Don't do that.
As you can see, the original upholster job had a lotttttt of staples. Time to put a nice long movie on… you CAN rip the leather up, leaving the staples in the wood, but it may make it harder to staple the new fabric down. Also… not ideal.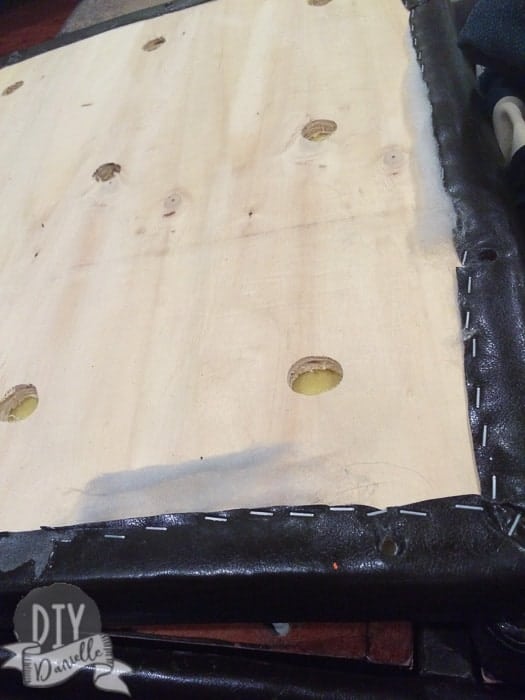 Now you need to pull the leather away. Toss or upcycle. The dog wasn't impressed.
That padding? You can keep it to reuse it (like I did), or you could replace it with new padding.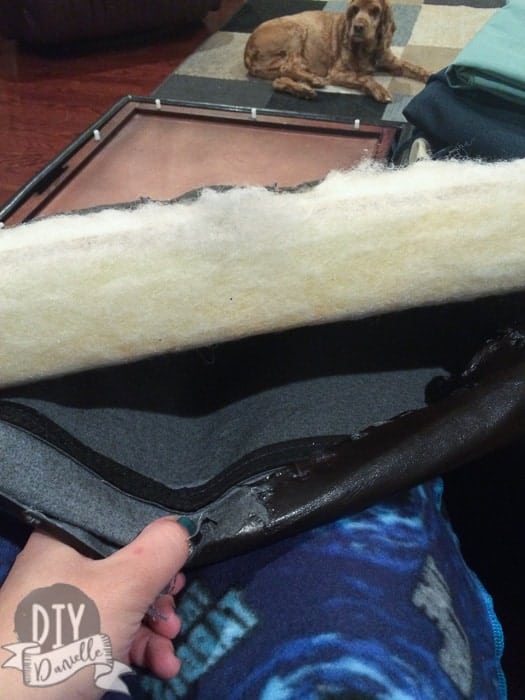 Reupholster the Ottoman Top
Now you can place your padding back down. Take your new fabric and lay it over the padding.
Start stapling the fabric at one corner, but make sure to stretch the fabric tight as you staple it to the ottoman top.
My staple job isn't pretty, but it'll do the job and nobody can see the underneath anyways.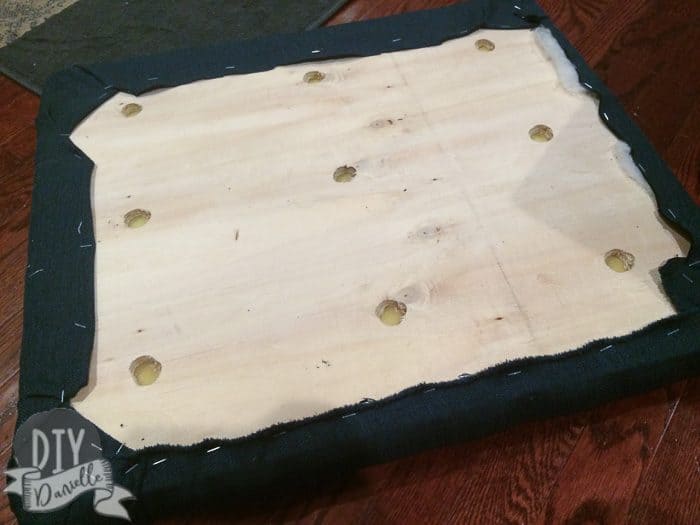 Here's a comparison between before and after…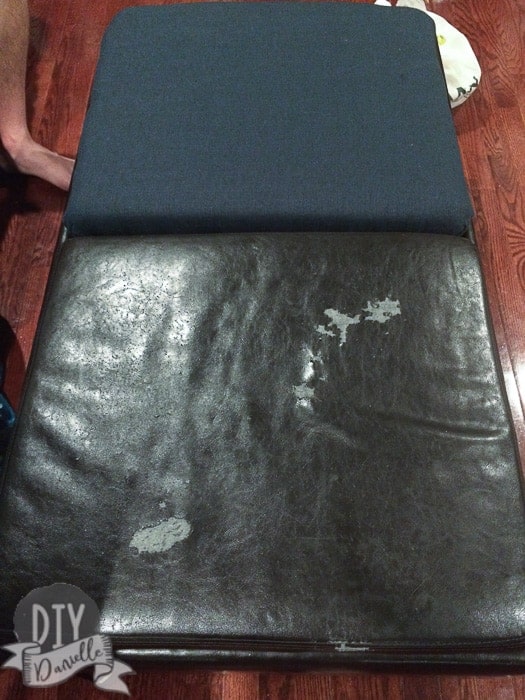 Here are some more pictures…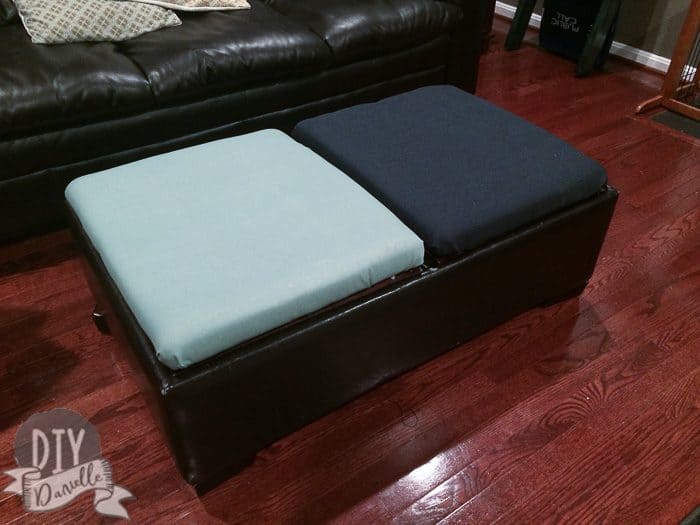 Oh yeah! Like what you see in the room?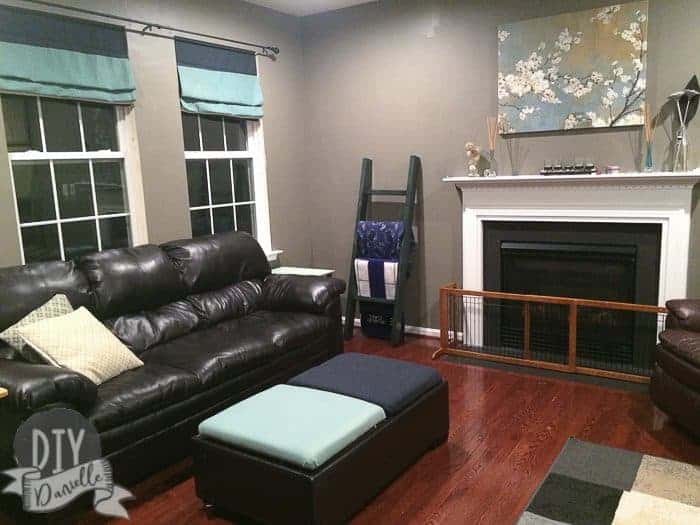 I've got a ton of DIY projects in this room… here are the links to them below:
Please share and pin this post! Thank you!