I've been very nervously eyeballing this tutorial from Freshly Handmade to make roman shades for our living room. We've got these great big windows, but our curtains don't quite match the decor and they're longer than I'd prefer.
So I'm going to let you follow the tutorial from Freshly Handmade, but I want to mention a few changes I made:
Multiple fabrics were used. See below for more information. I have to say- in retrospect- doing this is very unforgiving for any errors. And there is a lot of room for error. Using one fabric only would be much much easier.
I didn't iron my fabrics. The reason is because my best attempts failed and I don't waste time. I'm using thick upholstery fabric which is probably why I wasn't able to do it successfully (is there a trick?). If you are able to iron, definitely do it. It will make thing easier.
I didn't make my panels each evenly spaced. They're approximately the same size, but not exactly. I was trying to work around the seams of the combined fabrics
I serged around my panels one the fabrics were all pieced together, then I finished the edges by folding them over once.
A good example of how using multiple fabrics doesn't give you much room
for error. These aren't all exactly lined up if you get really particular
(like I am) and look too hard. Fortunately, they were close enough that
it's not super obvious and it doesn't show on the finished product (in my
opinion). When you sew the pieces together, you've got to be very very
careful to use the exact same seam allowance on each roman shade.
My three windows were approximately 33″ and 63″ tall. I say approximately because I measured one of them and assumed the others were the same. Huge mistake. My middle window is apparently a teeny bit smaller so we had to cut down the main piece of wood on that one. Thank goodness the fabric itself wasn't too wide. Overall, I believe my cuts of fabric were each 35.5″ wide to account for a seam allowance, and I did various lengths for each color.
I believe the light green is 25″ length, the dark blue #1 is 26″, the tan is 14″ and the dark blue #2 is 11″… it was a bit too long in the long run actually, but I double folded the bottoms when I finished them (accidentally) and it all worked out. I think the tutorial suggested 69.5″ for a length (one color only) for these size windows… if you add all those lengths up it measures 76″… but of course piecing them together requires a seam allowance so you're subtracting 1/2″ maybe for each area that fabric meets another fabric. Gosh I think. Obviously I winged this and it worked out. My math isn't great.
To note is the part where I had the MOST problems was not breaking these ridiculous dowels. I'd wonder how hard it would be to use thicker dowels. I've got to replace at least three or four now because we snapped them. And it's ALL adults who did it. My 3 year old was helping me measure and I'm telling him to be careful- just as I kneeled on one and SNAP. Ha.
Easy Shopping List Links


Below are links to the products I purchased through Amazon. I bought my fabric separately, as well as the dowels and wood. The following are affiliate links which means visiting them helps support my blog. Thank you!

Final Product
I've been trying to get some good pictures of the final product so here you go… the first two were taken right after we hung them up and it was still dark out.
These are from daytime with my DSLR which I was hoping would be better photos, but alas… so much sunlight and so hard to not have issues when you're shooting at a window.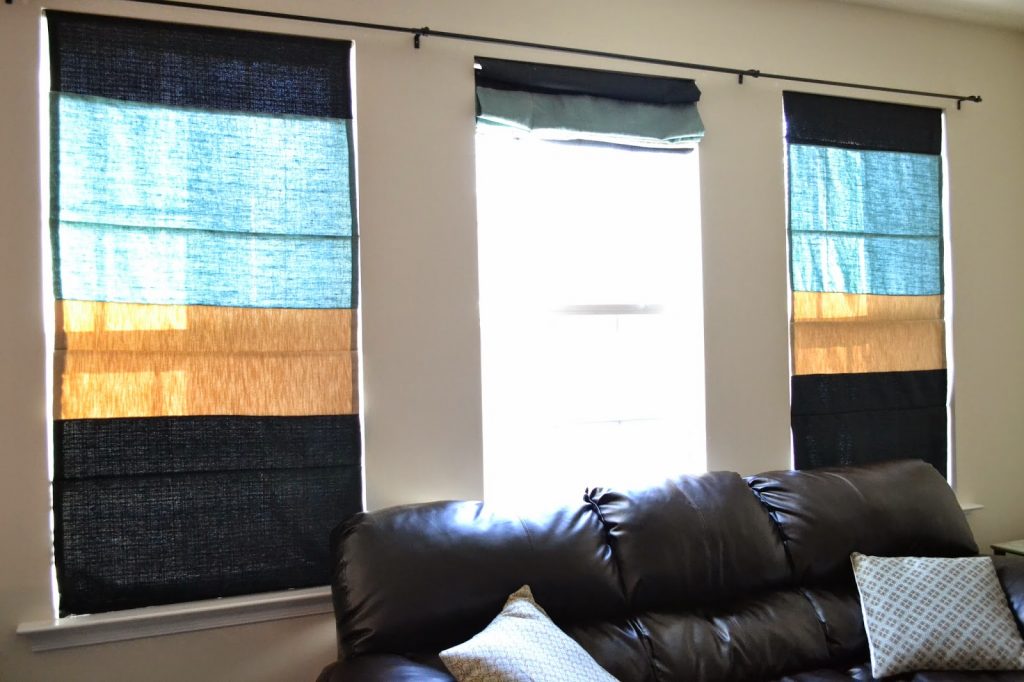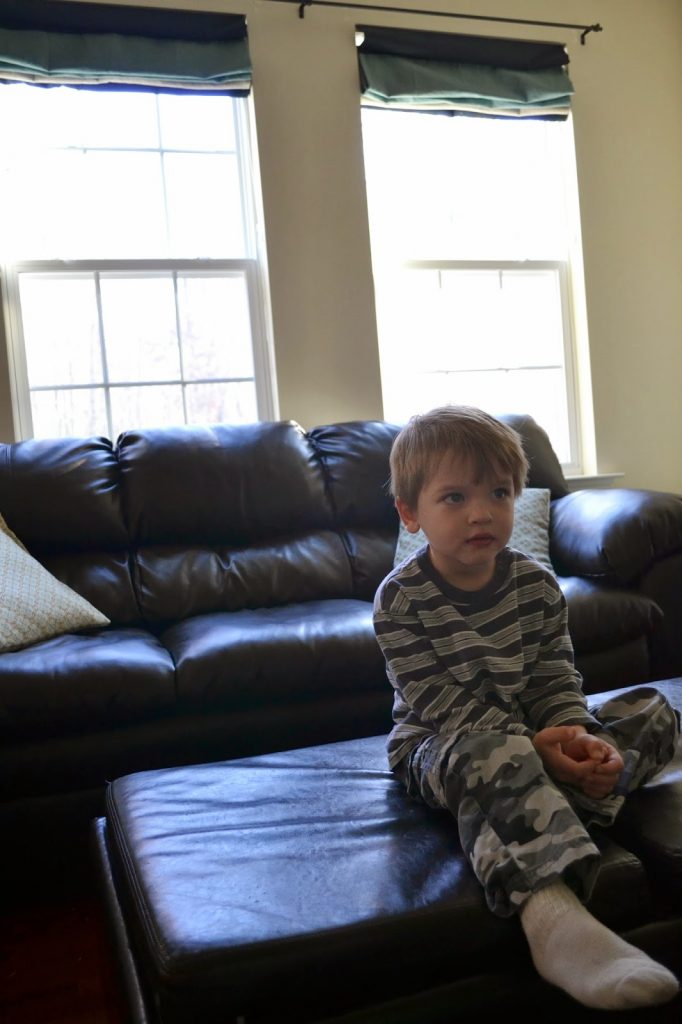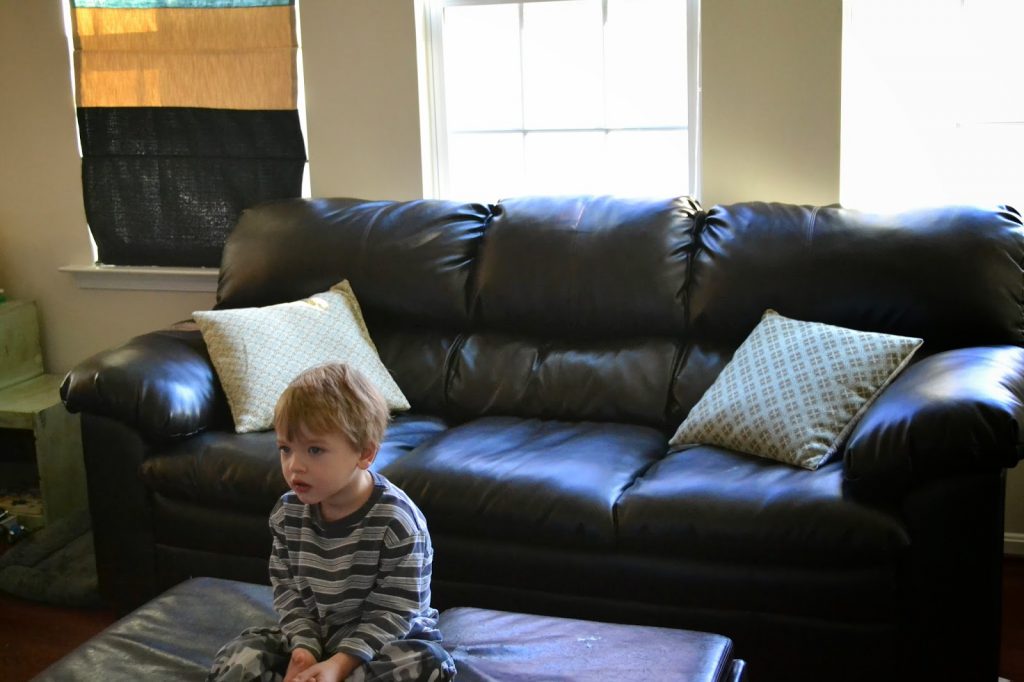 This is a good picture of the throw pillows that I wrote about previously. Excuse my child, he was absorbed in some Curious George:

Disclosure of Material Connection: Some of the links in the post above are "affiliate links." This means if you click on the link and purchase the item, I will receive an affiliate commission. Regardless, I only recommend products or services I use personally and believe will add value to my readers. I am disclosing this in accordance with the Federal Trade Commission's 16 CFR, Part 255: "Guides Concerning the Use of Endorsements and Testimonials in Advertising."