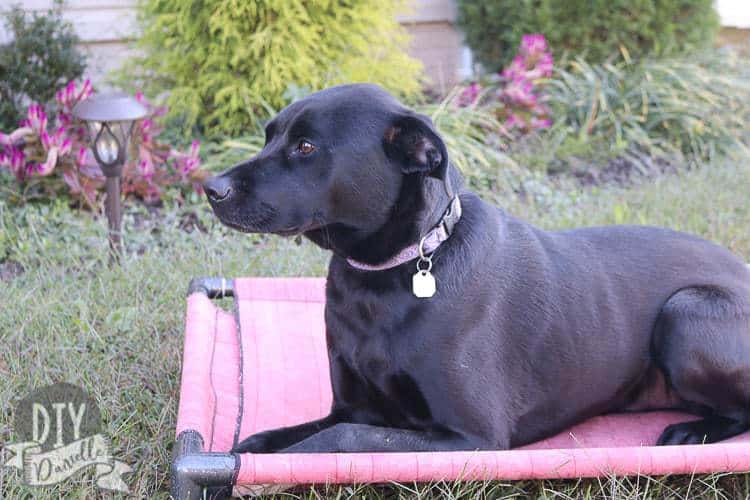 How to make a DIY Dog Bed that your pup can't chew (theoretically). These easy PVC dog beds are easy to wash!
This post contains affiliate links. If you use these links to make a purchase, I may receive a commission. This doesn't affect your price for the products. Thank you.
We have a 3 year old rescue pup, Rocky, who loves to chew his dog beds. He loves to tear them open and get the stuffing everywhere. Every few weeks, I would attempt to sew up the gaps or to recover the bed with new fabric. For a while we gave up, but then he was getting on our couch. When we bought our new couch, I decided to make him a new bed- one he COULDN'T chew.
I kept seeing these really neat PVC dog beds on Pinterest so I decided to give it a try. The nice thing is that there's no stuffing and swapping out fabric covers would be simple to make washing easy. He's black so it's really obvious when he sheds over everything… I love being able to easily clean the covers.
Now… I guess technically my dog could chew the fabric or the PVC… but he tends to leave either of those items alone. It's pretty exclusively fluffy dog beds that he likes to tear apart. So this worked for us. You may want to be careful about PVC if you think your pup will chew it because I'm sure it isn't good for their digestion. We've found giving our dog deer antlers (get them on Amazon) helps redirect his chewing to his toys. They're the only thing he couldn't chew through in 15 minutes… he even ate the top off our Food Kong which BLEW MY MIND. I am still perplexed about how he managed that.
DIY Dog Bed
Supplies for a PVC Dog Bed
A note on fabric choice: I've seen a few made with fleece which would be super warm and cozy. This might work for light weight animals, but my dog is 50lbs and even the woven stretches down to the floor a bit. It's not a big deal if it does sink down… they'll probably feel sturdy having a solid floor under them instead of hanging in the air. But if you want the full 'hover' effect then you want to make your covers TIGHT and you want them to be woven. Whatever your fabric choice, look at the wash instructions for that fabric and make sure you can live with them. Some fabrics can't be washed or need to be dry cleaned. I like to opt for fabrics I can wash frequently and on hot for animal sewing projects.
How to Make a PVC Dog Bed
This is such an easy project. You can make the bed whatever size you prefer. I wanted our bed to be slightly bigger than our dog. It also needed to slide under our couch when not in use. As you can see, it slips easily under our IKEA couch. This has been great for when we were showing the house (we just sold it) and needed to 'hide the evidence' that we have pets.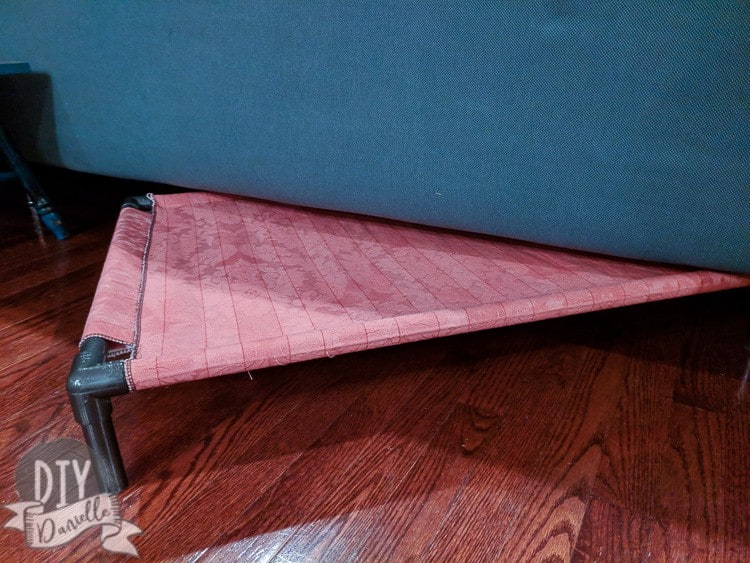 Cutting PVC for the Dog Bed
You'll need two long cuts of PVC, the length you want the bed. You'll need two shorter cuts of PVC, the width you want the bed to be. And you need 4 short pieces of PVC for the legs… these need to be the height you want the bed to be.
My PVC cuts are the following sizes:
(2) 32″ PVC
(2) 23 3/8″ PVC
(4) 4 3/8″ PVC
Assembling the PVC
Once you cut all of your PVC to size, you can simply put them together (like LEGOS!) with your elbows. I push them in HARD because I want the structure to be sturdy.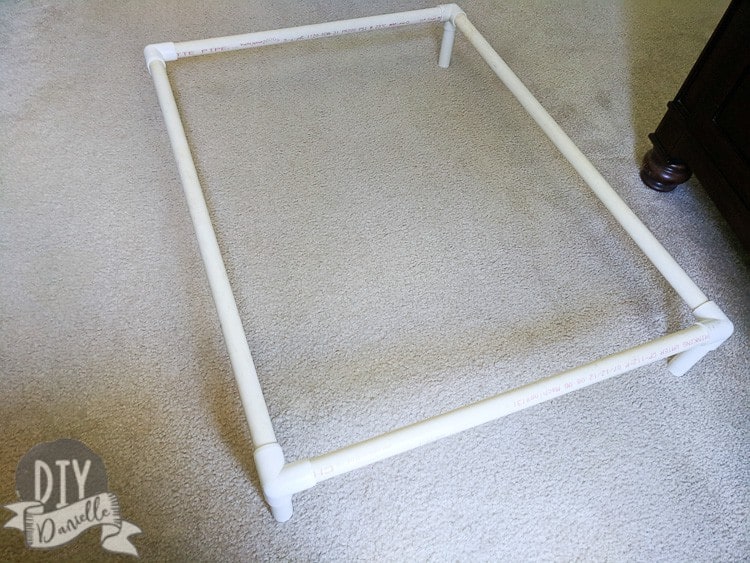 Optional: Painting
I decided to paint my PVC after a few days of observing my dog to make sure he wasn't chewing the bed. It looks fine without the paint too. The dog doesn't care.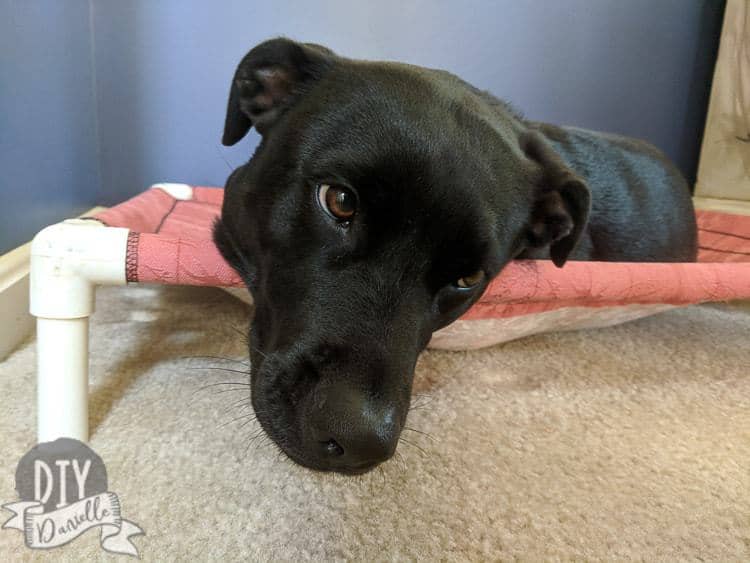 I used Hammered Black Rustoleum Spray Paint. It's easy to use and it looks a bit like rock when you're finished. I LOVE the look. You could paint your PVC pipe when the bed is disassembled, but I chose to paint it while it was together. I like that the white will show if the PVC isn't locked firmly in place. This just lets me know to push it in better.
It was easy to spray paint the top and sides, let dry, then flip and paint the other side. Make sure it's had a while to dry before you put your covers on.
Sewing the Covers for the PVC Dog Bed
While I've seen the covers made different ways, I decided to make two strips of fabric that overlap. Some businesses make theirs so it's just one piece of fabric. I felt like two covers would be easier to take on and off for washing. I recommend making 2 sets of covers so you can swap out covers for washing (or just for fun, the possibilities are endless- make Christmas covers and Halloween covers!).
When you decide on the size for your covers, you need to take into account the space between the two PVC elbows… so you're not making a cover for a 32″ long PVC cut, you're making a cover for the 29 5/8″ width that's not hidden behind the elbows. On the shorter side, the space was 21 5/8″.
This is a very forgiving project. I was using some old fabric that was already cut and I was insistent on upcycling it. I didn't want to cut into brand new fabric. As such, my covers aren't quite as wide as the PVC.
If you want to completely cover the PVC, these are the fabric cuts you want for a 1/4″ seam allowance (adding a total of 1/2″ to the cut of fabric because you have two sides). You're adding 4″ for the sides that need a casing for the PVC to go through:
(1) 38.5″ x 22.125″
(1) 29.5″ x 30.125″
Finish the sides that won't have the casing. This would be the sides that you added the 1/4″ seam allowance to (22.125″, 30.125″)… to finish them, you want to fold them over once (or twice would be better), then sew a straight stitch. This finishes the edge so it won't fray. Some fabrics are more prone to fraying and require this. For denim, you might be able to skip finishing the edge. I used a serger as an alternative to sewing the straight stitch.
Once you've done that, you need to sew casings on the other two sides for each cover. You need to fold over each end to overlap by 2″. Sew a straight stitch. I recommend being very thorough and sewing over this area several times because these casings will get a lot of tugging on them. You don't want your stitches to pop out. Reinforcing the stitching by sewing several lines of stitching will help prevent this.
Putting the Covers on the PVC Dog Bed
I liked doing two covers for the bed because it's easy to put them on. You can detach one side of the dog bed to put one cover on….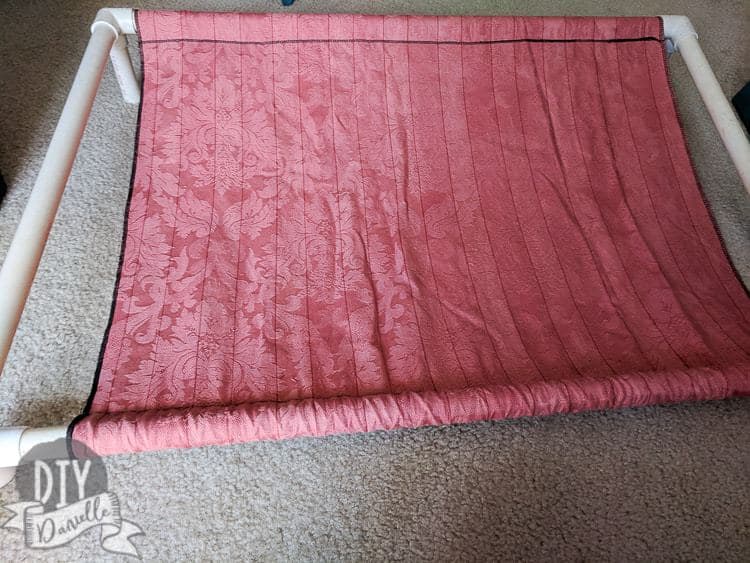 Then you can reattach and detach the opposite side for the second cover. They are now overlapping, lending extra support. The tighter you make your covers, the less the bed will sink down when the dog's weight is on it.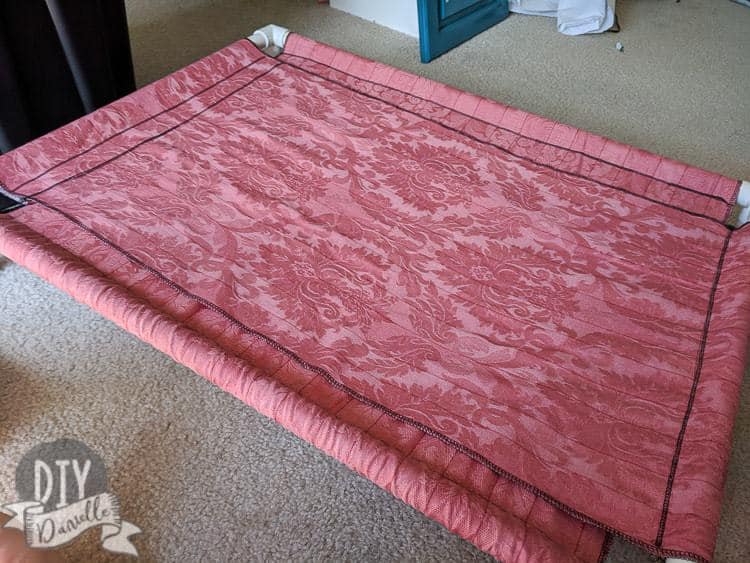 Mine are a bit loose but they work.
Buy a PVC Dog Bed on Etsy
If you don't have the sewing skills and/or the time to make one yourself, you can support small businesses on Etsy. Here are a few shops on Etsy who sell them.
Diane's K9 Creations has so many choices for dog and cat beds made from PVC. There's even a two level one. You'll be able to find exactly what you want in her shop.
Knotty Fleece offers fleece PVC beds for small dogs and cats.
Other Pet Posts on DIYDanielle.com
If you love this post, make sure to check out my other pet posts. I have done quite a few posts on dog, guinea pig, and duck crafts and care.
Here's a few popular dog posts:
DIY Rustic Dog Bowl Holder | Halloween Costumes for You & Your Pet | Braided Dog Toy | Dog Crate Side Table | Easy to Install Dog Fencing
Love it? Pin it!