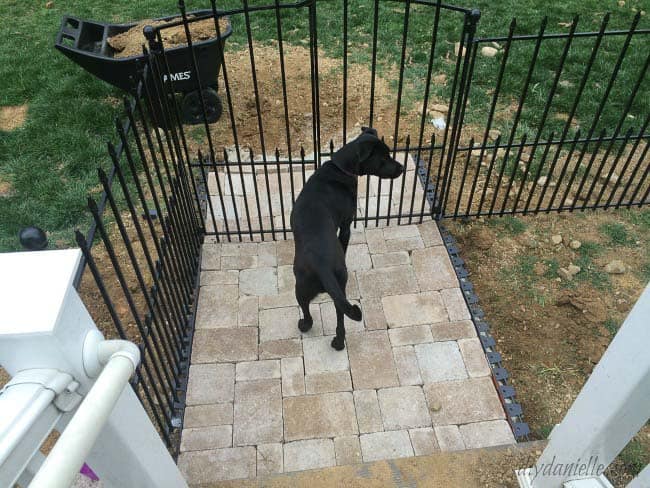 How to install a no-dig fenced dog run in one day. Keep the dog poop out of the main part of your yard for easier cleanup.
This post may contain affiliate links which may earn me commissions should you click through them and take certain actions. As an affiliate for Amazon, Cricut, xTool, Home Depot, and other sites, I earn from qualifying purchases. Please DIY carefully. View my full legal disclosures here.
Please read the whole post so you don't miss any important information!
You may have read that we have a new-ish puppy. Rocky is about 10 months old now and he really loves to eat things when he goes outside. He gets logs, mulch, rocks, plastic toys, and the worst? Our compost. He likes to grab an old banana peel and drag it back inside to snack on. Ewwww. So gross.
He also loves to eat my garden- and he managed to bust through the cheap wire fencing I put up a long time ago.
We have a big fenced yard, but it's gotten to a point where I just don't want him roaming free out there. Plus, it's hard for me to clean up after the dogs' "business" when it's like an Easter Egg hunt every time we go out there. Somebody *always* steps in something. I wanted to contain the pups to one area for when they need to potty, although I do plan to play with them in the main area of the yard still.
I know you can train dogs to use a particular area, but it didn't solve *all* of my problems and I've got a puppy and a really old man dog so I didn't torture myself.
And so, our fenced dog run was born. I had some pretty crazy ideas for this, but I was really excited to find there were some easier DIY's for this that involved less supplies, less store runs, and less time putting it altogether. Phew.
We still need to add our pathway pavers, but I'm so relieved to have the dog run finished! I'm also going to add some landscaping around the fence. Make sure to subscribe so you don't miss out on seeing the end results!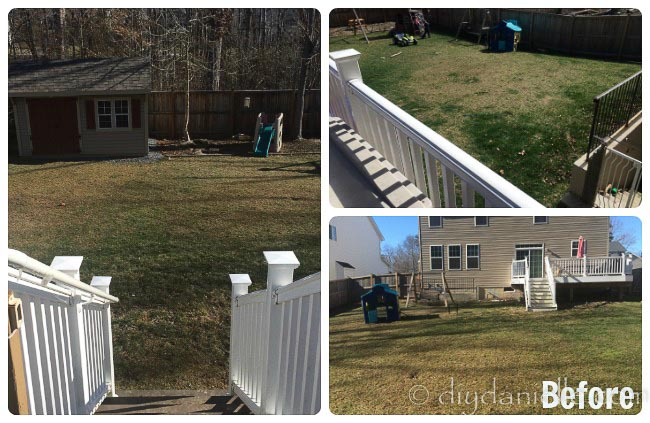 Supplies for a DIY Fenced Dog Run
I'm going to list how much I needed, but you'll need more or less depending on the space.
Shovel and other gardening items.
Tiller (this is the one we have)
Mallet of some sort: Ours got really beat up from this project. I'm not sure how to avoid this but a regular hammer would bend the metal.
Grand Empire Fence Panel: No Dig Decorative Fence x 10 panels (Item #254097) ($29.98 each or $299.80)
Empire Grand Post/Stakes x 12 (Item #254102) ($8.98 each or $107.76)
Grand Empire XL Gate x 1 (Item #758832) ($44.98)
Total Cost for the fencing: $452.54
Home Depot Version of the Fencing
Recently I discovered that Home Depot carries very similar fence panels so if you want to order it for pickup in store. I recommend ordering ahead so you can make sure you get the number of panels you need.
Just note that the Hampton Bay Empire panels are listed as 30″ tall and the Grand Empire panels are listed at 3.37 ft (40.44″). The width for the Grand Empire panels is 4.12 ft (49.44″) and the width for the Hampton Bay is 36″. The Hampton Bay gate has better reviews, but looks like it will have the same issues as the Grand Empire gate.
I figured I'll do a quick calculation for you on the prices (at today's rate 2/13/19)… no guarantees on the math here, but I think I got it right. It's hard to compare because the widths are different. I bought 10 panels of the Grand Empire which gave me a fence length of 494.4″ at $299.90, not including the gate or posts. To get the same length (slightly more), I'd need to buy 14 panels of the Hampton Bay panels which would cost me $279.86. The post pricing is also cheaper, but you'd need more posts due to the shorter panel length.
Don't forget to pin this for later:
https://www.pinterest.com/pin/48554502211415639/
Tip for cutting costs on big projects
Go and use/signup for Rakuten. Once you get your account setup, go to the ebay site under Lowes Coupons. You can buy a Lowes coupon on here- make sure you choose the right coupon (some are online only, some are store only).
Once you receive your coupon code, go back to Rakuten and click on Lowes. Pick out your items and add them to your cart. Use the coupon code.
Not only will you get the Ebates cash from buying the eBay coupon and the Lowes products, but you'll also get the coupon discount. Woot woot!
I didn't do it this time… I need to make better choices. But I have done it for larger scale projects like our built-ins.
Oh- and you can usually choose pickup or delivery. I do pickup and they gather all of the items for me at the pickup desk. It's pretty quick when the store is well run (one of our local stores is terrible and the other is great).
*Skip the gate, buy an extra panel instead and use that, along with something to hold the gate closed. Those gates don't really hold a motivated dog inside but the panel will.
You might like the following products in my shop! Keep scrolling for the tutorial.
How to Install a Fenced Dog Run with No Post Digging, Using Grand Empire XL Gates
I used my tiller to mark out the place where I wanted my fence to go. This loosened the earth around where the posts would go. I mostly wanted to ensure that I had space between my fence and the grass. Eventually I'd like to put plants along the fence.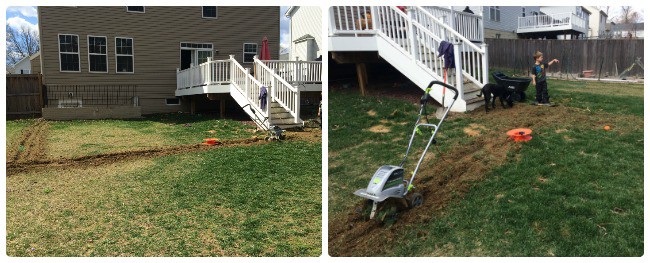 We laid out the fences and posts to make sure we had the right measurements. We ended up moving our fence in a bit so I needed to till again in that area. I also found that I needed to do extra work on areas where there was an incline so I could even the ground out. The posts/stakes do NOT go in easy if the ground is hilly.Once you've done that, you really just take the post/stake screw off and put the stake into the ground. We hammered it in with the mallet.
Then you hold up your fence and put the post through the circles of the fence and into the stake circle. Push in.
Continue this all the way around. Two fences with connect at one stake/post of course.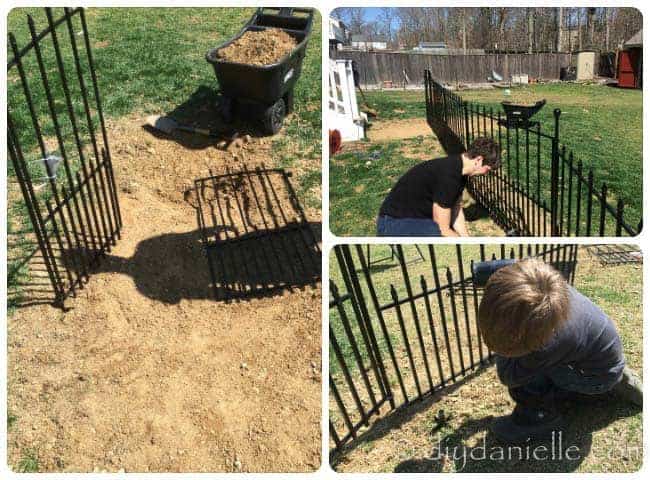 The gates connect the same way- we did our gates at the beginning.
To prevent the dogs from escaping beside the stairs, we built huge lattice privacy planters and gave our deck a skirt. We also had a pond installed on the other side which is absolutely gorgeous so make sure to check that out.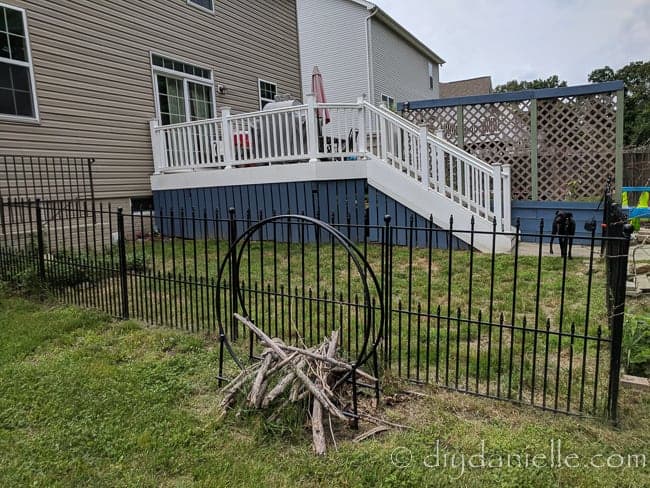 Eventually we used the same fencing for the duck run (exterior fence, we have a predator proof duck run for times we weren't supervising).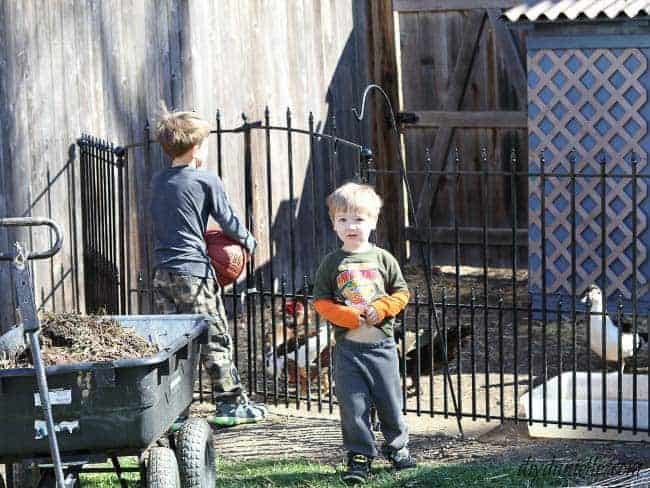 We used the double gates for them and used the single panel for the dog.
Single Panel as an Alternative to the Gate
This is the single panel that we use as an alternative to the gate, seeing our dog was able to easily open the gate. We just connected it to the ground pole on the right side and did not connect it on the left side.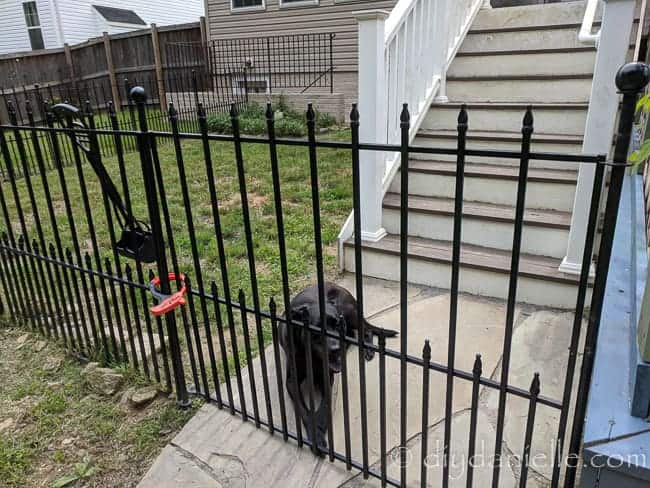 We use a Mega Cuff to keep it closed. As you can see, he's attempted to chew through it to no avail.
The thing I like best about this is that it's hard enough to open that my 4 year old still has trouble unclipping it (no guarantees, but it seems to stop him pretty well).
This is great when we have the pool in the yard during the summer, although it's an above ground pool and he's a pretty good listener so it's not likely to be an issue for him, as much as it would be for the baby (who is getting older and I'll probably need to add our DIY deck gate back on). And of course, we have the pond so I don't want them falling in that either.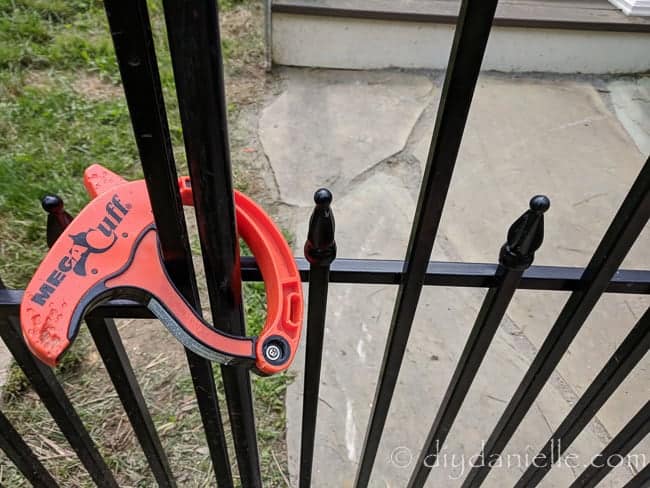 If you love projects for your pets, make sure to check out my doggy bed with PVC, the DIY dog bowl holder, easy braided fleece dog toy, and the crate table topper that I made for my pups!
Please share and pin this post!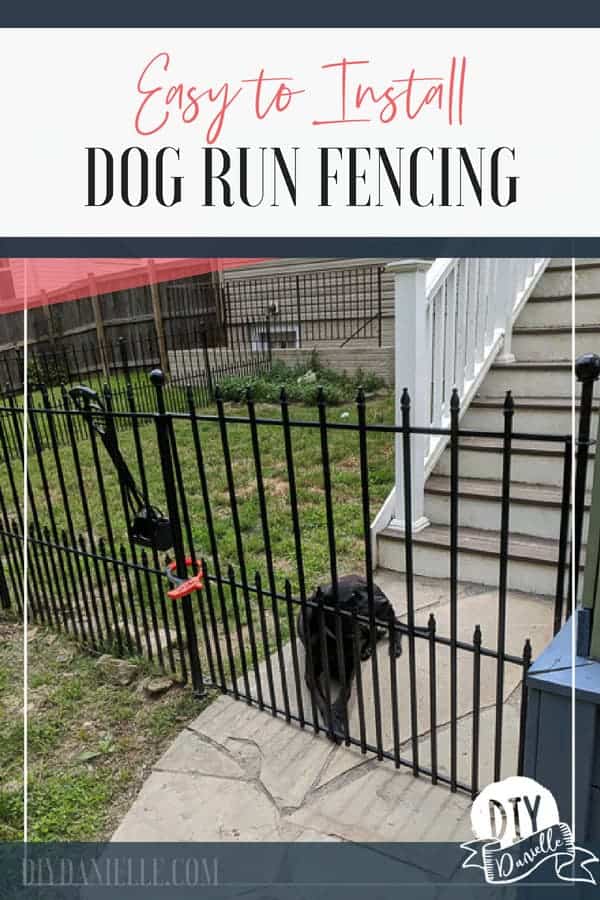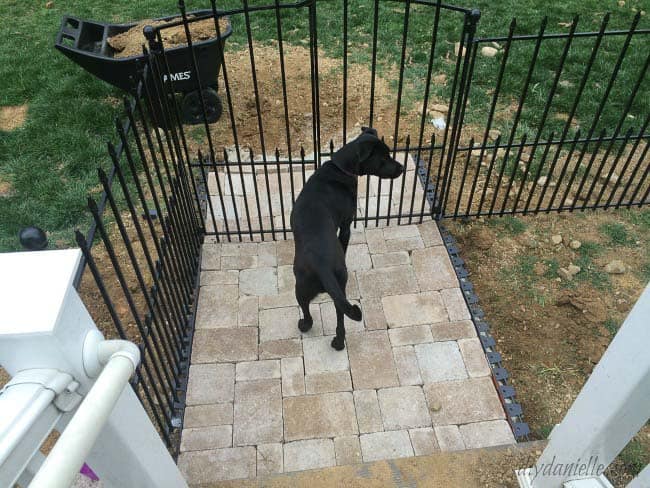 Yield:

1 Dog Fence Run
How to Install an Easy No-Dig Fenced Dog Run in One Day
Total Time:
1 day
3 minutes
Install a convenient fenced in dog run that is no-dig, and it can be built in one day!
Materials
Grand Empire Fence Panel: No Dig Decorative Fence x 10 panels
Empire Grand Post/Stakes x 12
Grand Empire XL Gate x 1
Instructions
Mark where you want your fence to go. I used my tiller, which loosened the earth where the posts would go.
Lay out the fences and posts to make sure you have the right measurements.
Take the post/stake screw off and put the stake into the ground using a mallet.
Hold up your fence and put the post through the circles of the fence.
Push into the stake circle.
Repeat this all the way around with two fences connecting at one stake/post.
Connect the gates the same way.