This easy Easter craft is fun for kids. Learn how to make Easter Egg wind chimes.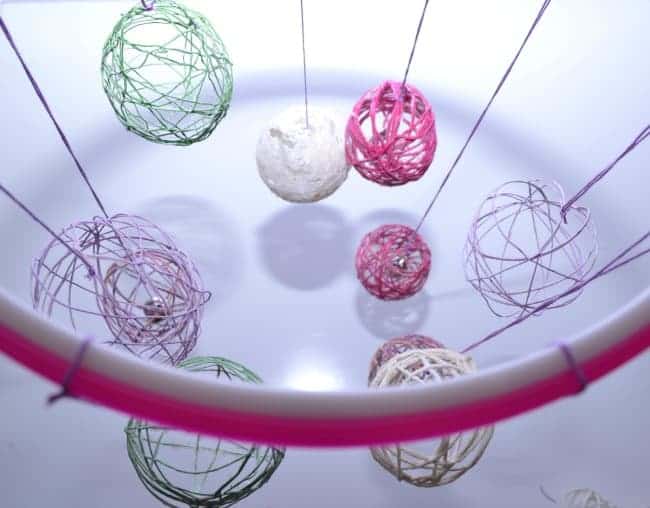 This post may contain affiliate links. Using these links helps support my blog. Thank you!
I wanted to make an Easter egg project with the kids and saw all of these fantastic ideas for making these eggs on Pinterest. I decided to make Easter egg wind chime with mine. I had a ton of bells that I have been wanting to use and I thought these would look fantastic hanging under the roof in our front entry.
Making them was easy. Hanging them was not. There's no where to hang them from on the underside of the roof (it's that weird durable plastic). I had my husband perched on a wobbly chair trying to hang them with duct tape one late night, but they fell within an hour. I realized Easter is this weekend so I opted for hanging them in front of a window this year. But next year I'm going to figure out how to hang them so I can hear them ring in the wind! They're so pretty!
Supplies
Supplies listed below may include affiliate links to the products.
Flour and water: 50/50 mix. Or mod podge.
Balloons
Bells
Embroidery thread, yarn, or/and lace
Embroidery hoop (I received these particular hoops free in exchange for an honest review on Amazon. The colors worked really well for this project)
Tutorial
First I made my eggs.
I took some water balloons and blew them up. I mixed my flour and water mixture (it's the same that they use for making pinatas). Dip whatever you're using to cover the balloon in the mixture and get AS MUCH OF THE LIQUID off it as you can. I found yarn and embroidery thread worked best. My lace was too wide but a thinner lace might work. Fabric was eh and wool roving was disastrous. I like to experiment if you can't tell. Once you get your yarn wet, you wrap it around the balloon and then let it dry. Once dry, pop the balloon. I gave them about 24 hours, making sure to flip them over every now and then so all sides could dry.
Make sure you don't have too much excess of the mixture on your balloon or yarn. I think I used too much which resulted in some flakiness on the yard once dried. Meh.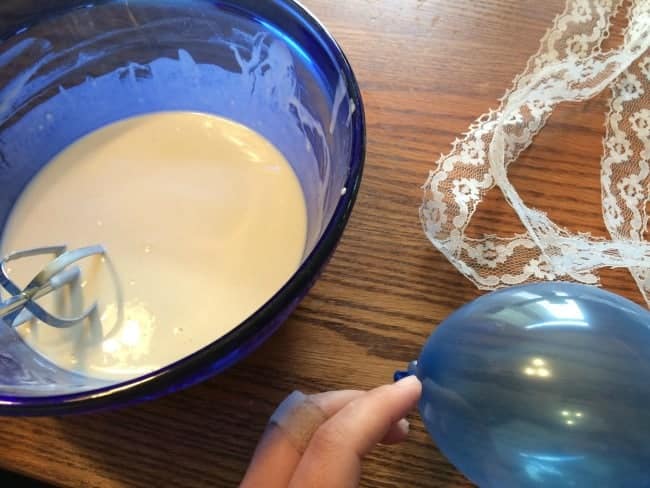 I should mention that I had really fun plans to involve my children in making these. My 4 year old put his hands inside and IMMEDIATELY bailed on me because it was gross. My 2 year old wouldn't even try. Instead they handed me yarn as I needed it. Ah well. They did LOVE popping the balloons though!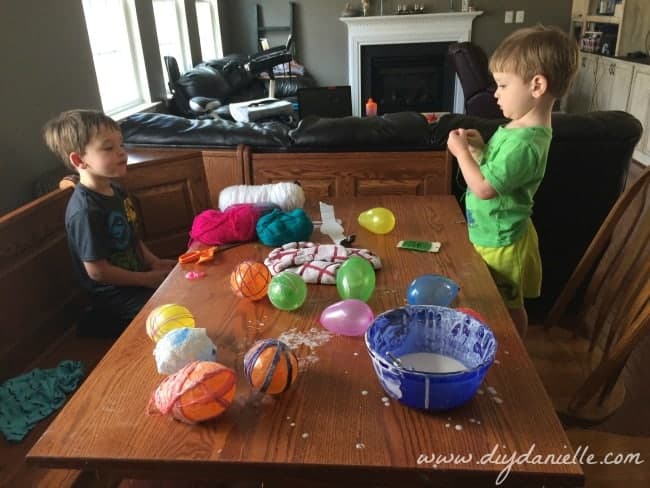 Here they are after we popped them! As you can see, there's little flaky bits around them. Sigh. Sadness. But they aren't super noticeable so for the wind chimes it was fine!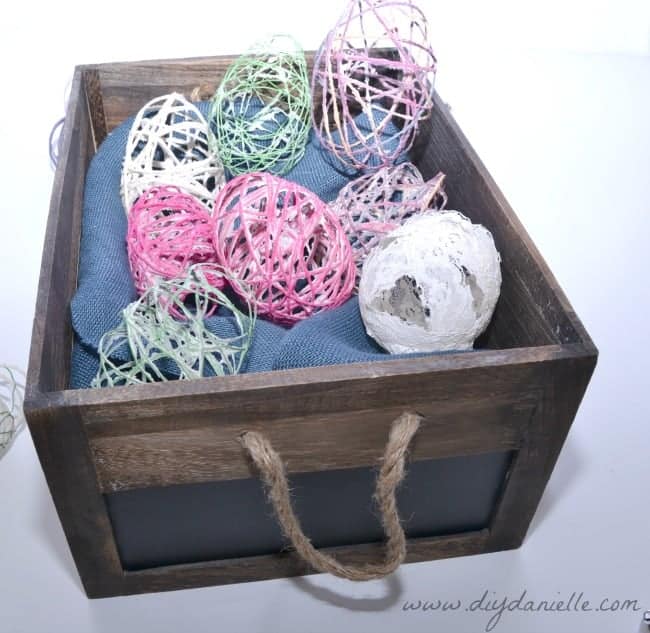 Once the eggs were finished, I attached a bell to a long length of embroidery thread. I inserted the bell carefully into the egg and tied the thread to the top of the egg so the bell was able to hang loose to ring. Then I used the rest of the length of embroidery thread to hang the egg from the embroidery hoop. I repeated with all of my eggs, leaving some eggs empty.
I tied my embroidery thread around the hoop but they ended up moving around a lot so I needed to tape them down. I think this would work better if you put the thread through the hoop so the hoop would hold it in place.
Once I was finished, I added string to three sides of my embroidery hoop so I could hang the chimes. All done!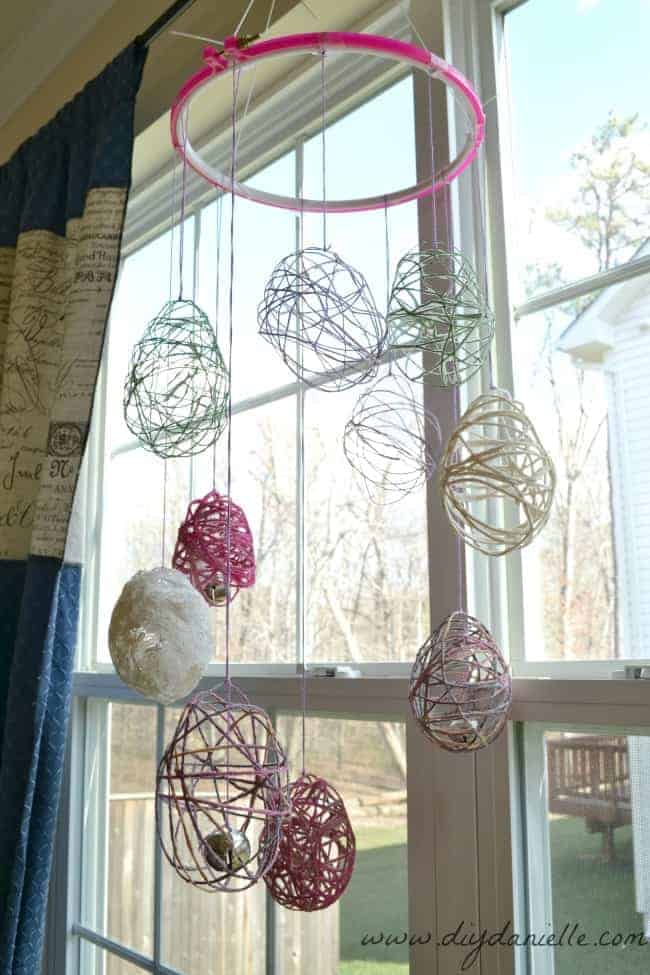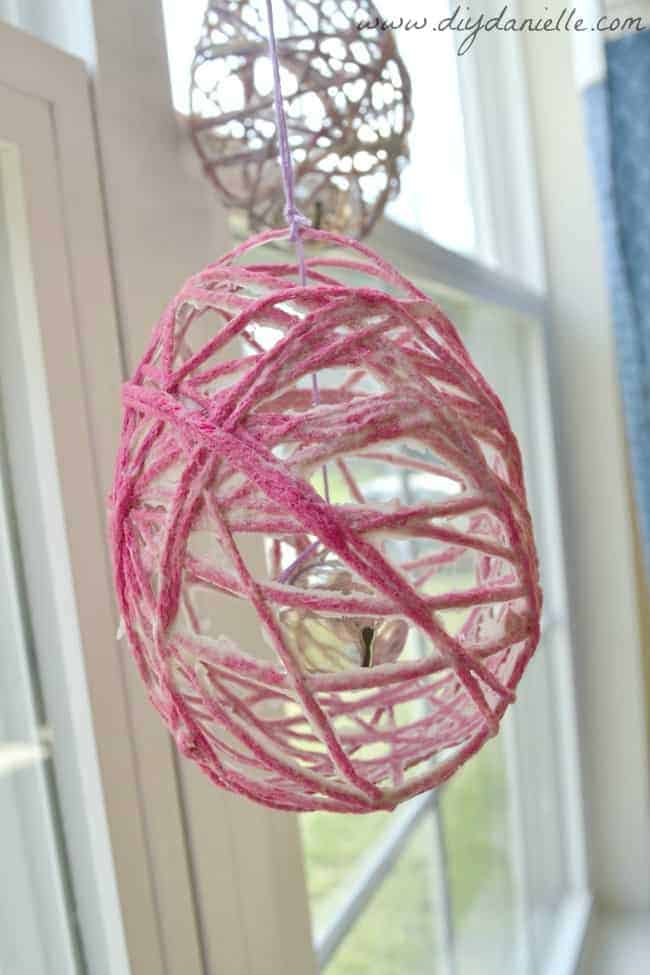 Thanks for taking the time to read this post! I really appreciate the time you've taken. Please share, like, and pin my post if you enjoyed it. Follow me on social media and subscribe to my email list to keep up to date on all of my latest projects!

Disclosure of Material Connection: Some of the links in the post above are "affiliate links." This means if you click on the link and purchase the item, I will receive an affiliate commission. Regardless, I only recommend products or services I use personally and believe will add value to my readers. I am disclosing this in accordance with the Federal Trade Commission's 16 CFR, Part 255: "Guides Concerning the Use of Endorsements and Testimonials in Advertising."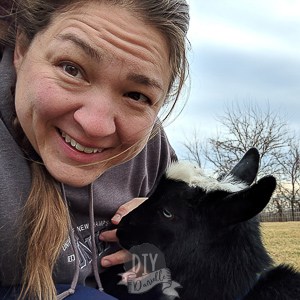 Danielle Pientka is the sewing and DIY blogger behind DIYDanielle.com. She taught herself to sew in 2011 when she wanted to make cloth diapers for her first son. She's been sewing everything from ecofriendly items to kids products to clothing since, as it has become a passion. She loves learning how to do new things and teaching others in the process. She hopes to inspire other moms to take time for themselves to find their own creative passion.
Danielle lives in Maryland with her three young sons and her husband, Brandon. In her spare time, she gardens, reads, horseback rides, and has a small homestead with goats and ducks. Visit her shop to buy patterns or her sewing eBooks. Subscribe to her newsletter to get blog updates, free patterns and other printables by clicking here.