This easy Easter craft is fun for kids. Learn how to make Easter Egg wind chimes with balloons and paper mache.
I wanted to make an Easter egg project with the kids and saw all of these fantastic ideas for making paper mache eggs on Pinterest. Digging through my craft room, I found some bells and an extra embroidery hoop so I decided to make Easter egg wind chime. These look fantastic hanging in our front entry.
Making them was easier than trying to hang them. Here's how to make your own.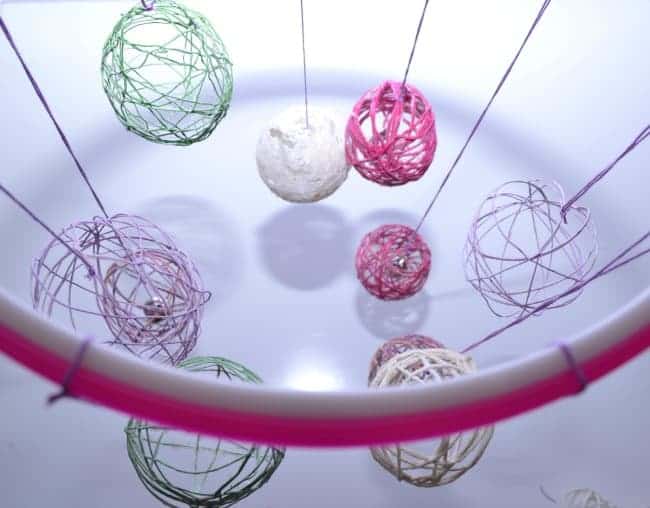 ---
This post contains affiliate links which may earn me commissions should you click through them and take certain actions. As an affiliate for Amazon and other sites, I earn from qualifying purchases. Please DIY carefully. View my full legal disclosures here.

Please read the whole post so you don't miss any important information!
---
How to Make Easter Egg Wind Chimes
These chimes are really easy. You create a paper mache type solution and dunk your yarn into it to help create the egg shape; once it dries, you have solid eggs. Just don't get them wet!
Supplies
Flour and water: 50/50 mix. Or mod podge.
Balloons
Bells
Embroidery thread, yarn, or/and lace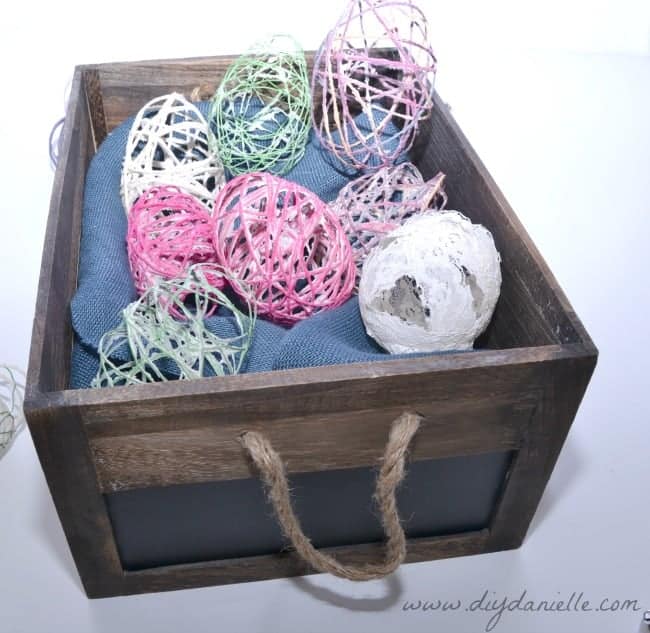 1
Combine flour and water (1:1 ratio) to make a paper mache paste.
2
Blow up some balloons part way. You want more of an oval than a big circle.
3
Cut some long pieces of string. The more string, the more of a solid "egg" you will have. Cut less if you want gaps between the strings.
4
Dip your yarn in your paper mache mix, making sure that it is thoroughly covered.
5
Pull the yarn up, scraping off any excess glue. You want the glue to be soaked in but not dripping.
6
Wrap the yarn around your balloon, adding more yarn if you want fewer gaps between the pieces. We left a lot of space.
7
Let dry. Once dry you can pop the balloon and dispose of it.
8
Tie each egg with embroidery thread hanging from a pink embroidery hoop. I also added small bells to the inside.
Learn more about this project on DIYDanielle.com
First I made my eggs.
I took some water balloons and blew them up partway. I mixed my flour and water mixture (it's the same that they use for making pinatas and paper mache). Dip whatever you're using to cover the balloon in the mixture and get AS MUCH OF THE LIQUID off it as you can.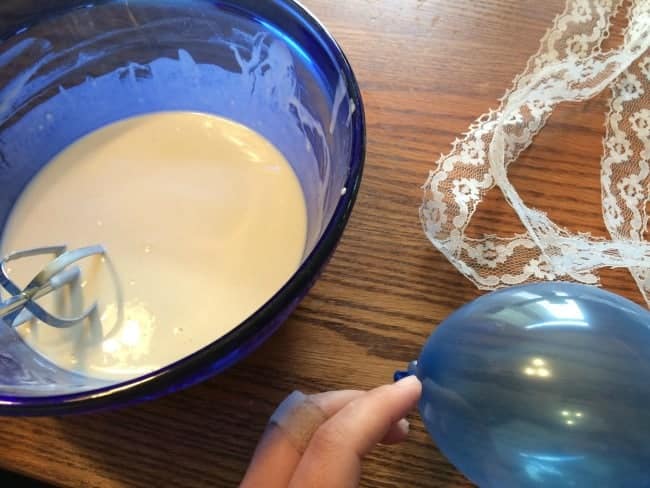 I found yarn and embroidery thread worked best. My lace was too wide but a thinner lace might work. Fabric was eh and wool roving was disastrous.
Once you get your yarn wet, you wrap it around the balloon and then let it dry.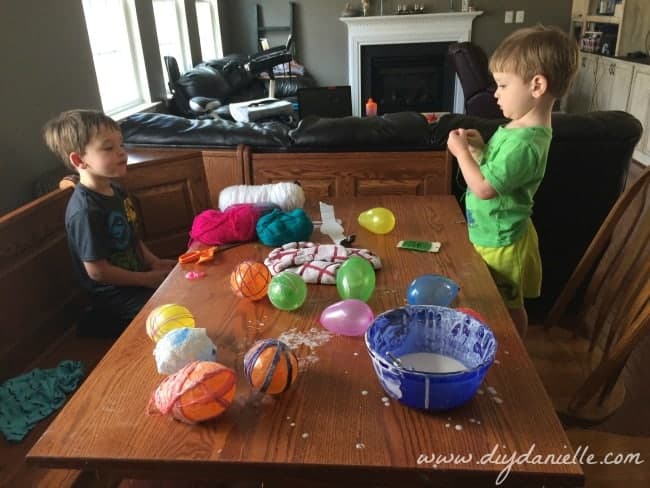 Once dry, pop the balloon. I gave them about 24 hours, making sure to flip them over every now and then so all sides could dry.
Make sure you don't have too much excess of the mixture on your balloon or yarn. I think I used too much which resulted in some flakiness on the yard once dried. Meh.
I should mention that I had really fun plans to involve my children in making these. My 4 year old put his hands inside and IMMEDIATELY bailed on me because it was gross. My 2 year old wouldn't even try. Instead they handed me yarn as I needed it. Ah well. They did LOVE popping the balloons though!
Here they are after we popped them! As you can see, there's little flaky bits around them. Sigh. Sadness. But they aren't super noticeable so for the wind chimes it was fine!
Once the eggs were finished, I attached a bell to a long length of embroidery thread. I inserted the bell carefully into the egg and tied the thread to the top of the egg so the bell was able to hang loose to ring. Then I used the rest of the length of embroidery thread to hang the egg from the embroidery hoop. I repeated with all of my eggs, leaving some eggs empty.
Next, I tied my embroidery thread around the hoop but they ended up moving around a lot so I needed to tape them down. I think this would work better if you put the thread through the hoop so the hoop would hold it in place.
Once I was finished, I added string to three sides of my embroidery hoop so I could hang the chimes. All done!
Please share and pin this post! If you make this project, share it in our Stuff Mama Makes Facebook Group in order to enter to win our monthly giveaway. You can also tag me on Instagram @doityourselfdanielle; I love seeing everything you make!