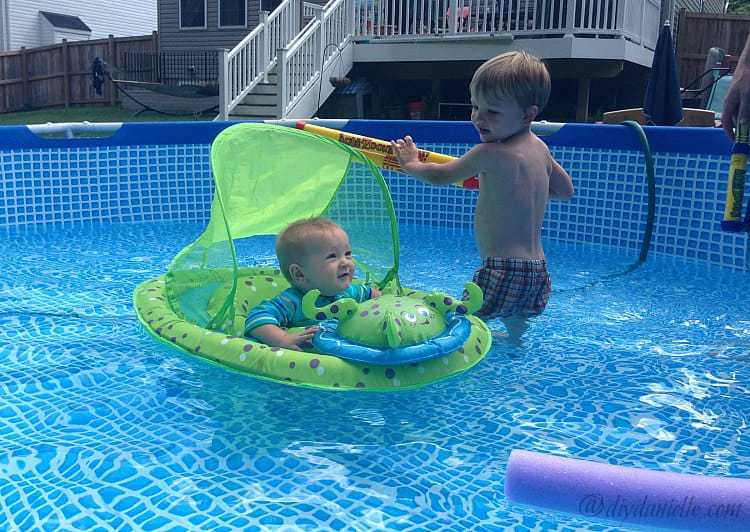 An above ground pool that is shallow enough for young children, but still deep enough to practice swimming in. Add a canopy for shade and a basket for toy storage!
This post may contain affiliate links. If you make a purchase using these links, I may receive a commission from the sale. This does not affect the price of the product. Thank you. Originally published July 3, 2014. Updated October 2018.
I wanted to take a few to share about our new pool. We really wanted to be able to swim at home, but we weren't ready for an in ground or a big above ground pool because we didn't want to stress about our sons drowning. Of course, children can drown in even shallow water so we did baby proof our sliding glass doors- again. Our first attempt baby proofing the glass doors was a fail against my toddler's superior might… but it might work for you if you don't want to leave screw holes in your nice doors like we did.
We also have a fence around our dog run that adds an additional level of fencing before the kiddos could get to the pool.
Above Ground Pool Setup for Young Children
The pool is 12′ x 30″ so my toddlers have been able to stand in it. Holding two kids isn't fun in the pool so this is perfect for us. It's big enough that we often have three floats in there- a baby float, a grown up float and a cool hippo float for my toddler. As an adult, I can sit in it to cool off- but standing gets quite a bit of me wet too. My two oldest sons have learned to swim in this pool because it was just big enough to allow them to swim around too.
Supplies for the Above Ground Pool
Pool Toys and Products for Kids
I highly recommend reusable swim diapers because it's cheaper than buying disposables, they're less likely to leak poop, and they're more ecofriendly.
Little Tikes Basketball Hoop (to hook on the cover)
Small container with handle and lots of openings for drainage
Safety Concerns
As I already mentioned, we took several steps to baby proofing the pool… although my general rule is that I trust nothing. I try to supervise the kiddos pretty closely. My boys have been excellent at hacking all of the baby proofing items we try. #dontblink
There is a privacy fence around our yard. That prevents other kids from wandering in the yard and drowning. It also prevents our kids from trying to reach the pool from the front yard. We keep the lock engage on the inside of our fence so the gate can't be easily opened.
There is a secondary fence around the dog run. This is right at the bottom of our steps (down from the deck) so a child would need to go through the sliding glass door, down the steps, and through that fence to get to the pool (or the pond). We lock this fence closed with a special clip that is pretty difficult to open. Our 7 year old can climb over the fence, but the 5 year old cannot. I trust both of them not to get in the pool without me though AND they're both tall enough in the water that it shouldn't be a safety issue if they disobeyed.
There is baby proofing on the sliding glass door that leads out to the deck. We tried a few different methods for baby proofing the door but the only thing that has worked well was a siren that goes off whenever the door opens. Worst case: I hear it and come running. But generally the kids hate the noise so much that they'll avoid opening the door.
There is no ladder into the pool. My 7 year old can climb into the pool himself, but the 5 year old still likes help most of the time.
The pool is fairly shallow compared to most in ground pool setups. Both of my older kids stand far above the water line.
Obviously there are no guarantees with anything. I try to keep stuff on lock down here because my kids are pretty mischievous toddlers… but they also are fairly reliable once they're older about listening. I still worry. Mom life, right?
Setting up the Above Ground Pool
My husband and father-in-law set it up fairly quickly. We laid a tarp under it. It has a fairly sturdy wall and it's hard, unlike the blow up pools. It took several hours to fill with water, of course. The filter seems to do a decent job, along with the net I got to clean out bugs.
We keep a solar cover on it when it's cooler to keep the water a bit warmer and hopefully to keep leaves/bugs to a minimum.
Leveling the ground under it is highly recommended. We didn't, we just picked a pretty level spot. So far it's been okay but then again… It's definitely leaning a bit to the right now.
Here they are setting it up… with our big helper as usual…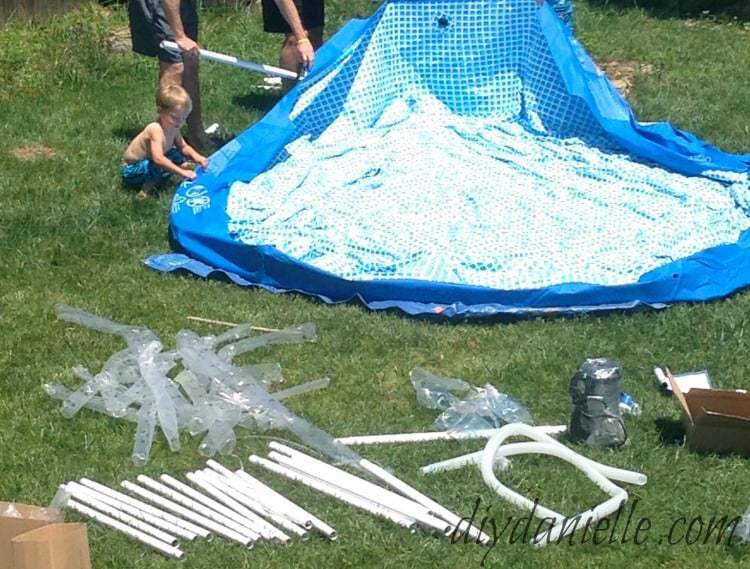 Most of the setup is putting together the pipes in the correct order.
We've gotten a lot of use out of it.The filter pump had to replaced twice because it got too wet sitting in the bottom part of our yard (that's my amateur diagnosis anyways). But it's fairly inexpensive for a replacement. We have also had to patch the side of the pool a couple of times due to damage from mowing, etc.
Adding Shade Over the Pool for Baby
This year (2018) we checked to see if our Coleman Canopy would fit over the pool so it would have shade for baby #3. It fit, but it was tight! We made it work and made sure to stake down the posts so it wouldn't come up in the wind and tear the sides of the pool. When we were scheduled for a lot of wind, we removed the top. We also removed the top for chilly days.
This is actually a good picture to show how the area isn't completely level so the pool leans a bit. It works though!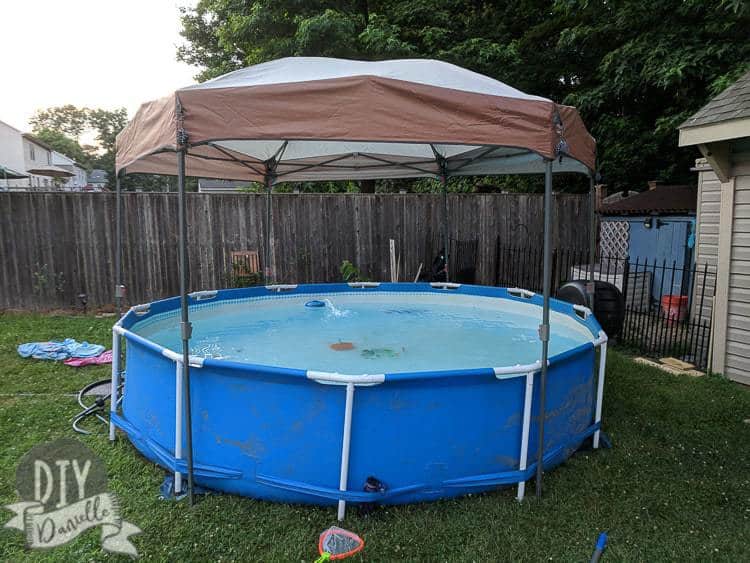 It was PERFECT for keeping the baby from getting sunburned on hot days. I also appreciated the shade because it gets pretty hot here in the sun come July and August. It's nice to be able to be in the pool AND in the shade. Depending on where the sun is, usually there's some sunny areas to stand in if you get cold.
The canopy allowed us a place to hang other items too. We hung our Little Tikes Basketball hoop off it so we could play basketball.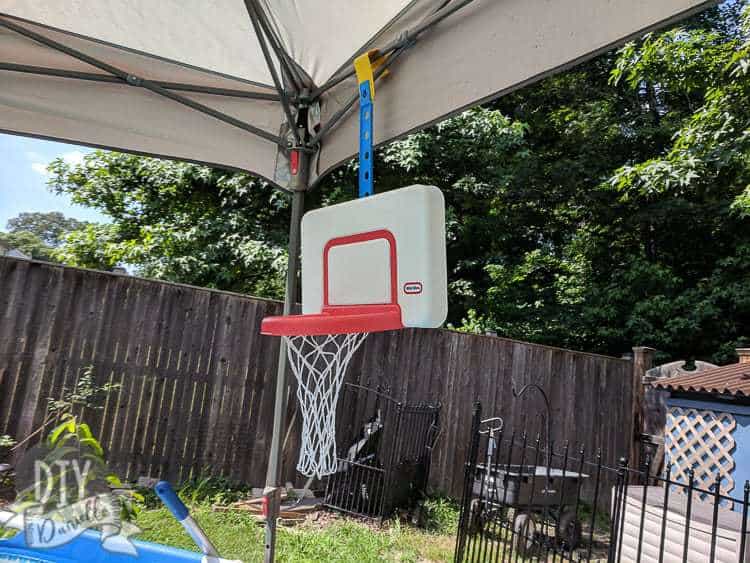 We also hung this Dollar Tree (store?) basket with zip ties for storing toys. It was perfect because it allowed for the toys to drain water and the kids could see if the toy they wanted was up there. It was also great for swim goggles.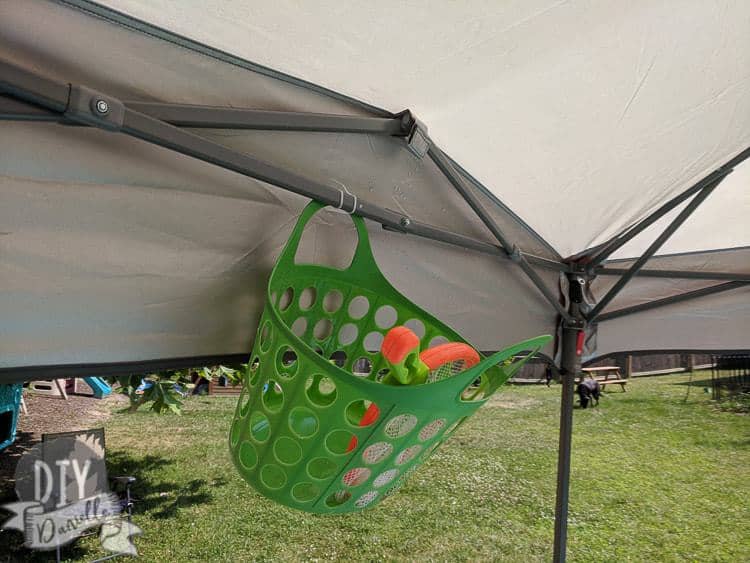 Please pin this!