How to make easy gym shirts with Cricut Sportflex Iron On Vinyl.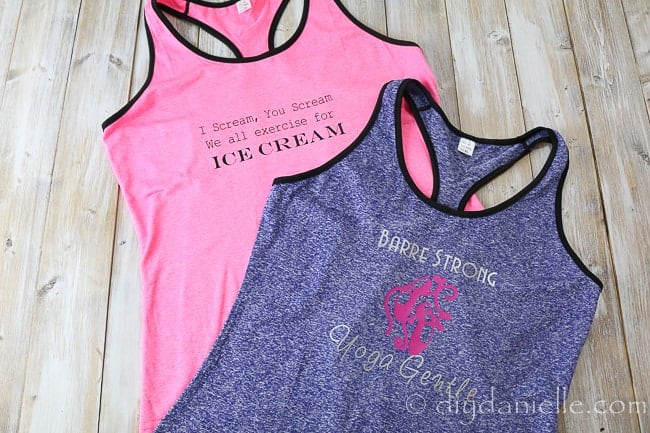 This is a sponsored conversation written by me on behalf of Cricut. The opinions and text are all mine. This post includes affiliate links and using those links helps
I love my gym. Love. I take yoga and barre classes 3-4x per week. But I have to chuckle because I look around and I'm the only woman who shows up in sweatpants. Everyone looks so pretty when they workout. In the meantime, I'm just there for the childcare. Needless to say, I've been trying to up my gym game. Seeing I spend so much time there, I might as well put a little effort in. I made a yoga mat bag and a bag for my gym clothes. Now I just need some appropriate clothes.
While I love yoga pants, I've been digging sweatpants because I just had a c section 7 months ago and I'm still a bit fussy about waistbands on pants. I'm finally starting to feel more comfortable with them, but… well… if you've had a c section, you probably understand.
I decided to whip up an easy gym shirt, but then didn't love it so I ordered a few cute shirts on Amazon to use instead. I wanted to fix them up with some iron on vinyl and some cute sayings.
Here's where I need to introduce you to Cricut's new product, SportFlex Iron On™ Vinyl. This product is meant for stretch fabrics- that's pretty much any fabric that's form fitting. You can tell if something is a stretch fabric by… you guessed it… trying to pull on in vertically and horizontally to see if it stretches. Woven fabrics, such as quilting cotton, will not stretch. Your yoga pants WILL stretch… otherwise they'd pop a seam whenever you change poses. If you check your clothing tag, you'll usually see words like 'spandex' for stretchy fabrics. Fabric can have one way stretch or two way stretch. When you sew, this is pretty important to understand, but in this case, I'm using store bought shirts.
The reason a special type of iron on vinyl like SportFlex is nice is because it's meant to withstand the stretching that goes on for gym clothes and other clothing that has a lot of stretch. You'll notice that areas like your chest and butt get a lot of 'flexing' action which could cause other types of iron on to break down over time. This iron-on is meant to withstand that better. I can't attest to how it stands up over time because I just tried it today, but I wanted to show you how it looks and applies.
I used my iron this time, but my Cricut EasyPress™ is on its way and I can't wait to try it out. It's very hard to hit all the spots evenly when you use an iron- a heat press will help with that.
Supplies for Applying Sportflex
How to Apply Sportflex Iron On Vinyl
First you need to pull up your design in Cricut Design Space. You can change the size to fit your shirt.
Click 'mirror' when you print it. You NEED to mirror the image for most iron on (I think the only exception to this is printable iron on).
If you have a Cricut Air 2, you can change your turn knob to custom, then it will pop up with the options to change your type of material you're cutting. You need to select SportFlex™ Iron On.
You put your iron on right sides down (pretty side down or colored side down) on your mat. Load your mat, double check to make sure you've mirrored and have the iron on vinyl on the mat correctly, press GO (blinky Cricut button).
Once printed, you can weed the iron on vinyl that is extra around the words, making sure to get the insides of letters (like the dot in the middle of the 'a').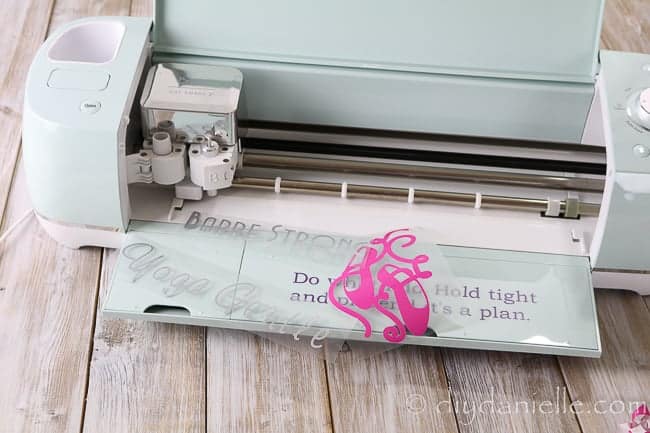 Turn on your iron to the wool setting (or use your EasyPress which is a better option if you own one). I used a Teflon sheet between my shirt layers, although I'm not sure if that was necessary.
Heat up the front of your shirt for 5-10 seconds using your iron.
Once heated, place your designs, then iron on, using medium pressure for 30 seconds.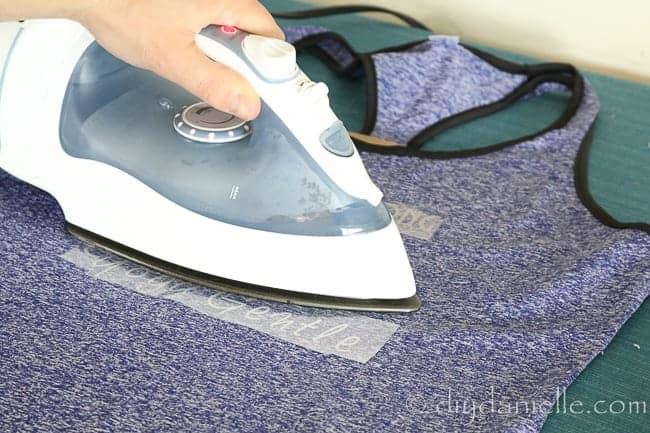 Turn your shirt over and iron the back for 15 seconds. You need to make sure each part of your design gets ironed for that amount of time- this is harder to do with an iron which is why a heat press is such a nice addition to the craft room.
Let cool 1-2 minutes, then slowly peel off.
Don't wash your shirt for 24 hours after applying and make sure to wash and dry it inside out if you want it to last longer.
Here's a video showing exactly what I did if you want it broken down in small steps!
Please pin this!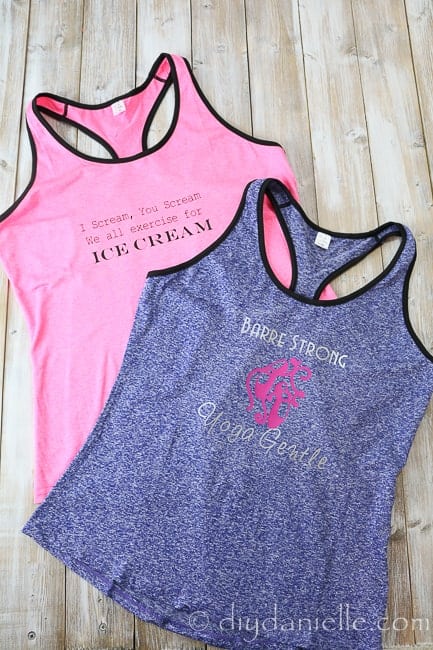 Thanks for taking the time to read this post! I really appreciate the time you've taken. Please share, like, and pin my post if you enjoyed it. Follow me on social media and subscribe to my email list to keep up to date on all of my latest projects!

Comments submitted may be displayed on other websites owned by the sponsoring brand.
This is a sponsored conversation written by me on behalf of Cricut. The opinions and text are all mine.
Use the Discount Code DIYDANIELLE on cricut.com for 10% off any cutting machine or heatpress (no minimum). Excludes: materials/accessories/mystery boxes/etc. Applies to US/CA only, code expires 12/31/23.