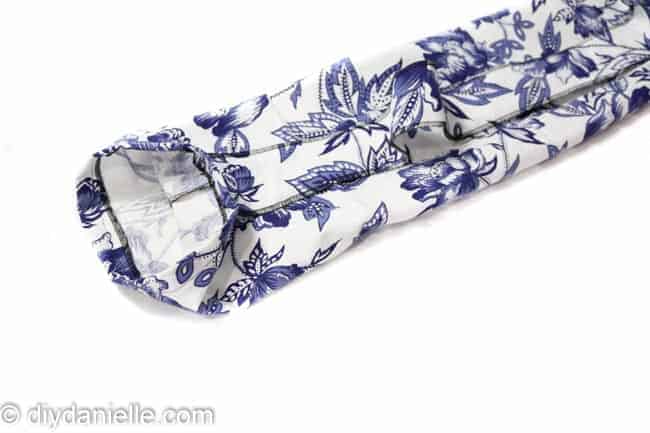 How to make a yoga mat bag to store and carry your yoga mat. This is an easy to sew yoga mat bag pattern.
This post may contain affiliate links which may earn me commissions should you click through them and take certain actions. As an affiliate for Amazon, Cricut, xTool, Home Depot, and other sites, I earn from qualifying purchases. Please DIY carefully. View my full legal disclosures here.
Please read the whole post so you don't miss any important information!
To be completely honest… I don't love yoga. I was really into a couple of hardcore sports pre-children… muay thai kickboxing and horseback riding (jumping). I'm not really a huge adrenaline junkie because my anxiety can produce enough adrenaline for me to get by on just fine, but the sports were very satisfying for me in other ways. I liked the rhythm and speed of them. And I adore horses.
Then I had kids and it turns out, doctors frown on both horseback riding and muay thai kickboxing while pregnant. Shucks. Beyond that, my body has sort of been broken from horseback riding. Surprisingly, getting punched and kicked all over your body sparring… repeatedly… is not nearly as damaging as falling off a horse just a few times in your life. I had a couple of bad falls as an old person (30s) that I just didn't recover well from which led to long term neck and back pain.
While pregnant, I was given the short list of sports I could participate at the same time they gave me the list of the three medications I could take while pregnant (Tylenol, Tums, and a prenatal, haha). Yoga was on the list so I decided to try it. I struggled so hard with the speed of it, but I discovered that I love how yoga makes me feel. It also makes me do the one thing I'm really bad at- slow down.
So I go at least once a week usually, along with taking a couple other classes. I don't go to class with a spring in my step… but I leave with a spring in my step after and that's what matters. Plus, I adore any exercise that resembles sleep so shivasana is my jam.
But I've been trying to juggle holding the yoga mat, my blocks, and my sons' hands across the parking lot so I decided to make my own mat holder. My first project was a yoga mat carrier from upcycled yoga pants. I decided to try this prettier version as a gift for a friend of mine. It's so gorgeous and it made great use of this beautiful upholstery fabric that I was hoarding. It is a simple project so let me show you how to make it!
If you're interested, I also have a tutorial on how to sew a yoga bolster.
Supplies
Fabric: I used a thicker upholstery fabric.
Sewing machine, etc.
How to Make a Yoga Mat Bag
You need to start by cutting your fabric. I cut one big piece for the sides of the bag. The width of the cut should be 18″ (using a 1/2″ seam allowance, this will mean the width is 8.5″). The length was 35″ (34″ length finished).
I folded the big piece of fabric in half and sewed up the edge only. This creates a long tube. I serged, but you can certainly sew normally as well. You may want to finish the edges with a zig zag, depending on what type of fabric you're using.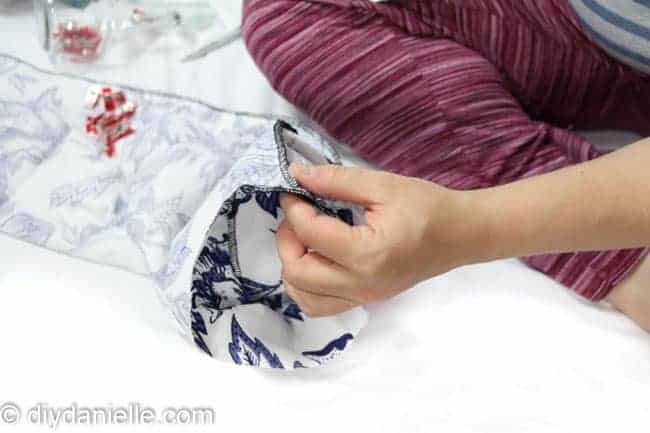 Create your strap. You want the finished length to be as long as your finished yoga mat bag. You can turn and topstitch the strap, but I choose to just serge the strap because I like the look and it's fast.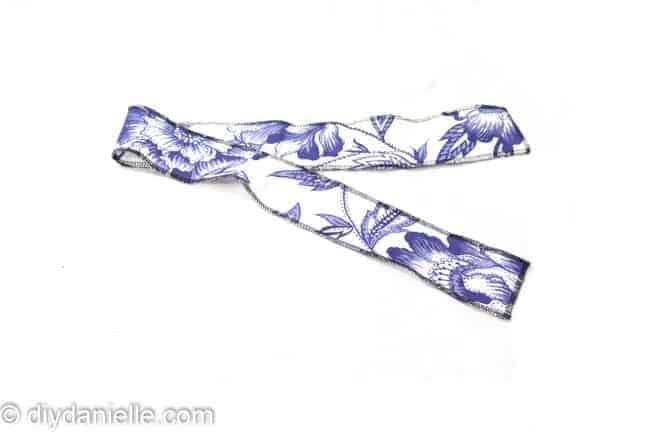 The strap is 34″ x 3″ when finished (so your cut of fabric, assuming a 1/2″ seam allowance, can be 35″ x 7″).
Now you need to cut the bottom circle for your bag. To figure this out, measure the circumference (the width across) of the opening at the bottom of the bag. Add your seam allowance. That's how big your circle should be.
Next you need to pin your circle for the bottom right sides together at the bottom of the bag. You'll want to sandwich the bottom of your strap in between the layers too. I placed mine along the side seam.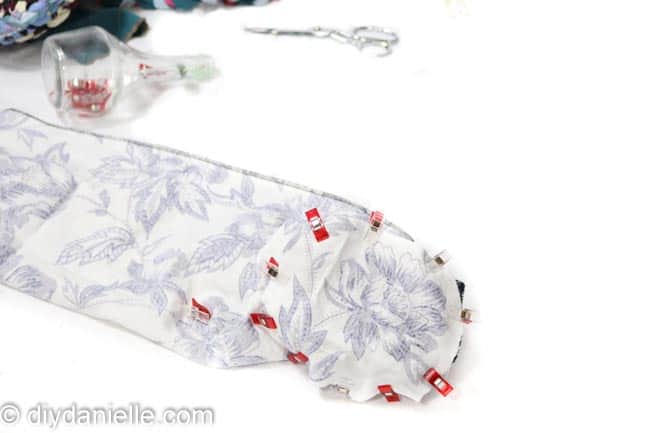 Once the bottom was sewn on, I serged (or you can zig zag) the top of the bag. I folded it over, pinned the top of the strap on, then I used a straight stitch around the top to finish the seam.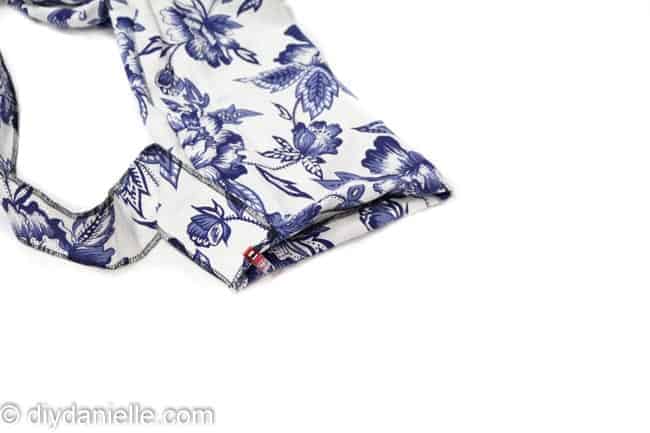 Quite frankly, this was so fast, easy and satisfying that I'm not sure why I haven't made a million of these. Love this? Check out 15 Small Home Gym Ideas.
Love it? Pin it!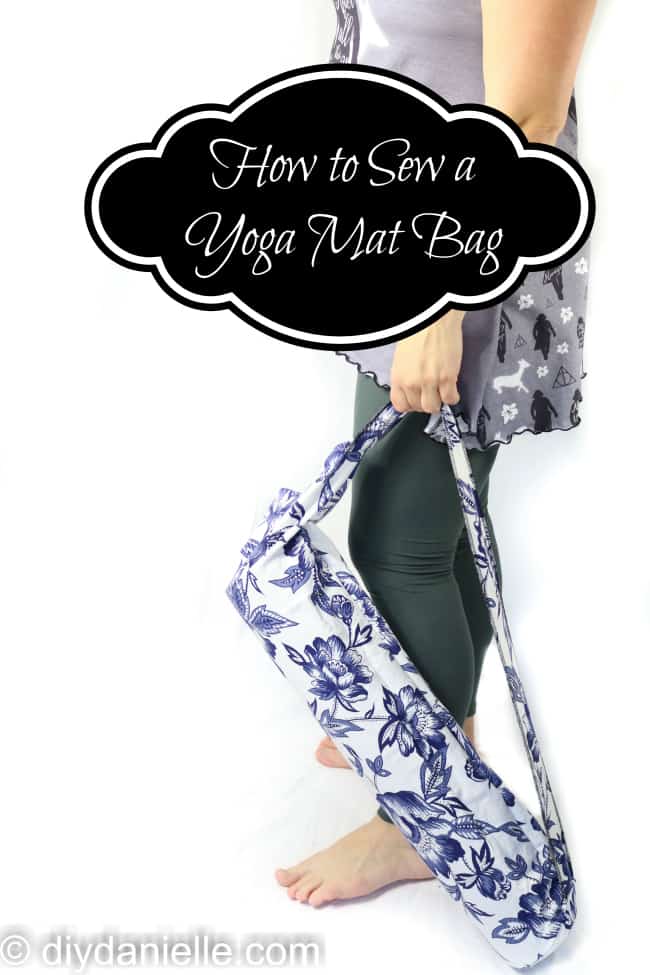 DIY Yoga Mat Bag