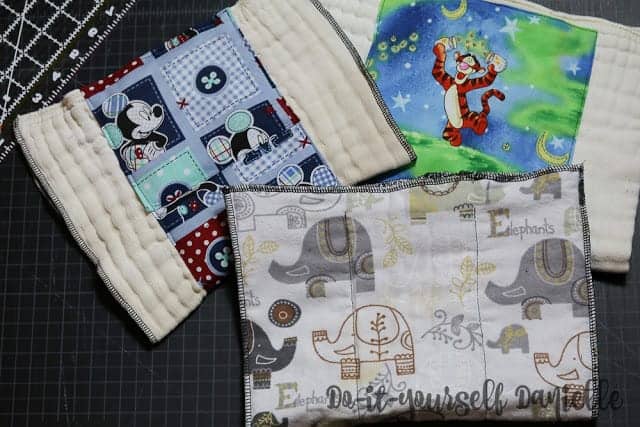 How to make homemade burp cloths using old prefold diapers. This is a super easy sewing project.
This post may contain affiliate links which may earn me commissions should you click through them and take certain actions. As an affiliate for Amazon, Cricut, xTool, Home Depot, and other sites, I earn from qualifying purchases. Please DIY carefully. View my full legal disclosures here.
Please read the whole post so you don't miss any important information!
I love prefold diapers; they're super absorbent and cheap to purchase. Due to their absorbency, they make amazing burp cloths too. I acquired a huge bag of prefold diapers from a friend who was done cloth diapering so I've been repairing them to use both as diapers and burp cloths.
I'm using these used ones for my burp cloths, seeing I don't need the bigger prefolds for diapering (we'll use the one size diapers that I made) and I love the large size for covering up while breastfeeding too. I know a lot of people like those huge breastfeeding covers, such as these easy to sew nursing shawls, but I've gotten to be a minimalist about how much I carry with me so I just carry a burp cloth now. I lay one of these over any exposed area that I want to cover when I'm nursing, then I can use it after to burp my baby. Super simple and it doesn't take up much space in my bag. I also like having the burp cloth so close while nursing because my babies are spitters and they don't wait for the burping process to spit up everywhere.
Supplies
Cotton or Flannel Fabric: This is a great use for scraps
How to Make Homemade Burp Cloths
To begin, you want to wash and prep your fabric and prefolds. In this case, I'm using upcycled prefold diapers so these aren't new and I needed to bleach and wash them. I covered this process in my post, How to Repair Prefold Diapers.
One Sided Embellishment of a Prefold Burp Cloth
The prefolds I used were 17″ long x 12″ wide. I cut a strip of cotton fabric to be 17.75″ long and 11″ wide, then ironed over about 1″ on either long side. You can also iron over a bit on each short end.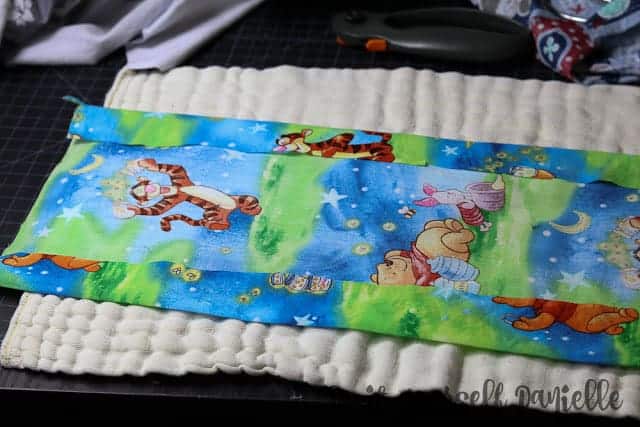 Once you're done that, you pin to the center of your prefold diaper and sew on, using a straight stitch. This will show the stitching on the opposite side so if you're opposed to that then you may want to use a piece of fabric that wraps all the way around (see next section).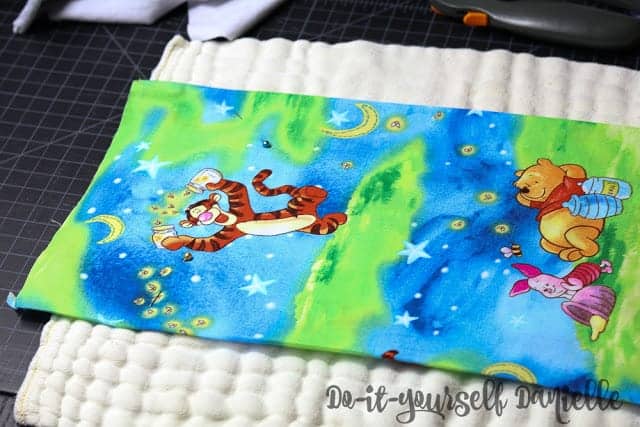 As you can see, I stitched around each side of the fabric. And that's all there is to that one.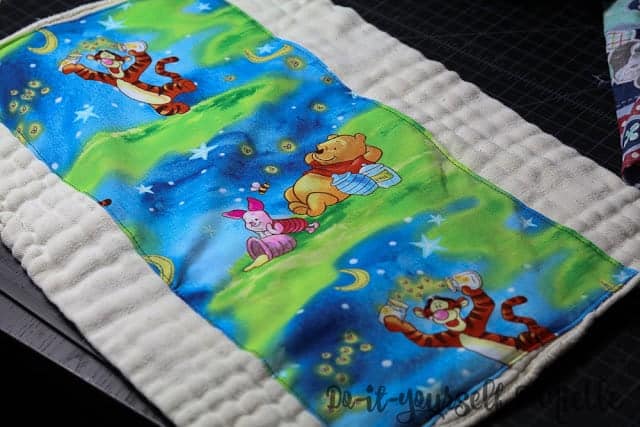 Two Sided Embellishment of a Prefold Burp Cloth
If you want to embellish both sides of the prefold, this requires a strip of fabric over twice as long. I created overlap for my strip. Again, I ironed first to prepare the fabric to be sewn on.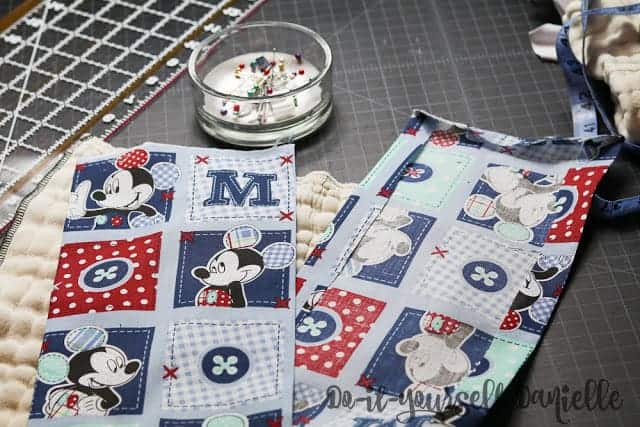 Then I pinned it onto my cloth diaper, as straight as I possibly could. This is harder than it sounds because prefolds are a bit wonky by nature, particular on a prefold that's had a lot of use and washes.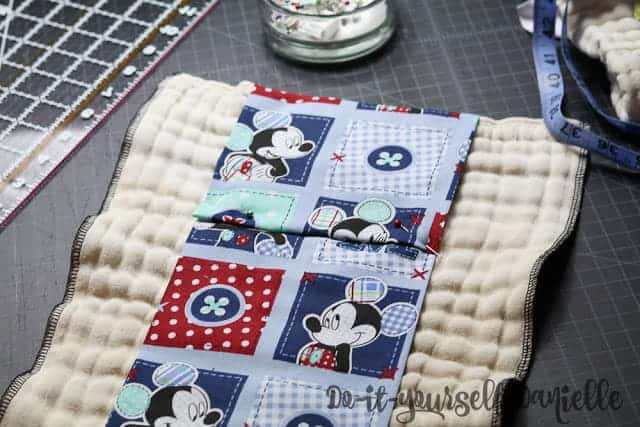 Once it was pinned on, I sewed a straight stitch down each side.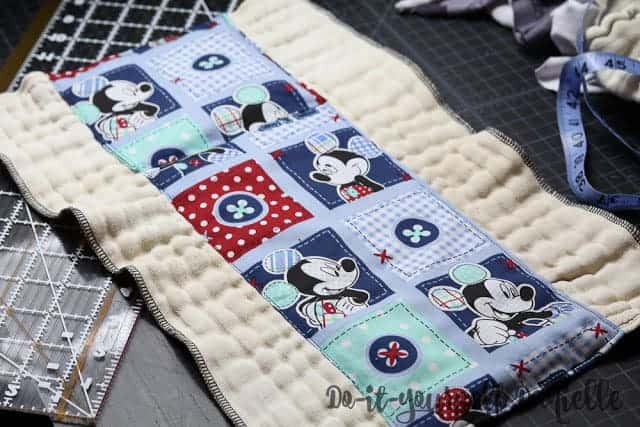 Then I stitched across the fabric strip where the fabric had overlapped.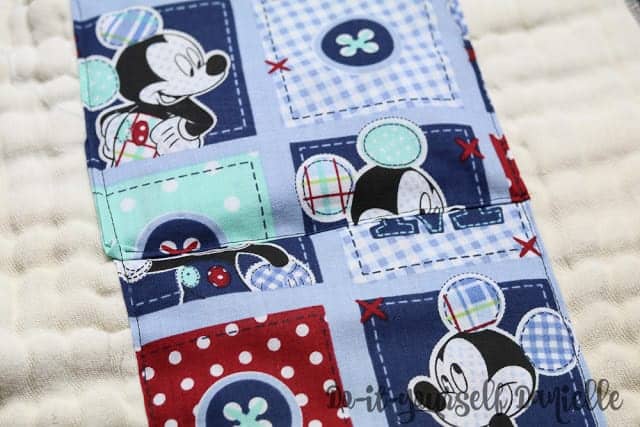 Embellishing a Prefold Burp Cloth by Covering it with Flannel
Another way to make these is to completely cover the prefold with an absorbent fabric like flannel. I am not going to include a tutorial for that part because I covered it on my post, How to Repair Prefolds.
But this is what a finished prefold burp cloth that's been completely covered with flannel looks like.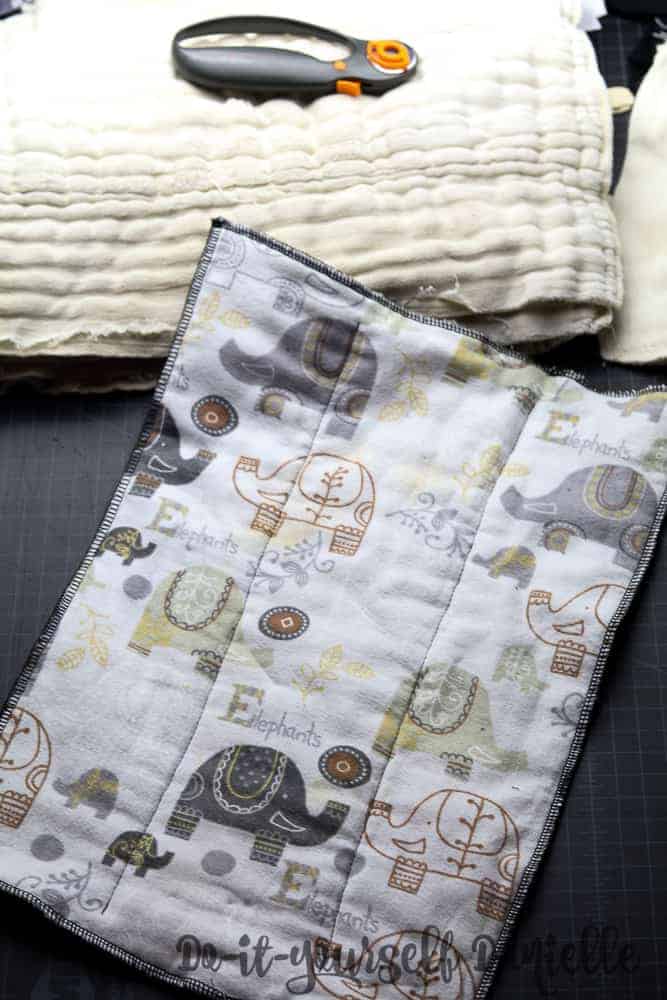 As you can see, these are all super simple sewing projects and they are a fabulous way to reuse prefolds or to use new prefolds… the prefolds make a great burp cloth because of how absorbent they are!
Alternatively, you could also use the same method to make unpaper towels from old cloth diapers if you've outgrown the baby stage.
Please share and pin this post!