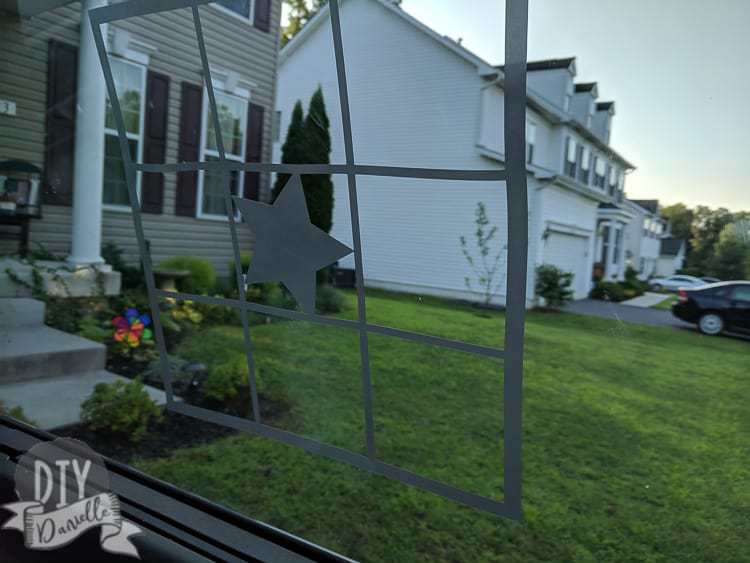 How to make a Bingo game for the car window to keep kids occupied on those long (or short) drives- screen free.
This post contains affiliate links. If you make a purchase using these links, I may receive a commission on the sale. This does not affect the price of your product. Thank you.
My kids get stickers every time we go to the gym and they'd taken to sticking them all over the windows in the minivan. UGH. I am probably not the only one with stickers all over their van windows, but it was driving me nuts. The 4 year old's peeled off easily (and he wasn't quite so diligent about putting them on), but the 6 year old spent an hour helping me clean them off his side. I think we've learned our lesson about stickers on places they don't belong. If your kids have done the same, make sure to check out my post on how to remove stickers from car windows.
I did, however, promise him some window decals so they could play stickers on their windows WITHOUT permanently sticking something to my window. These are fairly clear so they shouldn't block my vision when I'm checking my blind spots and they easy for him to move around. The downfall is that I really don't want him moving the Bingo card around because it was so hard to get on straight (it's not straight, full disclosure… lol).
Supplies for a Car Bingo Game
Free Cricut Design from DIYDanielle.com
Dry erase marker
Cricut Air 2 and associated supplies
I had tons of window cling leftover from my Minecraft window project so I didn't even need to order supplies.
The free cut design is available to my subscribers. Sign up below.
How to Make a Bingo Game for the Car Window
This is a super easy game to make. Use your Cricut to print out the design on Cricut Window Cling: White and Silver. I used both colors, but you could certainly use one. You could also skip the dots and just let the kids erase each box as they find the item.
I setup two different Bingo boards for the free Cricut file- one is large and for bigger kids or longer car rides. I made a smaller one for my kids (ages 4 and 6). Print whichever you want (or both). I color coordinated them for the file so you can print out only the ones you need.
Here's what the whole file includes… the black dots are for the board with more squares, the purple dots are for the board with fewer squares (you can print them in whatever color you want).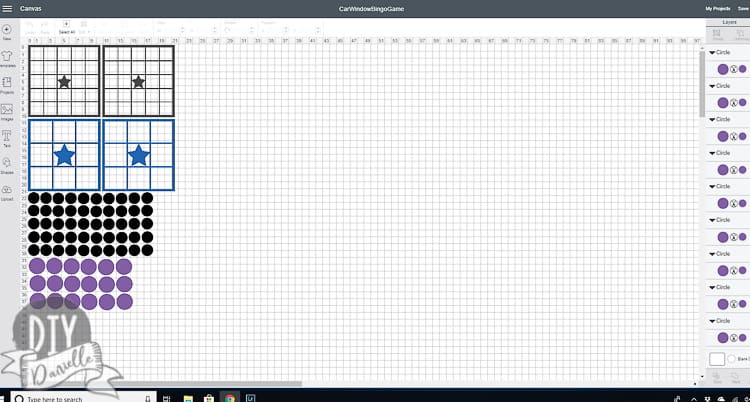 Here's the little kid version…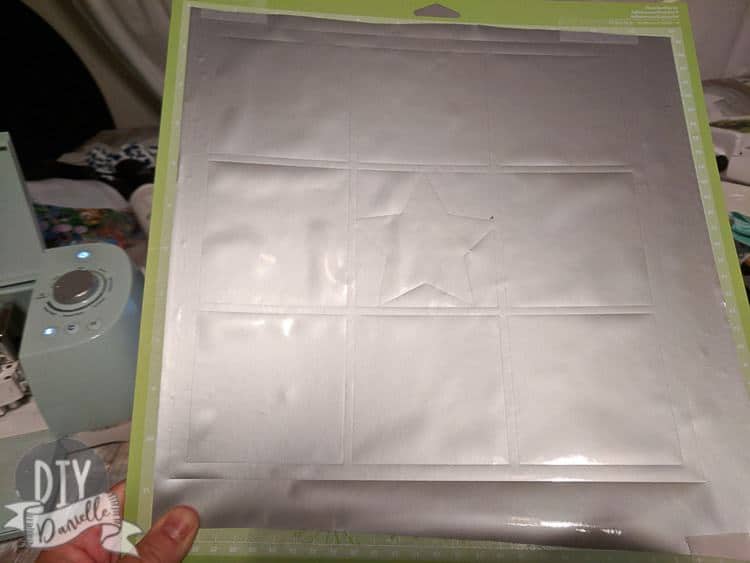 Just weed away the excess. I kept the big squares for 'unknown project' idea. Yeah. I'm a craft hoarder.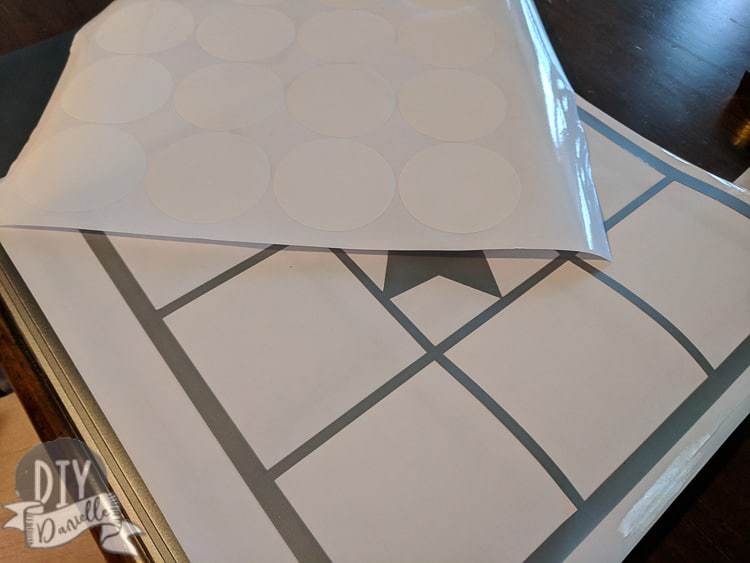 I locked myself in the car to apply it. Holding it up to the window to get an approximate idea where to put it.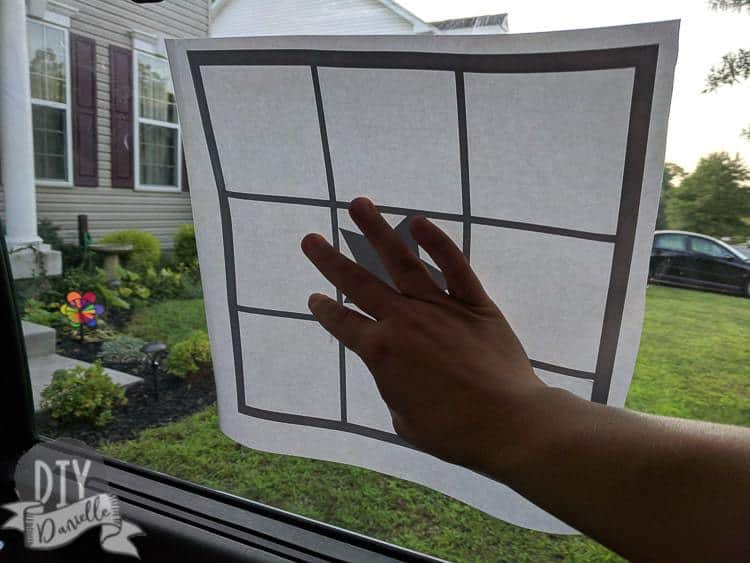 I started by peeling the top half off and trying to get it straight, then worked slowly to peel down and placed the rest. It's not perfectly straight but the nice part is that I can always peel it off again and fix it. Or not. The kids don't care.
Make sure you put it in a spot the kids can reach WITHOUT compromising their safety. Kids in boosters or seat belts need to remain in a safe position to be protected in an accident and kids in a 5 point harness need to be able to reach. Our kids are both able to reach the spots that I placed the decals.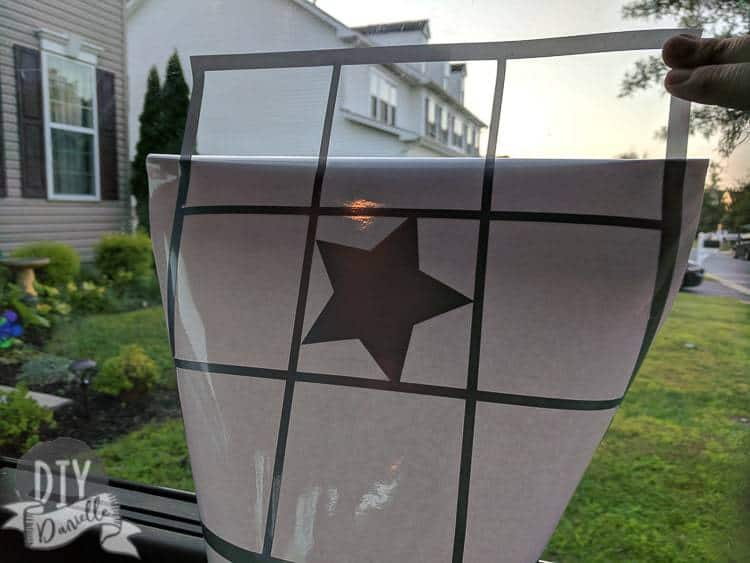 Here it is once finished. The white circles are for use as Bingo chips. I think erasing the dry erase might be better though- you NEED to do that or the marker gets on the window clings. So it might be better to just avoid the circles altogether. Alternatively you could give your kids dry erase markers to use, but MY children would DEFINITELY get it everywhere else too so that's a hard no.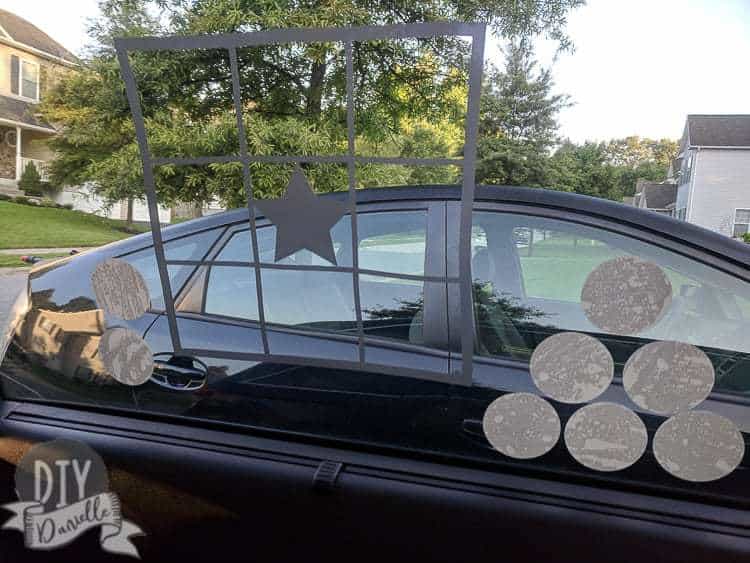 This is what it looks like from the outside. I know someone may be concerned about the legal issues with putting stickers on your windows… I have no clue what our state's rules are but I was never stopped for the obnoxious permanent stickers that my kids put up so I'm assuming it will be fine. I have cameras on my right side for right turns. This also doesn't seem to block much, but we'll see how it goes long term. The nice thing is that they're removable so I can always take them off.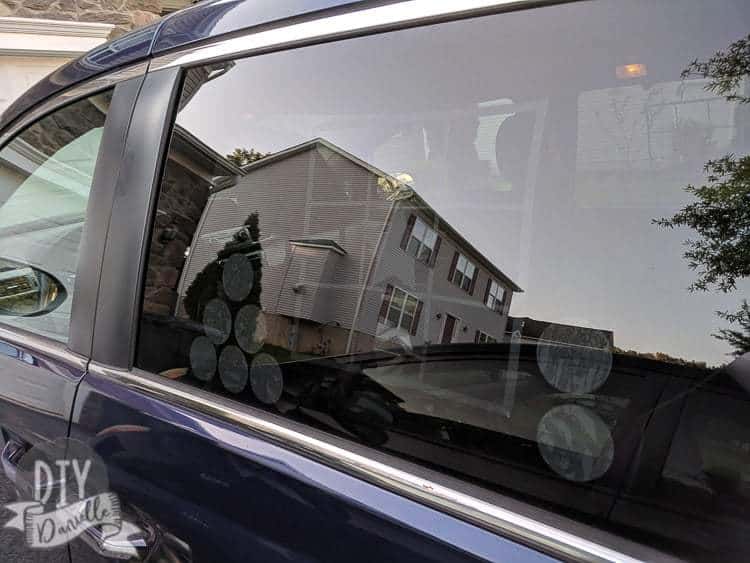 I recommend cleaning your glass before you apply the window cling.
Now you can just use a dry erase marker to put whatever you want inside the Bingo squares.
How to Make Your Bingo Game Educational
Wondering what types of Bingo you should do? The nice thing about this game is that you can tailor each child's game to their level- one child could do numbers and another could do site words. They can still compete against each other if they want or they could complete their own games separately. You can use your dry erase marker to adjust each trip too.
Here's some ideas.
Sight word Bingo: Write sight words down and have them find them on signs.
License plate Bingo: Use states on the Bingo board and have them find license plates with the state on it.
Nature Bingo: Write down some types of birds, trees, etc. that they might see on the drive and have them mark when they spot one.
Numbers Bingo: Have them look for different numbers on the drive.
Have them look for road names, landmarks, and more. This is a great way to keep them looking around and paying attention to their surroundings. You know all of those times you pointed out interesting things and the kids weren't paying attention and totally missed it? Yeah.
You could even play a kindness game if you're driving around a city with a lot of people. Have them find someone with pretty hair, an awesome outfit, an interesting job, etc.
Please pin this!
I've got the Bingo card below setup with sight words. I need to figure out the best option for my 4 year old too.
If you love this idea, make sure to check out my interactive Jenga game… this family game is awesome to get your kids and family talking!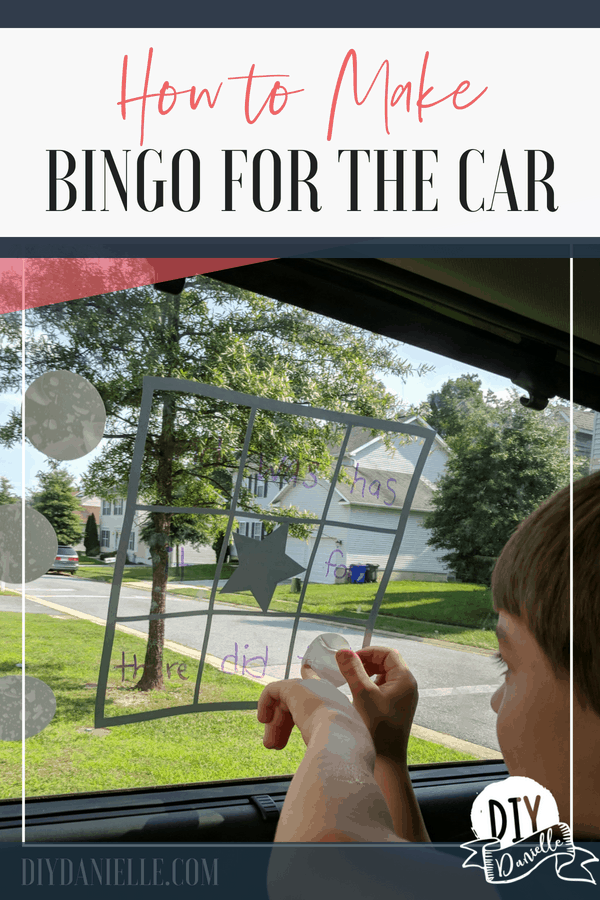 DIY Bingo Game for Car
Use the Discount Code DIYDANIELLE on cricut.com for 10% off any cutting machine or heatpress (no minimum). Excludes: materials/accessories/mystery boxes/etc. Applies to US/CA only, code expires 12/31/23.