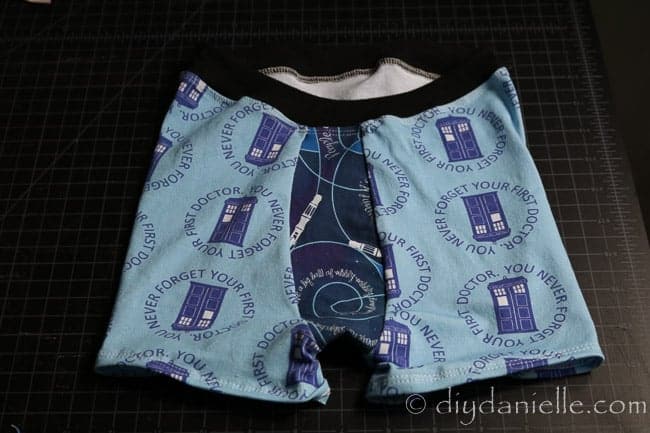 Learn more about sewing boys underwear and the boys boxer briefs sewing pattern used to create some of my sons' favorite pairs of underwear.
This post may contain affiliate links. If you make a purchase with an affiliate link, I may get a small commission from the sale. This does not affect the sales product of your product. Thank you.
When I started making my husband underwear, I knew I'd need to make my sons some matching underwear too. My middle son was going through a rough patch for potty training- he's 4 years old, but the new baby led to a slight regression . His favorite thing is mommy made shirts and clothing, and he'd requested some Doctor Who underwear. I have lots of small lycra scraps laying around from custom orders over the years… I can't throw perfectly good scraps away… so this boys boxer briefs pattern is perfect for using some of those scraps.
They LOVE their underwear (I made some for the 6 year old too).
Supplies for Sewing this Boys Boxer Briefs Pattern
Pirates' Booty PDF Pattern from Patterns for Pirates, Fits sizes 12/18mo-14
Fabric: Ribbed knit or cotton lycra (something really stretchy) for the main portion, but any knit for the small piece in the front. The pattern uses between 1/3 to 1/2 yard, depending on the size you're making. Scraps are perfect for the center piece.
1″ Exposed Elastic if you're using elastic instead of knit bands.
Boys Boxer Briefs Pattern: Pirates' Booty from Patterns for Pirates
I love the patterns from Patterns for Pirates because their PDF tutorials are clear and easy to read. I don't usually have issues figuring out each step and like most PDF patterns, they have a pretty detailed photo tutorial that is included in their pattern. It's amazing.
While I sized up for my sons, I realized that I probably could have gone with their "age size"… usually they wear a size or two bigger than their age size, but this actually was pretty true to their age. I think underwear tends to be like that more because it doesn't have length like pants that they can outgrow faster if they're tall. And the waist can be cut to fit your child so that isn't as much of an issue either. That said, you could be smarter than me and actually measure your kiddo to see where they fall on the sizing chart. It's so hard to measure them though because they WIGGLE SO MUCH! These boys don't sit still.
Options on the pattern:
Knit waistband or elastic waistband
Fly/no fly
No exposed seams
Hemmed legs or banded legs
Plain center or pocket center
Trainer option (using PUL and absorbency in the front)
For the ones I made my sons, I went with the easiest possible options (in my mind): hemmed legs, knit or elastic waistband, no fly. I love the idea of using the no exposed seams options for kids with sensory issues about seams, but my sons haven't had any issues so I kept it simple. My husband prefers his seams on the outside so I may sew his future adult boxer briefs inside out. I just need to wrap my head around reversing everything.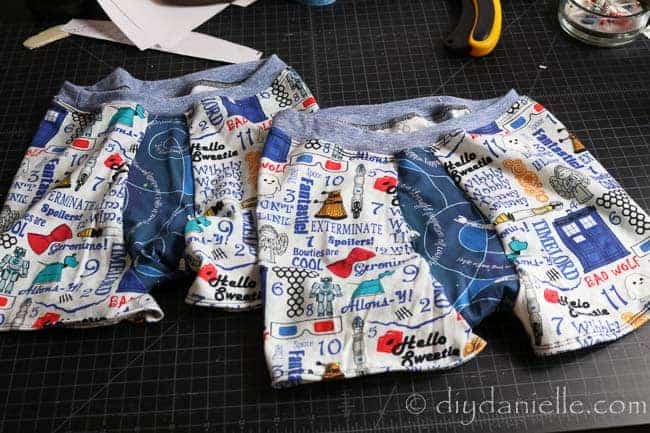 I have the Cricut Air 2, but I love the idea of cutting the bands with the new Cricut Maker™ because it has a rotary cutter blade. I feel like I could cut a bunch of nice rectangles with it and whip these up fast that way. Cutting bands is my least favorite thing. The only thing I've found successful is using older t-shirts and upcycling them for the bands. The older t-shirts seem to curl less while I'm cutting the small pieces which helps.
Please pin this!