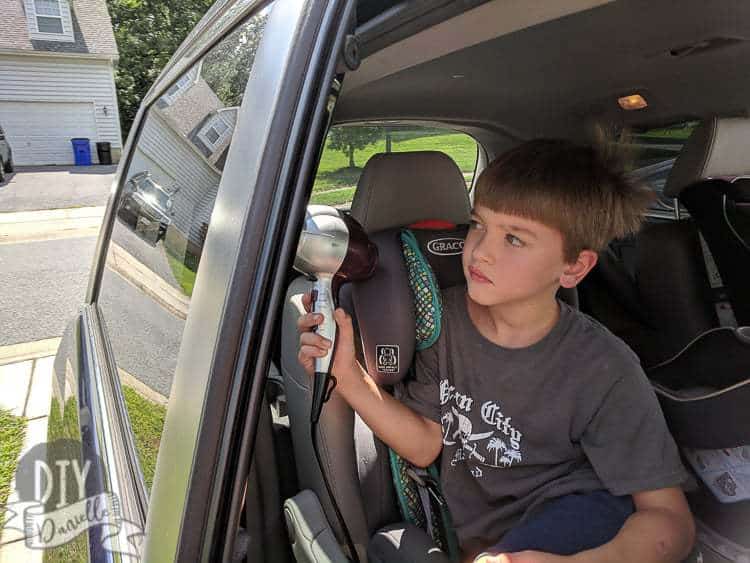 How to Remove Stickers from Car Windows. Do your kids love to put stickers on the windows? Learn how to clean them off your windows.
I love our gym and my kids love the gym's play area. They get supervised childcare for up to 2 hours a day and an opportunity to play with other kids their age, I get to do yoga or sit by the pool with a book. LOVE. Afterwards, they get a sticker. Unfortunately the stickers were being placed on the windows next to their car seat. So we had a little lesson in natural consequences where I helped my 6 year old get the stickers off the window. It took an hour and he has now decided to never ever ever put stickers on the car window again. Winning.
In return, I made him some cool window clings for the car. This way he can still entertain himself by putting stickers all over my window, but they'll actually come off after.
This post may contain affiliate links. If yjou make a purchase using these links, I might receive a commission from the sale. This does not impact the price of your purchase. Thank you.
Supplies to Remove Stickers from Windows
Hair dryer and an extension cord (if you're far from an outlet)
Rubbing alcohol
A dish cloth or paper towel
How to Remove Stickers from Car Windows
First, you need to see the full 'before' photos. Ugh.
This is the view from the outside…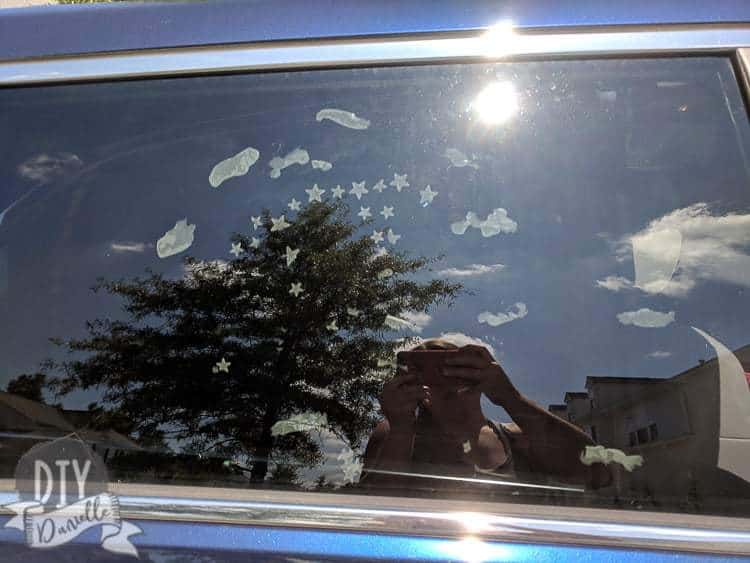 Don't judge me for letting it get this bad. I'm tired y'all. So tired.
How to Remove Stickers Using a Hair Dryer
Heat is a great way to remove stickers. My 4 year old also put stickers on his side, but he was able to easily peel them off. I believe this is because he caught them during a time when his side was facing the sun. When the area gets hot, the adhesive gives a little, allowing you to carefully peel them off. You can try to park in a super sunny spot before peeling them off or use a hair dryer to heat things up.
I've also used this heat method to remove bumper stickers from the back of my car.
Don't use a hair dryer if it's really cold outside because you don't want to stress your glass by hitting cold glass with a hot burst of air. Using temperature changes is a common way I cut wine bottles because the temperature differences causes the glass to break.
If you're using this method, you heat up the area where the sticker is, then carefully peel back the edge of the sticker and try to peel it off without leaving any residue. The area is HOT so be careful not to burn your fingers.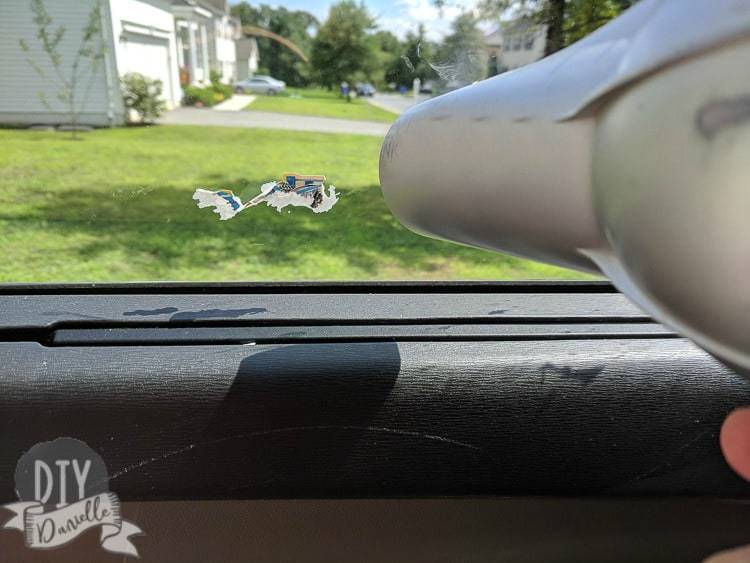 In this case, my son started peeling stickers before I had a chance to grab the hair dryer so it was a LOT harder to get the stickers off. So we moved on to the second method.
How to Remove Stickers from a Window Using Rubbing Alcohol
This is really simple and worked well. I used paper towels, but I think I'd use a rag if I did it again. The paper towel tends to shred and it's a pain in the butt to work around. A rag would be more effective and last longer.
Just put some rubbing alcohol on your rag and rub hard. It will eventually all come off.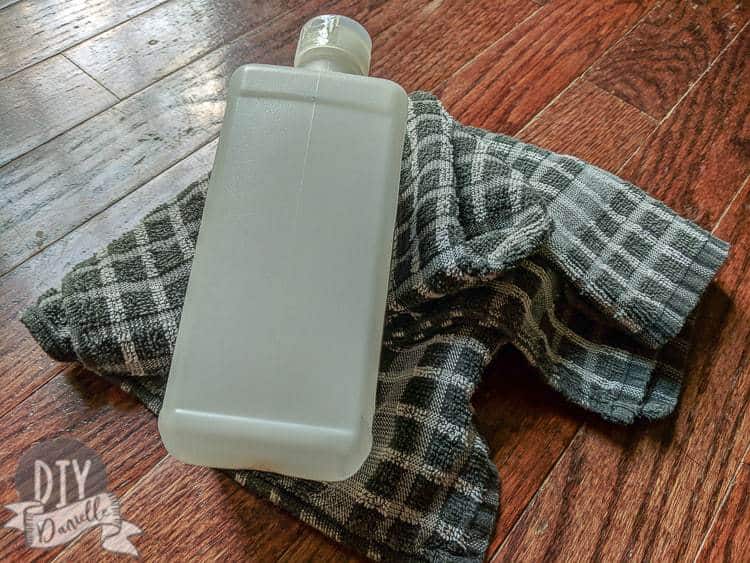 If you have GooGone, this should work too. I also tried Lemon Essential Oil.
Sadly, I forgot to take 'after' photos of the window… and I immediately put the window clings on so I don't want to peel them off (they're a bit difficult to get straight).
Please pin this!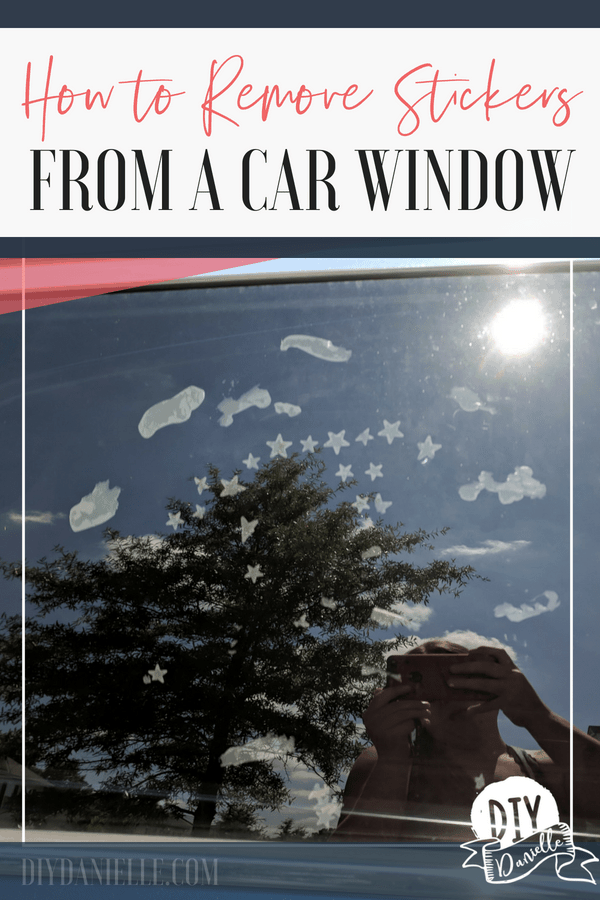 If you want to give your children something fun to do in the car, make them a Bingo game for the car window using window decals. These are removable and won't leave residue on your windows!
Other cleaning posts on DIYDanielle.com:
How to clean a glass table or bar and keep it clean. | How to clean an electric toothbrush. | How to get mold out of the front loader.
How to clean bath toys in your washing machine. | How to clean poop out of the dryer | Tips for cleaning your refrigerator.
How to Clean Stickers from Window