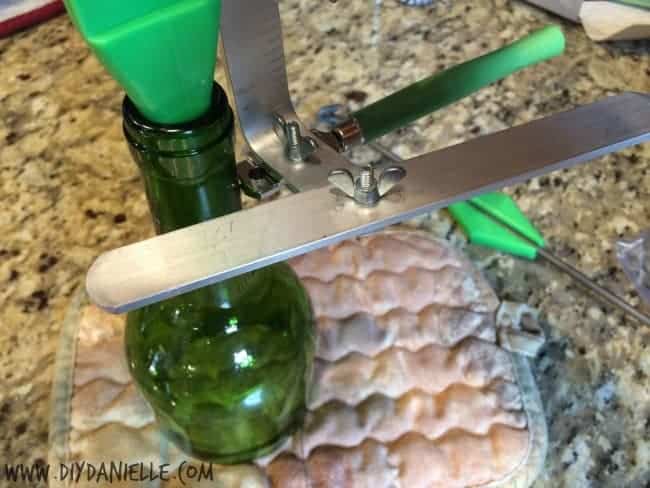 How to cut a wine bottle quickly, easily, and with less mess. Get a great clean cut on your first try and decrease the number of bottles you break. This is a great way to upcycle wine and beer bottles!
This post contains affiliate links which may earn me commissions should you click through them and take certain actions. As an affiliate for Amazon and other sites, I earn from qualifying purchases. Please DIY carefully. View my full legal disclosures here.

Please read the whole post so you don't miss any important information!
I am in charge of crafts for my mom's group and we do a craft every other meeting or so. I wanted a cheap and easy idea for planters for our gardening meeting so I decided to cut wine bottles into planters. I collect old wine bottles because we make wine so this wasn't a huge problem.
Supplies
How to Cut Wine Bottles
WARNING: Make sure to do a good job with cleaning up any broken glass after. When we were trying to dip the bottles back and forth between boiling water and ice water, we broke a LOT of glass (do NOT do it this way- it's a terrible method to cut bottles, even though that's what the G2 instructions say to do). My husband put the pots away without cleaning them out and next time we ate, there were glass shards in our food. I was NOT excited to crunch into glass shards. Super gross and awful. Anyhow. Yes. Breaking glass, hot water… protect your eyes, hands, and any other body part that could get injured. Don't get this around dogs or children. Use common sense.
Step 1: Remove your label and any residue from your wine bottles. Soaking them in hot soapy water for 30 minutes or so does the trick for many labels.
Step 2: Using your bottle cutter, score a light line around your bottle. Do not go over the line again. Just once.
Step 3: Boil water.
Step 4: Put your wine bottle with the score mark in your sink. Using a small pan or measuring cup, scoop your boiling water and pour it over the score mark on your wine bottles. Do this for about 5-10 seconds, turning your bottle so you can get the score mark all around it.
Step 5: Turn on your cold water and run it over the score mark for 5-10 seconds.
Repeat steps 4 and 5 until the bottle breaks. It should break fairly clean, although if you made any deep gouges scoring the bottle or just use too much hot water on other spots, you may have bottles that don't come out well.
Step 6: Carefully sand your edges so they're smooth.
Video Tutorial
What are you going to do with your wine bottles now? No clue? Learn how to make a candle with them or make a planter for herbs!
Please pin and share this post!