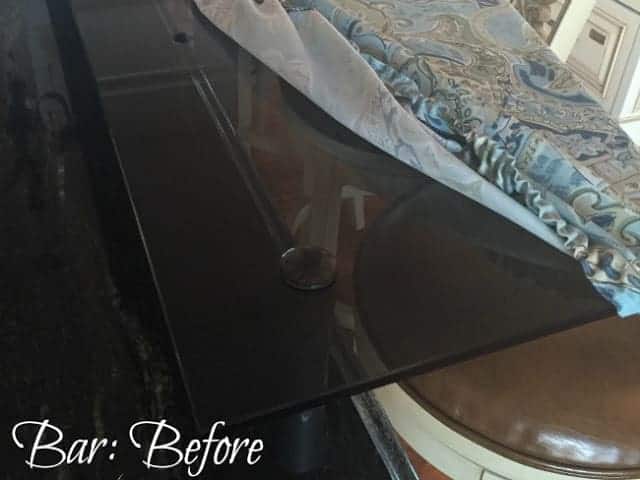 How to clean a glass table or bar. Learn how to clean your glass table and keep it clean with this easy to sew fitted cover.
This post contains affiliate links. If you make a purchase using these links, I may receive a small commission. This does not affect your price for the product. Thank you.
My dad and step mom have a long glass bar that is rounded in the front and rectangular in the back. This bar is gorgeous, but it does come with a few issues:
Fingerprints get on the glass and it can be time consuming to keep clean.
Unlike a regular table, you can't just slip a standard tablecloth on it.
If there's young kids around (or klutzy adults) then you have the potential to end up with scratches or marks.
My step mom had the perfect idea- she requested that I sew a fitted tablecloth for the bar. It was hard to do because I live in another state from them and it's a custom shape, but my brother created a template for me by tracing it onto white paper. He mailed it to me.
This makes things easy because she can clean the glass when needed for regular home use, but then use the fitted tablecloth when people come to visit- or children.
I'm going to talk about cleaning the glass first, but then I'll show you how to make your own fitted cover if you're interested!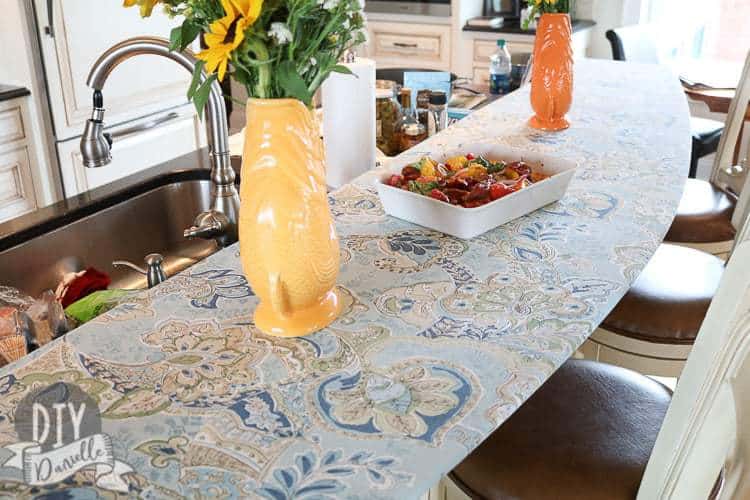 How to Clean a Glass Table or Bar
Cleaning a glass table without leaving streaks can be a challenge. There are several options for quick and easy glass cleaning that you can try.
Cleaning Glass with a Hand Held Steam Cleaner
My favorite method for cleaning glass is to use a handheld steam cleaner. You can buy a couple of reusable (washable) pads for it to swap out.
Steam is an excellent cleaning option for several reasons:
It uses only water so you don't need to buy expensive cleaning products.
As it uses only water, there are no chemicals involved. This means fewer chemicals to worry about your kids or pets getting into or being exposed to.
The heat from the steam is an effective cleaner as it can sanitize and disinfect.
Steam evaporates fast so the glass dries faster.
Using steam can help you avoid streaks on your glass.
All you need to do to use the steam cleaner is fill it up, wait for it to heat up, then spray as you push the steam cleaner over the surface. Try to work in even lines. I have a post about using a hand held steam cleaner if you're interested in learning more.
I would recommend avoiding any huge temperature changes- ie. putting a block of ice on your glass, then using this after removing it. I think the extreme changes of temperature could stress or crack the glass, theoretically. I'm not sure how likely that is, but I don't want to test that.
If you have a steam cleaner without a pad, you'll still need to wipe the dirt off with a cloth. My handheld steam cleaner (which is only $30 on Amazon when I wrote this) has a pad so I don't need to do that.
One downfall is that it's hot and you'll need to be careful not to get burnt. You need to keep your hands and face out of the spray… this is not that hard, but I make sure to unplug it so my kids don't accidentally get themselves in the face playing with it.
The other downfall to a hand held steam cleaner is that it's hard to clean the underneath of the table. It doesn't work well to tip the steam cleaner upside down (not recommended/it's dangerous). So you'll likely still need to wipe the underneath the hard way.
If you love the idea of cleaning with steam, make sure to check out my post on ecofriendly cleaning ideas.
DIY Glass Cleaner
You can make simple glass cleaner using a solution of 50% water and 50% white vinegar. Mix, spray, wipe.
I love these spray bottles that I found on Amazon. They come with chalkboard labels which is convenient too.
Using a lint free cloth is important to keep from leaving residue on your surface.
Use Wipes Made for Eye Glasses
You could use disposable eye glass wipes or those cloths that come with eye glasses or computer/phone screens to wipe fingerprints off the bottom of the glass. This will NOT CLEAN the glass if there's dirt and contaminants on it, but it's perfect for fingerprints!
Buy Glass Cleaner
Obviously you could just buy normal glass cleaner. I prefer to make my own supplies when possible so I can't speak to which leaves the least streaks. Again though… use a lint free cloth.
Here's the cleaning glass pin! I'd appreciate the share. Scroll down for the tutorial on the cover!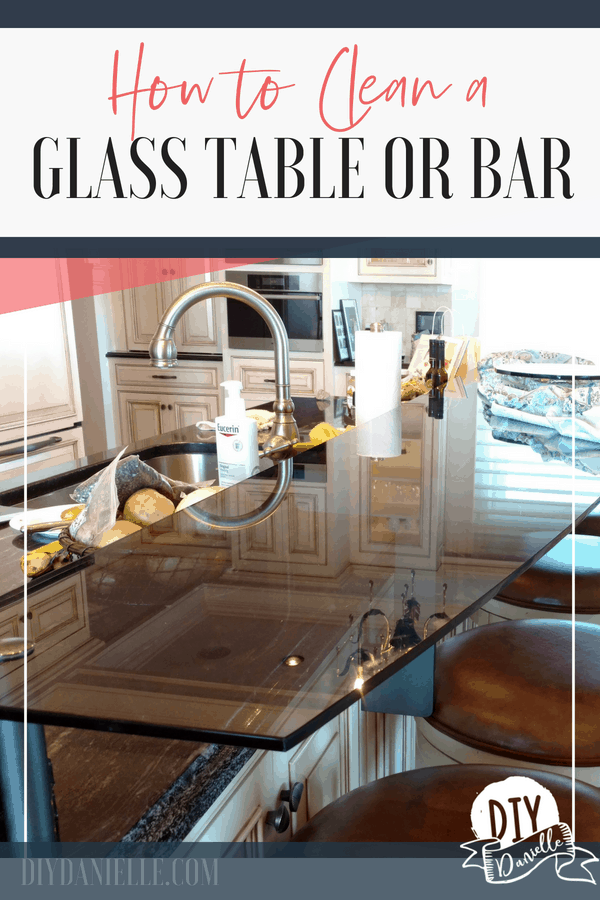 I've got lots of other cleaning posts if you're interested.
Learn How to Clean a Microfiber Couch | How to Deep Clean Your (Carpet) Steam Cleaner | DIY Laminate Floor Spray | Cleaning Your Refrigerator | Cleaning Your Water Table | How to Clean with a Steam Mop | How to Clean Your Dryer | How to Clean an Electric Toothbrush | How to Get Mold out of the Front Loader
---
Preventing a Glass Table or Bar from Getting Dirty
A big part of keeping the table clean is to prevent the glass from getting dirty to begin with. The struggle with glass tables or bars is that both the top and bottom get streaks and fingerprints. This isn't an issue for my dad and stepmom normally as they live alone and don't have children around. My stepmom hosts a lot of parties, however, and she's got SIX grandsons so there are times when it makes sense for her to cover the bar.
Instead of trying to fuss with lots of cleaning, she can put the fitted tablecloth over the glass to prevent any issues with dirt, food, or damage to the glass. The fitted cover isn't padded so it won't protect against a major blow to it, but it will help with scraping from toy cars being wheeled across it or plates being dragged across it or whatever.
When the party is over, all she needs to do is shake off any food, then throw it in the washer. It's easy and saves her a ton of time in clean up.
The ideal part of using a fitted tablecloth is that is won't be accidentally pulled off. If you have children, this might be a concern for you, but adults can also make this mistake. It keeps the fabric from the tablecloth out of the way and keeps the tablecloth from shifting all over the place. It also leaves the underneath of the table or bar accessible and visible (which could be a bad or good thing, depending on your goal). It also is less likely to blow in the wind if you're putting it on an outdoor table.
Supplies to Sew a Fitted Cover for a Table or Bar
Supplies listed below may include affiliate links to the products.
I recommend using a fairly durable fabric for this. Upholstery fabric is pricey, but it's a good option. You could even use a fabric like Sunbrella fabric… it's designed for heavy use on outdoor furniture so it should stand up to fading and repel liquids. I'm not sure what type this is as I got it from a local upholster at his twice yearly fabric yard sale (that I don't think he's doing any longer, womp womp).
If you love sewing, don't forget to check out the Sew Organized phone app!

How to Sew a Custom Fitted Tablecloth for a Table or Bar
I took the template of the bar and placed it on top of my fabric. I used my tailor's chalk to draw the exact bar shape onto the fabric. Then I drew the extra seam allowance around that. When you're considering your seam allowance, make sure to take into consideration the thickness of the bar. Their bar is very thin glass so I didn't account for anything extra on it.
I cut along the seam allowance marks.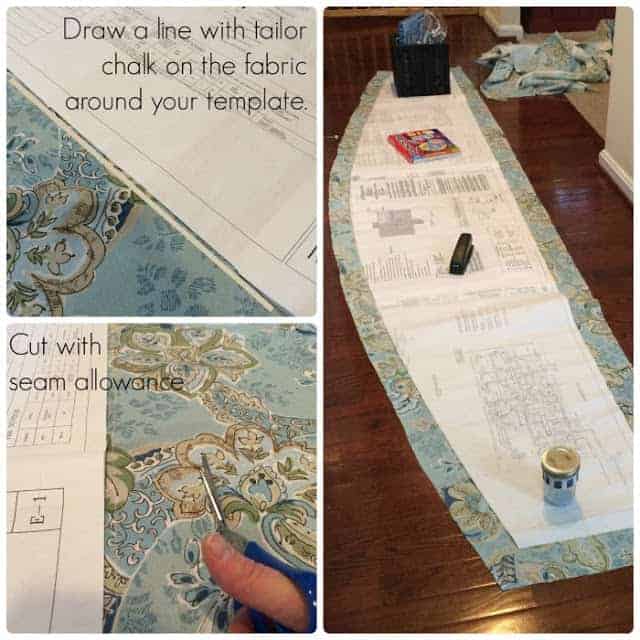 I serged all the way around the fabric.
Around the edges, I cut a small square for each edge. See photo below.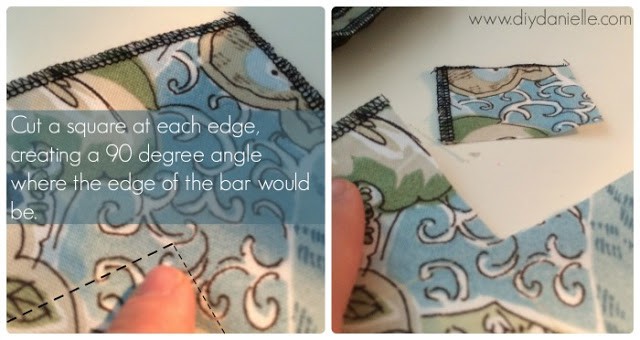 Now fold the edges of that square area right sides together. Sew or serge up it.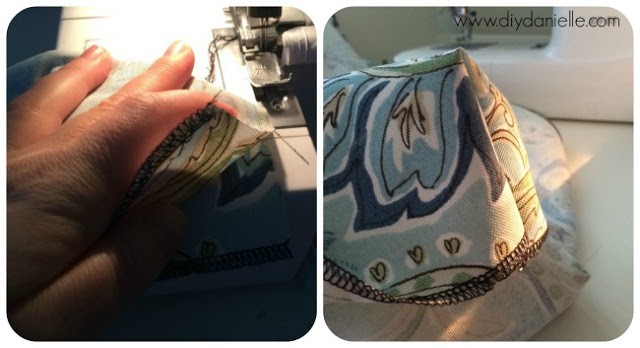 I turned my edge over to create a casing for my elastic. Because you drew the exact outline of the bar, you can actually SEE where you need your casing to go. In other words, if your casing is over the white line then you've gone too far.
Sew the casing, leaving an opening to feed your elastic through.
Feed your elastic, then sew ends of the elastic together. I just eyeballed how much elastic to use.Sew up the casing.
Congratulations- that wasn't so bad right?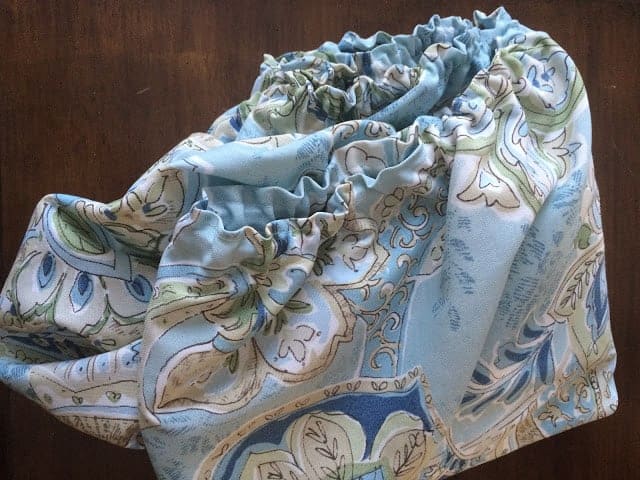 Folded up to send. Clearly I have zero skills at folding fitted sheets.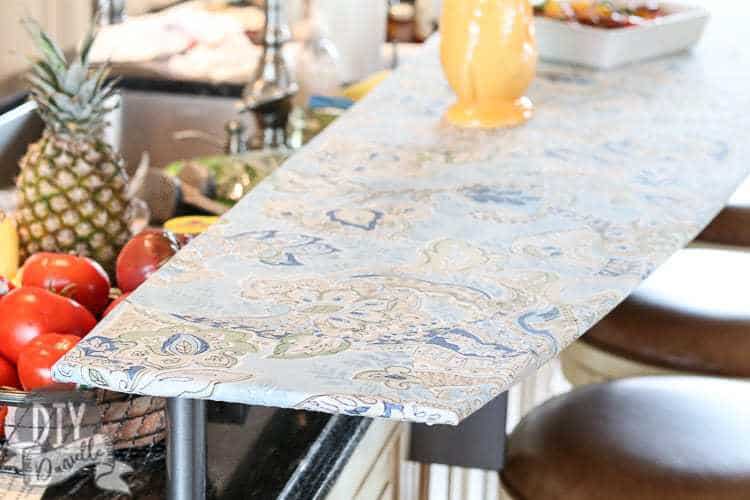 Would you mind pinning or sharing this post? Many thanks!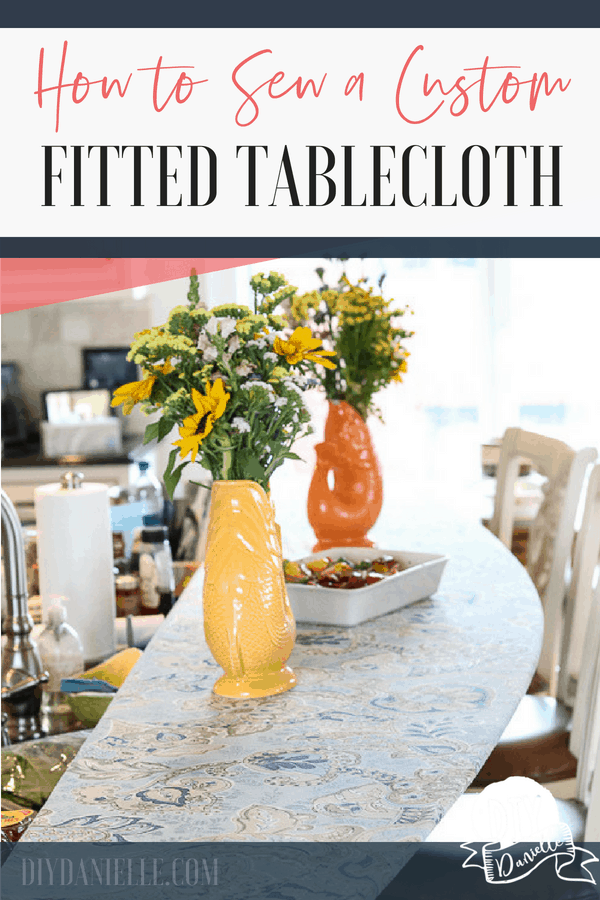 Thanks for taking the time to read this post! I really appreciate the time you've taken. Please share, like, and pin my post if you enjoyed it. Follow me on social media and subscribe to my email list to keep up to date on all of my latest projects!

Disclosure of Material Connection: Some of the links in the post above are "affiliate links." This means if you click on the link and purchase the item, I will receive an affiliate commission. Regardless, I only recommend products or services I use personally and believe will add value to my readers. I am disclosing this in accordance with the Federal Trade Commission's 16 CFR, Part 255: "Guides Concerning the Use of Endorsements and Testimonials in Advertising."
Originally published February 15, 2016. Updated July 29, 2018
How to Clean a Glass Table or Bar | How to Make a Cover for a Glass Table or Bar