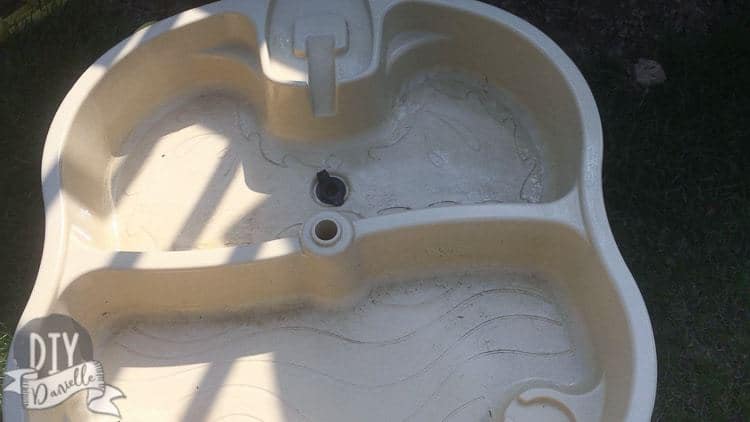 How to clean a water table thoroughly with homemade cleaner. Keep your children safe by keeping mold, dirt, and other debris out of your toy.
This post contains affiliate links. If you make a purchase using these links, I may receive a commission from the sale. This does not impact your price for the product. This post was originally published on May 28, 2015, but has been updated.
We love our water table, but the one thing we struggle with is making sure we clean it regularly. There gets to be a lot of build up if you aren't consistent and you don't want the kids playing with all that gunk… because… of course… they will try to drink the water and eat the toys. It's not safe so be diligent about your cleaning and prevent build up with appropriate storage.
This is how we clean our table.
Homemade Cleaner for Your Water Table
Normal Dirt and Debris Cleaner
You can make a simple cleaner for your water table by upcycling an old, clean spray bottle. If you use a spray bottle that had potentially dangerous chemicals in it, make sure you spray water through the nozzle repeatedly to clean it out until it sprays clean. I use the sniff test- it should smell like water, not the chemical.
Mix up some white vinegar, Blue Dawn, and water in your spray bottle. Super easy.
Mold
If you have mold, you need to use a bleach solution to kill the mold. Follow the instructions on your container of bleach to get the correct solution.
How to Clean Your Water Table
How you clean the table will depend on what type of build up you have. If it's normal dirt and debris, you want to use the homemade cleaner. If it's mold, make sure to use a bleach solution.
Cleaning Normal Dirt and Debris
Shake up your spray and spray the water table thoroughly. Make sure to get in all of the nooks and crannies. Let sit for 10 minutes.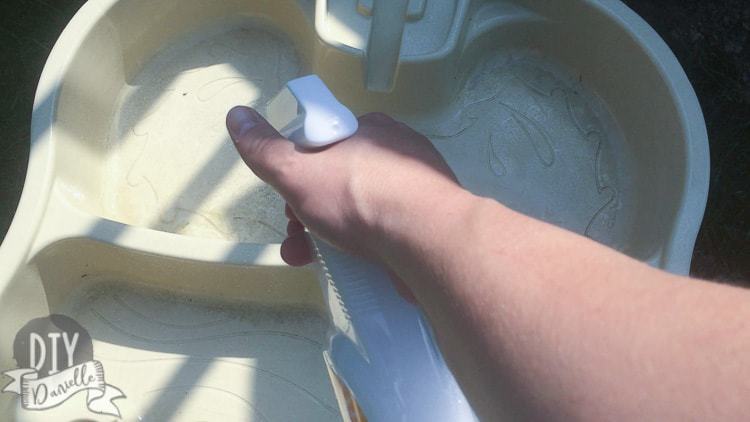 Wipe down and scrub thoroughly, making sure to get in the cracks.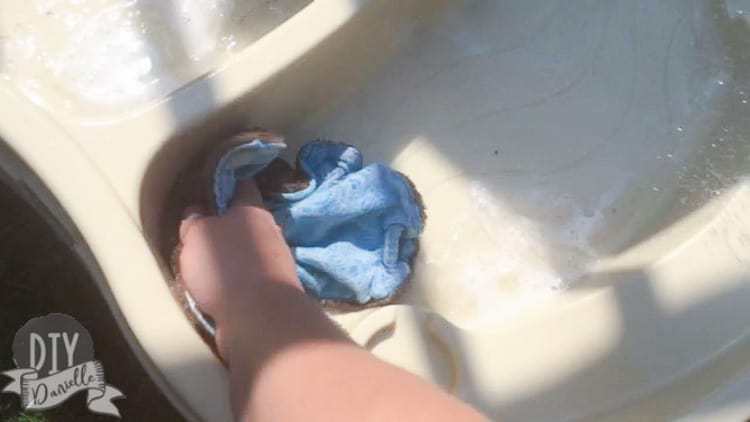 Rinse with our hose.
Cleaning Mold
If you have mold in your water table, you will want to clean it using a bleach solution. Let the solution sit. Then drain and let the table air dry.
Video Tutorial
Preventing Mold in Your Water Table
Ideally you want to prevent mold and other debris from building up in your water table. While it may be tempting to leave water in your table for later use, your best method for preventing issues is to empty it after every use. Mold grows in warm, moist environments.
The nice thing about a water table that is intended exclusively for use with water (versus a table with water and sand sections) is that you can empty it completely and leave the drain open. If you can, you may want to leave the water table upside down so it doesn't get water pooling in the indentations. Even if your water table is completely dry, moisture can build up from rain.
If you have shed or garage storage, simply dry it with a towel and store it. You can even put a cover on it if you want to prevent dirt from getting in it.
Make sure you empty the water out of all the accessories and toys, as well, and store them dry. You may be able to clean some of your bath toys in the washing machine.
Please pin this!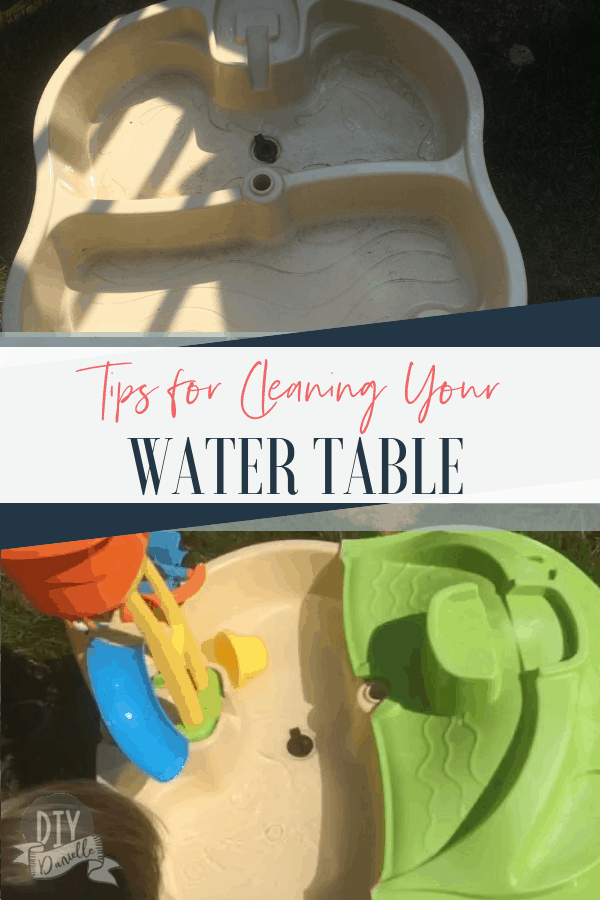 Make sure to check out my post, Best Water Tables for Kids, if you don't own one yet!
Other cleaning posts on diydanielle.com:
Disclosure of Material Connection: Some of the links in the post above are "affiliate links." This means if you click on the link and purchase the item, I will receive an affiliate commission. Regardless, I only recommend products or services I use personally and believe will add value to my readers. I am disclosing this in accordance with the Federal Trade Commission's 16 CFR, Part 255: "Guides Concerning the Use of Endorsements and Testimonials in Advertising."