How to clean a stroller. How to freshen up an older stroller, or clean a stroller that has had food, vomit, or other yuck on it.
We've been storing an umbrella stroller and a jogging stroller for a while now. The LAST time we got rid of baby gear, I fell surprise pregnant a month later. So it seemed prudent to just store these until my ovaries stopped working or until the strollers decomposed. All jokes aside, we know we're not having any more babies now (or it's improbable), so when my friend mentioned needing a stroller, I decided to clean these up for her.
Today's I'm going to show you how I cleaned both our Jeep Jogging Stroller and our cheaper, Chicco umbrella stroller. Both were fairly easy and taking them apart was likely overkill… but I decided to be extra thorough in the interest of a thorough tutorial.
---
This post may contain affiliate links which may earn me commissions should you click through them and take certain actions. As an affiliate for Amazon, Cricut, xTool, Home Depot, and other sites, I earn from qualifying purchases. Please DIY carefully. View my full legal disclosures here.
Please read the whole post so you don't miss any important information!
---
Here's the thing: Not all strollers are the same difficulty level to clean. I imagine the fancy ones might be easier to clean, but who knows… I can't afford a $1000 stroller so I never even considered them.
That said, the strollers need to be sturdy enough to safely hold your baby so there's probably going to be some parts that require unscrewing sections for a full deep clean. HOPEFULLY you'll never need to worry about anything that intense. Usually you can vacuum and wipe clean with a wet washcloth and some soapy water for normal messes.
How to Clean a Stroller
Stroller Cleaning Mix: I made a mild cleaner by mixing some Blue Dawn and water. You don't want it too soapy or it will be hard to rinse.
Cleaning the stroller without taking it apart: If your stroller isn't terribly dirty, you can vacuum it, then use a rag with cleaning mix to wipe it down. Do NOT soak your stroller, particularly in any areas where there are electronics or thick cardboard. The seat of our stroller and the back both had a thick cardboard-type material to support the baby. I assume soaking it with water will damage the stroller. This is why I would AVOID using something like a hose or pressure washer to clean a stroller.
Taking the stroller apart: For plastic pieces of your stroller, you may discover that they easily detach for cleaning. Our stroller's cup and snack holder came off very quickly and easily.
For deep cleaning, you'll want to take the whole stroller apart. Honestly, it's a bit "easier" to clean when disassembled… unfortunately that process is slow. You will need a screwdriver if you plan to take the stroller apart. I recommend taking photos of how it goes together so you can remember how to reassemble it all.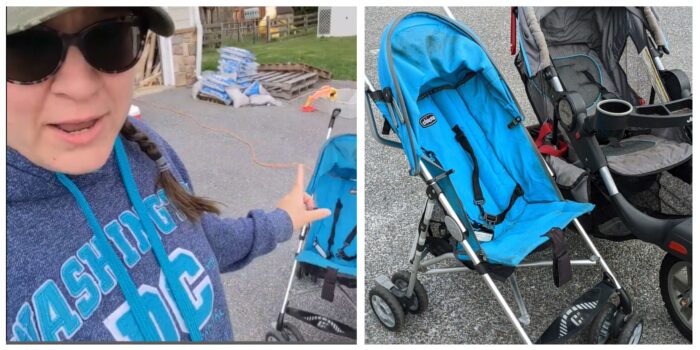 Old jogging stroller and umbrella stroller that I am cleaning today.
1 Use a shop vac to clean out any debris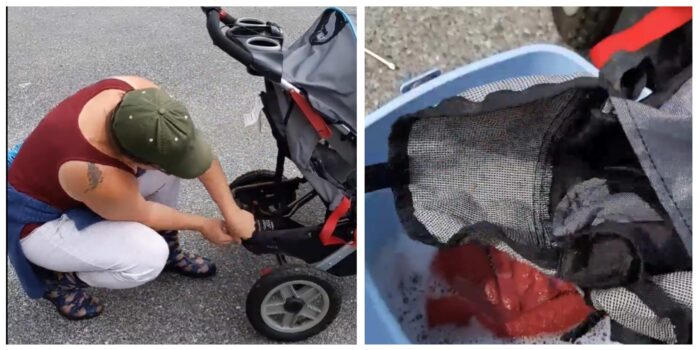 2. Remove any pieces that detach.
3. Soak fabric-only pieces and rinse.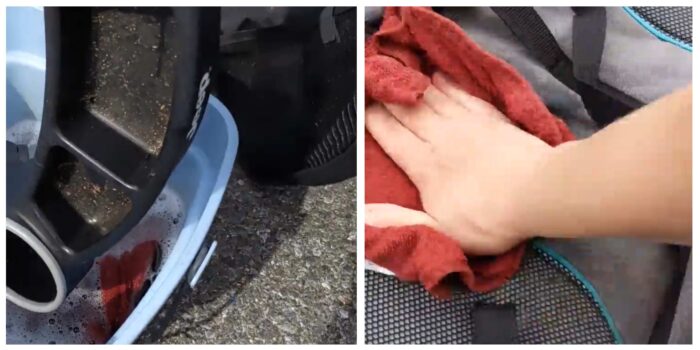 4. Soak and rinse plastic only pieces.
5. Wipe down any fabric with cardboard backing.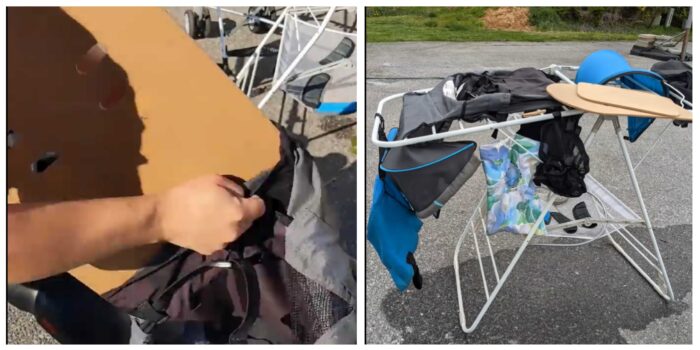 Some strollers have a way to remove the cardboard insert. This makes it a lot easier to wash the fabric
6. Let everything dry completely.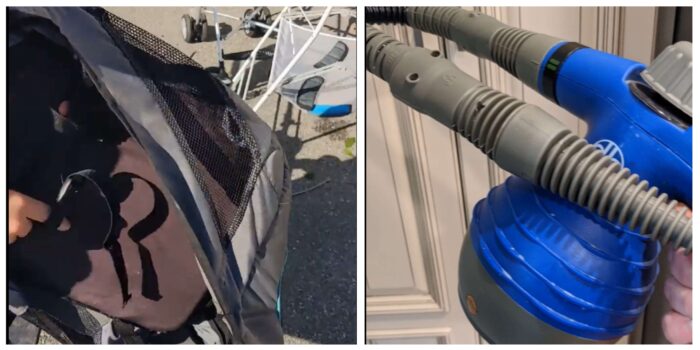 7. Put it all back together once dry.
You can also use a hand steam cleaner to sanitize your stroller. Be careful how much moisture and heat you expose the cardboard/electronics to.
Here's the video if you prefer video format.
Please share and pin this post! If you make this project, share it in our Stuff Mama Makes Facebook Group. We have regular giveaways for gift cards to craft stores. You can also tag me on Instagram @doityourselfdanielle; I love seeing everything you make!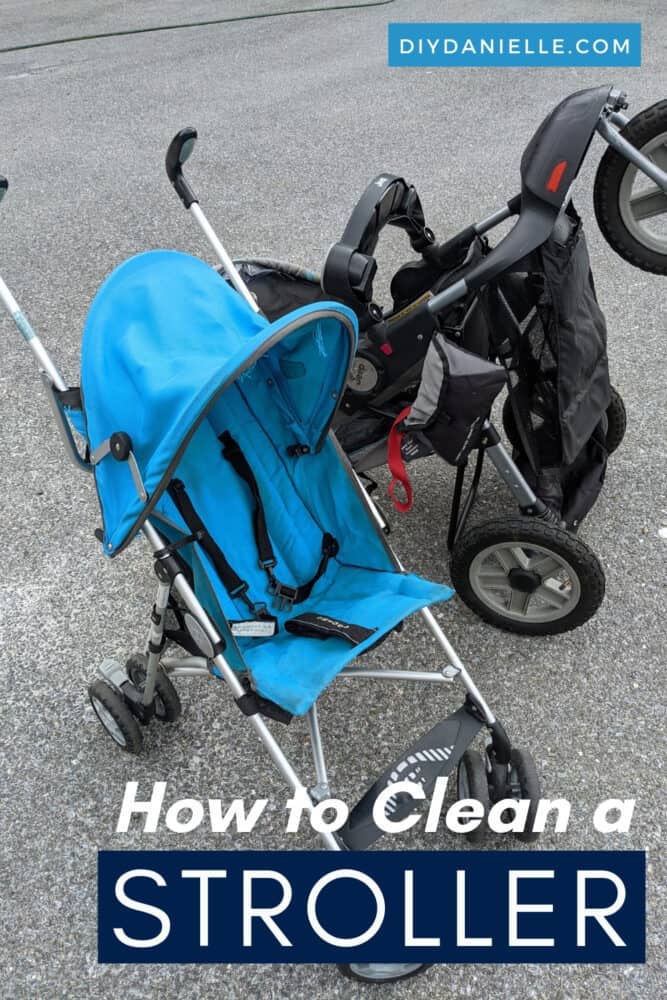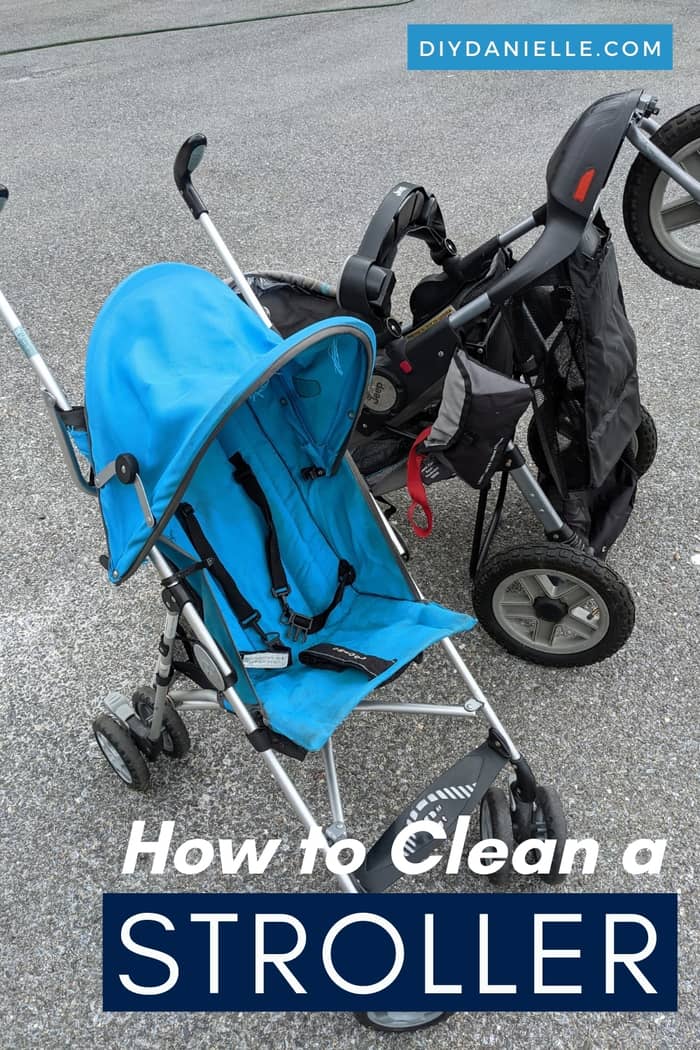 Yield:

1 Clean Stroller
How to Clean a Stroller: Deep Cleaning a Pram
Stollers can get so dirty. With 3 kids I've learned a few things about how to deep clean a stroller. I'm passing those tips on to you!
Materials
Blue Dawn
Water
Plastic Bucket
Old Rags
Instructions
Use a shop vac to clean any debris. T
Take the stroller apart and place any plastic pieces in the bucket of cleaner to soak.
Soak any fabric pieces and rinse.
Wipe down any fabric with cardboard backing.
Let it dry.
Put everything back together.
Recommended Products
As an Amazon Associate and member of other affiliate programs, I earn from qualifying purchases.