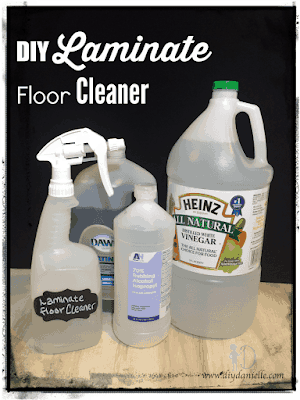 How to make a quick and easy DIY laminate floor cleaner using vinegar, dawn and rubbing alcohol.
This post may contain affiliate links which may earn me commissions should you click through them and take certain actions. As an affiliate for Amazon, Cricut, xTool, Home Depot, and other sites, I earn from qualifying purchases. Please DIY carefully. View my full legal disclosures here.
Please read the whole post so you don't miss any important information!
I was searching at Target and our local grocery store the other day for Swiffer replacement spray to clean our laminate floors, but I couldn't find anything that specified it could be used on laminate floors. This was pretty annoying as getting a toddler in and out of the car isn't enjoyable and neither is listening to him scream after 5 minutes in the cart.
I was trying to keep Baby G quiet while searching the internet on my phone to see if any of these sprays might work for laminate, when I came across a DIY spray. Not sure why I didn't think of this before, but I decided to just make my own when I got home.
I told Daddy B that I was going to make it and he says, "Let me guess… vinegar… blue dawn…?" Haha. He's so clever.
Someday when all the four billion cleaners I have are used up, I'm just going to keep a lifetime supply of those ingredients. It would save me so much space.
Interested in green cleaners? Check out the Green Cleaning COURSE by Permacrafters!
If you love green cleaners, steam mops or this full steam cleaner with a complete accessory kit are a great buy too!
Recipe for DIY Floor Cleaner:
If you love having your home clean and organized, you'll LOVE this home renovation planner in my shop! You can keep track of paint colors, appliance warranties and more!
Instructions
Mix and spray as needed.
Here are some links to two different laminate floor cleaners that inspired my post: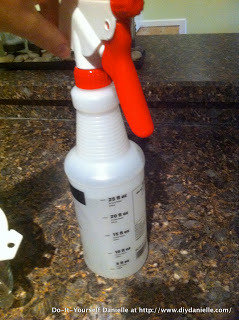 I just sprayed the floor and wiped it with my Swiffer (minus the Swiffer spray). I don't really like the Swiffer spray for the laminate floors- I actually don't think you're SUPPOSED to use it, but I could be wrong.
Know what else you can DIY quick and easy? Check out my tutorial for easy, $1 Reusable Swiffer Pads.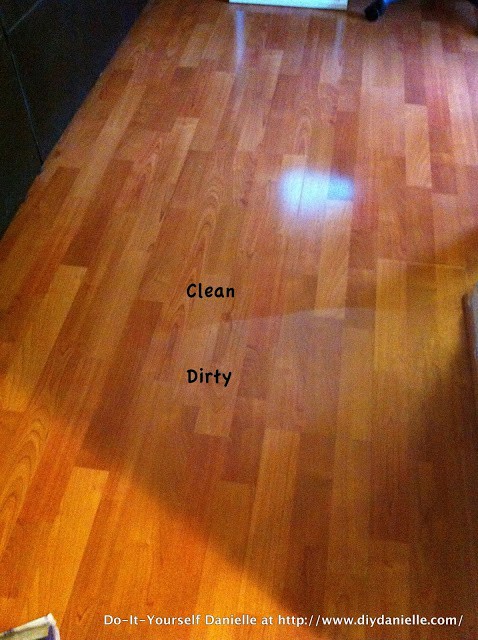 Pretty simple and effective spray. Happy Momma! Now I just need the trick to keep the floors clean… Baby G just dropped his goo'ed lunch all over my clean floor!
Update June 2, 2015: I've since switched to using a steam mop… steam mops just use water to create steam to clean your floors. They're a bit more expensive than a swiffer, but I love that I don't need spray. Check out my blog post about my Bissell Powerfresh Steam Mop.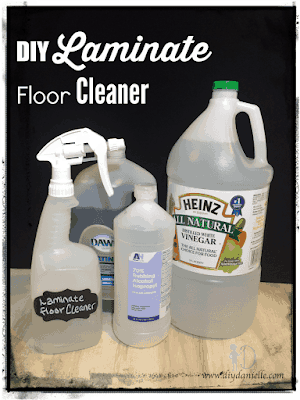 Yield:

1 Bottle
DIY Laminate Floor Spray Cleaner
Learn how to make a quick and easy DIY laminate floor cleaner using vinegar, dawn and rubbing alcohol.
Materials
1 cup of water
1 cup of white vinegar
1/4 cup rubbing alcohol
A few drops of Blue Dawn
Instructions
Mix and spray as needed.
Recommended Products
As an Amazon Associate and member of other affiliate programs, I earn from qualifying purchases.