Step 2: Cleaning the Microfiber
It's hard to show in pictures how icky it looks (and feels), but it is. Really icky… here's a brief glimpse. Microfiber is really crappy to clean. I've had this couch steam cleaned by a professional twice since I've owned it (4 years?). They always do a good job, but it's so expensive… and what happens? It rains. And my muddy dogs leave paw prints all over it. Even with the old sheets and blankets thrown over the couch, the dogs always seem to find a way.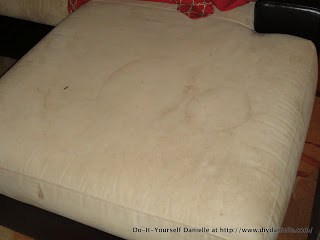 I saw this easy and affordable option to clean microfiber on pinterest and decided to try it. I contemplated renting a steam cleaner and getting the upholstery parts (the man who sold us the upholstery fabric said to use half as much solution as normal for the microfiber), but I wanted to try this first because it's way less expensive and I wanted to see if it would be a good solution for future spots. No matter how awesome my couch cover is, the dogs or the baby will probably manage to move the cover in order to dirty the couch. It'll just hopefully happen less often.
Like with the other post, please read the tutorial linked above so you get the full instructions. These are the abbreviated ones, just to explain the photos. If you have the sponge, brush, and spray bottle already then you're really only buying rubbing alcohol… which you also might already have at home. I think the rubbing alcohol only cost me $1 at the grocery store. I had to buy the brush and sponge as well… my grocery store had a cool white sponge attached to a handle which worked awesome. It was a bit easier. I think if you had to buy all of the necessary items that you'd still be spending under $10. I kept the receipt, but Daddy B apparently threw it out for me when he went to do the garbage the other day- oops!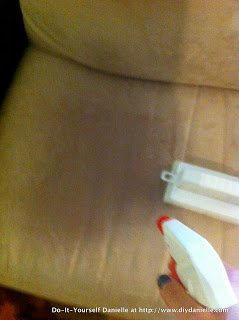 Spray with alcohol. I just added the rubbing alcohol (No, rum will probably not work)
to a spray bottle that I keep around for such purposes. I think doing all of the spots
that were on my couch required about 1/2 of the bottle of rubbing alcohol.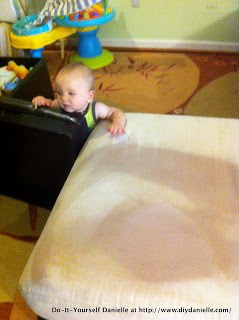 Let it dry. I had to move Baby G and myself out of the room and
open some windows because the rubbing alcohol was pretty… fragrant.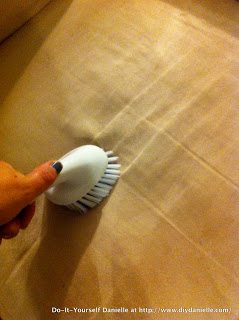 After it's dry, rub a stiff clean brush in circles on the fabric.
"After" Photos
It's back to normal… nice. That was a pretty simple solution to treat an immediate spill. I think a steam cleaner would probably be faster for a full couch like I had, but also more expensive.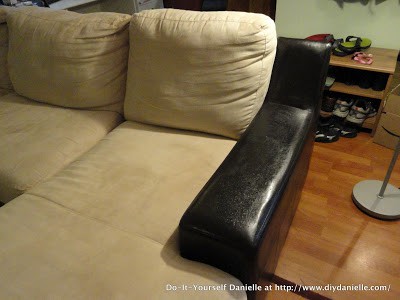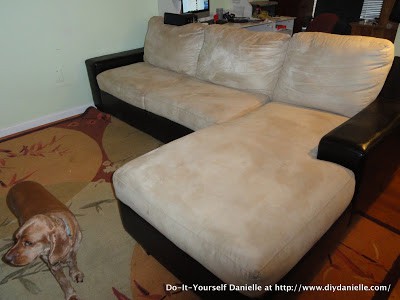 Coming soon, Part III: DIY Couch Cover. Make your own couch cover to protect it from pet hair and spills.