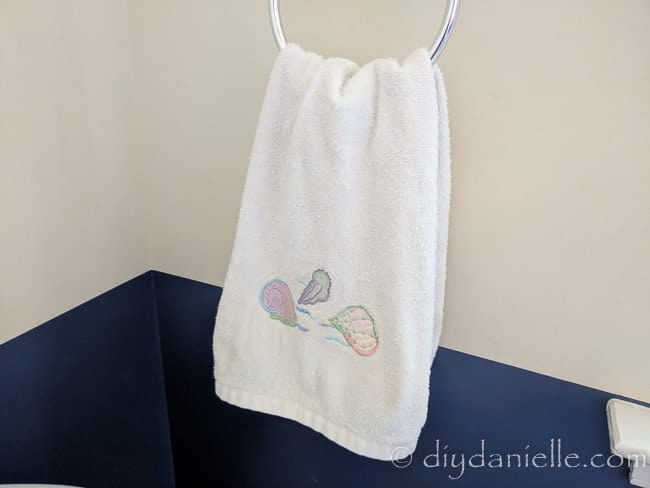 How to kid proof your hand towels. This hand towel hack will keep your hand towels from ending up on the floor.
I've had it! I am sooooo tired of walking into our downstairs bathroom and seeing the hand towel on the floor! GROSS. I just want a clean towel to dry my hands on. Upstairs we don't have this issue of hand towels falling because instead of hand towels, we use cloth wipes. I keep a stack next to the sink for the kids to dry their hands, wash their face, and wipe up around the sink. It's great.
Needless to say, I've been grumbling about the issue since before I can remember and one day I grabbed my snap pliers and fixed them! They will never fall off again and I'm ecstatic. I also tightened the screw on the towel ring so it wouldn't fall off… it gets loose occasionally and needs to be tightened or it will fall off.
If you have kids, you probably understand the complete satisfaction that comes with actually FIXING something that was broken. You just don't have time, and when get a few minutes you're too scattered to think of what you needed to do. But I did it! Rocket. Scientist.
This is a simple project… 5 minutes… 10 cents… here's how you do it!
Supplies to Kid Proof the Hand Towels
Snaps, snap pliers (I prefer KamSnaps which are durable and the industry standard for DIY cloth diapers)
2-3 hand towels (however many you use in that bathroom)
If you don't already own snaps and snap pliers, obviously this will cost you more than ten cents because you'll need to purchase the set. But they're pretty affordable and you'll find you can use them for everything. Here's some clever projects done with KamSnaps.
How to Keep Hand Towels from Falling Off the Towel Bar
This is so simple you're going to ask yourself why YOU didn't think of it! I love those kind of projects. They're easier to accomplish with limited time.
First, I own these amazing KamSnaps pliers… they're the best snap pliers on the market and I have had my set since 2011 roughly… they're still going strong. I keep thinking about upgrading to their newer ones that do grommets and such, but haven't gotten around to it. I have a post on how to install snaps if you aren't sure how to use snap pliers. It's pretty simple. I put snaps on EVERYTHING. I just put snaps on my couch to keep a cover on- I'll share that project soon. It's amazing. Bahahaha the kids won't get that off either! I've foiled their evil plots.
Okay so fold your hand towel exactly how you'll place it on the towel bar. I do the double fold like this… is this how you do it?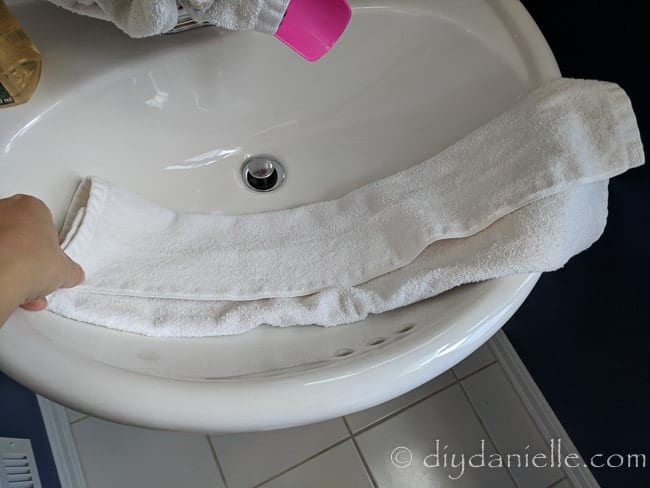 I found it was easiest to put it over the towel ring to eyeball where to place the snaps.
On one side of the inner 'flap,' you add a stud snap.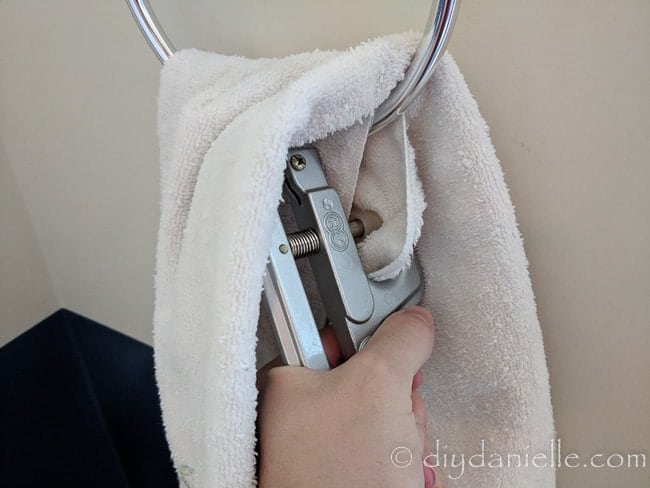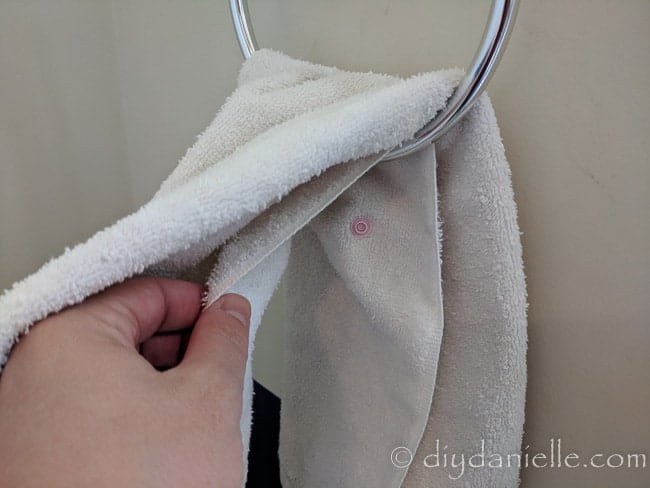 On the opposite inner flap, you add your socket snap.
You can snap them together like so…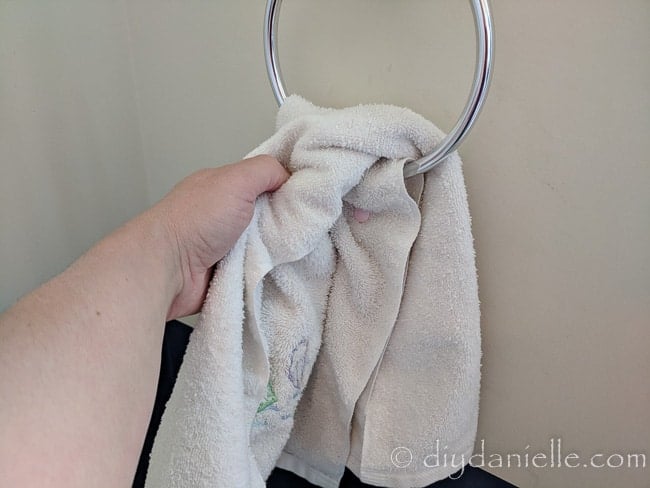 Here's how it looks laid out. I repeated this with two other hand towels. This gives me a few hand towels to swap out for washing! The best part of this is that the snaps are hidden inside the towel.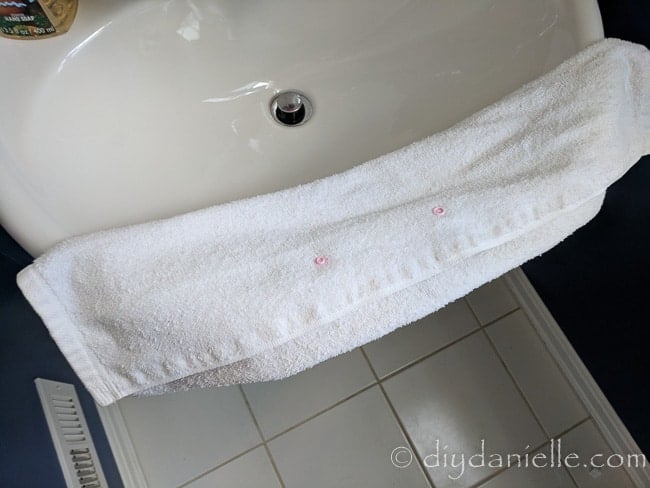 Just a quick test to make sure it will work! We have a winner!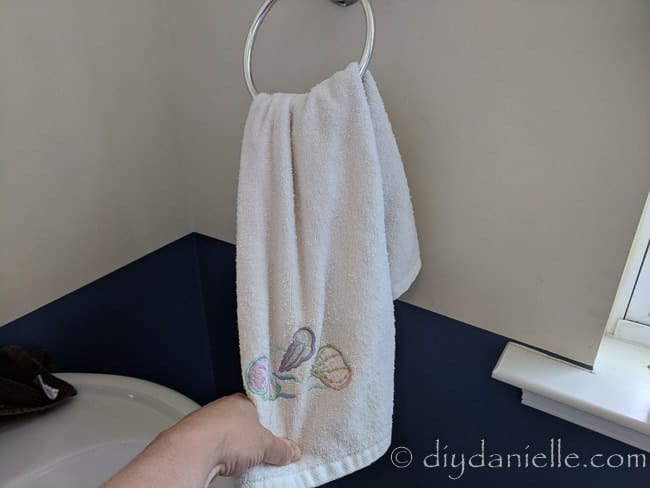 This is pretty much a 10 cent fix if you already own snap pliers. AMAZING. Life. Changing.
Need more bathroom organization tips? Here's some of my favorites:
Tips for Organizing a Children's Bathroom | Over the Door Bathroom Shelf | Wall Mounted Coat Rack for Towels
Easy Toilet Room Shelving | Under Sink Organizer | DIY Soap Bags | How to Make Soap | How to Make Felted Soap | How to Install a Bidet Seat | Small Bathroom Vanity Ideas
If you think this is a clever solution, get your friends together for a putting snaps on the hand towels party AND SHARE this post!
Please pin this!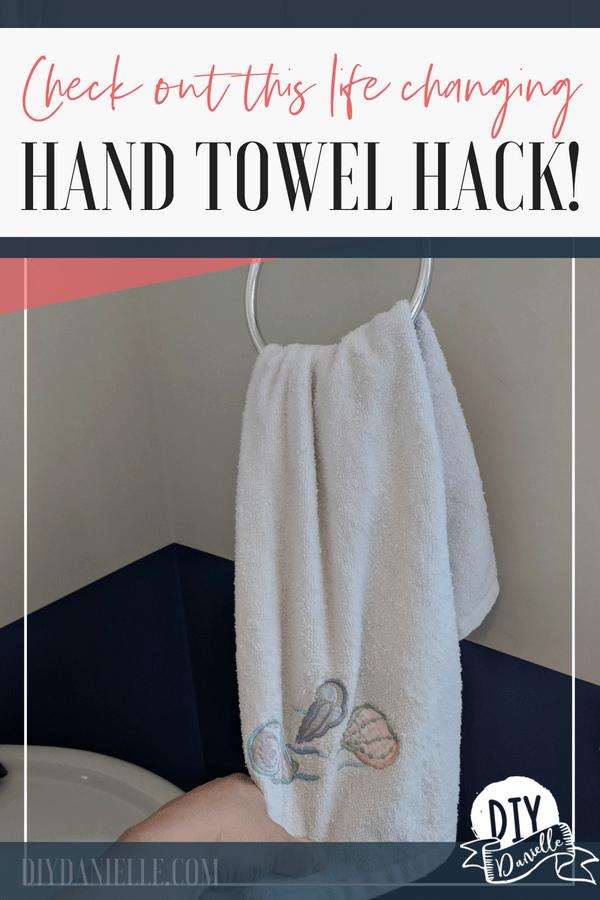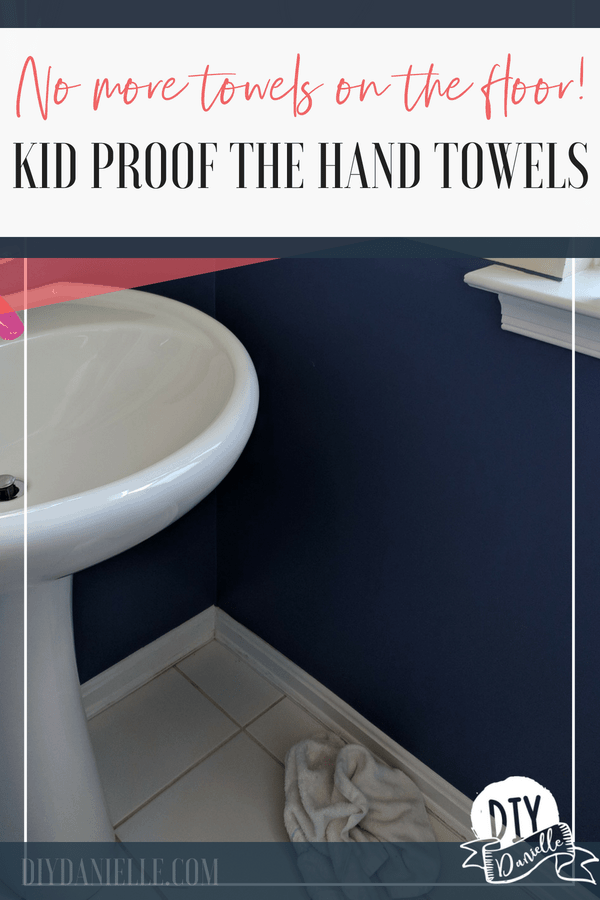 Hand Towel Hack