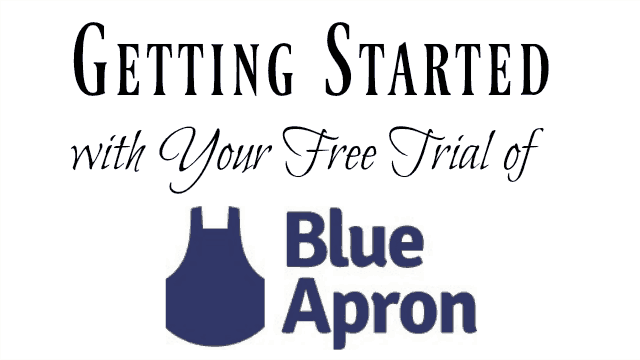 Here's how to use a Blue Apron free trial. If you didn't get a free trial, get a coupon code for your first two orders here.
This post may contain affiliate links which may earn me commissions should you click through them and take certain actions. As an affiliate for Amazon, Cricut, xTool, Home Depot, and other sites, I earn from qualifying purchases. Please DIY carefully. View my full legal disclosures here.
Please read the whole post so you don't miss any important information!
Do you know someone who gets Blue Apron meals? They may even have asked around to see if you or others want a free week trial. That's how I got started. I tried Blue Apron (and several other meal subscription services) after my stepsister gave me 3 free meals, then I stuck with it and started to give out trials to my friends.
I wrote this post because I was getting a lot of questions and I wanted to give everyone a thorough explanation of how to use the free trial without worrying about getting charged for meals they didn't want later on.
So let me tell you a little more about your trial and Blue Apron…. but first, if you're just here for the coupon code, click here to see the best coupon code available right now
Unfortunately, Blue Apron seems to have stopped giving away free trials and followed the path of many other meal delivery services by just offering a coupon to try the service. I believe they still give people free trials to give to friends though so I'll keep my post title as is… and you may want to see if you have friends who have a free code.
Also, if you're trying to choose between meal delivery services, I wrote a post listing some of the top meal delivery services, their coupon codes, and information about the meals. Make sure to check them out!
About Blue Apron
Blue Apron is a meal delivery program. They deliver fresh ingredients for that week's meals, along with a detailed recipe card on how to make each meal. They offer two options: 2 person or family.
We started out with the family orders which is slightly more expensive and you get two bigger meals per week. Eventually we switched to the slightly less expensive option for 2 people and for that we get three meals per week. We just feed the kids something else on our Blue Apron days.
The goal of Blue Apron is to provide sustainable, fresh foods to help customers expand their tastes, cooking styles, and cooking skills. I think they're succeeding. I certainly feel like the program has expanded the foods I eat and given me a whole new set of recipes that I enjoy.
Is Blue Apron Worth It?
The free trial? Absolutely. The paid meals? I'd say yes to this too. If you can afford it.
If you're already a great chef and good with meal planning, you might find this a bit expensive and unnecessary- but I think what most people gain from their Blue Apron meals is a mini cooking lesson, fresh and organic groceries delivered to their door, exposure to foods they normally might not try, and the organization that these meals bring to meal time.
I had one friend who didn't like it because she *normally* cooks like this and seems to experiment much more than most people I know… so I think this didn't work for her as well. But everyone else who has tried it has loved it.
And even if you're a fantastic chef, it would be nice to get everything delivered to your front door if you're super busy. Some of the ingredients are harder to come by or would require trips to a couple of grocery stores- for example, the chicken is not your average grocery store chicken. I think I'd need to order from a farm to get the same quality and taste.
The important thing with Blue Apron is to keep an open mind. I've found that I like meals that I never expected to. It's awesome to add new foods to my diet and it amazes me the things that I like. For example, not a fan of raisins. But they were really good inside meatballs for one meal.
Setting Up the Blue Apron Free Trial
You're going to follow the link that your friend sends you. It will lead you through the process of setting up. You WILL need to enter credit card information. It will not charge you for your free order, however. If you don't have a free trial from a friend, you can click the following link to see the best available coupon code for Blue Apron. When you get to the site, you just click "redeem offer" at the top of the screen to get started.
You DO need to make sure you cancel before the cut off date for the second order if you decide not to get more meals. Otherwise you'll get your second week of meals and get charged.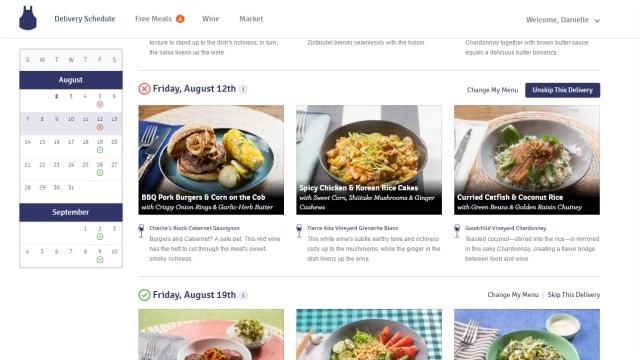 Pictured Above: You can see that I skipped my delivery for August 12. I can also click "change my menu" or "unskip this delivery" if I want.
Blue Apron is really flexible about letting customers choose what weeks they get deliveries- it's one of the things I like. I don't need to commit to every week. I usually cancel 2-3 weeks per month and get 1-2 weeks per month. This helps cut our costs, but still exposes us to new foods and recipes.
That said, they have a cut off date for the week and you MUST cancel your delivery before that date or it will come. They have to order all of the ingredients locally and that's why they require you to let them know before the cutoff. It seems fair. They list the cut off dates right on the site for each meal.
What my suggestion would be is to "skip meals" for all of the meals following your trial. You can go back and unskip them if you decide to keep getting them. But at least you won't get surprised if you forget. If you definitely think you'll keep the membership, you may want to look at the meals and pick out your future menus so you get the meals you want.
Then just set an alarm on your phone to cancel the membership once you get your free trial (if you so desire). I don't have experience with this- we kept Blue Apron because it was awesome. I HAVE gotten some menus I didn't want though because I wasn't good about checking the site. I ended up setting up a repeating reminder on my phone to check my menus every few weeks.
Pro tip: They have a super easy to use app for the iPhone. Nothing for Android yet (woe is me). But the app makes it simple to pick out your menu from the phone.
Picking Out Your Meals on Blue Apron
You have different meal choices depending on if you get the 2 person or family meals. My kids barely touched the family meals so we ended up switching from family to 2 person meals. I feel that you have more choices with the 2 person meal setup too… but I also liked some of the family meals better. I wish I could more regularly switch back and forth.
Each week has different meals. As such, if you are bleh about the meals for the week you wanted your trial, try getting your delivery a different week! Here's a screenshot from selecting my meals for August 19th. Once I select my 3 meals, I click SAVE. And it's good to go.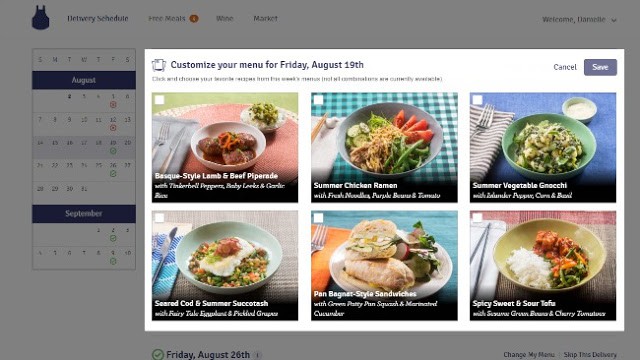 Pick a delivery day that works best for you. These meals are somewhat time consuming to prep compared to pizza night. You need to wash and cut produce, follow a pretty specific recipe, and the like. We get them delivered on Friday and then make them over the weekend. The food can be delivered at any time during that delivery day though- so if you want a meal for Friday night, order it to be delivered on Thursday.
Getting Your Meals
I'm working on another post about organizing your meals and recycling/composting the packaging. Keep an eye out for that post! But they'll be delivered in a box with cold packs so they will be okay if you aren't home immediately to take them in.
After you cook and try your recipes, feel free to rate them on the website. The app allowed me to even upload a photo of my cooked meal which was fun.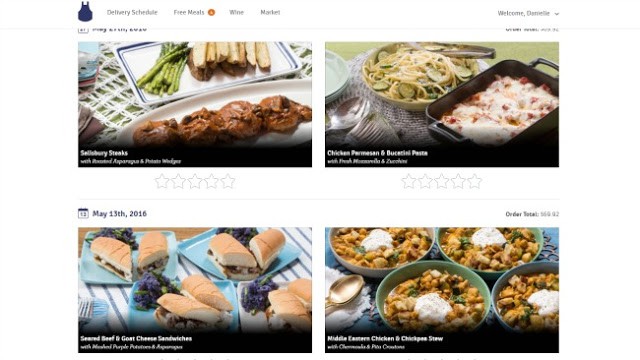 And that's it! Pretty simple. Did I miss anything? Do you have any questions? If so, just ask in the comments below!
Sign up for Blue Apron using my affiliate link below to get three meals free on your first order. When you click on the link, it will bring you to the Blue Apron landing page and you'll see a bar at the top of the screen. Click "redeem offer" and it will bring you to the setup!
Click to See the Best Blue Apron Coupon Code
Last checked it was $60 off your first three boxes.
Here's a video from the company to show you how it works!
Other Meal Services with Coupon Codes
Read about my experience with the different programs here.
Other Posts about Blue Apron and Meal Delivery Services
Here's the Google Web Story that I created about using Blue Apron.
Love it? Pin it!