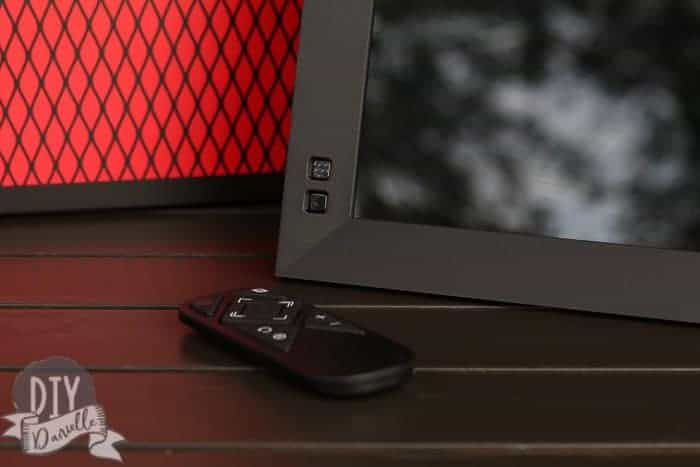 Comparison between the 8-inch Silver Iris Nixplay Digital Photo Frame and the latest 9.7-inch Black Smart Photo Frame.
This post may contain affiliate links which may earn me commissions should you click through them and take certain actions. As an affiliate for Amazon, Cricut, xTool, Home Depot, and other sites, I earn from qualifying purchases. Please DIY carefully. View my full legal disclosures here.
Please read the whole post so you don't miss any important information!
I received this photo frame in exchange for an honest review. Please note that these photos were taken outdoors, but this is not an outdoor frame… it was just too dark inside to get good photos!
Back in May, I wrote a blog post about one of my favorite products to give as a gift to grandparents, the Nixplay Digital Photo Frame. Nixplay sent me the Iris Nixplay Smart Photo Frame (8-inch in silver) to review for that post. Make sure to check out that post as I talk a little about the experience with the frame and my experience in the past with older digital frames. These frames are SO much easier to use.
This month, Nixplay provided me with their latest frame, a 9.7-inch black Smart Photo Frame with 2K Ultra Picture Quality. This frame is great. It's larger than the 8-inch frame that we had, and it wall mounts which is a nice feature. I think it would be perfect to keep by your computer at work, assuming you have a secure office. It's also fantastic at home.
Image Quality
The image quality is better on the 2K Ultra Picture Quality frame. It's not a huge difference though, in my opinion, and realistically the photo quality will only be as good as the photos you upload. I would ABSOLUTELY invest in the better quality frame if you plan to upload images from a photographer or DSLR camera to the frame. Things like wedding photographs, newborn photos, etc. will look better on the 2K frame.
I imagine the video quality will be better as well, although I haven't uploaded any high quality video to the frame. Most of my video is edited into smaller sizes so it won't take forever to load.
The reality though is that the quality on both of the frames is excellent.
We noticed that the newer frame has a much faster recovery after the power flickers (something that happens occasionally here). It also seems to be more sensitive to motion near it, turning on sooner.
Here's a quick video if you want to see the frames side by side. Hopefully you can see the differences okay… it's hard to video screens.
Size and Color Options
I love the larger size and I prefer the black frame to the silver… but that's personal preference.
Remote Interference
Two frames close to each other DO appear to interfere with each other's remotes… as in, one remote will control both. This won't be an issue unless you're using more than one as part of your business to showcase products… and you need to flip through both. We'll eventually move one frame to another room, but I've been trying to eyeball the difference between the two so I positioned them side by side.
Wall Mounting the Frame
The huge difference is the ability to mount the frame to the wall. It looks super easy to do, but I haven't found the perfect spot to place them. I enjoy having them on the entertainment center by our television because the kids LOVE watching the pictures. My 2 year old will sit and point at everyone in the photos and he really enjoys the frames!
Both Frames…
Both frames offer the same easy to use app that lets you send photos to other frames… we send photos to family members that we've bought frames for, as well as to our own frames, all at the same time.
When Grandpa Danny visits and we take photos, I can click the photos of us with him and instantly upload the photos to his frame and ours. When my in-laws visit, we upload photos to the in-laws' frame and ours. School photos go out to everyone's frame. Photos I take of our daily lives? Right to everyone's frame. It's EXTREMELY easy to do it all at once.
As a gift, these frame COULD NOT be easier to update and upload photos to. I don't use the captions but you could even post updates about your family/kids on the frame. For long distance, we LOVE having the frames to keep in touch.
Using the Frame for Business
I keep a separate folder on one frame for business photos. If I ever wanted to setup a business booth, I could bring this frame along and showcase some of my projects. I have video, including some drone footage with sound, of our huge kids garage which is fun to watch.
Here's their latest ad for the frame:
What would you do with your Nix Play frame?
Visit the link below for free shipping on your order.
Please share and pin this post! If you make this project, share it in our Stuff Mama Makes Facebook Group. We have regular giveaways for gift cards to craft stores. You can also tag me on Instagram @doityourselfdanielle; I love seeing everything you make!