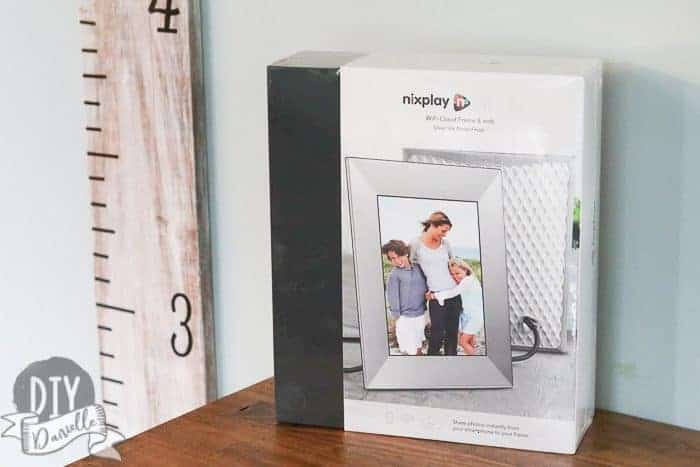 Information on the best digital photo frame for grandparents with a detailed tutorial on how to use it. Learn how to use the Nixplay Iris Smart Photo Frame.
This post may contain affiliate links which may earn me commissions should you click through them and take certain actions. As an affiliate for Amazon, Cricut, xTool, Home Depot, and other sites, I earn from qualifying purchases. Please DIY carefully. View my full legal disclosures here.
Please read the whole post so you don't miss any important information!
When Nix offered to send me a free Nixplay Smart Photo Frame to review, I was 100% on board. I am really particular about the products that I recommend, but I knew these were fantastic because I sent two to my in-laws and my father a year ago. And I was so excited to have one for myself.
My first experience with digital photo frames (other brands) left a bad taste in my mouth. The ones from years ago required a lot of work and didn't have a way to easily send photos to family and friends. And realistically, none of the grandparents are tech savvy so we needed something simple so we didn't end up on the phone trying to do tech support from long distance. Nix does have their Nix line of frames that don't have WiFi so if you want a smart frame, make sure to get the right one! I have the Iris.
The NixPlay smart photo frame came highly recommended in my mom's group. So I bit the bullet last year and ordered one for my dad. When he was able to get it on and loaded without any tech support from us, we sent another to my in-laws. Also- no tech support required. I couldn't have been more surprised, haha.
They were able to send me the email address that is associated with their account and I can email photos directly from my phone whenever I want. It's so easy.
This product made my Top Gifts for Grandparents Who Have Everything list and I couldn't love it more. It's fantastic. And I'm really enjoying having our own because I love photos and there's only so much wall space.
My only complaint is that when I upload my photos, sometimes the program makes it look like it's still uploading, long past the time that the photos are finished. It's not a big deal at all, as long as you know it's a thing.
Ah yes and if you have a family member who doesn't have WiFi, it's not a super practical gift. I nearly bought this for my mom, but then I remembered that she's not on WiFi. I don't see this working for her. Theoretically she could bring it to a free WiFi spot for updates but that sort of makes it more work. The best part about this product is that it's ZERO work after setup for the grandparents- they get to just enjoy new photos as they pop up!
So let me show you how easy it is to setup and use.
Setting Up the Nix Digital Photo Frame
The actual setup is pretty quick and easy. I recommend downloading the app and getting it ready to go on your phone. I already had it because I was sending my family photos before we got our frame.
Remove sticker. Plug in. This plugs into a USB wall plug… that's all included.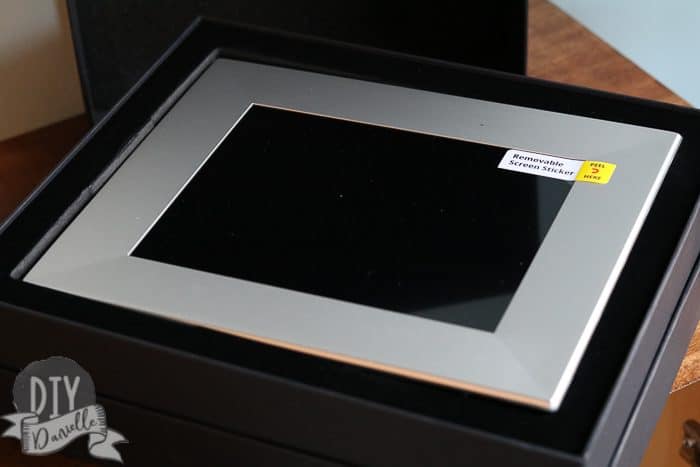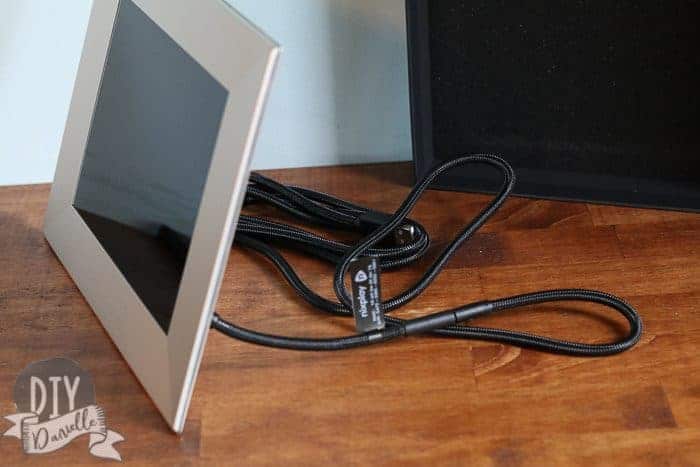 The remote allows you to control the frame and related settings, but you can also just use your NixPlay app to do it.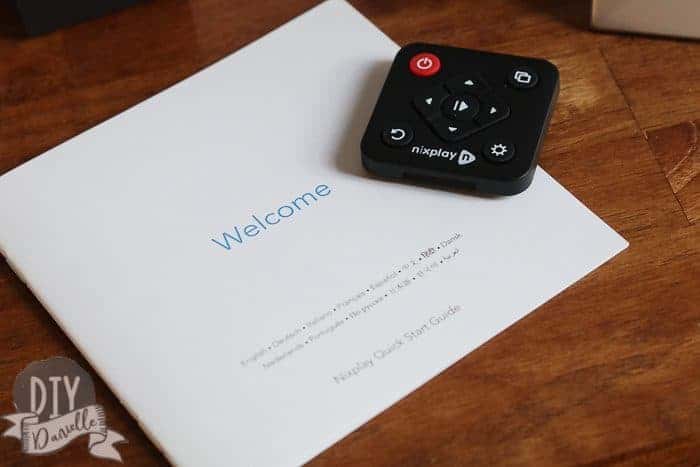 Here's a quick video of the setup and how to send photos on the app. You can pretty easily just follow the instructions- you need to start by connecting to your WiFi so have your password handy. Once you do that, you're pairing your frame with your phone app.
How to Send Photos to a Digital Photo Frame
Sending photos to grandma and grandpa is easy. Start by downloading the app and setting up your own account.
Add Your Friend
They'll need to give you their Nix email address or user name. Click "+ New Friend" then enter their info and click "Send Friend Request."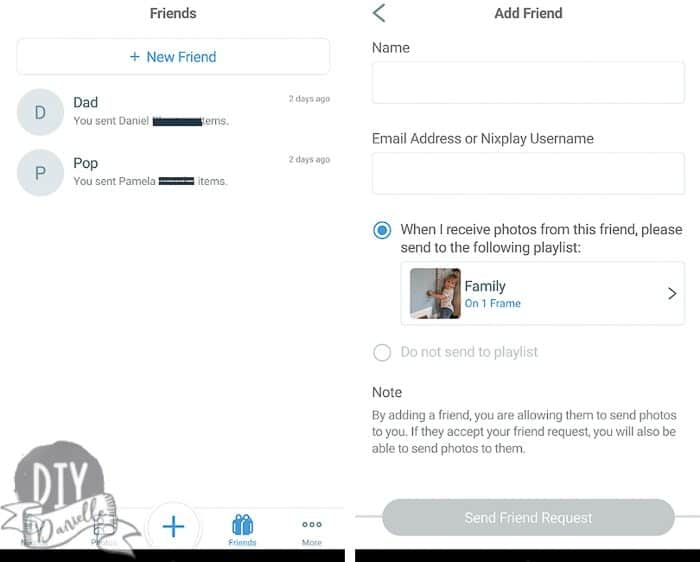 Sending Photos
Now this is the super easy part. Whenever you want to send photos to the grandparents or your own frame, click the "+" at the bottom of your main page.
It will pull up your media from your phone… click the photos you want to send over. You can add up to 100 at once.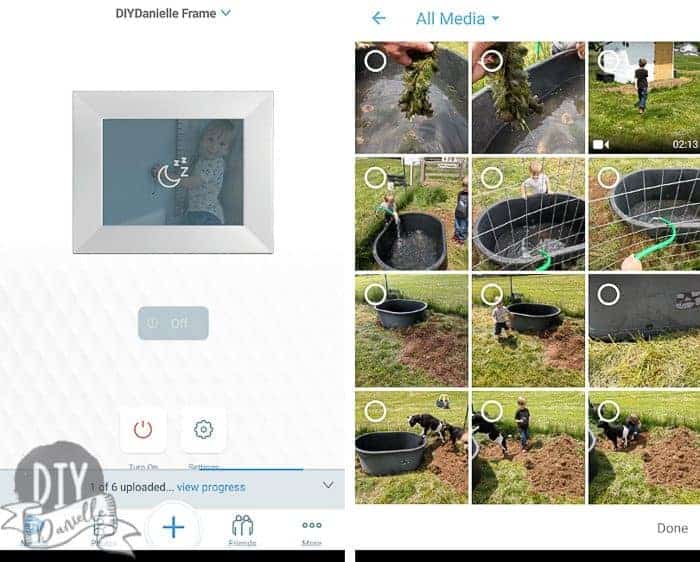 Once selected and you click "done," you will get the screen on the left. You can add captions to each photo if you desire. Click the send/paper airplane button when you're ready.
Then you will go to the "send to" page. You can select any/all frames. This means I can send photos of the kids to ALL of the grandparents at once PLUS my own frame! LOVE!
I can also send some photos to just one grandparent if I want, such as if I want to send photos of a shared vacation to the grandparents we went with.
As you can see, I also have a playlist for my blog photos. If I ever go to an event and have a booth setup, I could play exclusively my blog projects.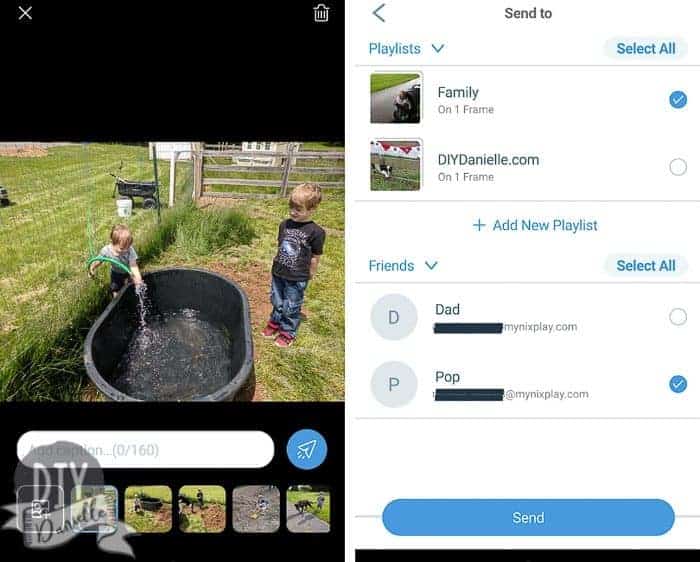 Click send and give it a while to update.
You don't need to own a frame yourself to send photos- I've been sending photos for a year with no issues, right from the app on my phone. I believe you can even send the photos via email to the frame, rather than use the app, but I haven't tried that.
That's it! I send photos every week or so. I am obsessed with photographing the kids. Haha. You can buy it below.
I have considered that it would be really funny to play an April Fools joke with these too, but I mostly snicker about it and haven't put anything into play. Maybe next year I'll buy my brother one… muahahahahaha.
Other gift ideas on DIYDanielle.com: Sustainable/Ecofriendly Teacher Gifts | Personalized Gifts for Your Dog | Gifts You Can Make from Your Garden | Ecofriendly Gift Ideas | Gifts that Make Their Lives Easier | Gifts for the DIY'er
Please share and pin this post. Thank you!
Nixplay Digital Photo Frame