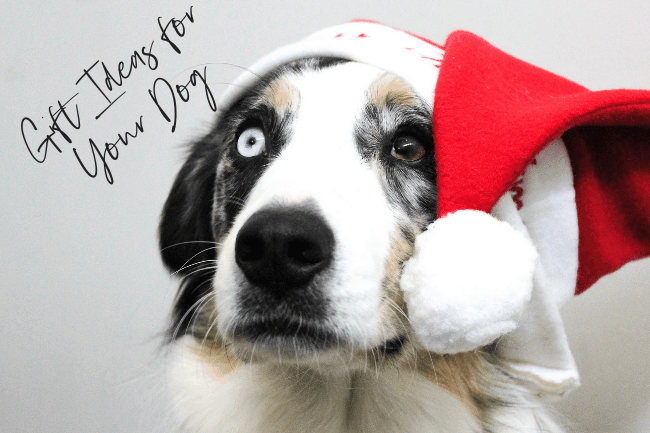 Tired of getting the dog a bone or something boring every holiday? Find lots of personalized dog gifts on Etsy that will make both you and your dog happy!
This post contains affiliate links. If you use these links to make a purchase, I may receive a commission. This does not affect the price of the product. Thank you.
Finding the dog a gift each year can be a struggle if you don't plan ahead. The grocery store only carries so much variety. Plan ahead this year and buy a personalized dog gift on Etsy. There are tons of small business owners who make perfect gifts for your best friend. Frequently these gifts can be customized and they're so much more unique that what you could buy at a big name store. It feels good to support small business! These are the folks who are using their income to get their own pets treats this holiday season.
Here are the best dog gifts of 2020!
Make sure to order them soon, particularly if you're buying an item that needs to be customized!
Best Dog Gifts of 2020
Dog Stockings
When Santa Paws comes, make sure to have a full stocking for him to fill. Here's some cute dog stockings available.
This stocking is shaped like a dog bone, can be personalized, and opens from the top.
Here's another stocking company that offers stockings shaped like paws or the traditional stocking shape.
---
Dog Toys
Finding quality toys that don't have questionable ingredients in them is one of the challenges of keeping our pets healthy. Here's some handmade dog toys available on Etsy.
I love this wood puzzle… what a neat idea!
This all natural *Asbjorn" dog toy looks like fun!
These recycled firehose tug toys are so much fun- and ecofriendly!
Hide toys inside a snuffle mat! This slows down your pup's eating and gives them an activity to do while you're away.
This Sushi roll inspired snuffle mat has lots of activities for your dog. Or you can check out the burger time snuffle mat instead if that's more your jam:
This 100% natural rabbit chew toy is super cute!
Here's some crocheted squeaky toys!
For the strong pup, here's a super strong tug toy.
Make sure to pick up a toy box for all of their toys too! Stepping on Legos is NO FUN, but dog bones hurt too!
My all time favorite chewable toys for my pup are deer antlers. They're the only thing he can't chew through in minutes.
---
Dog Beds
The store bought door beds don't have the appeal of these custom beds. I love having a dog bed that fits with my decor.
Diane's K9 Creations has so many choices for dog and cat beds made from PVC. There's even a two level one. You'll be able to find exactly what you want in her shop.
Knotty Fleece offers fleece PVC beds for small dogs and cats.
Here's a customized dog bed that you can add your dog's name to.
I love this wood double dog crate too!
---
Dog Feeders
Like beds, dog feeders can be made to fit with the look in your home. From farmhouse to contemporary, find the right dog feeder for your pup. Make sure it's the right height for your dog!
I love this Wine Barrel Dog Feeder from The Wine Country Craftsman on Etsy. He also has other items for pets made from upcycled products, such as a Wine Barrel Cat Scratcher and this Wine Barrel Hanging Cat Bed.
Here's a fun personalized dog feeder that looks like a small nightstand.
This feeder has a more modern look to it.
Need storage too? Check out this storage dog feeder.
Here's a feeding set that you can take along with you.
---
Dog Collars
This rope collar is GORGEOUS. I am totally in love and don't tell the pup, but he may end up getting one for Christmas.
Here's a dog harness and matching leash set.
I also found this neat slide on dog tag that is noise less… I really like the idea of this, seeing my dog has been known to get the tags off (I have no idea how).
Honestly, I just love the look of rope and leather. Here's a great leash with the dog's name engraved into the leather…
---
Dog Coats & Clothing
No words. Does it really get any cuter than this clothing set? The listing is for the cap, but you can get a discount if you buy the rest of the set too.
I love this 'Do not pet' vest. This is really helpful if you are concerned about your dog biting or if you're training a new pup not to jump on people. Personally, I strongly prefer to limit who my dog is exposed to early in training because many people won't be patient enough to hold off on petting the dog until he's sitting politely.
This dog scrunchy is worn like a collar and is perfect to get your pup in the holiday spirit.
I wish I had a girl pup to dress up this year… this Christmas dress is just too cute!
On the bright side, I can always pick up this adorable bow tie for my dog Rocky!
OMG fleece pajamas for the dog! I wonder if you could get a matching set for the humans!
---
Dog Treats
Here's some pumpkin pie holiday treats!
Here's some mint parsley dog treats too…
---
Dog Storage
Get your own personalized dog treat jar on Etsy.
Or get a personalized basket to store all of your dog's toys.
Here's a wooden toy box for your pup.
This is such a neat way to hang the inevitable lint roller…
---
Other Dog Products
This is a really unique dog whistle made from antler.
---
DIY Dog Gifts
Here's some items you can make for your pup if you'd rather DIY it. These are all tutorials available on this website and include supply lists and instructions for how to make the items.
DIY Dog Bed with PVC | Rustic Dog Bowl Holder | Braided Fleece Dog Toy | Packing Fabric Dog Bed | Anxiety Vest for Dogs
Which is your favorite? Will you be ordering some special gifts for your best friend this year?
Please pin this!