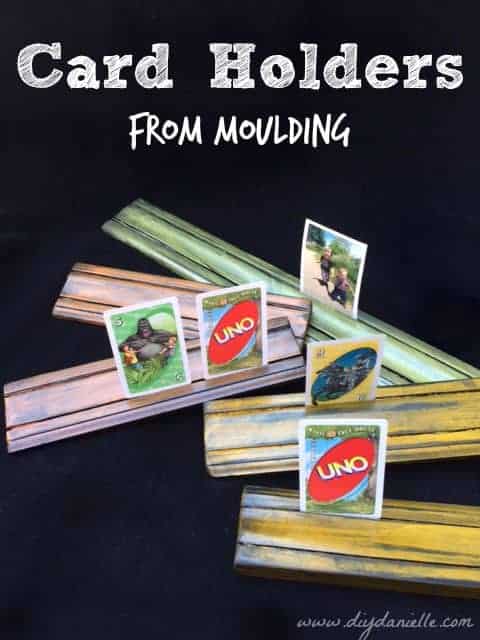 These wooden card holders are excellent for holding playing cards, particularly for young children who can't hold all the cards themselves. This DIY project is a easy and affordable using moulding.

I'm new to any sort of woodworking, but I wanted to make some card holders to go along with my husband's gaming table. I figured my husband may not need them, but my sons would and it was a fun project. I was able to pull it off pretty easily too.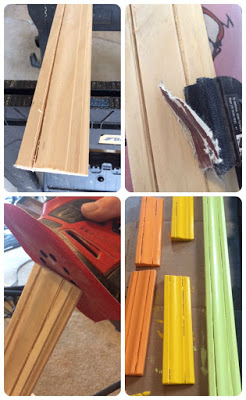 I started off with a piece of moulding. I cut it into four equal sized sections.
I used a small circular saw that attaches to our Black & Deck Matrix drill to cut grooves along the lines of the moulding. The trick is to cut through far enough through the wood to have a nice groove for the cards to sit in WITHOUT cutting all the way through.
I sanded the ends of the piece, as well as to try to smooth the grooves by sanding.
After that, I just finished my pieces off by distressing them. For a video on how to distress furniture, click here.
Below are the tools that I used (affiliate links):
You can also add some felt to the bottom of these so they won't slip around.
I'm looking forward to playing some card games with the kids as they get older. I think they'll love to use these.
Disclosure of Material Connection: Some of the links in the post above are "affiliate links." This means if you click on the link and purchase the item, I will receive an affiliate commission. Regardless, I only recommend products or services I use personally and believe will add value to my readers. I am disclosing this in accordance with the Federal Trade Commission's 16 CFR, Part 255: "Guides Concerning the Use of Endorsements and Testimonials in Advertising."