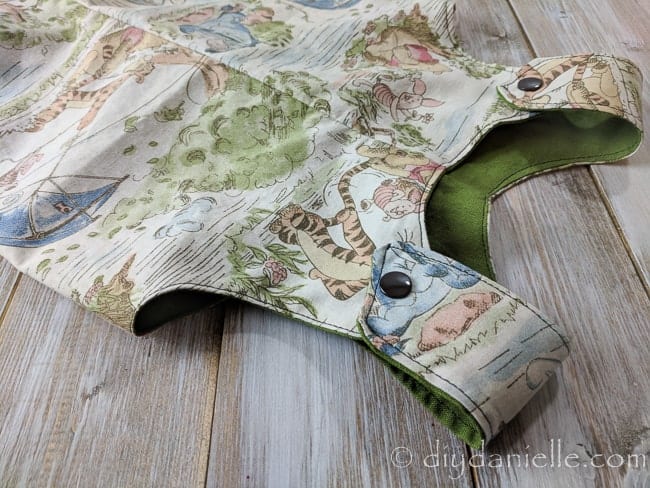 This easy to sew reversible baby romper pattern is a fabulous project to start sewing apparel for your child. It uses woven fabric and is sold by The Scientific Seamstress.
This post may contain affiliate links. If you make a purchase using these links, I may receive a small commission.
This reversible baby romper pattern is one of my first apparel projects. I made a 4th of July outfit with it, as well as my son's 1st birthday Cat in the Hat outfit. I also made these using upcycled knit t-shirts too, although I think this works best for woven fabrics like cotton. It's such an easy sew and very satisfying. The cotton fabrics have lasted through three children and my 3rd baby is now wearing the 4th of July outfit and it looks like new still. I am really impressed with how well it's stood up over time… I think the fact that it's reversible helps and woven seems to stand up pretty well.
Supplies for the Reversible Baby Romper
If you love sewing, don't forget to check out the Sew Organized phone app!
Reversible Baby Romper Pattern
I love this pattern. The instructions are easy to follow and my only complaint is that the seam goes down the front and back of the romper and it's hard to match seams. Or rather, *I* have a hard time matching seams.
I love the snaps and the easy access for diaper changes.
The rompers I've made have all been 12-18 month size. They have fit my sons well and usually last a pretty long time due to the extra space they have- they start to work well as shorts eventually! My one suggestion would be to add a small pocket to one side so you can hide a size tag inside the pocket. I had a miserable time trying to find a good spot to put a tag… and there ISN'T a good spot, unless you add a pocket.
This time, I made two rompers- one for my son and one for my friend's baby. The one with the green interior is hers. I LOVE the green.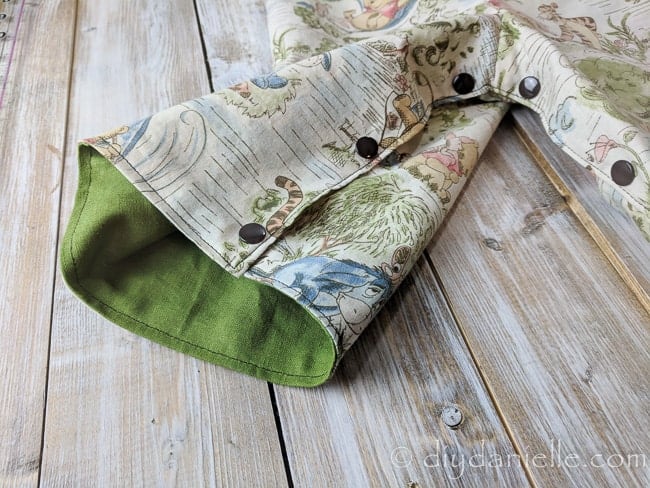 For my son, I made the interior Easter fabric because I knew he'd fit it for Easter (my friend's baby wasn't born yet at the time).
This is how the bottom unsnaps for the legs.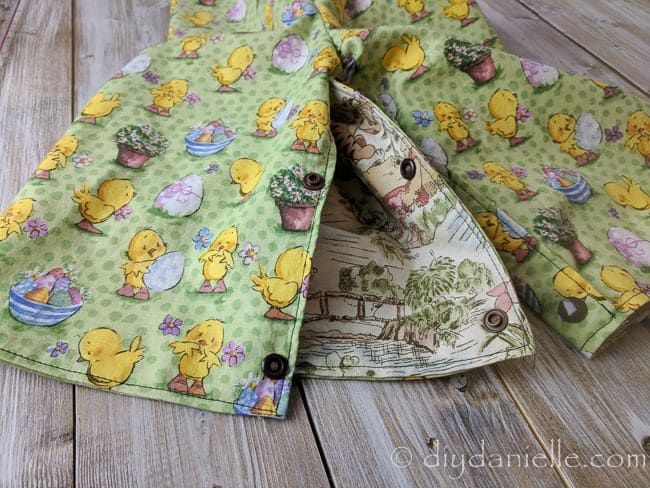 The 'insides' of the two rompers. Love them both! I ended up patching some fabric together in one or two places for the Easter interior because I didn't have enough of it to get one good cut.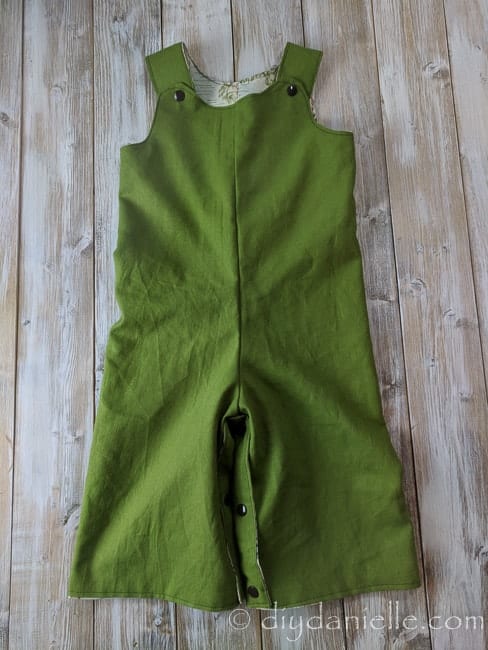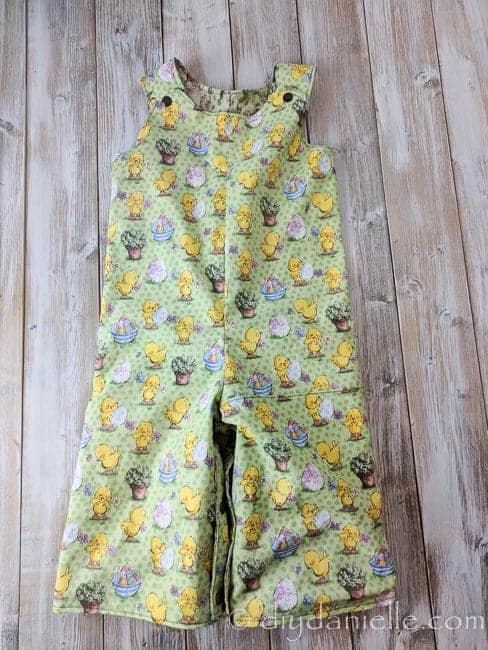 Here it is on my son… he's only 8 months old in this photo, but my kids are tall and he was wearing 9-12 month clothes at this point. The length is better now that he's 9.5 months old.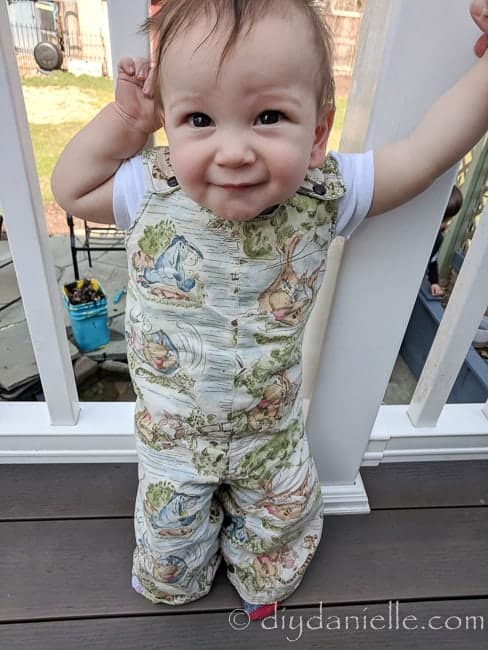 Please pin this!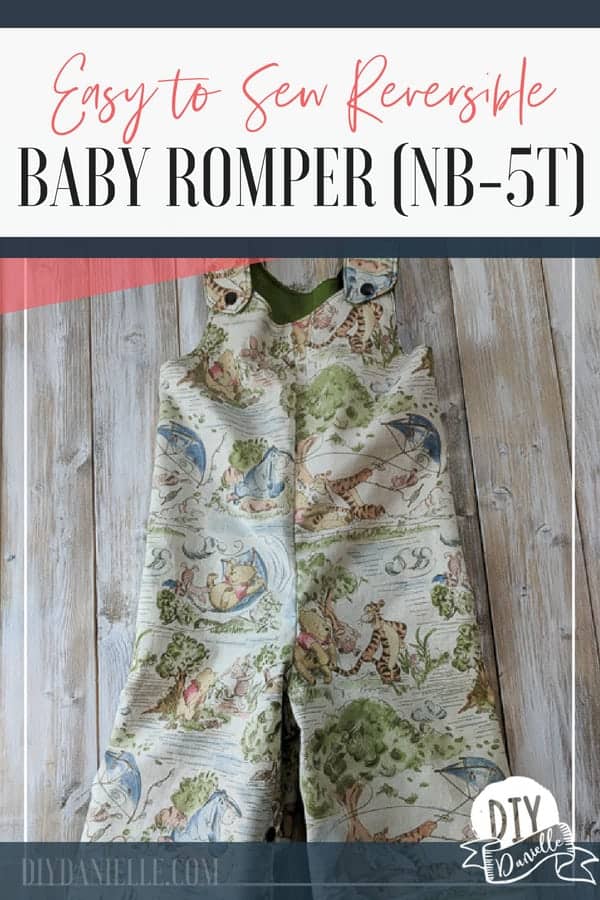 Reversible Baby Romper Pattern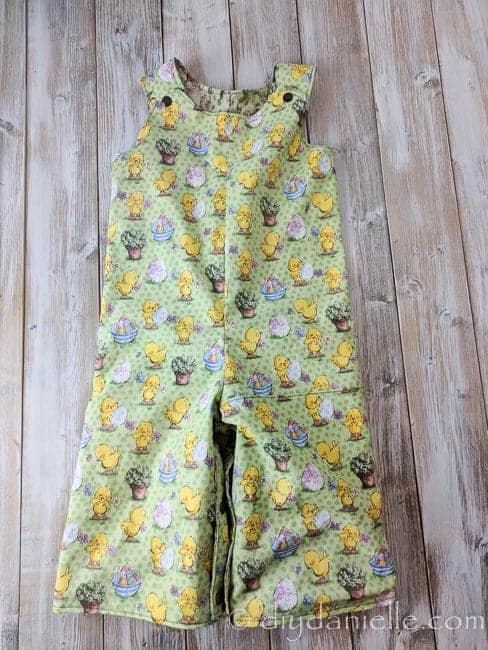 Yield:

1 Romper
Easy to Sew Reversible Baby Romper Pattern
Learn how to sew an adorable baby romper with this simple tutorial.
Materials
Snaps
Romper pattern
Cotton fabric
Tools
A Serger and Coverstitch Machine
Instructions
Follow the easy to follow instructions that are included with the baby romper pattern.
Be sure to match up the front and back seams.
Add a small pocket to one side so you can hide a size tag inside.
Recommended Products
As an Amazon Associate and member of other affiliate programs, I earn from qualifying purchases.