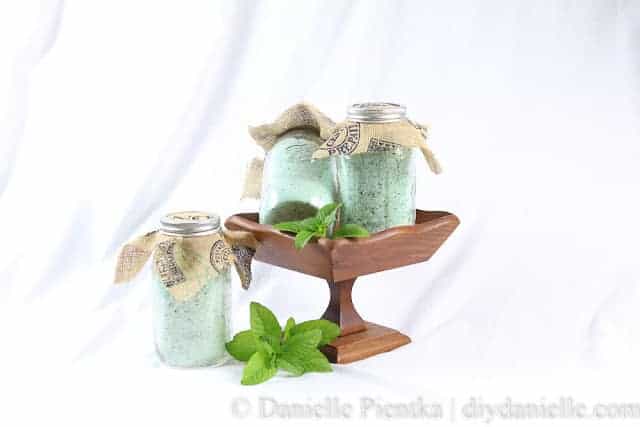 How to make orange mint bath salts as an easy gift idea that kids can help make.
This post may contain affiliate links. Using these links helps support my blog. Thank you!
We had fantasies about making awesome bath bombs as gifts for my sons' teachers this year, but alas our grocery store didn't sell citric acid and I was too pregnant and too tired to hike around town trying to find it. So maybe another time. Instead I opted to make bath salts and it was fun, easy, and the kids were able to help make these gifts. These would be perfect for the holidays for teachers, family, and friends.
Supplies
Supplies listed below may include affiliate links to the products.
6 cups Epsom Salt
1.5 cups Baking Soda
6 Tsp Almond Oil (or another carrier oil)
Optional: 2 Tsp Dried Orange Mint Leaves (optional: dehydrator to dry them with)
12 Drops Green Food Coloring
20 Drops Peppermint Essential Oil
30 Drops of Orange Essential Oil
Equipment
1 Quart (or smaller) Ball Canning Jars
6″ square of burlap or other fabric for each jar you make
Ribbon
Optional: Make easy tags with my free Cricut design and attach with twine
Tutorial
To start, I took advantage of my overgrown mint garden. I let mint go crazy in my garden because I love it, although it's often hard to find enough uses for it. So needless to say, I was excited to use it for this. I did this project back in June (scheduling ahead for maternity leave) so I had plenty to use, but you should always take advantage of your dehydrator to dry and save herbs for the winter. I picked my mint, removed all of the mint leaves, washed them, then popped them into my dehydrator for… a long time… I saw a shorter time recommended on the interwebz but mine didn't dry very fast so it took maybe 6 hours.

This is orange mint.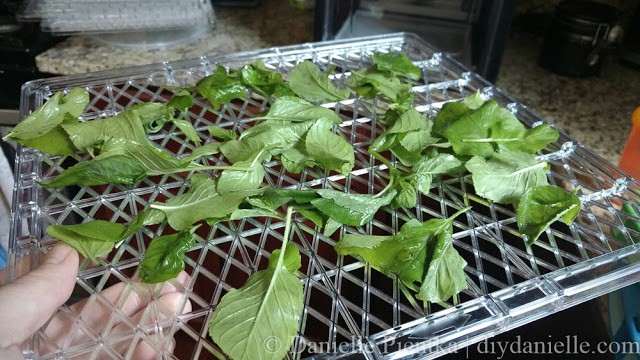 Once dried, I popped it into the blender and let the kids shred it. So many leaves, not so much dried mint. Haha.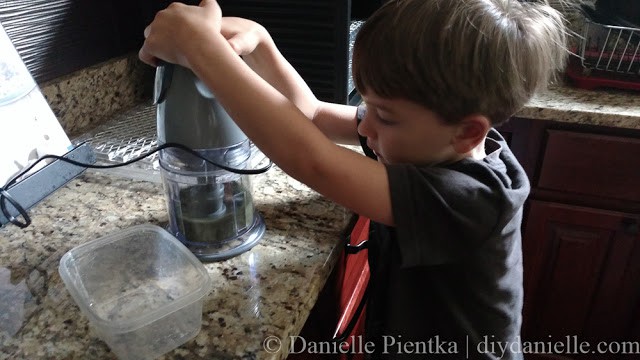 Once that was done, I transferred the dried shredded mint into a container. Now I do want to give you a heads up about adding the dried mint leaves. It's a pretty addition to the salts and I love the smell, but it also puts little mint pieces in your bath tub (that get on you). You may want to adjust to use more or less mint leaves (or none), depending on your preference.
I got the kids setup at the table to help prep the bath salts. We mixed all of the dry ingredients, breaking up any lumps in our epsom salts, then added wet ingredients.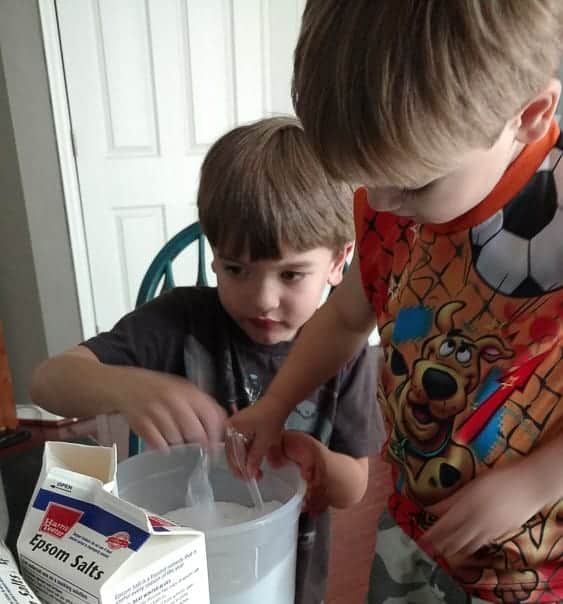 The green food coloring can be adjusted to be darker or lighter, depending on how much you use. It will turn the bath green.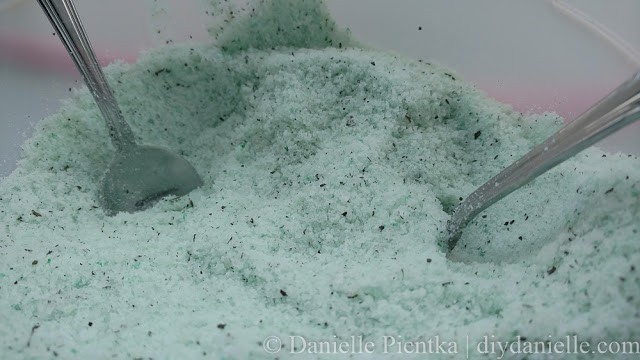 Once you mix it all up, you can transfer it to your containers. I used quart sized Ball canning jars because I had a lot of those in my crafting room and I wanted them gone. For the recipe above, this fills 3 of those jars about 65% of the way full. My kids have 6 or 7 teachers between them (it's preschool) so I had to make a few batches to fill 7 containers (plus a little extra for me).
I added a square of fabric to the top and used a piece of twine to attach a tag. I wanted to make sure I indicated the ingredients in case anyone had allergies.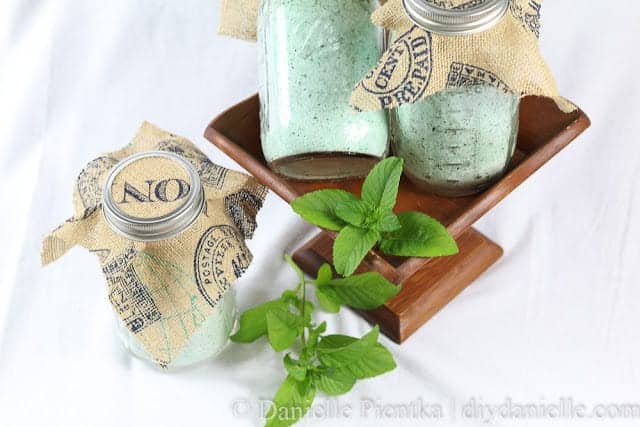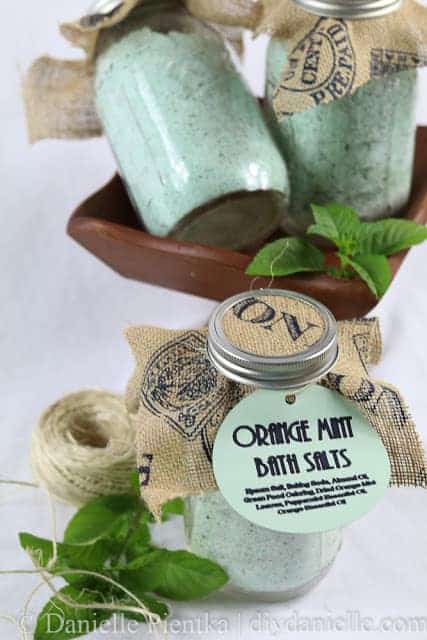 If you use the free printable, please consider sharing this post or otherwise supporting my blog. Thank you!
Love it? Pin it!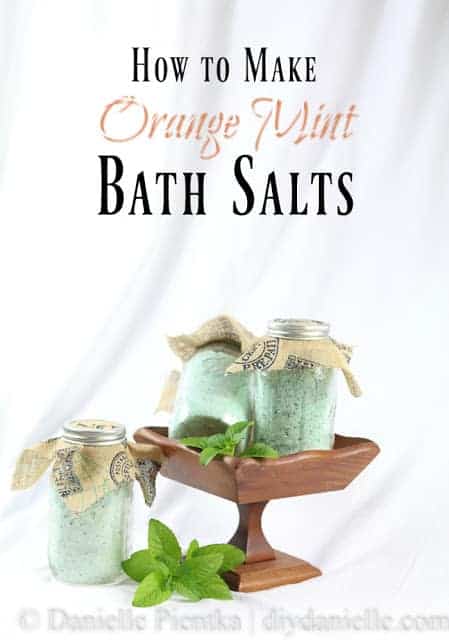 Thanks for taking the time to read this post! I really appreciate the time you've taken. Please share, like, and pin my post if you enjoyed it. Follow me on social media and subscribe to my email list to keep up to date on all of my latest projects!

Disclosure of Material Connection: Some of the links in the post above are "affiliate links." This means if you click on the link and purchase the item, I will receive an affiliate commission. Regardless, I only recommend products or services I use personally and believe will add value to my readers. I am disclosing this in accordance with the Federal Trade Commission's 16 CFR, Part 255: "Guides Concerning the Use of Endorsements and Testimonials in Advertising."
Use the Discount Code DIYDANIELLE on cricut.com for 10% off any cutting machine or heatpress (no minimum). Excludes: materials/accessories/mystery boxes/etc. Applies to US/CA only, code expires 12/31/23.