This post may contain affiliate links. Using these links helps support my blog as I get a small commission from sales. I hope the links (for Amazon) are convenient for making purchases. Thank you!
I started playing video games when the original Nintendo came out in the 1980's, but I wasn't really into gaming until high school when I discovered role playing games. What's a role playing games? These are just games with a story line (vs. shooters or sports games). I love reading so the stories appealed to me. They also frequently had beautiful animation in between game play. My favorite games were the Final Fantasy series and Xenogears. I also got into computer gaming via a text based multi player role playing game called Gemstone. There were no pictures- you just read the text that popped up on screen.
Whenever someone argues against video games for kids, I chuckle a bit because gaming gave me a lot of skills. I learned a lot about computers and playing Gemstone taught me to type extremely fast. I think I was typing 100 WPM in high school when most people were still typing with two fingers. It's come in useful for blogging because my typing speed is on target for my train of thoughts.
When I upgraded to MMORPGs with visual like Everquest, Dark Age of Camelot and World of Warcraft, I needed more graphics power and I needed to keep what was a pretty old computer working so I learned about replacing graphics cards and different tricks to fix my computer. Not bad skills to have… at all. I also ended up in the geek crowd and took a lot of programming courses as a result.
So don't feel guilty about letting your kids game- there are some useful things that come from it. Just keep an eye on what they play and how they play it. I had a pretty safe gaming community of extreme geeks on Gemstone and the console games (more about that later) were single player. By the time I was online with some nasty folks, I was pretty capable of standing up for myself.
My perfect job came along in high school when I applied at the gaming store. There were two gaming stores in our small mall. I walked into one to ask for an application, the assistant manager looked me up and down (not in a nice way), and sleazily said, "yeaaahh we can get you an application." Then I never got a phone call. Being a girl in the gaming world has probably gotten slightly better in the past 10 years, but there are definitely a lot of socially challenged and sleazy guys who don't know how to act. You learn to manage them pretty well.
So I went to the other store in the mall, got hired by a really nice guy who knew how to act, and promptly began KILLING IT with sales. The other store eventually came down to try to recruit me because we were taking all the monies… bahahaha. Sweet sweet revenge.
Whoops… got side tracked…
Back to video games and purchasing the right systems for your kid. One of the reasons I did so well with sales is because around the holiday season, there are so many moms coming in to buy systems for their kids and they don't want some jerk talking down to them. This post is for those moms- and dads- who just have absolutely no clue what they're shopping for.
What is a video game console?
A console is a gaming system that isn't on your computer. Technically a console has the properties to be considered a computer (nowadays it has memory/a hard drive, for example), but you can only play the games made for that system on it.
There are handheld systems with their own screens and then the regular home console systems that attach to a screen/television. The Switch is both.
Here are the main manufacturers of console systems and their respective systems (systems are listed from most recent to least recent). Going to stick with U.S. systems only. The bold one is the one you should probably buy this year, unless your child wants an older system for a particular reason (more on why after):
Pricing for Video Game Systems
You can get some good deals on older systems, particularly used ones. They often have good bundles and there are more used games available for older systems
Accessories to Buy with a Video Game System
Your child has likely told you what system they want. If they haven't, however, you're really looking at what games you want to play. Find the system that offers the games you and your kids enjoy. The Nintendo is definitely geared towards more kid friendly games, particularly if you have really young kids. It's also nice to have the same system as friends for game lending and/or online multiplayer.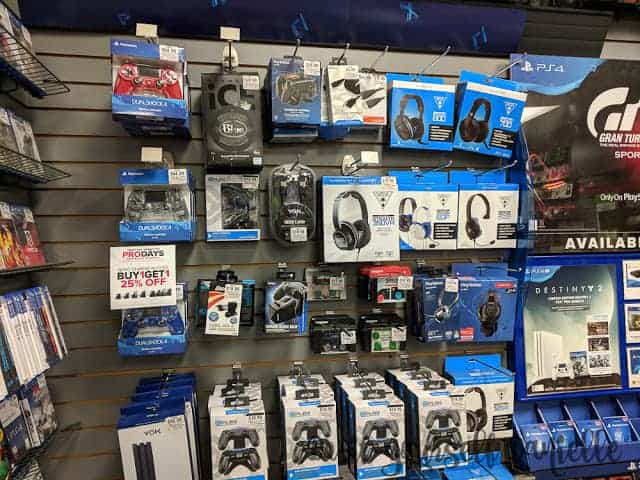 Accessories for the Playstation 4
The only current generation console that can play games from the previous gen (that you might already own), is the XBox One. Don't expect the PS4 to play PS3 games. I'm not sure if the XBox One plays all XBox 360 games.
Accessories you'll need by console. I'm only including the most recent consoles. Make sure to read the box that you're buying because some packages include different accessories:
Okay back to regular system stuff… if you're buying an older or used system, make sure to check with the sales associate about the items you'll need. Some of these accessories are pretty standard.
I'd recommend using a wired internet connection instead of wireless once you get the system home. It will provide better online multiplayer or streaming performance, especially if you live in an apartment or other area with a lot of WiFi traffic.
Protection Plans for Video Game Systems: Are they worth it?
I am torn with these. If you don't need them, they're a waste of money. But they are really nice to have if it breaks! The ones at GameStop cover accidents too apparently so if we were to get another system, I'd probably get the plan. If something breaks… like a controller… they replace it. My kids have destroyed two PS4 controllers so…
I'm not sure how plans through other companies work, although I think the one on Amazon might be decent… I've bought it for a camera and a couple other items, but haven't really needed to use it much.
Manufacturer vs. Third Party Products
Streaming Hulu, Netflix, and Prime on Video Game Consoles
The Playstation 4 and the XBox One both allow streaming for third party services like Hulu, Netflix, and Prime. The Nintendo Switch originally did not offer any streaming services, but they just added Hulu. More to come? We'll see.
Online Fees
The systems sometimes have online fees. We have the Playstation Plus on our Playstation 4 which is optional, but it allows you to get more out of your system. We get free games each month from that and we can do online multiplayer. The price depends on how many months you buy at a time (ie. the year plan vs. month to month). My husband says the Xbox One also has a similar program.
It looks like the Nintendo Switch will have an online service that will have a fee, starting in 2018. I didn't see a price listed yet, however, or what the price includes.
The WiiU does not require any online payment, but there's also no free games.
Re-Released Nintendo Systems
The NES and SNES have recently been released by Nintendo, preloaded with games. You can't add additional games onto these. These systems also have been pretty hard to find, but also affordable if you can find them to purchase at MSRP. The NES sold out almost immediately last holiday season. This holiday season looks like it will be more of the same.
But for many of us 1980s and 1990s gamers, these systems are a hot product because we get to play some of our favorite old games and introduce our kids to them… without buying an old system that is unlikely to work well anymore.
Make sure you get the NEW SYSTEM… a lot of people are trying to off load their 1980s NES systems… these may work, don't get me wrong, and they have collector value to some folks. But remember how you used to have to blow in the cartridges to get the game to work? These are those same systems, haha. So… the newer ones are going to cause a lot less frustration (although you can ONLY play the games that are preloaded on them).
There's a Sega system that was re-released too but I got it for my husband and kids last year and it was not great.
Choosing Appropriate Games for Your Video Game System
First, keep in mind that different games support different number of players in the game. Some games allow 4 players, others allow 2, and some are single player. The games will say it on the front or back, depending on the system. The Switch games appear to have it on the back.
It will also give a rating. M is mature. E is everyone. As you can see, the top left of the box gives the system that game belongs to. Some games will be on more than one system (like Just Dance) and others will be exclusive to the system (like Mario).
1 Player Games:
2 Player Games:
4+ Player Games:
So I'm not going to get into as much detail about the Playstation 4 games or the XBox One games because these systems have been out for a while and there are a lot of games. I'll just mention a few of our favorites. The PS4 and the XBox One both cater to an older audience so I'm going to mention some games for the teen and mature audience as well.
For XBox One, it's the same deal as with the PS4. Sports games. There's some Lego games. Final Fantasy is on that system (I love that, series), Tomb Raider, Borderlands…. not all kid friendly. The system had the exclusive on one of the Assassin Creed games (M) which irritated my husband because he's been playing the series for a while on other systems. We do not own an XBox One so I can't comment on the system or games too much.
Was this post helpful? Please share it with your friends!
Thanks for taking the time to read this post! I really appreciate the time you've taken. Please share, like, and pin my post if you enjoyed it. Follow me on social media and subscribe to my email list to keep up to date on all of my latest projects!
Disclosure of Material Connection: Some of the links in the post above are "affiliate links." This means if you click on the link and purchase the item, I will receive an affiliate commission. Regardless, I only recommend products or services I use personally and believe will add value to my readers. I am disclosing this in accordance with the Federal Trade Commission's 16 CFR, Part 255: "Guides Concerning the Use of Endorsements and Testimonials in Advertising."