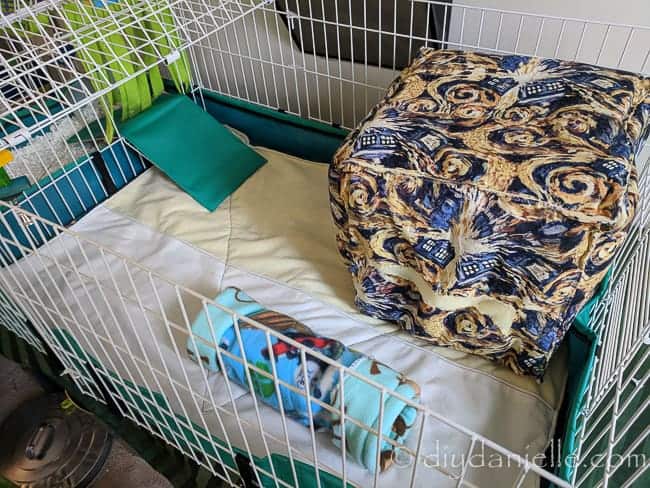 How to sew cage liners for guinea pigs. These fleece liners are easy to sew and washable. They make cleaning up much easier!
This post may contain affiliate links which may earn me commissions should you click through them and take certain actions. As an affiliate for Amazon, Cricut, xTool, Home Depot, and other sites, I earn from qualifying purchases. Please DIY carefully. View my full legal disclosures here.
Please read the whole post so you don't miss any important information!
When I started researching guinea pigs, I immediately gravitated towards the idea of fleece bedding that could be washed. We cloth diaper and use a lot of cloth products in our home. It's my thing. I don't mind the wash and I like saving money and the environment.
So I did a bit of research and checked out the pros and cons of fleece bedding. The Cali Cava Collective was a pretty good resource for information.
From what I could tell, people liked the fabric to be easy to sweep out each day and the "pellets" to be deposited in a container for disposal. The pads themselves were changed out regularly, 2-3x per week. The issues with fleece included problems not wicking (solved by lots of washing prior to use) and that it doesn't absorb the urine itself. The guineas are also prone to chewing it or digging underneath it. So I decided to attempt to solve some of those problems when creating my liners.
New to guinea pigs? Check out my post on Guinea Pig Care and learn all about guinea pigs. I'll even show you how to clean their cage!
Supplies for Guinea Pig Cage Liners
Old prefolds or towels for absorbency
Alova suedecloth or fleece (100% polyester anti pill) for wicking
PUL (polyurethane laminate) for waterproofing
Size 14 universal sewing needles
If you sew a lot, make sure to check out our new app, Sew Organized, available FREE on the Android Play Store and the Apple App Store.

Download it on the Android Play Store | Apple App Store
How to Sew Fleece or Alova Suedecloth Cage Liners
I sew cloth diapers so I had a lot of supplies on hand to use to make these. My first ones are a bit wonky because I wanted to upcycle pieces that were too small or not ideal for diapers (aka, not the expensive stuff). I had received a bunch of PUL off Freecycle that was super thick and old school… it was NOT ideal for diapers because it was a pain to work with due to its thickness. I used them for my ducks when they were in our bathtub as ducklings. Now that the ducklings aren't using them, they are ideal for using for these liners.
The purpose of each liner layer.
PUL is a waterproof material that can be washed on hot. It makes it ideal for diapers and also for liners. This layer was for my bottom. It will prevent (hopefully) leaking from the absorbency to the bottom of the cage. This keeps me from needing a layer of coroplast. The middle layer needs to absorb pee and water if it gets splashed out of the bowl. I would have upcycled towels for this normally because it's a great way to use them, but I had some ripped prefolds that were even better. Ask around on Freecycle and you may be able to find some to use. They're super absorbent which is ideal. These were thick around the middle and thinner on the outer sides so I overlapped them a bit. My later liners used towels and it was a bit easier to sew because I didn't need to sew a bunch of prefolds together.
The top layer is… not fleece. I could have used fleece, but I had a lot of a material called Alova Suedecloth. I was using them for cloth diapers, but switched to different material because I didn't like the feel of these as much. They're still soft, but they're thinner than fleece. This should, according to info from others who have used it, make it easier to sweep up. It also won't require as much prepping for use because it should wick fine without extra washes.
The downfall to Alova Suedecloth to my understanding was that the fabric wouldn't hide stains as well as patterned prints. Oh well. No big deal.
For my cage configuration, I made two large liners and two small liners. The fabric for the big liner was cut to about 36×25″ and the smaller liners were made from fabric 13×25″. Their finished size was, of course, smaller due to the seam allowance.
You'll need to figure out your own sizes, however, based on your configuration for your guinea pig cage. Measure the area for the liner, then add 1/2″ per side (so 1″ total per side). This gives you a pretty generous seam allowance of 1/2″. I like to be generous about it because it was a bigger issue to have the liner too small than too large.
When I made more liners with a fleece top, I made the liners the size of the entire cage as I'd removed the divider for the cage to open it up more. Those are the orange and blue liners (plain ones).
You might like the following products in my shop! Keep scrolling for the tutorial.
Step by Step Instructions for Cage Liners
Step 1: Cut the fabric. You need a bottom layer- PUL works or you can use a fleece fabric that will repel liquid. You can tell the difference by taking the fleece (prewashed) and letting a few drops of water fall on it. If the droplets sit on top of the fleece then roll off, you have the right type of fleece for the bottom layer but NOT the right type of fleece for the top layer.
You also need an absorbency layer- your towels or old prefolds.
You need a top layer that will wick the liquid into the absorbency. That's the poly fleece or the alova suedecloth.
Step 2: Once everything is cut, you sew together your prefolds if needed. If you're using towels, you can skip this step.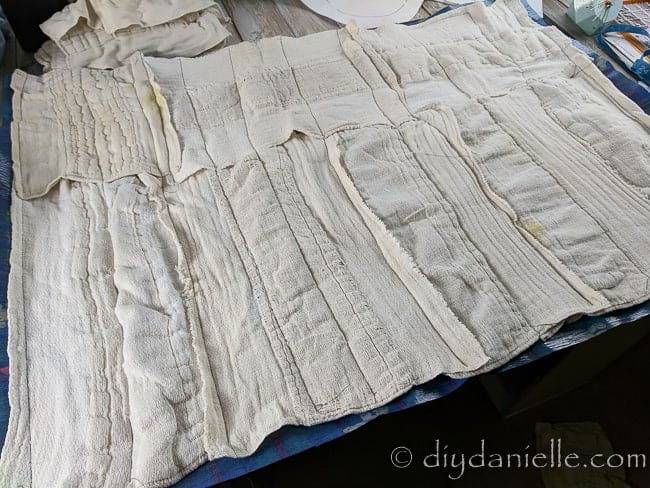 I had to sew two pieces of alova suedecloth together for the top.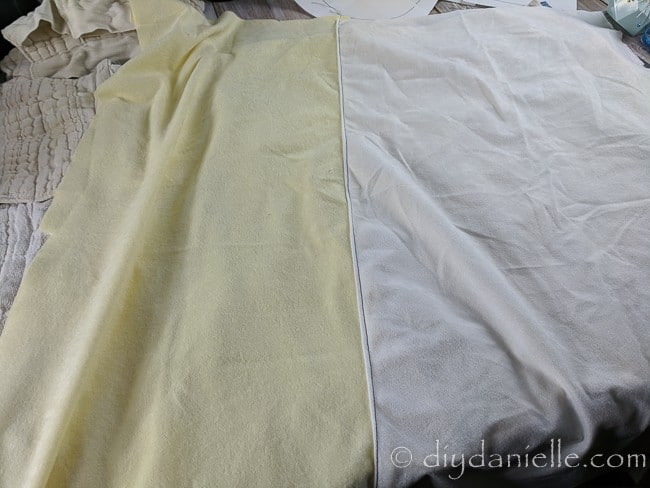 Step 3: So I layered my PUL shiny side up. Placed the prefolds on top. Then I put my suedecloth soft side up. This is how they should look FINISHED. But I needed these sewn together. This makes for a heavy liner that should be hard to pull or dig up.
I found it easiest to sew my prefolds together to the correct size, then sew them (quilting style) to either the PUL or the suedecloth. Once that was done, I put the suedecloth and PUL right sides together and sewed around, leaving a small area to turn the whole thing right sides out and top stitch.
Below is the liner once it was flipped right sides out. The cute bears go on the BOTTOM of the cage. The yellow is face up.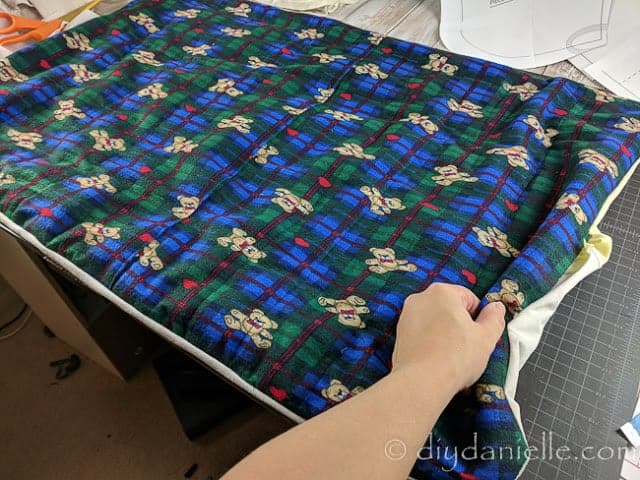 Step 4: Once that was turned right sides out, I needed to top stitch the close up the hole.These aren't super attractive, particularly the large ones, but they're very functional.
Washing the Liners
To clean them, I brush all of the debris off them into a big bucket. That bucket gets emptied into our compost bins. The liners go into a wet bag until wash day.On wash day, I put all of the liners and the wet bag into the wash and run one quick load on cold. I don't use detergent for this cycle. This is just to rinse the liners. Once that cycle is done, I do a heavy load on hot. I used detergent that is cloth diaper friendly (detergents with any fabric softener will cause the fabric to stop absorbing urine) and put a little vinegar in my rinse section for my washing machine.
When the cycle is finished, my liners are clean. I throw them into the dryer on hot. Because there's so many layers, they may take longer than you'd expect to dry. You could hang dry them if you want to save on electric costs.
Fleece vs. Alova Suedecloth
I love the fluffy soft look of the fleece, but I think the alova suedecloth might be easier to brush the hay off.
Thoughts on Liners Vs. Disposable Litter
I made 2 big liners and 2 small liners so I had a couple of changes for each side of the cage. The smaller zone was for the food so I expected it to need more changes (guinea pigs tend to poop in that area more). I also purchased some paper bedding so I could use it if I needed to run the wash.
We picked up the guinea pigs on Thursday and I would shake out the poop into a container every morning and night. It was super easy. I preferred shaking to the dustpan route because it was faster. Then I laid the liner back in the cage. I found that the smaller liner did seem to need daily changing as I was noticing there was one wet spot that came through the back, but I think that was because the water was getting splashed a bit and not because the guinea pigs were peeing so heavily. I was still using the same big liner on Sunday night with no issues.
But my Saturday I'd run out of the small liners so I folded the big liner in half and used it in the small zone. This left me with no liners for Monday. On Sunday night (Christmas Eve) I took out the liners, put them all in the wash, then just used the paper bedding.
It took less than 24 hours to decide that I never want to use anything but liners again. I need to get sewing some more. It was awful. The paper gets everywhere! It falls out of the cage, it gets stuck to the fleece toys, and it's just messy. Not only that, but I want my kids to be responsible for some of the cleaning and there is no way a 4 and 6 year old won't make a terrible mess with the bedding.
I vacuumed the floor FOUR TIMES on Christmas because the paper stuff was everywhere.
Even my husband was "Sew lady sew" about the liners because he was equally frustrated with the mess. You'd think the hay would be a problem too, but it wasn't as bad.
The liners were heavy and fit the cage just perfect. A few pieces of poop fell off the edges so I did need to use my dustpan to get those when I swapped out liners. No big deal. The guinea pigs didn't dig under them or shift them.
Except for the one spot where I think water leaked through, the bottom of the cage (which is canvas) was dry and clean. The PUL seemed to do its job which means less intense cleaning of the cage (I hope). I don't see a reason why I'd need to massively disinfect the bottom of the cage each month if none of the urine or poop is on it. We'll see over time, but I'm hoping that will be the case. With the paper, I knew stuff was getting through so I can't see.
The alova suedecloth didn't need prep, I didn't notice any staining, and nothing stuck to it too badly. I was able to shake or use my brush to get more everything off. Very easy. The fleece was similar.
I'm really happy that the liners seem to work for us! Can't wait to make more.
Cost of Fleece Liners vs. Disposable Bedding
I asked around about how much paper bedding people were using for two guinea pigs and it seemed like 60 L a month was typical.
This would cost roughly:
$13-25/mo, or
$156-300/year, or
$1092-2100/lifetime of pet (I calculated for a 7 year lifespan)
That's a lot!
I've seen some very pretty cage liners for sale at $50-60/each. You'd want two so you could swap them out. $100-120 is less than you'd spend in a year on paper bedding, and the liners should last through the lifespan of your guinea pig.
Want to save more? Make them.
A Midwest cage is 47×24" … you need 48×25" cut of fabric for each layer of the liner.
FLEECE: Fleece is roughly 56" wide.
You can cut your 48" along the width of your fleece… so you can squeeze one liner per 0.7 yard. You'll save the most money by getting continuous yardage. Ie. You can get 4 liner cuts out of less than 3 yards.
I hate giving an estimated price on fleece as it's on sale a LOT. But you're probably looking at $5-10/yard max. You can use old fleece blankets too.
If you use PUL for the bottom, $9.30/yard for plain PUL (that's not on sale).
Absorbency fabric can be an old towel— which is free. If you want to buy the fabric to use, there are a lot of options in different price ranges. I'd estimate that you'll spend between $9-15/yard for the fabric. If you use a heavier duty absorbency fabric, you'll need fewer layers than if you used a cheaper, thin fabric like flannel.
Let's say we make 4 liners for a Midwest cage using 3 yards of each fabric: PUL bottom, fleece top, an a nice absorbency fabric in the middle.
3 yards x $7/yard Fleece: $21
3 yards x $10/yard PUL: $30
3 yards x $12/yard Absorbency: $36

Total: $87 or $21.75/liner
Keep two liners for yourself, sell the other two for $50/liner and you're ahead $13 (not including sewing supplies). If you keep an eye out for good deals on the fabric, you'll do even better.
Make sure to check our indoor wood guinea pig cage DIY, and our outdoor hutch and guinea pig run.
Looking for an easy to clean guinea pig cage? Check out the Eglu Guinea Pig Cages and attached runs! You can purchase a 3′-13′ attached run to go with it, add wheels and handles, and the cages look super easy to clean. I love that you can use them outdoors because the main cage is insulated, but I think you could use them indoors too if you added chloroplast and cage liners to the wire on the bottom of the run. If you decide to buy one, email me for a coupon code at [email protected]!
How to Clean a Cage with Fleece Liners
Here's a quick video on how to clean a cage that has fleece liners. You can also check out my post on this topic and general guinea pig care: Guinea Pig Care 101
Please pin this! Or this: https://www.pinterest.com/pin/48554502217645114/
Here are some other posts about guinea pig projects!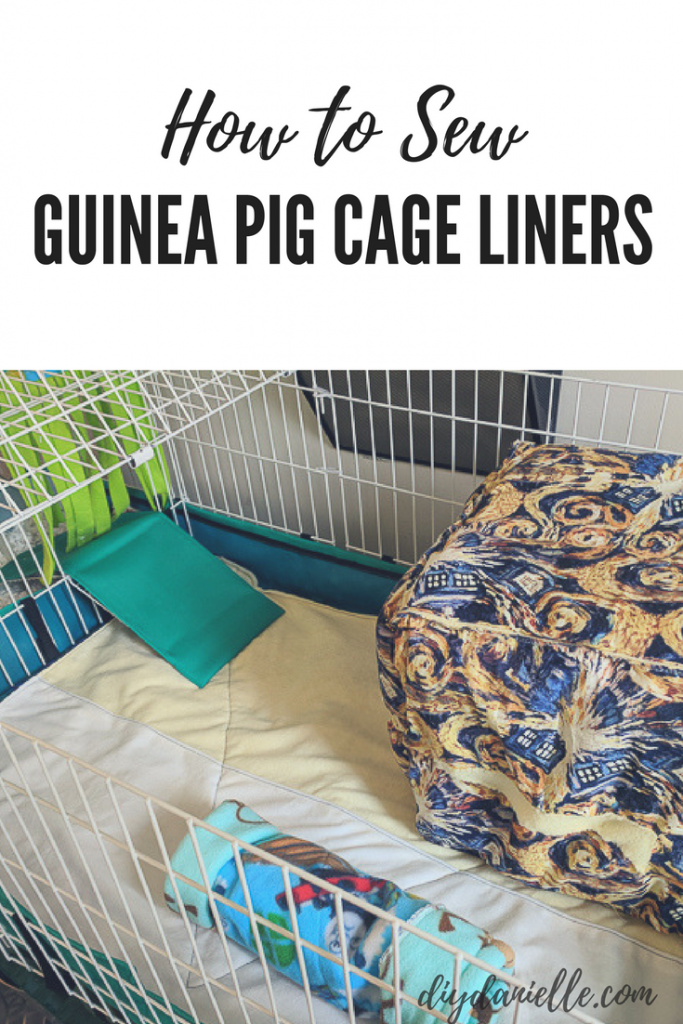 How to sew cage liners for guinea pigs.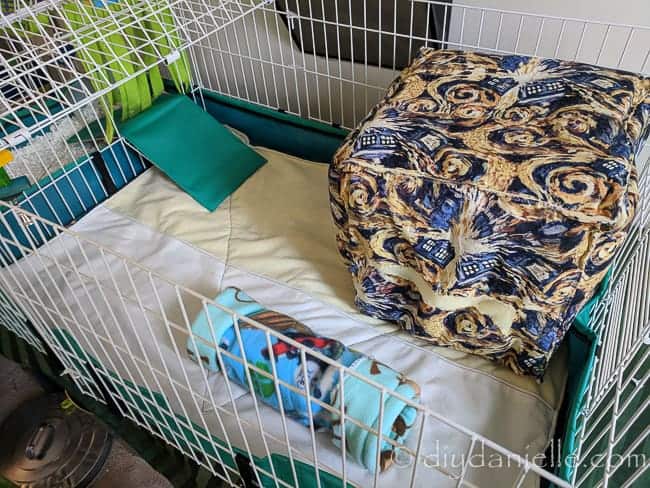 Yield:

1 Cage Liner
How To Sew Cage Liners For Guinea Pigs
Sew your own cage liners for guinea pigs. It's a budget-friendly option and easier than you think.
Materials
Old prefolds or towels for absorbency
Alova suedecloth or fleece (100% polyester anti pill) for wicking
PUL (polyurethane laminate) for waterproofing
Tools
Size 14 universal sewing needles
Instructions
Cut the fabric for the top and bottom layer.
Sew together your prefolds.
Sew two pieces of alova suedecloth together for the top.
Layer the PUL fabric shiny side up.
Place the prefolds on top.
Put the suedecloth soft side up.
Place the suedecloth and PUL right sides together and sewed around.
Leave a small area to turn the whole thing right side out and top stitch.
Top stitch the close up hole.