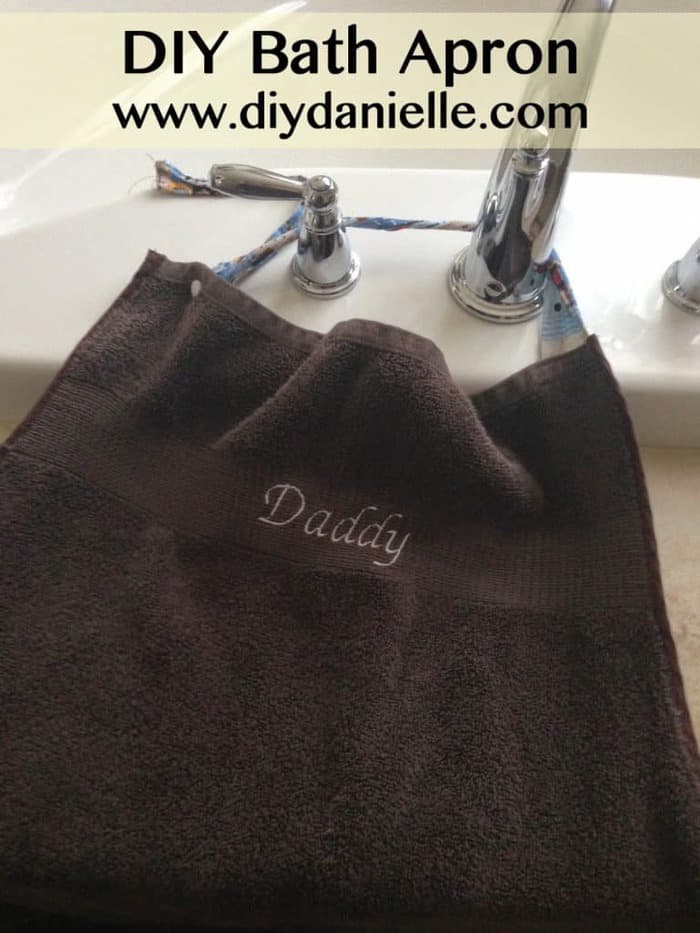 Happy (belated) 30th Birthday to my dearest husband. I got him a few gifts this year from Amazon, Cars (Two-Disc Blu-ray/DVD Combo in Blu-ray Packaging)
and
The Settlers of Catan
(which by the way is a GREAT game… possibly biased because I won the first two games).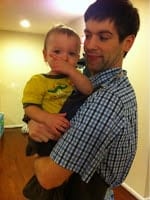 Of course, I felt a little guilty not making him anything so I threw something together at the last minute just to satisfy my need to make something thoughtful and time consuming. Ordering off Amazon is so easy that I feel a little like I'm cheating whenever I buy gifts. Maybe it's just because shopping in a store is so excruciating for me or the fact that I can easily order items from the Amazon application on my phone while I'm nursing Baby G (which is 24/7 so I've got a lot of shopping time available to me). It's just too easy. So guess who was finishing up Daddy B's last gift right before he got home from work on his birthday? Yes, that'd be me!
Daddy B has been complaining about getting wet whenever we give Baby G a bath so I figured I'd try to sew a bath apron for him. I've been eyeballing one that I had found on Pinterest for a while with the idea that I'd make it for a gift someday; the link went dead so I removed it (Updated: June 6, 2014), but it was a pattern being sold off someone's Etsy shop. I love to buy patterns online, but this time I was stuck because I didn't have my internet back on yet. I decided to try to make something myself, especially as this pattern seems to be geared towards women and Daddy B is bigger than a woman. I was hoping to make it less girly too (it's possible that I failed).
I bought a large towel at Ollies and just used some matching brown binding/hem tape. I laid one of his teeshirts over the towel to mark out where the arms on the teeshirt curve in and cut the towel there on both sides. I just folded the towel in half so I could make the cuts exactly the same on each side. Then I sewed the binding/hem tape over the areas that I cut, made some straps, sewed the straps on, and embroidered the front of the apron.
Update June 6, 2014: I think you could just buy the apron and serge the edges where the arms are if you want to make it a little easier and faster to sew.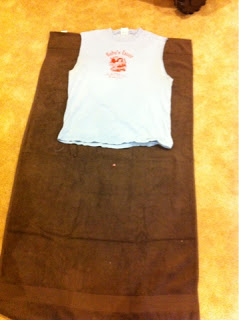 I used my embroidery machine to embroidery "Daddy" across the thinner part of the towel. I also used the scraps I cut off for the arm area to make a weird shaped bath mit. I'm sure the pattern makes it much prettier, but alas… no internet, no downloading a pattern to print. You don't realize all the little things you do on the internet until you don't have it and I definitely do EVERYTHING on the internet. Fortunately, we are back in the modern world as of January 18 so we're psyched.
The towel ended up being just long enough to cover him from chin to toe, even though he looks like he's prepared for the flood, not just a baby bath. Haha. He actually reminds me of a (horse) farrier with all of that on. I think I might make the arm areas straight instead of curved to make it look more "manly" if I were to do this project again, but it works and now he can use the end of the towel to dry off Baby G.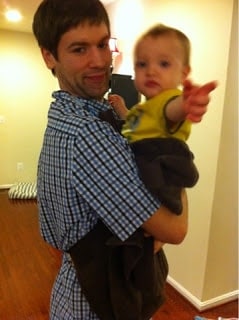 This would make an awesome baby shower gift too, although I think using the pattern would be better if you were doing it a shower. It was hard to figure out how long it needed to be and how long to do the straps without having the person there to measure. I managed to guestimate pretty well, but I knew I'd be able to alter it if needed if it didn't fit right. It's harder to do that when you're giving it as a gift to someone who doesn't live in the same house as you!
Updated June 6, 2014…. here's a picture of it now, over a year later. We had some fraying where I didn't put the binding on very well. Overall it still looks pretty good! We love how big it is and it wraps around the kiddos really well, even now that G is 2.5 yrs old. We also have used it when we bath the dogs.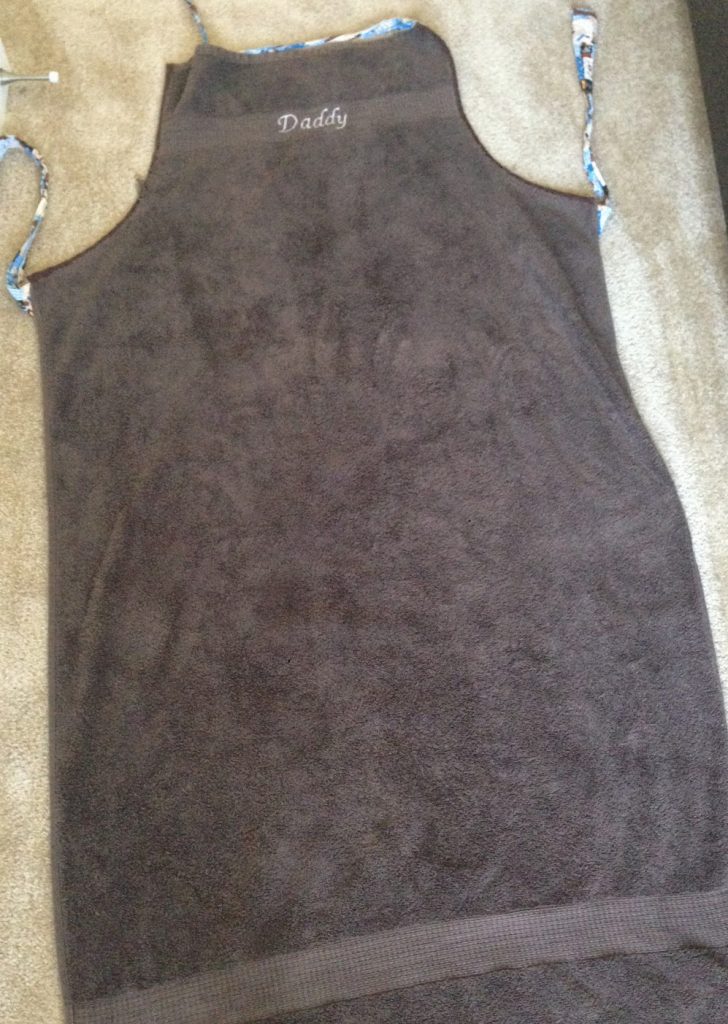 Want a free apron pattern to use? Check out my other two apron posts: Painting Apron and Free Apron Pattern
Disclosure of Material Connection: Some of the links in the post above are "affiliate links." This means if you click on the link and purchase the item, I will receive an affiliate commission. Regardless, I only recommend products or services I use personally and believe will add value to my readers. I am disclosing this in accordance with the Federal Trade Commission's 16 CFR, Part 255: "Guides Concerning the Use of Endorsements and Testimonials in Advertising."