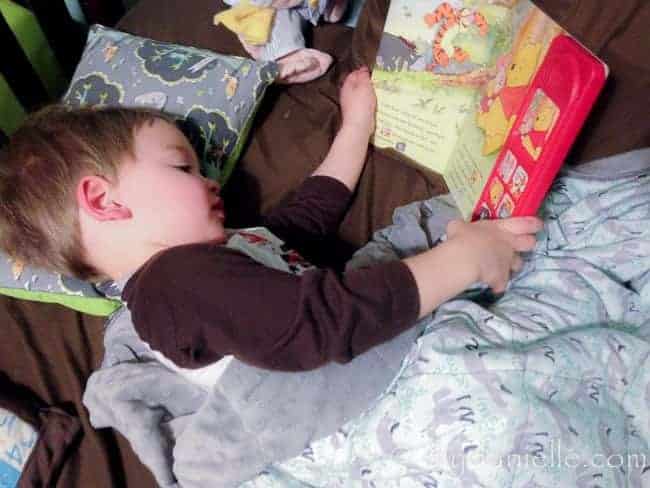 Learn how to make your own weighted blanket for your child or yourself. It is simple to sew if you take your time and get the right supplies!
This post may contain affiliate links which may earn me commissions should you click through them and take certain actions. As an affiliate for Amazon, Cricut, xTool, Home Depot, and other sites, I earn from qualifying purchases. Please DIY carefully. View my full legal disclosures here.
Please read the whole post so you don't miss any important information!
What are Weighted Blankets?
Weighted blankets are supposed to be helpful for a whole host of issues, including sensory processing disorder, autism, anxiety, and more. The research isn't really showing that they help kids with autism sleep better, but parents and children favored the use of them. If the blankets are low risk and more comfortable for the child, it seems worthwhile to give them a try.
These blankets are heavy blankets that help create pressure around the person. It may make someone feel more secure, kind of like getting a hug.
Our son had so many issues sleeping when he was young. I was told to try a sensory blanket for him to see if it helped him self soothe, especially at nap and nighttime.
Personally, we didn't see his sleep improve with the blanket, but he liked it! And that's fine! I have considered making myself one, but I have found that I don't like the weight on me.
This is a bit more information about weighted blankets if you're interested in knowing more.
Don't want to make one? Buy a Luna Weighted Blanket here.
What Size Weighted Blanket Do I Need?
The weight of the blanket is extremely important when buying or making one of these. You don't want it to be too heavy. People with breathing issues or sleep apnea (or snoring) should not use these as the blanket may be too heavy on their chest.
For children, please follow the recommendations on the use of blankets by the American Academy of Pediatrics. Babies should not have any blankets or loose bedding in their cribs. A heavy blanket like this would be straight up dangerous so DO NOT use one.
This is a resource for how many pounds of pellets you should add, depending on the weight of your child. Many places say that you should add 10% of the person's weight. I saw another site that said 5%. Others say to use what is comfortable for that person- the lighter the better.
How to Make a Weighted Blanket
I decided to take my son's 40×58″ blanket that I made for his toddler bed and turn it into a weighted blanket.
This was pretty time intensive, although I think I've managed to figure out some clever ways to make it go a little faster and easier.
Weighted Blanket Supplies
Tip for saving money on pellets: I ordered a 4 lb box of poly pellets to use inside. These allow you to wash the blanket which is pretty important when you have a 2 year old. Shipping is expensive so it's worth checking to see if you can get it locally. For the lap blanket I made, I used pellets from Joann's and used a coupon on them.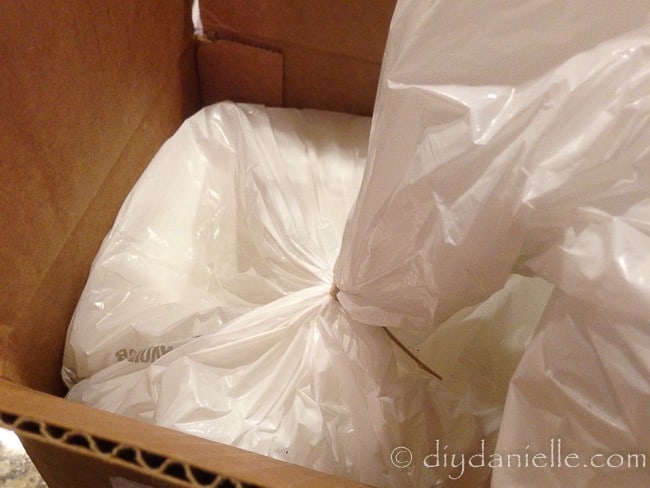 Directions for Sewing a DIY Weighted Blanket
Step 1: Start with a two layer blanket and open up one end.
For my project, I was using a blanket that was two layers. The top was cotton and the bottom was minky. I seam ripped one short end of this blanket so I would be able to insert the pellets.
Step 2: Mark your columns and rows
To make the job easier, you should decide what size squares you want to sew. I decided on 5.75″ columns and rows (thereabouts- I think my rows ended up being 5″).
Lay your blanket out on a hard surface such as your table. Take a straight edge ruler and your measuring tape. Draw the lines for your squares. Start with drawing a line for each column every 5.75″ (or whatever width you decide).
A note on the width of your columns and rows: The beads will distribute inside each square. Smaller squares will be more time intensive to sew. So you want to find a balance between making sure your squares are small enough to distribute the weight of your blanket evenly and not making this blanket take HOURS to sew.
Once you draw in your columns, draw your rows too. Whatever you use to mark your columns and rows should be something that will wash out!
Step 3: Sew Your Columns
Next, you want to sew those columns, right along the line you drew for yourself.
Step 4: Calculate how many pellets to use per square (by weight)
Now that you have sewn your columns, you need to count how many squares you'll have! This is easy seeing you drew out your rows as well.
It's math time now.
I calculated that my 40 x 58″ blanket would have 80 pockets. My son is about 35 lbs and 10% of his body weight is 3.5 lbs.
I ordered 4 lbs of the pellets so I decided to use all of them (ideally you should go lighter, not heavier, but I didn't know this at the time).
Math Time!
4 lbs (16oz each) is 64 oz total. Divide that by 80 squares and I calculated to that I would need 0.8 oz per pocket.
Step 5: Insert Pellets for each of the First Columns
I measured out the amount on a digital shipping scale and inserted that amount into all of my first column of pockets. Using a funnel makes this easier!
Step 6: Sew your first row closed
Once you have 0.8 oz of pellets inserted into each column, you can sew that row closed, following along the line you drew.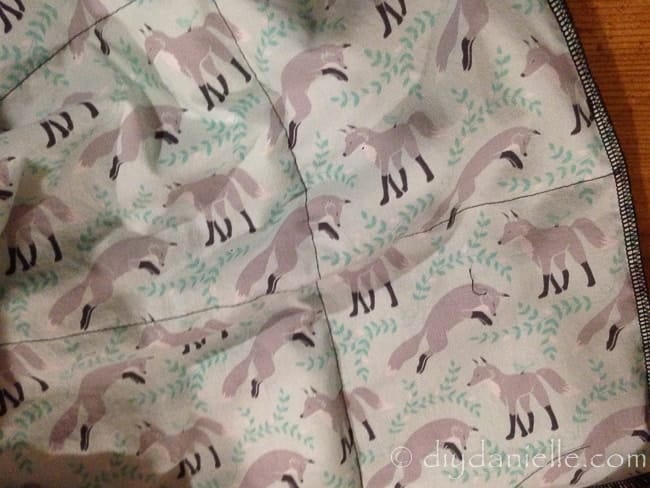 You need to go slowly, making sure to push all of the pellets away from the line you're sewing. If you hit a pellet, you will break your needle.
Step 7: Repeat steps 5 and 6
You'll want to repeat this process for the rest of your rows/columns. Add the pellets for each column, sew up the row. Repeat.
Step 8: Close up the blanket
To finish your blanket, you just need to sew the top of the columns closed.
This baby blanket had serged edges so I did a straight stitch first to close out the pocket/square and keep the pellets from getting underneath my serger needles. Then I serged to finish the edge like the other three sides.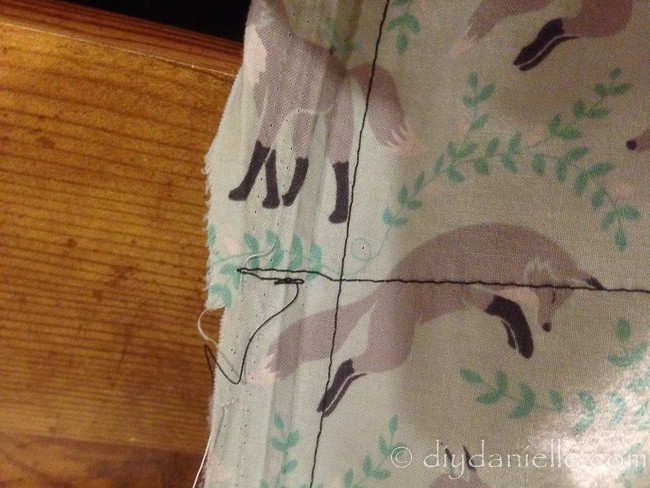 Tips for Avoiding the Pellets
Here are some quick tips for sewing the blanket without hitting the pellets.
I'm glad I was able to use his normal blanket to make this so I'm not introducing anything new into his routine. He seems to like this particular blanket because mommy made it.
I also made this weighted lap blanket for a friend if you're interested in a smaller sensory blanket.
Can I use a pellet blanket insert?
Yes! This is new and they weren't available when I first made this blanket. Walmart carries weighted blanket inserts that you can make a cover for, instead of bothering to sew the pellets into the blanket directly. If you do this, I would recommend using something to attach the cover to the insert, such as adding snaps to each corner. That way the insert won't shift too much inside the removable cover.
Alternatives to Pellets for Weighted Blankets
You can possibly skip the pellets and make a weighted blanket easier. I've heard that jean quilts work well for weighted blankets and don't use pellets which is nice. If you do this, it's good to weigh your project as you go along. Weighted blankets are supposed to be a certain weight, depending on the size of the person they're for!
Buy a Blanket on Etsy
If you just can't figure it out or don't want to sew one, you can buy custom weighted blankets on Etsy and they're BEAUTIFUL. It's nice to support small businesses!
Please share and pin this post! If you make this project, share it in our Stuff Mama Makes Facebook Group. We have regular giveaways for gift cards to craft stores. You can also tag me on Instagram @doityourselfdanielle; I love seeing everything you make!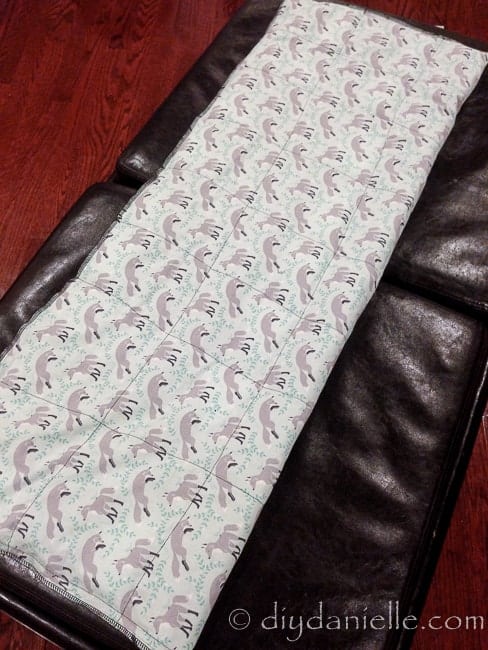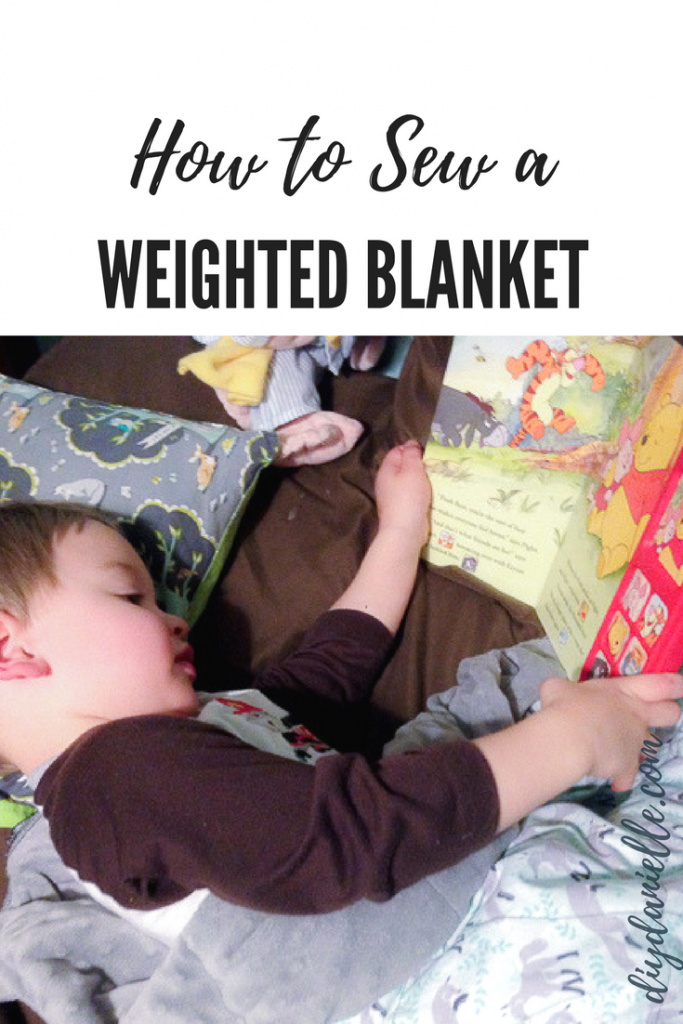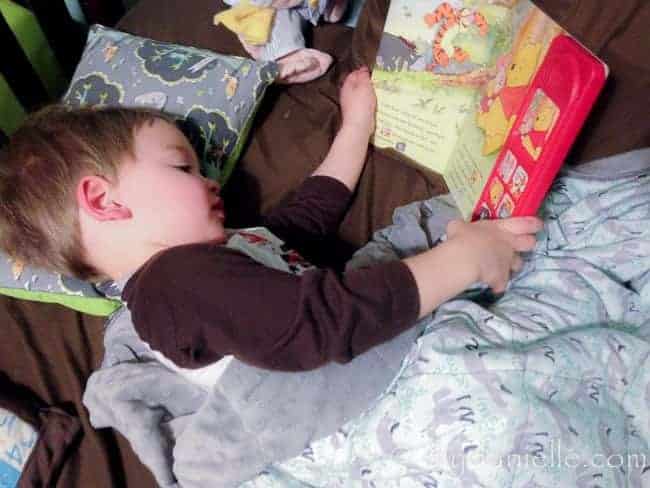 Yield:

1 DIY Weighted Blanket
How to Make a DIY Weighted Blanket
Total Time:
1 hour
10 minutes
Make your own DIY weighted blanket with this simple sewing tutorial.
Materials
Poly Pellets: 4 lb box
An old 2 layer blanket
Small scale
Funnel
Pins or clips
Tailor's chalk
Tools
Sewing Machine
Sewing Scissors
Measuring Tape
Instructions
Start with a two layer blanket.
Use a seam ripper to open one short end.
Place the blanket on a hard surface.
Use a straight edge ruler and measuring tape to draw lines for your squares.
Start with 5.75" for each column.
Next, draw your rows.
Sew the columns along the lines.
Once the columns are sewn, count how many squares you'll have.
Calculate how many pellets to use per square.
Insert that amount into the first column of pockets using a funnel.
Sew the row closed along the line you drew.
Push all of the pellets away from the line you're sewing.
Repeat this process for all of the rows and columns.
Close the blanket by sewing the top of the columns closed.