How to turn jeans into bell bottoms. Upcycle an old pair of jeans into something a little more comfortable.
Bell buttoms… I have been less than secretly in love with them for a while. I decided to take a pair of my older beat up jeans and try to see if I could successfully convert them to bell bottoms. It ended up being a really easy project considering and pretty quick too. That makes me very happy so I might just be able to get a few pairs of thrift jeans and make a few more pairs.
---
This post may contain affiliate links which may earn me commissions should you click through them and take certain actions. As an affiliate for Amazon, Cricut, xTool, Home Depot, and other sites, I earn from qualifying purchases. Please DIY carefully. View my full legal disclosures here.
Please read the whole post so you don't miss any important information!
---
First I seam ripped up to where I wanted the jeans to begin to "bell"… I approximately where the knee would be and it ended up being 18" from bottom of pants. You only need to seam rip the outside of both legs. I also seam ripped the hem.
Once you measure how far up you ripped, you need to cut a piece of your fabric… in my case, the green with blue flowers. I folded a piece of fabric right sides together, measured 18″ length, marked the spot. Then I measured 5″ out from that spot and made a mark.
I connected the dot to the very top of my fabric and cut it out. Then I cut from the dot to the 18″ mark. Basically you've got a triangle and it unfolds into a bigger triangle.
To make the second cutout the exact same size, I just used the first as a guide.
Turning the jeans inside out, I matched the jean opening and the triangle right sides together and serged them together. Then I matched up the opposite side and did the same.
It was difficult to get the top of the triangle all sewn properly so to avoid any fraying or gaps, I sewed the top together with my sewing machine.
I could have re-hemmed the bottoms, but instead I used my serger to finish the edge. I had to do this very carefully along the seams of the jeans where it's really thick, but it worked out okay and didn't break any needles. I didn't try to get them super even because I figured it'd add to the look to have it be a bit sloppy. And I'm lazy.
I topstitched the bell area as well.
Here's my finished product! I love them!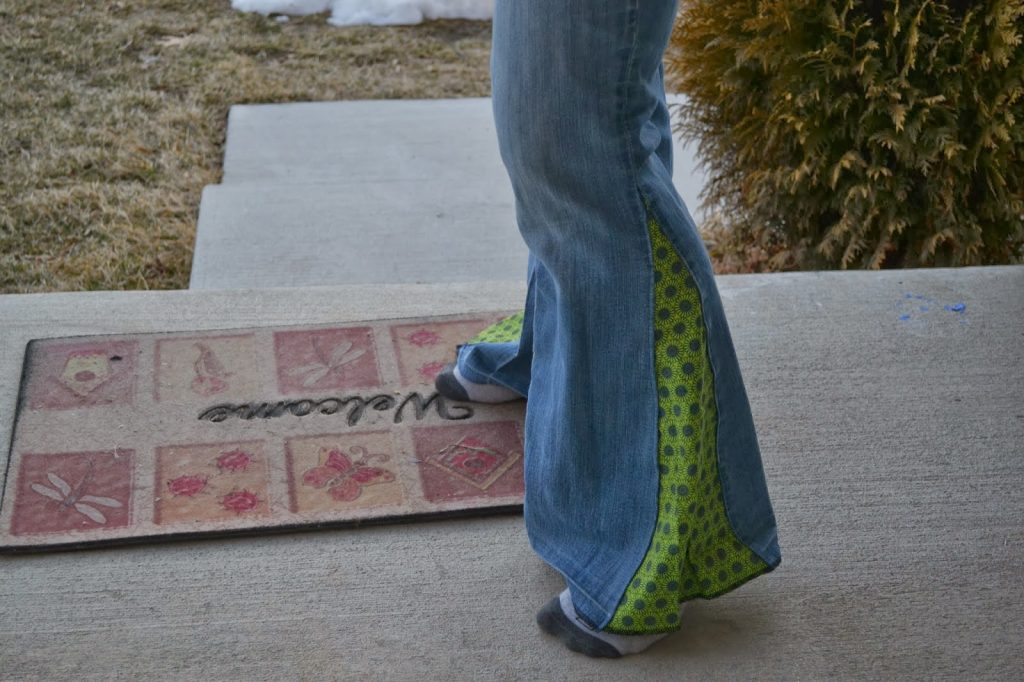 Check out these other Secondhand Fashion Ideas!
Please share and pin this post! If you make this project, share it in our Stuff Mama Makes Facebook Group. We have regular giveaways for gift cards to craft stores. You can also tag me on Instagram @doityourselfdanielle; I love seeing everything you make!