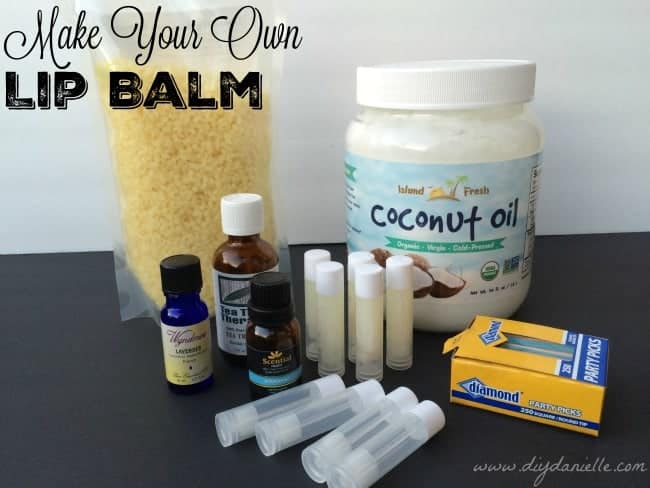 Do-it-yourself Lip Balm: How to make lip balm as a group activity. I did this activity with my MOPS (moms) group, but I think it would also work as an activity for kids to make gifts for family members for the holidays. If you use organic ingredients then you can make organic lip balm with no chemicals.
I facilitate the craft for my MOPS group and for our "spa day" meeting, I decided to have everyone make their own lip balm. It went super well and was easy to do.
Supplies
Supplies listed below may include affiliate links to the products.
Toothpicks
Something to warm and melt the oil/beeswax.
Pipettes or droppers: Plastic Transfer Pipettes 3ml, Gradulated, Pack of 100
Coconut oil, such as Island Fresh SUPERIOR Organic Extra Virgin Coconut Oil, Cold-pressed and Unrefined for Irresistible Aroma and Taste, 54 Ounce
Lip balm containers: Lip Balm Empty Container Tubes 3/16 Oz (5.5ml), Pack of 12; Natural (translucent) color
Beeswax. I used Beeswax Organic Pastilles, Yellow, 100% Pure 16 Oz… these are small beads so you won't need to grate the beeswax. Huge time saver.
Essential oils. I offered Lavender, Peppermint, and Tea Tree Oil. Make sure they're essential oils that are safe to use on lips.
Tutorial
I am working off the tutorial I found for
small batch lip balm
. I tripled the recipe so I ended up using 3/4 cup of coconut oil and 4 tbsp of beeswax. We were able to fill about 15 lip balm containers using this amount, but there was *plenty* leftover.
To warm the beeswax and coconut oil, I hooked up this Wilton Chocolate melter that I found super cheap and partially broken (the handle) at a yard sale (FYI the newer versions are cheaper). You can also just microwave a bowl with the ingredients in the microwave. Ideally, you may want to try something with easier cleanup… use disposable items or a liner in the pot. I used my silverware and real bowls and cleanup was sort of messy.
If you won't have much time to warm up the ingredients, I recommend microwaving the ingredients at home the night before (I think mine melted in 3-4 minutes in microwave), then you can let them solidify. Melting the mixture is a lot faster- the beads just are a bit time consuming to melt initially. If you want to do it all that day, plan for 15-20 minutes heating in the pot prior to the activity (microwave is much faster of course).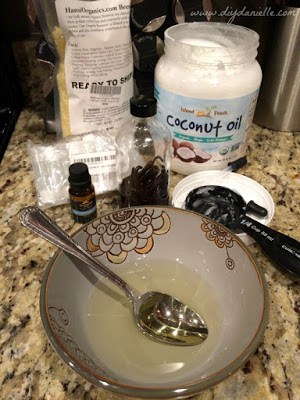 My experimental setup. I just used the microwave when I
was doing this. I really liked the chocolate melter though
so it would keep my mixture melted while I worked slowly.
My MAIN priority here was to figure out a way that individuals could use the essential oils they wanted in their lip balm. I didn't want to make a bulk batch of peppermint when some people might prefer lavender. So the night prior, I experimented with varying amounts of essential oils (EO). I tried lavender, tea tree, and peppermint. I found that 1-3 drops of an EO per lip balm container worked well with 3 drops being pretty strong and 1 being pretty mild.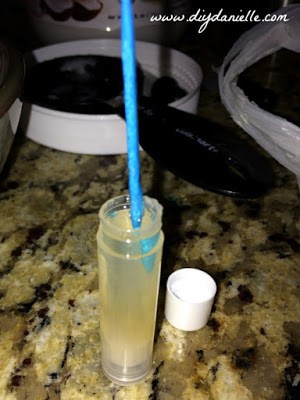 This solidifies fast so if you notice "something" in your
container while you stir, it's likely some of the lip balm
has already started to solidify. Stir fast, work fast.
I had everyone put their essential oil drops into their empty container first, then we used the dropper (or pipette) to fill the rest of the container with the warm beeswax and coconut oil mixture. Immediately use a clean toothpick to stir the mixture in the lip balm container, then let sit until it solidifies. This solidifies VERY quickly which is nice for group activities where people need to take the item home soon.
Mixtures I tried:
3 drops peppermint
3 drops lavender, 3 drops tea tree oil
1 drop tea tree oil, 1 drop lavender- came out VERY mild
1 drop peppermint- also very mild
I think 2 drops max might be the magic number. You can use less of something (Or leave it out) if you don't love the smell. For example, tea tree oil is nice to have in it, but you may not want to use a full 3 drops if you hate the smell.
You're done. That's it. Super easy and I'm sure they make great gifts. Everyone loved the activity and the resulting lip balm.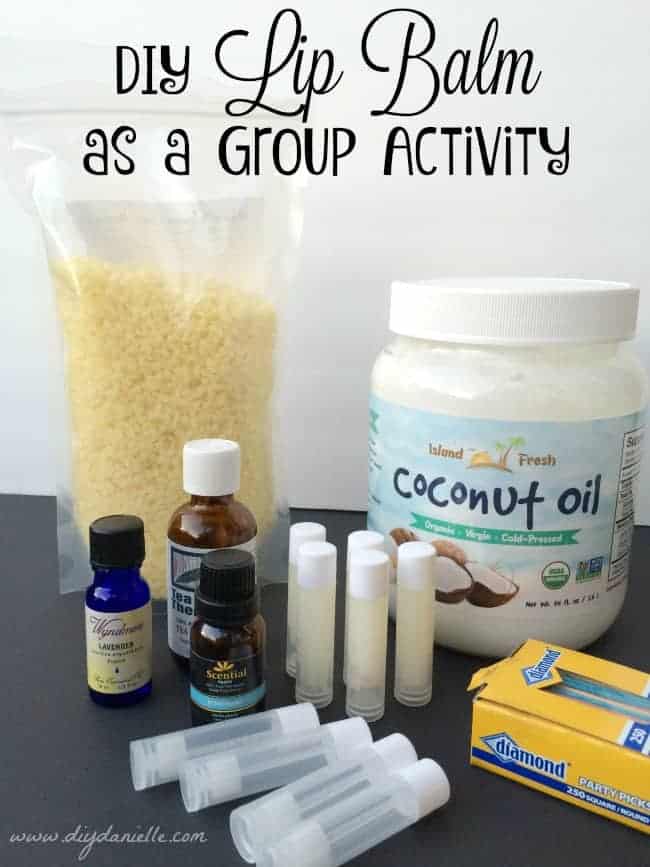 Thanks for taking the time to read this post! I really appreciate the time you've taken. Please share, like, and pin my post if you enjoyed it. Follow me on social media and subscribe to my email list to keep up to date on all of my latest projects!

Disclosure of Material Connection: Some of the links in the post above are "affiliate links." This means if you click on the link and purchase the item, I will receive an affiliate commission. Regardless, I only recommend products or services I use personally and believe will add value to my readers. I am disclosing this in accordance with the Federal Trade Commission's 16 CFR, Part 255: "Guides Concerning the Use of Endorsements and Testimonials in Advertising."