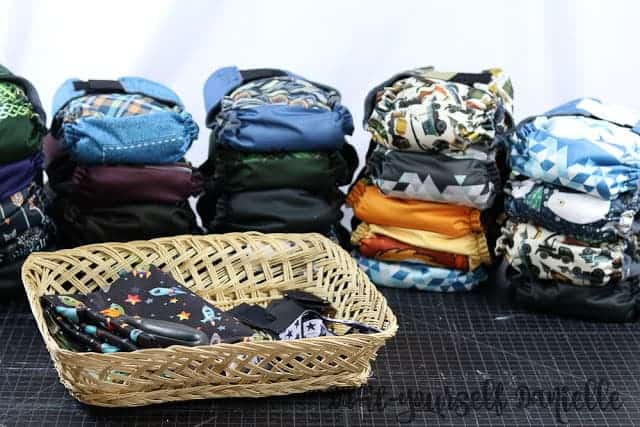 How to sew cloth diapers. Tips for making diapers faster, particularly when you're making an entire stash. This analyzes the cost and time involved for making each diaper and discusses how to save time by sewing them.
This post contains affiliate links which may earn me commissions should you click through them and take certain actions. As an affiliate for Amazon and other sites, I earn from qualifying purchases. Please DIY carefully. View my full legal disclosures here.

Please read the whole post so you don't miss any important information!
Sewing cloth diapers is the reason I began sewing in 2011. It's the reason I started my blog. I wanted to be able to create the stash of diapers that I wanted- not just what was commercially available.
At the time, there were only a few retailers of cloth diapers such as BumGenius and they only offered cloth diapers in a few solid colors.
When I saw the diapers people were sewing, I said, "I'm going to dust off that sewing machine and learn to sew." And that's what I did. In 2011 or so when I first wrote this blog post, I was making a diaper "stash" for my oldest son, G, who is now 8 years old. I made about 40 or so one size pocket diapers for him, as well as some other types of diapers.
When he graduated into a larger size diaper (because he was a big boy and potty trained on the later side), I made a huge stash of those diapers. Both of those sets were worn by my two oldest sons. When we thought we were done with babies and the two boys were potty trained, I sold my stash of one-size diapers.
And then we found out that we were having another baby a few months later. So I made another huge stash of one-size diapers. I wasn't upset for an opportunity to sew with some newer fabric designs. Because I heart beautiful PUL fabric.
You'll find tons of posts on this blog about making cloth diapers, and I also wrote a book about sewing cloth diapers, and other cloth products. That's your in-depth guide and worth picking up if you would like to have a good reference while you sew.
Some people love to sew cloth diapers. I love owning them and I love saving money by making them myself. When it boils down to it, I enjoy the satisfaction of having made them myself, but I am not interested in working from home, selling the perfect cloth diapers.
I want to sew them, I want them to be affordable, and I want them to be functional. And I've invested a lot of time in determining the best way to sew them so they're not too time consuming or expensive for me to complete.
While my book will be a better in-depth guide to sewing the diapers, I'm going to give you a quick run down on the process. If you prefer to purchase the book, click the link to the book in my shop!
eBook: How to Sew Cloth Diapers
Learn how to sew cloth diapers with this book that covers everything from basics on cloth diapering, including washing and storing diapers, plus other cloth products like unpaper towels, cloth napkins, and more.
Types of Cloth Diapers You Can Make
There are several types of cloth diapers, but I'm predominately going to be talking about pocket diapers which are usually a favorite. Here's a run down on options though.
The "Everything You Need" Diaper
Note some brands sell the absorbency liners separate for pocket and AI2 diapers. Check to see if it comes with the inserts.
Pocket Diaper: This diaper has a pocket inside it that allows you to stuff an insert for absorbency inside.
AI2: All in two diapers have an absorbency liner that can be removed so it will dry faster. The absorbency liner usually goes against the skin, however, so it needs to be the right type of fabric for your baby's skin. The downfall to these is that poop can be harder to rinse off.
AIO: All in one diapers have the absorbency sewn into the diaper. They take longer to dry which can be frustrating for some, but they require less work to stuff after laundering.
Absorbency Only Diapers
While some people use absorbency only options on their own as they're more breathable, these are best for wearing around the house. Urine will soak through the diaper (if left too long) and onto clothing, the couch, etc. underneath. Usually you use a water resistant diaper on top of this.
These are, however, perfect for "airing out" a tush with a rash. You can let your child wear JUST the diaper. The diaper provides absorbency to prevent a puddle on your floor, but allows you to see quickly if your child needs an immediate diaper change.
Prefolds: These are rectangles that are folded and held on with diaper pins (we use Snappis in modern days). They have absorbency and usually the middle is more absorbent than the sides. They have no elastic. They come in different sizes.
Flats: These are the diapers of our grandparent's era. Similar to a prefold, they have no elastic. Absorbency is equal across all areas of the diaper. They are "one size fits all" which means they're pretty large.
Fitted Diapers: Fitted diapers have the absorbency of a flat or prefold, but they also have elastic added to the back and legs to prevent poop from exiting. This is particularly useful for older babies who are moving more.
Flats and prefolds are very cheap and easy to make. Fitted diapers require more supplies.
Water Resistant Only Diapers
Cloth Diaper Covers: These covers are made with a water resistant fabric such as PUL or wool. They provide NO absorbency so they need a flat or prefold or fitted diaper under them.
Longies or shorties: These are covers made from wool in the shape of pants or shorts. They help prevent urine from leaking through. They are technically a cover.
Plastic pants: Our grandparents used plastic pants over flats. They're pretty ugly. I don't see a reason to go this route.
If you knit or crochet, you may be able to make your own wool pants. You can also sew longies or shorties with wool sweaters, I believe. Wool is your top option if you want to make your diapers with organic products only.
I have made PUL covers using one layer or two layers of PUL and it's a fairly simple process.
Fabric Choices for Diapers
PUL or polyurethane laminate is the top choice for preventing leaking of cloth diapers. It is a synthetic material that was created for use by hospitals originally and it SHOULD be able to survive hot washes.
Read more about PUL fabric here and get ideas for other projects for this fabric.
Wool is your top (only?) organic choice for preventing leaking. Some people sew diaper covers with wool from old sweaters, but I believe most wool covers are knit or crocheted.
You have a number of options for absorbency fabric to hold the pee, but they all vary in how much they absorb and how quickly. I get into more details about this in my book.
The layer of fabric touching a baby's skin is called the stay dry fabric… it helps wick the urine/moisture away from the baby's bottom and into the absorbency underneath. There are several fabrics you can use for this as well.
The Process for Sewing a Pocket Diaper
This is a basic run down of the process for sewing a pocket diaper.
You begin by cutting your PUL and stay dry fabric using a cloth diaper pattern.
Mark snap/hook & loop placement on your cut of PUL. Add your snaps or hook & loop to the front of the PUL cut.
You want to add a welt pocket to your stay dry fabric, usually in the back of the diaper.
Sew these two cuts right sides together. Turn right sides out through your pocket. Top stitch.
Use your pattern to mark where the elastic casings will be- you'll have one casing for each leg and a casing for the back. Sew a straight stitch from mark to mark in each zone, making sure it's wide enough to fit your elastic flat.
Use a bodkin or safety pin to help thread your elastic through each casing, sewing down each end of the elastic.
Lastly, you add the hook and loop or snaps to the tabs of your diaper.
How to Sew Cloth Diapers Quickly
The type of diaper, the pattern, and your choices while sewing will affect how long your diapers take to sew. I have methods that are easier or faster for me, and that I prefer in order to get as many done as quickly as possible. I like to be finished.
The fastest way to sew a lot of cloth diapers is to setup an assembly line.You break your cloth diaper sewing down into small steps so that you can quickly complete each step.
You can put some of your supplies away after each step and you don't need to have everything out all at once. It's convenient, although sometimes it's hard to wait to see a diaper completed.
Usually I plan out how many diapers that I want to sew, then get started.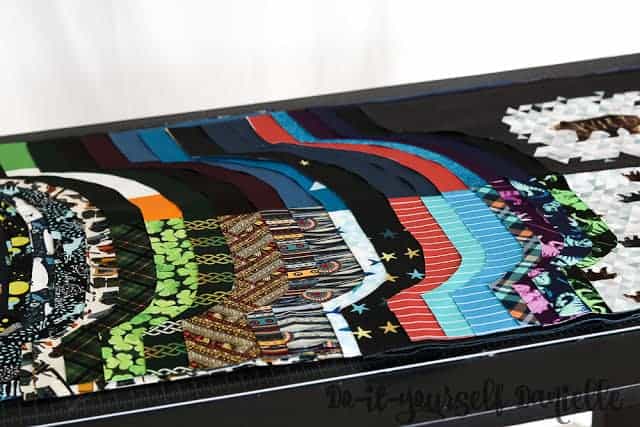 Let's say you want to sew 25 diapers. This means that you cut 25 of your exterior fabric first, then you cut 25 of your interior fabric next.

Then you proceed through each cloth diaper sewing step for the entire diaper stash.
If you sew a lot, make sure to check out our new app, Sew Organized, available FREE on the Android Play Store or| Apple App Store.
Using a Wood Form to Cut Fabric Faster
One thing that has made sewing cloth diapers faster for me is to make a wood form of my pattern. This allows me to cut the exterior and interior fabrics quickly, without worrying about cutting into a paper pattern. I use a rotary cutter instead of scissors with this.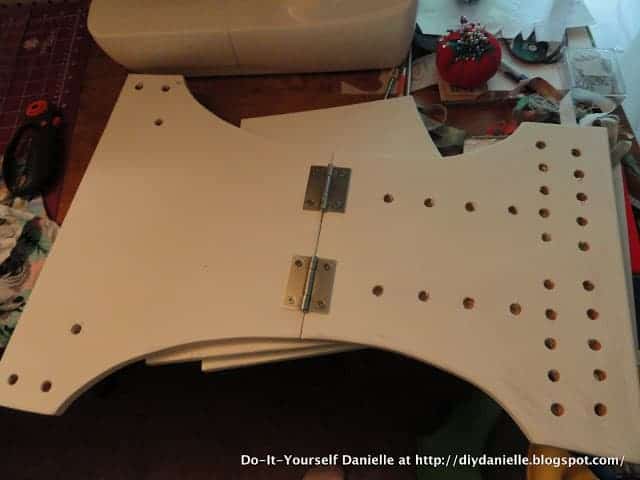 My brother made me my first form, and since then I've made a couple of my own when I switched patterns. The ones he made me have a hinge which make for easy storage, but I've made a couple of thinner ones that aren't hinged. They're fairly easy to make if you have some woodworking tools and I explain how to make these in my book.

How Long Does It Take to Sew a Cloth Diaper?
For this analysis, I was completing 10 one-size pocket diapers with a PUL exterior and alova suedecloth inner. I made a welt pocket like the Baabaababy pattern uses and used all snaps.
I paused my timer when I made mistakes. This is the time required if you sew perfectly.
Cutting PUL for exterior: 3 min per diaper
Cutting inner fabric and fabric for the welt pocket: 2.75 min per diaper
Marking snap placements: 1.1 minutes per diaper
Adding snaps: 24.25 minutes per diaper
Adding welt pocket: 4.55 minutes per diaper
Pin, sew right sides together, trim edges, flip right sides out: 8 min per diaper
Top stitch: 35 minutes: 3.5 minutes per diaper
Mark and sew casings: 4 minutes per diaper
Add elastic… 8-9 min per diaper
Add last snaps: 4 minutes per diaper
[Grand] Total time per diaper: 63.65 minutes
In my book, I discuss some additional steps that I take to save time and some short cuts if you don't mind how those short cuts look.
I cheat when I do my pocket openings now which saves me a lot of time, and I've found that hook and loop is slightly less time consuming to use for a closure. Snaps are way better for diapers that last though!
These were my initial set of cloth diapers that I timed for this post.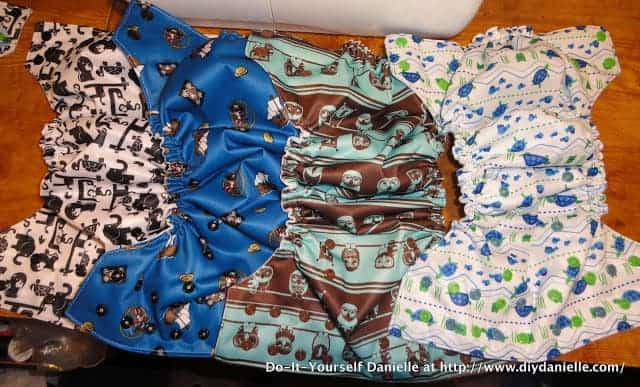 Cost Analysis
I wanted to make sure that it was worth it to sew my own diapers- it's not fun to make a $15 product for $100 of craft supplies! So I ran an analysis of the cost and I've tried to save money where I can.
One way that I've saved money on making cloth diapers is ordering materials through co-ops where a bunch of people get together to buy supplies in bulk for a lower cost. A lot of my costs reflect these savings (but don't always account for co-op costs and shipping so keep that in mind).
I'm leaving out typical sewing costs such as the cost of the machine, needles, thread, and other materials.
The cost analysis is for a pocket diaper with a Pul exterior, alova suedecloth inner (you can try microfleece as an alternative), 3/8″ elastic, and bamboo inserts from Alvababy. The price on these inserts has increased since I bought them.
According to other women who sew using the pattern, I might be able to get about 6 diaper cuts made from one yard of material, as long as the material is non directional.
I ordered two bamboo inserts from Alvababy per diaper for good absorbency. I sewed the top of my two together. I didn't want to sew them completely together because then it would take longer to dry. Note that I did not calculate the time it took me to sew the inserts together in my time analysis below.
Cost
Pul fabric (assuming a cute print): $10-15/yard…. $1.67-$2.50 per diaper
Alova suedecloth: $5-6/yard… $1 per diaper
Snaps: 34 caps, 8 studs, 26 sockets… $1.30 per diaper
3/8″ Elastic: 20″ per diaper approximately… $0.27 per diaper
2 Bamboo Inserts… $2.40-$4.00 per diaper*
Total Cost: $6.64-$9.07 per diaper
*I've noticed that the cost on inserts has risen quite a bit so it might be more economical to make your own.
Why are cloth diapers through work at home moms so expensive?!
A work-at-home mom diaper seems to generally retail through a company like Etsy for $15-25 per diaper. They earn more money for specialty diapers, but those require more time and materials. Based on my calculations in the section above, that means a WAHM would be paying herself between $5.93 and $18.36 per diaper.
I'm sure they get slightly better bulk prices on fabrics than I did, but it's still a pretty low wage. If you can make one per hour (less time than it takes me), with the balance from materials cost being between $5.93 and $18.36, you're probably earning roughly $10/hour (estimated- I'm guessing low seeing I didn't calculate in some other costs).
Other factors: Etsy charges a fee to list the diapers, you have to pay a fee to get LLC status, you need to buy labels and care instructions, government regulations (don't ask me the details, my head starts to explode when this topic is discussed) require careful monitoring and tracking of all materials used in each diaper, and you may want to also pay to advertise. There's probably more, but that's what I can think of off the top of my head right now.
Is the expense of cloth diapers worth it?
Without a doubt, the expense is worth it, regardless of if you sew them or buy them, if you're committed to cloth diapering.
Resale value is high on them if they're kept in good condition and often they can be used for several children.
Why sew them yourself?
It's fun. It's economical if you already know how to sew. And you can get exactly what you want. It's also pretty satisfying.
If I had a girl, I'd be sewing a ton of these ruffle butt cloth diapers.
I've also embroidered cloth diapers, serged cloth diapers, added HTV to diapers, made diaper liners, and setup these great baskets to organize them all.
Just getting started?
Are you considering switching to cloth products? Do you love cloth diapering? Curious about cloth products such as cloth menstrual pads, wet bags, and unpaper towels?
I wrote a fantastic book that is ALL about using, laundering, and sewing reusable cloth products. It even includes instructions on this project!
Pick up "How to Sew, Use, and Clean Cloth Diapers: And Other Reusable Products" today and get started saving money and the environment!
You might like the following products in my shop!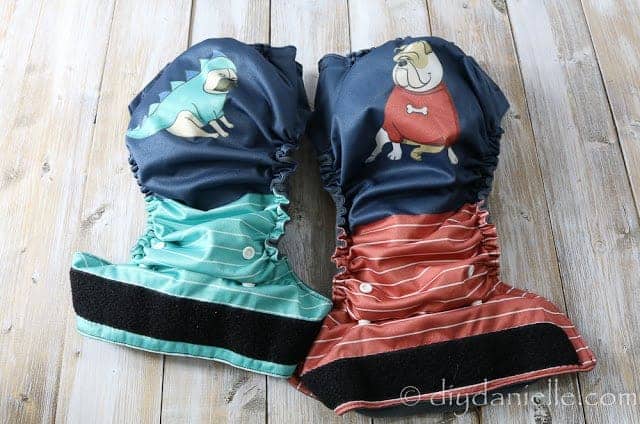 How to Make Cloth Diapers- And Sew Your Stash FAST
Total Time:
1 hour
10 minutes
Learn how to make diapers faster with this detailed tutorial. This analyzes the cost and time involved for making each diaper and discusses how to save time by sewing them.
Materials
Cloth Diaper Pattern
Elastic
PUL
Hook and loop
Bamboo Inserts
Instructions
Begin by cutting your PUL and stay dry fabric using a cloth diaper pattern.
Mark snap/hook & loop placement on your cut of PUL.
Add your snaps or hook & loop to the front of the PUL cut.
Add a welt pocket to your stay dry fabric.
Sew these two cuts right sides together.
Turn right sides out through your pocket and top stitch.
Use your pattern to mark where the elastic casings will be.
Sew a straight stitch from mark to mark in each zone.
Use a bodkin or safety pin to help thread your elastic through each casing, sewing down each end of the elastic.
Add the hook and loop or snaps to the tabs of your diaper.
Recommended Products
As an Amazon Associate and member of other affiliate programs, I earn from qualifying purchases.
Please share and pin this post! If you make this project, share it in our Stuff Mama Makes Facebook Group in order to enter to win our monthly giveaway. You can also tag me on Instagram @doityourselfdanielle; I love seeing everything you make!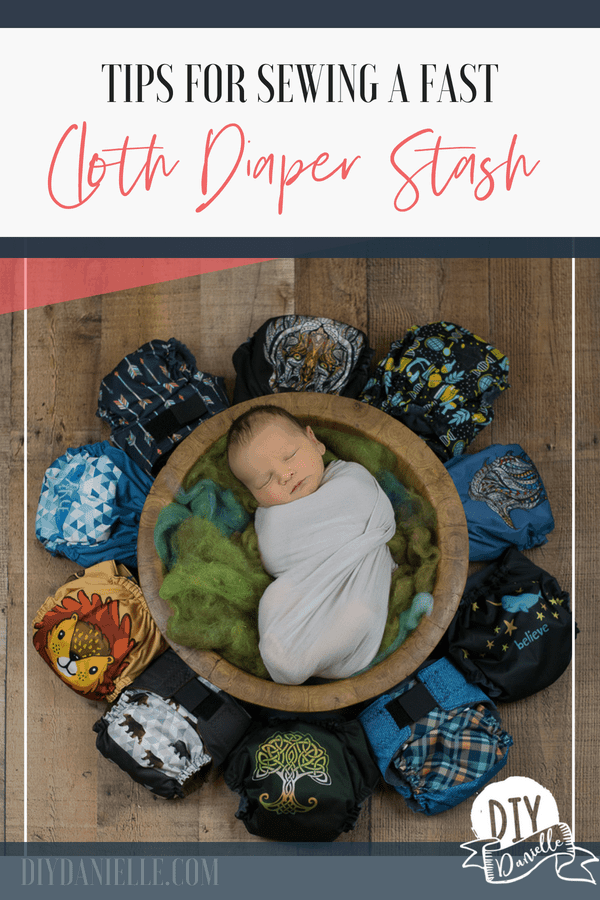 Please feel free to comment if you've ever timed yourself sewing cloth diapers… I'd love to see how my timing compares.