How to make baby legs in two different ways: sew or no sew with hem tape. Baby legs are super cute as gifts or to coordinate with your cloth diapers.
I was debating posting all of this personal stuff seeing it makes me look a little crazy, but then I realized that if you know me in person then you KNOW I'm a little crazy and if you don't know me in person then it doesn't matter. Haha. Carry on.
I thought Baby G needed some babylegs. I'm not so much worried about him getting cold as I am about looking good for "the village" that is trying to raise my child. Normally people don't bother me much- I make an effort not to be approachable. But occasionally someone slips through.
The other day it was 65*F and I went to the grocery store with Baby G. I had him wearing his super cute short sleeve/shorts romper for the trip. He gets overheated easily so I try not to overdress him as THEN he breaks out in eczema (eczema is the devil!).
Well a nearby woman was so helpful that she came right on over to hold the grocery cart for me while I tucked in his cart cover and put him inside. I was all set, but yeah. Where are these people when it's raining, he's upset, and I have 20 bags of groceries to carry? I was trying to be friendly, but I like to stay in my little bubble sometimes, especially when I've got errands to run. Smile, nod, polite greeting, yes he's adorable, yes he's huge, no he didn't come out of my vagina (everyone's favorite question when they find out he was almost 11 lbs at birth), thanks for asking, and move on. I let her help for a few, hoping that I could quickly dispense with these social niceties.
This is when she suggests that perhaps I should tuck a blanket around my child's legs because "it's cold inside the grocery store." I absolutely believe she was 100% genuine and wonderful and friendly. She looked like she was going to let me borrow her coat if I didn't have one for him. I began to attempt to explain that he was all set, but she had to "show" me how cold she was by touching me with the back of her hand. I have this huge bubble that most people see a mile away, but again… the occasional person slips through. She touched me… shudder… I'm sure she's clean and doesn't have germs, but I don't know her! No TOUCHIES! My friends are laughing right now because they're been out with me and know how I am. I hate bars because EVERYONE wants the touchies. I was like that before having a baby and there's something about new motherhood that just makes you want to throw people across the room when they touch or grope. Without any previous issues with touchies.
In my attempt to escape from the situation as quickly as possible, I readily agreed that yes it's terribly cold inside the grocery store, grabbed a jacket from inside the car, tucked it around my poor child who is sitting in the middle of a hot parking lot in the sun, and said some very quick goodbyes to someone who was, I'm sure, very kind and wonderful and sweet. Got inside the grocery store, removed the jacket that I now have to carry from my sweltering (and now screaming) child, and did my thing.
Long story short- babylegs would have come in useful here. And yes, I will unnecessarily add to my child's wardrobe just to avoid stranger touchies. The other benefit is that now I can let Baby G play in just his super cute cloth diapers and a pair of babylegs and feel like he's not going to freeze (or attract village members). I love letting him play mostly naked. He's not a fan of having clothes taken on and off. At least with babylegs instead of pants I can just change the diaper without needing to remove his pants.
This is a SUPER easy project. SUPER. And fast. Best project ever.
Materials (included below are affiliate links to some of the supplies on Amazon):
Now you have a few options: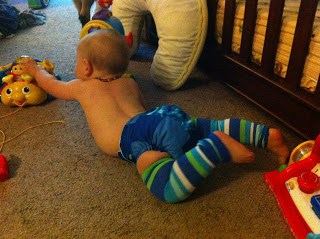 1.
Fold Over Elastic (FOE)
: I decided to try using FOE around the edges to finish the area that I cut. It worked okay- I broke four needles before realizing that my machine was desperately needing to be cleaned, but that was user error. The benefit to FOE is that I could make it elasticy at the bottom. It was probably the most time intensive of your options however.
2. Thread and sewing machine/hand sewing: You can fold over your raw edge and just sew around it to give it a nice finished look. Pretty simple.
And that's it. All there is to it. My husband says Baby G looks like he's straight out of the 80's, but I think his matching diaper and babylegs are cute!
Alternative construction:
Hem Tape (Affiliate link: I used Dritz 222 5/8-Inch by 20-Yard Stitch Witchery, Regular) for No sew babylegs: If you have some of that iron on hem tape, you could just fold over your edge, apply this, and iron it on. Then you wouldn't need to do any sewing. This works great if you don't have a sewing machine. I am NOT a fan of hand sewing.
UPDATE: I decided to give the hem tape a try with my second pair of baby legs that I made. It was pretty easy and it worked. I think sewing them with a machine is probably faster, but this is a great solution if you don't have a machine.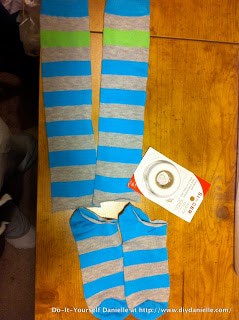 Cut off the feet, like before. Get your hem tape out.
I turned the edges of the sock out so that I could place the hem tape inside it and fold it over. Make sure that your hem tape is completely covered by the unfinished edge of the baby legs. Otherwise it'll make your babylegs stick together.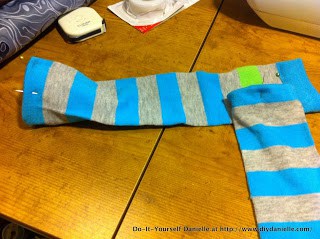 I pinned in place to help keep it all from shifting. You probably need to remove the pins when ironing. I always forget and then melt the pins. Oops.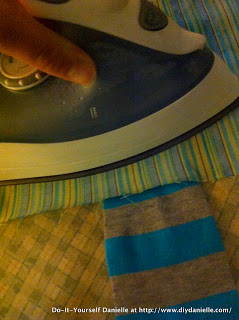 Cover your babylegs with a cloth, which you need to lighten moisten. I use a spray bottle with water. Then iron, applying steady slow moving pressure.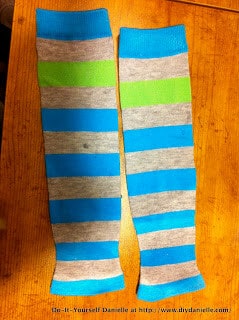 After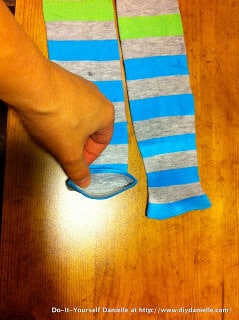 Inside after.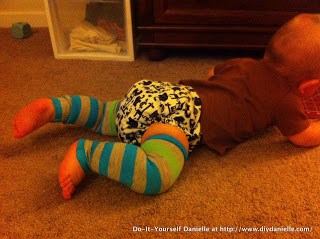 Babylegs in action.
Disclosure of Material Connection: Some of the links in the post above are "affiliate links." This means if you click on the link and purchase the item, I will receive an affiliate commission. Regardless, I only recommend products or services I use personally and believe will add value to my readers. I am disclosing this in accordance with the Federal Trade Commission's 16 CFR, Part 255: "Guides Concerning the Use of Endorsements and Testimonials in Advertising."