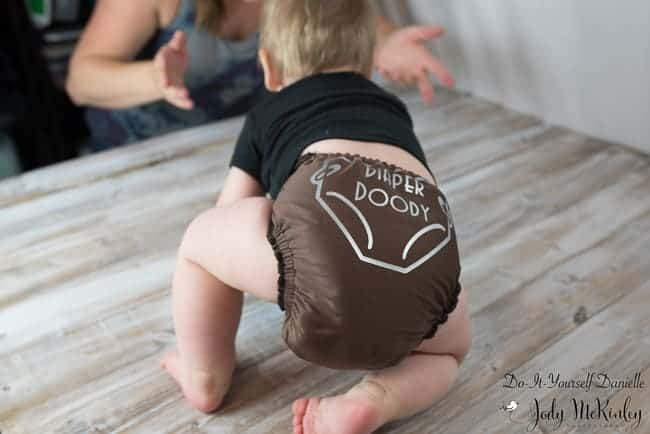 How to Apply Iron On to Cloth Diapers. Learn how to use heat transfer vinyl to embellish cloth diapers.
This post may contain affiliate links which may earn me commissions should you click through them and take certain actions. As an affiliate for Amazon, Cricut, xTool, Home Depot, and other sites, I earn from qualifying purchases. Please DIY carefully. View my full legal disclosures here.
Please read the whole post so you don't miss any important information!
I love to make cloth diapers, but the only thing I hadn't tried was applying iron on to them. It made me a bit nervous and I'd heard mixed information about if it would cause problems with the diaper or stay on through a lot of washes.
Applying heat to PUL (Polyurethane Laminate) is a sensitive job because it can cause delamination (pulling apart of the lamination and fabric) if done incorrectly. This can cause issues with the diaper being waterproof. Some PUL is more prone to delamination than others so I can't promise this won't damage your diapers. I recommend pressing in small increments, like 5 seconds to ensure that you're not causing any damage. Do NOT use a regular iron… you want to use a heat press of some type so you can keep a constant temperature under 300 degrees Fahrenheit.
For my project, I didn't want to risk messing up an already made diaper so instead I worked with a diaper cut of PUL. It's always better to test on some scrap PUL first before attempting to do a diaper.
I also think it's easier to iron on HTV to flat fabric, not something that has an elastic installed (which will cause the diaper to scrunch up).
Worse case scenario- I lost the cut of PUL. I didn't install snaps or hook & loop prior to ironing this on.
If you want to apply HTV to a diaper that's already made, I recommend checking out this YouTube tutorial where she uses her heat press to apply vinyl to a premade diaper.
If you decide to attempt this, you do so at your own risk. I don't want to promise this will last forever or that your PUL won't delaminate. Mine did not. But it stressed me out the whole time I did this! Haha.
Use the Discount Code DIYDANIELLE on cricut.com for 10% off any cutting machine or heatpress (no minimum). Excludes: materials/accessories/mystery boxes/etc. Applies to US/CA only, code expires 12/31/23.
Supplies to Apply Iron On to Cloth Diapers
Cricut Air 2 (my machine), or if you really want to get fancy, get the new Cricut Maker™
Cutting mat
Weeding tool
Teflon Sheet
How to Iron On Heat Transfer Vinyl to PUL for Cloth Diapers
Start with creating your design in DesignSpace and cutting the HTV on your Cricut. Make sure you have your image mirrored and the HTV is right sides down on the mat.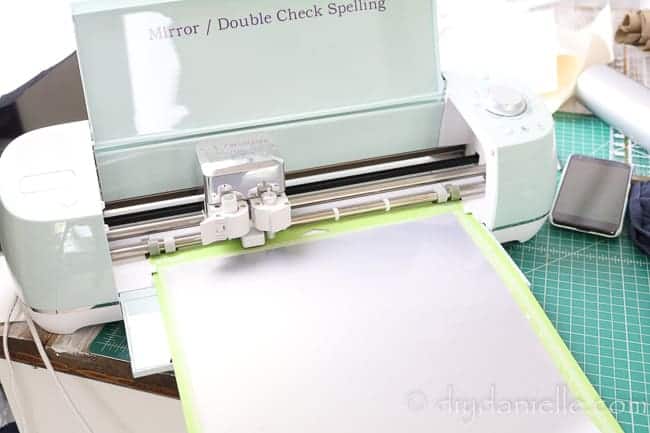 Once cut, you need to peel away the excess HTV… this is called "weeding."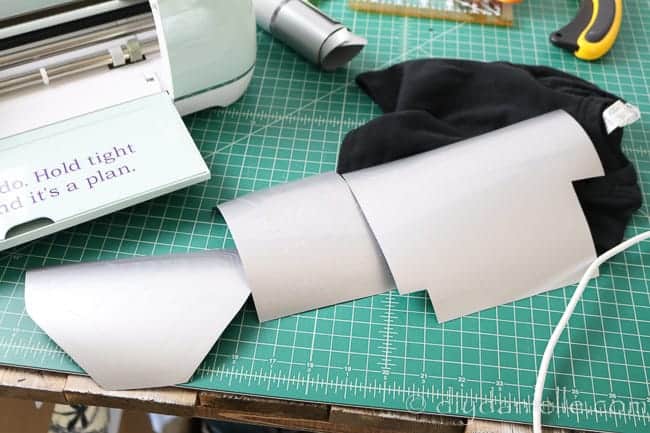 When weeded, the images for mine look like this.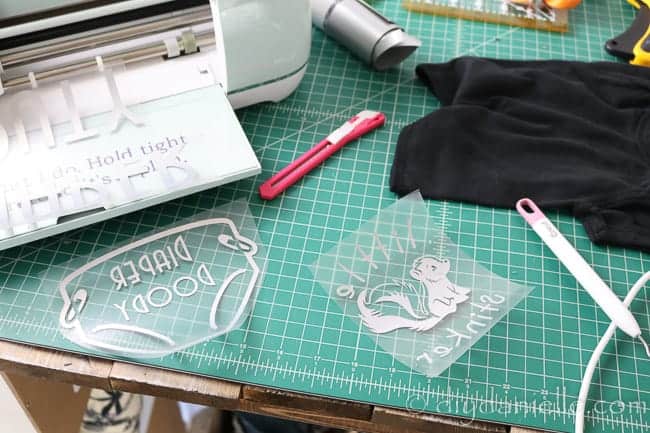 You then place your HTV images on your diaper cut. Make sure you're placing it on the butt. The front area will be covered by snaps or hook & loop for the closures.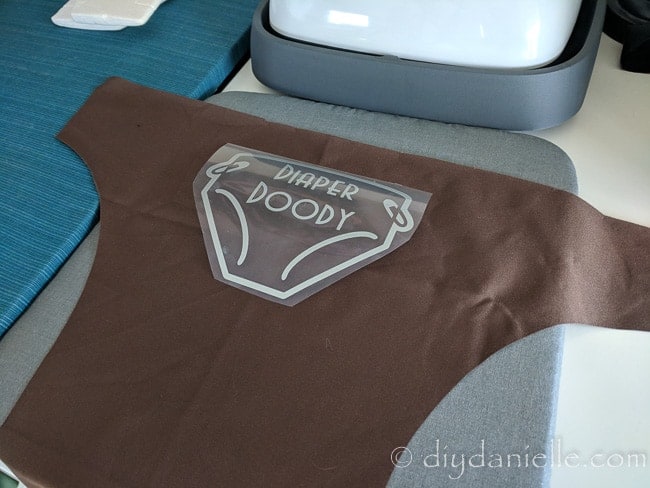 Pressing pillow under it.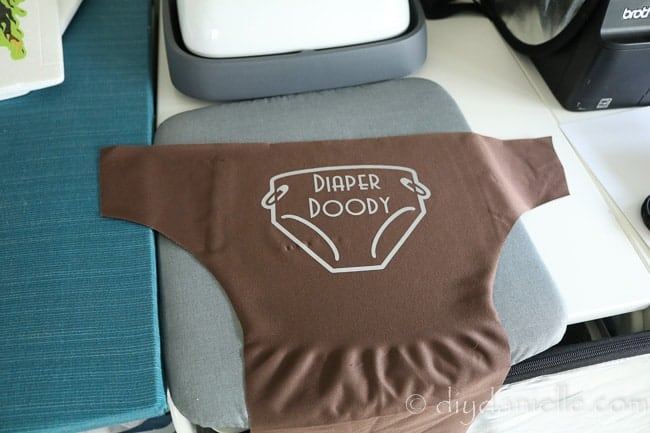 Teflon sheet over it.
Set the temperature for your heat press. You want the temperature to be under 300 F.
Once I applied my HTV to the PUL, I let it cool then finished sewing up my diaper. You can learn more about sewing cloth diapers in my book, How to Sew, Use, and Clean Cloth Diapers.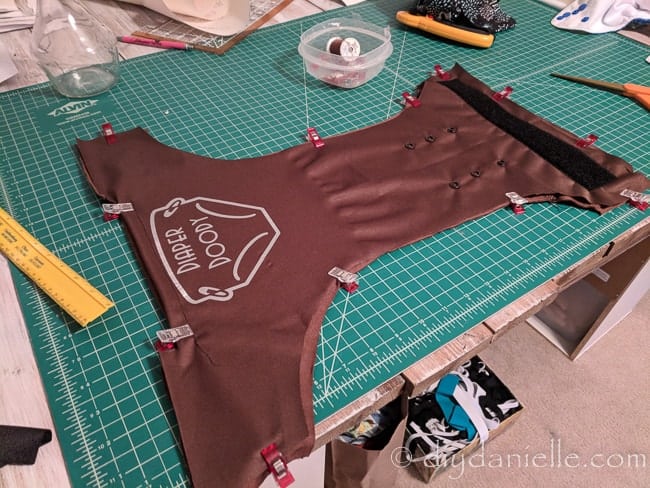 Here's the video of the process:
Please share and pin this post! If you make this project, share it in our Stuff Mama Makes Facebook Group. We have regular giveaways for gift cards to craft stores. You can also tag me on Instagram @doityourselfdanielle; I love seeing everything you make!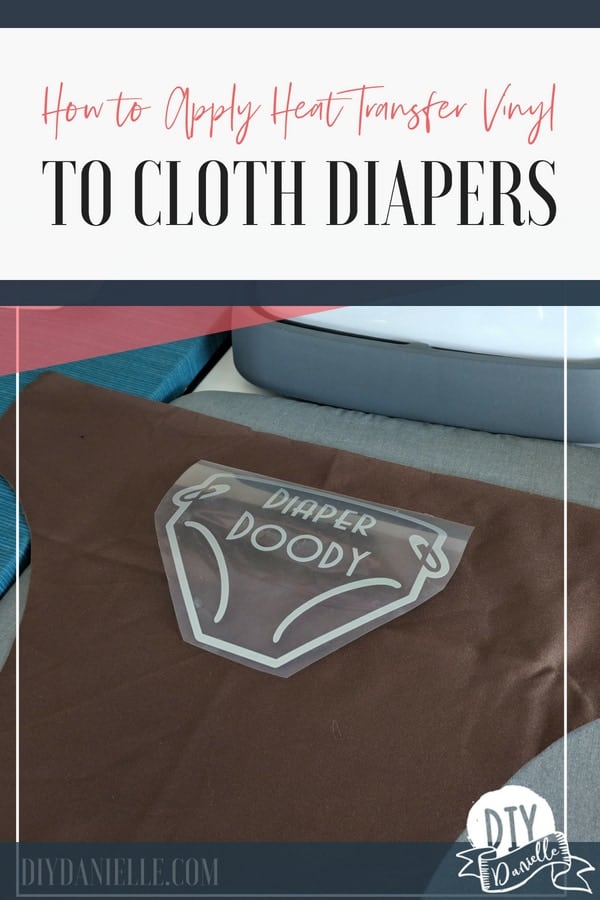 How to Apply Iron On to Cloth Diapers