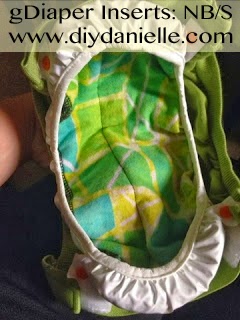 A friend of mine has a baby shower coming up and she's considering cloth diapering so I decided to make her a few cloth diaper items, as well as a few items that will be useful otherwise.
The wet bag is actually both- they're great for cloth diapers on the go, but they're also great to hold wet bathing suits or dirty clothes in when you've had a disposable diaper blowout.
I also gave her my newborn and small gDiaper shells because K outgrew them SO fast that they've barely been used and I don't foresee ever having a kiddo small enough to use them longer than a month.
Honestly, with such a short time period for use it's almost easier just to use disposables during that time for us. But my first son was 10 lbs 12 oz at birth and my second was 8.5 lbs so we're talking some big boys. They fit into the one size diapers pretty quick.
Included in the gift was:
4 Burp Cloths (I did big rectangles as these are my current favorite with K)
2 Bibs
2 Pairs Nursing Pads, except I serged these seeing I have a serger now
Small Winnie the Pooh blanket/lovey
Small Wet Bag
16 Cloth Wipes
1 Pocket One Size Diaper with (2) 15×5″ inserts
Newborn and Small Sized gDiaper shells with 15 inserts
For the gDiaper inserts for newborn/small size, the 12×5″ inserts seemed to fit nicely. I used 4 layers of flannel for this one and the rest are 2 layers of flannel and one layer of towel.

And here's the pocket diaper:
We also had a birthday party to go to so I made this toddler backpack for the little girl who was turning 2.