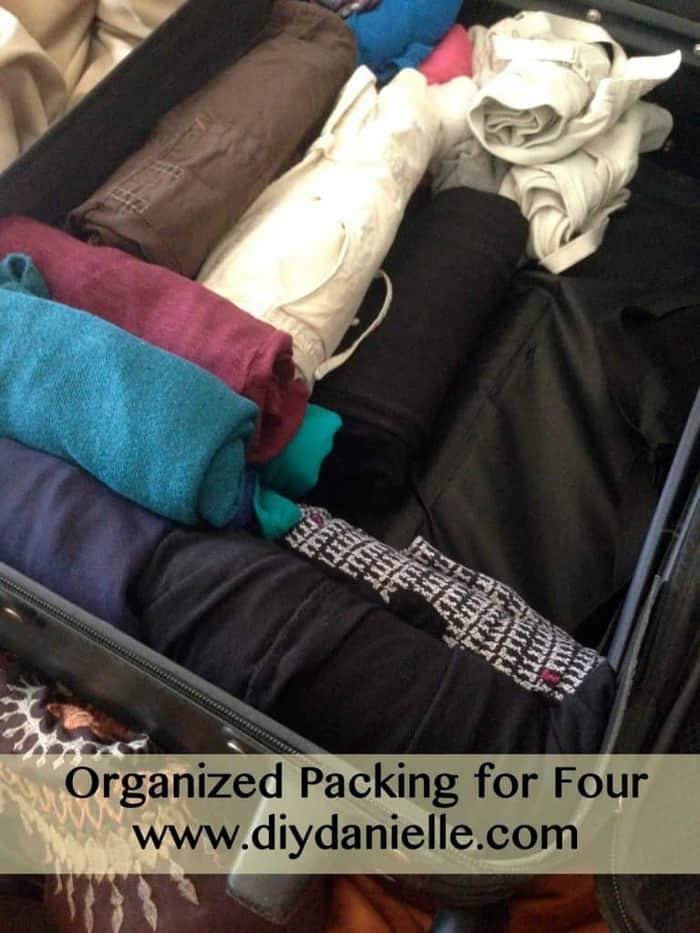 My dad invited us to visit them while they're vacationing in Delray Beach, Florida this month a and
despite the massive effort taking two kids on vacation is, I was ready to do anything to get the heck out of this cold weather!
To make this more manageable, we decided to take the bare minimum. We rented car seats and a bouncer when we get there. We used
Baby's Away
in West Palm Beach which is a company that rents baby equipment… there are a lot of places which do this so it's really a neat option. We had a good experience with them. We coslept at the hotel, but there's always the option to rent a crib.
We buckled our two year old into the seat on the airplane, but I saw this Child Airplane Travel Harness – Cares Safety Restraint System – The Only FAA Approved Child Flying Safety Device

on Amazon though and it looks like it might be a great idea for a longer flight. We showed him the seatbelt light and explained that he could only take it off when the light was off. Someone had told me this was what helped them get through their flights. This was surprisingly effective… I didn't think my son would buy that. Pretty exciting.
The big thing for us with flying is to fly when our kids are happy. We fly in the morning. We've got an early riser. We use our ERGObaby Performance Baby Carrier
to carry the baby through the airport and G walked. He's really a good walker so we don't have too many problems. We carried him here and there. We only had one carry-on and my purse. We had two checked bags for clothes.
Here's some pictures of our packed bags.
Mommy and Daddy clothes get neatly folded or rolled up tight. Kids clothes were organized in bags for each day with an outfit, PJs, and a pair of socks in each. Big items not to forget: sunblock, sound machine, comfort items (we took G's pillow, blanket, and Curious George toy), and bathing suits. Don't forget to keep a change of clothes in your carry on for the kiddos in case there's a diaper incident… both kids wet through their diapers on the way to Florida so I ended up carrying the baby through the airport in just a diaper and G ended up walking through with wet pants. We did a quick fix once we collected our luggage, but gosh it would've sucked if the luggage had been lost (our airline doesn't lose luggage though usually).
We also took a lot of extra snacks to eat on the plane in case they were needed (Pretzel packs, granola bars, and animal crackers). I didn't take a picture, but on the way home the dirty clothes went in one bag and the clean remaining clothes and other items went in the other bag.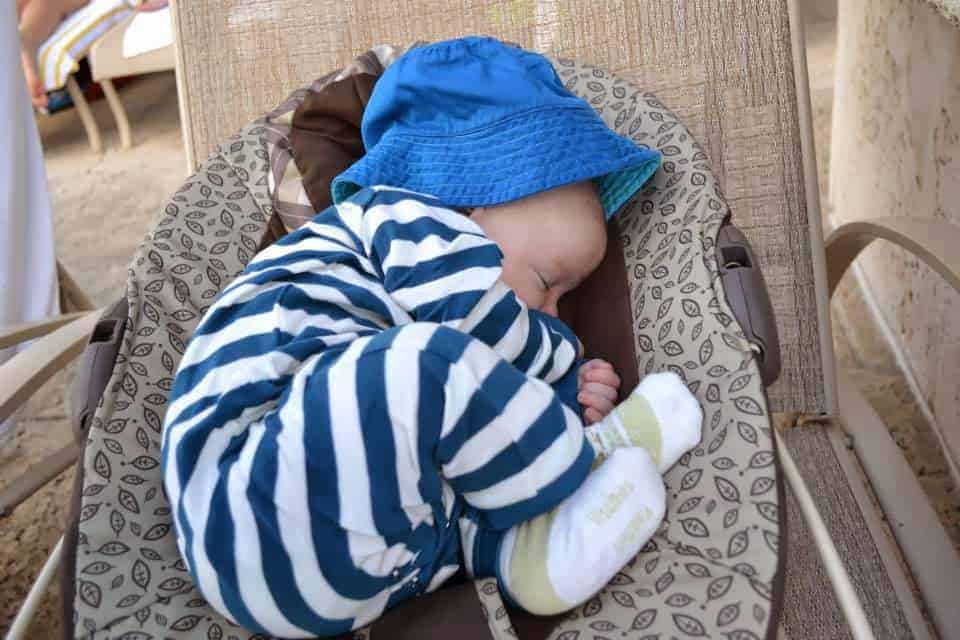 Things we bought when we got there or at the airport: Extra diapers and wipes (we did disposables for the trip), a couple little toys and a book, and we ended up buying an umbrella stroller for $20 at ToysRUs (local Walmart was out of stock!). I think I would've just brought our umbrella if I'd been thinking it through. We were thinking about bringing our double stroller but realized we couldn't fit both the luggage AND the double in the back of our Prius. Oops. We're hoping to buy a minivan soon, but we haven't gotten to that point yet. The umbrella would've fit. Now we have two umbrella strollers, but at least now I have a cheap one to take on future trips with us.
Delray Beach was AWESOME. We didn't actually spend much time on the actual beach, but went to the pool a lot. G loved swimming and we put the rented bouncer for K on the chair beside the pool underneath an umbrella. He slept or watched everyone. Dressed in long pants and long sleeves, as well as a hat, we managed to avoid him getting sunburned. We didn't use sunscreen because he's younger than 6 months old.
We stayed at the Marriott Residence Inn and my dad was staying at the other Marriott just a block up from us. The Residence Inn was perfect (ask for the first floor because there's no balcony!) for us as a family. We were able to walk downtown to eat or use one of the free golf cart "cabs" to go downtown (you just tip the drivers). We walked a lot. Right over the bridge there's a big playground so we took G and K there a few times to get the wiggles out. Here's daddy baby wearing K in our Ergobaby carrier.
Me with G at the playground
I wanted to go up to Disney but it was a REALLY long drive and I just couldn't deal with it. G didn't sleep very well for naps on the trip so he was having a hard time making it through dinner without a major meltdown so we decided to hold off. Instead we did a shorter trip, about 45 minutes away, to the Lion Country Safari. This place is SO COOL. It's about an hour drive through their huge property with animals roaming in "cages"… basically it's similar to what you see on Jurassic Park, haha. Animals are sections into portions of the property that are fenced off into different zones. They give you a CD at the beginning to play in your car to hear the "tour." My favorites were the rhinos (walking right in front of our rented van!) and the giraffes. We rear face the kids in their car seats for safety, but Daddy turned around G's seat for this so he could see better. It's a very slow car ride through (8 MPH max) to avoid hitting animals so we weren't too concerned.
After you finish driving through, there's a park with amusement rides (mostly appropriate for the under 10 crowd) and other animal exhibits. They also have a splash park that was closed when we went for renovations, but looked pretty cool. We were disappointed that it was closed, but I think the closure meant less people were there which was sort of nice.
The big thing is to make sure you bring enough cash for all the "extras"… and use a coupon for admission (online or there's some on the brochures at the hotels). For $1 (at the time we went), you can feed the goats (lettuce leaves) or get a stick of bird seed to feed the budgies. We did both. For $2.50 you can feed the giraffe (lettuce leaves) and for $2 you get nectar to feed these bright birds I have shown in the pictures below. These birds are REALLY brave and will land all over you once you purchase the nectar. It was really awesome. We also paid to get some bags of sand and rocks for the mining piece where you can rinse off the sand in the special pans that gold miners used to use (I think). This was really cool, although G saw another exhibit he was more fixated on at the time.
G was NOT sure what to think about these birds, but when they landed on him he was batting them away pretty fierce! Poor tired boy! Haha. He says "I've got my eye on you!"
It was a great trip and perfectly timed, with all this crappy weather that seems to be invading everywhere ELSE these past couple weeks. I know the sunshine and nice weather put me in a better mood, and G seems to do so much better when he can spend a lot of time outside playing. Hopefully that sunshine will get me through the rest of this winter. I can't WAIT until spring!