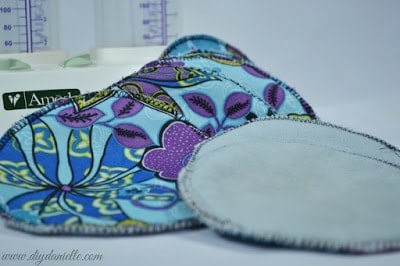 How to sew your own nursing pads without a serger. Learn how to make reusable nursing pads with a sewing machine.
This post may contain affiliate links which may earn me commissions should you click through them and take certain actions. As an affiliate for Amazon, Cricut, xTool, Home Depot, and other sites, I earn from qualifying purchases. Please DIY carefully. View my full legal disclosures here.
Please read the whole post so you don't miss any important information!
I've been buying disposable nursing pads off Amazon with their subscribe and save program, but it's getting to be costly and I get annoyed with pulling off the little sticky tabs to stick them into my bra. I guess technically I could just leave those tabs on, but I ultimately wanted to save money and the environment so I decided it was time to sew my own nursing pads. I don't have a serger which is a bit of a problem as these would be even more awesome, I'm sure, if I had one. But I'm getting better with my zigzag stitching so I figured I could pull this off.
Click here to buy the book on Amazon: This tutorial and more are included in the book!
Supplies for DIY Nursing Pads
1 layer of Pul (you could use fleece too)
1 layer of alova suedecloth
3 layers of upcycled tshirt fabric. You can use flannel alternatively.
There's some disagreement about the use of Pul because trapping the moisture in could cause yeast and thrush due to the warm moist environment, but I don't feel that Pul is going to be any worse than the disposable ones I use because:
It's breathable
They'll be changed more frequently where they're reusable
My leaking is substantially less due to being so far into our breastfeeding relationship
I'm using the suedecloth which should wick the moisture into the inner fabric, keeping the moisture further away from my skin.
I don't have any previous issues with thrush (I totally wouldn't risk it if I'd had problems with thrush previously)
If you sew a lot, make sure to check out our new app, Sew Organized, available FREE on the Android Play Store and the Apple App Store.

Download it on the Android Play Store | Apple App Store
How to Make Nursing Pads without a Serger
Don't forget to sew these in pairs!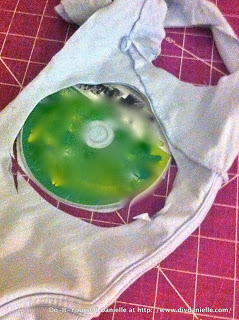 Step 1: I used a cd (more cd upcycling, haha) to cut out all of my fabric with my rotary blade. This made it much faster.

I am using old tshirt scraps for the inner material. The CD fits really nicely on old tshirt sleeves and you can cut two cuts at once! I've been wondering how I could upcycle those. You need 3x as many pieces for the tshirt material though so do your math ahead of time.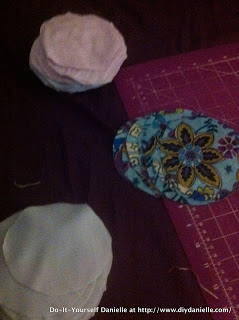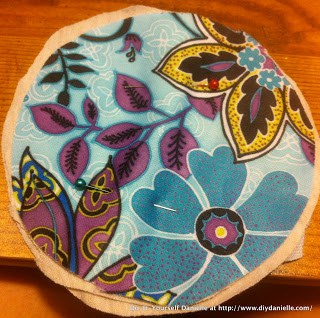 Here's all my pieces cut out. I didn't do my math so I have some extras. My plan is to cut some more tshirt material when I have the time. That's the only thing that I ran out of.

Step 2: Put your fabrics in order: Pul pretty side out, three layers of tshirt, and then your alova suedecloth with the right side out. If you've never worked with AS then the "right side" is the fuzzier side and the "wrong side" is the flatter side. I hope that makes sense when you've got the fabric in your hands. Now pin them all together. One pin in the middle was sufficient, although I'd started with two pins initially. Pins can hurt the Pul, but Pul can be sealed on hot in the dryer so I wasn't too stressed. Plus, I don't leak THAT much that I'm worried about a couple pins.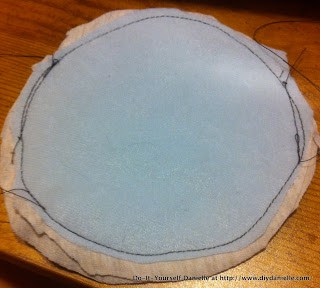 Step 3: Sew with a straight stitch all the way around your circle. I had to resew a couple areas because I missed one layer of the Pul or the Alova.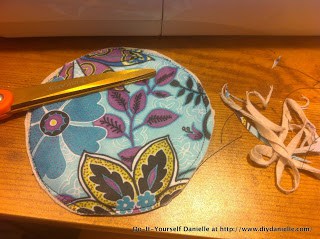 Step 4: Cut off the excess fabric and make it look pretty. Cut off all the stray thread.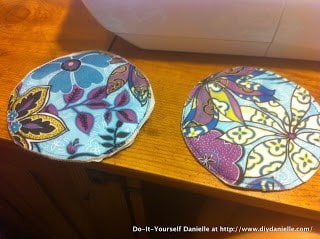 Step 5: Here's two pads really to be zig zagged.
Step 6: For the last step, you're just zigzagging all around each nursing pad. This keeps the fabric from fraying when you wash it.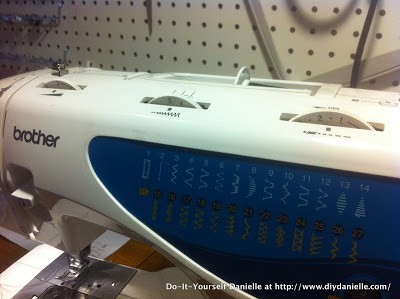 My favorite setting for the zigzag on my Brother XR-65…. 5/1.5 for #3 zigzag with these nursing pads. Not sure if that helps anyone or if it's comparable to other machines, but this is what I used on most of mine.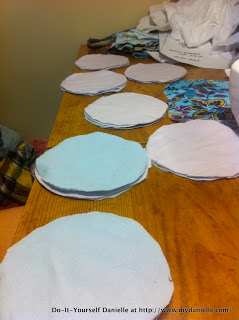 I tried 4/2 and 4/3 which looked fine.Don't forgot- assembly line style is faster when doing large numbers of an item.
I was putting my fabric in order to get ready to pin for this part. It really saves you time when you start to sew them together because you don't need to change the settings as often.
How do Reusable Nursing Pads Work?
I love them. They're super comfortable and pretty. The only downside to using Pul for the outer fabric (in my opinion) is that it's a bit slippery. I read somewhere that some people use the sticky side of the Pul to the outside because the pad won't move around as much- BUT then you won't have the pretty side facing out, boooo! The word on the street is that you might be able to find Pul that's laminated in that direction, but I wanted to use some of the Pul I had sitting around from diapers. Either way, I've been wearing a pair of these nursing pads today without too many issues.
If you soak through pads, you just need to change them more often. They're pretty good about holding in the milk, but you may not be able to go 8 hours with them. The nice part of using them is that they're reusable so there's no issue changing them frequently… less time spent sitting in soggy nursing pads is better for your nipples.
I was going to make mine contoured, then opted not to because it was more work and I've been pretty happy with my non contoured ones.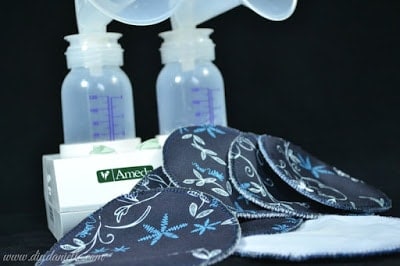 UPDATE (3/9/14): I've been using these since I published this back in 2012 and they're all holding up great. I've made some extra pairs because I think 15-20 pairs really gives me a lot of freedom to change them frequently without always doing the wash. I do use my serger on the newer pairs now that I have a serger because I LOVE my serger.
Should I Get a Serger?
Honestly, sewing these nursing pads looks really nice so it's not necessary. That said, if you use reusable nursing pads then you likely use other reusable products as well. Items like cloth wipes are so much easier to make with a serger. It's just FASTER. Sergers actually sew more stitches per minute than a sewing machine which is helpful.
Want to see a quick serger demo? Here's a video of me serging some wipes:
Please pin this post!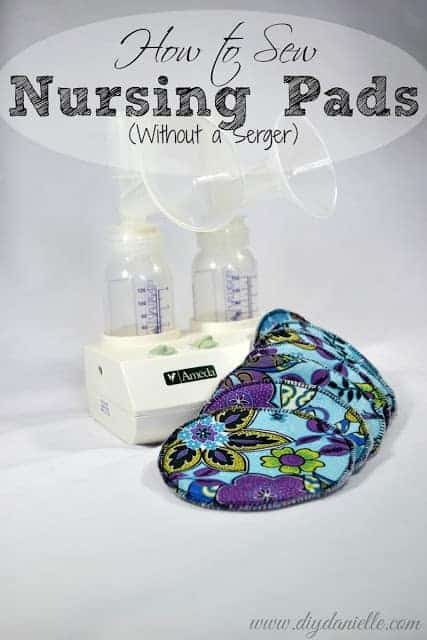 Interested in sewing for your baby? Here are some sewing and craft projects for the nursery.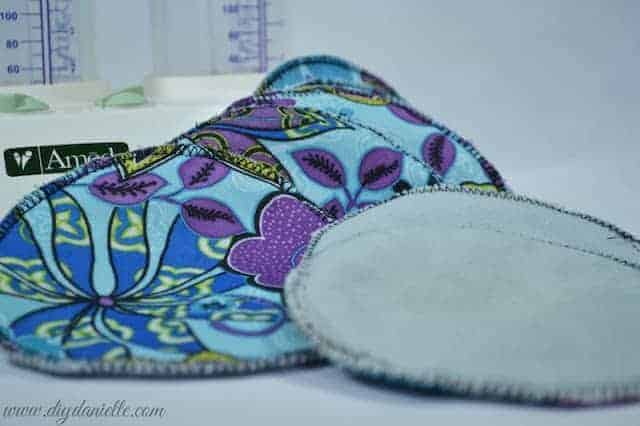 Yield:

1 Set of Nursing Pads
How to Sew Nursing Pads Without a Serger
Learn how to easily make reusable nursing pads with a sewing machine.
Materials
1 layer of PUL
1 layer of alova suede cloth
3 layers of upcycled tshirt fabric
Old CD
Tools
Sewing Machine
Rotary Blade
Instructions
Use your cd as a template and cut all your fabric using a rotary blade.
Line up your fabrics: PUL pretty side out, three layers of tshirt, and your alova suede cloth with the right side out.
Pin them all together.
Sew with a straight stitch all the way around your circle.
Cut off the excess fabric and any stray thread.
Zigzag around each nursing pad.
Recommended Products
As an Amazon Associate and member of other affiliate programs, I earn from qualifying purchases.