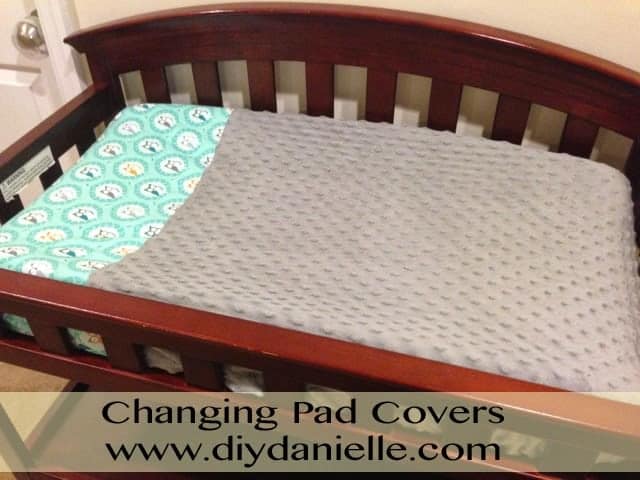 How to sew changing pad covers to customize your nursery for a little boy or girl.
Sewing my own changing pads was a great way to customize the nursery with all of the same fabric choices and theme. I used this tutorial from Prudent Baby for these changing pad covers.
I've found that three covers suits my needs so I'm making three different covers. I did it mostly per the Prudent Baby instructions.
Cost to Sew Changing Pad Covers
Cotton Michael Miller fabric:
$8.98/yard, but I used less than 1/2 a yard per changing pad cover. $4.49/cover
Gray Minky: $44.97-$17.99 (40% coupon) = $26.98 for 3 yards, $8.99/yard. I think it actually is slightly less than a yard per cover, but I'm estimating at one yard. $8.99/cover
Elastic: 28 cents per cover. $0.28/cover
TOTAL COST: $13.76 per cover
Here's a few pictures from the first two I made (waiting on the third fabric to come in as it was back ordered):
With the 8×8″ squares cut out.
Some additional things I did
:
Zig zagged (or serge if you have a serger) the corners of the changing pad after I did my straight stitch.
Top stitched where my two fabrics met, after stitching them right sides together.
I did not iron my fabric for the elastic casing because minky doesn't iron well. Instead I pinned as described. Ironing would be better/easier if you're using a fabric that will iron nicely.
Pin and make sure you don't stretch the minky or everything will turn out discombobulated. Minky is a lot stretchier than cotton. Using a walking foot helps, but I managed without it. I was just very careful not to pull on the fabric.
Here's the final products
:
An Extra Project: Lovey Blanket
I used very nice fabric for this project. As a result, I saved those 8″ squares to make loveys.
They're just the right size for a lovey or taggy blanket, the one side is cotton and the other is a soft minky so it's a great fabric selection for them too.
If I'd used flannel (which I did for my first attempts at changing pads, way before Baby G was born) then I'd use those 8″ squares for cloth wipes. I recommend using high quality fabric for changing covers though because my flannel ones pilled pretty bad and these covers get a LOT of use.
I embroidered my boy's names on the cotton side. Kaden only looks like "Kadeh" because the white image in the fabric blended with the embroidery thread white.
Kinda sucked.
Other Nursery Crafts and Sewing Projects