Wall art to add to a woodland animal themed nursery. These ideas you can make!
This post may contain affiliate links which may earn me commissions should you click through them and take certain actions. As an affiliate for Amazon, Cricut, xTool, Home Depot, and other sites, I earn from qualifying purchases. Please DIY carefully. View my full legal disclosures here.
Please read the whole post so you don't miss any important information!
I was going to do teething guards for the crib rails, but opted to skip these for now because G hasn't chewed on the rails much. If you want instructions to make those, I wrote about the first ones I made here.
Instead I decided to show more on how I chose to decorate the nursery. I had a few different things that I added to decorate it all.
Shelf & Mini Coat Rack
I had a perfect white shelf for the nursery, but I wanted a coat rack for baby jackets too. This worked perfect. I just added a short board wrapped with fabric.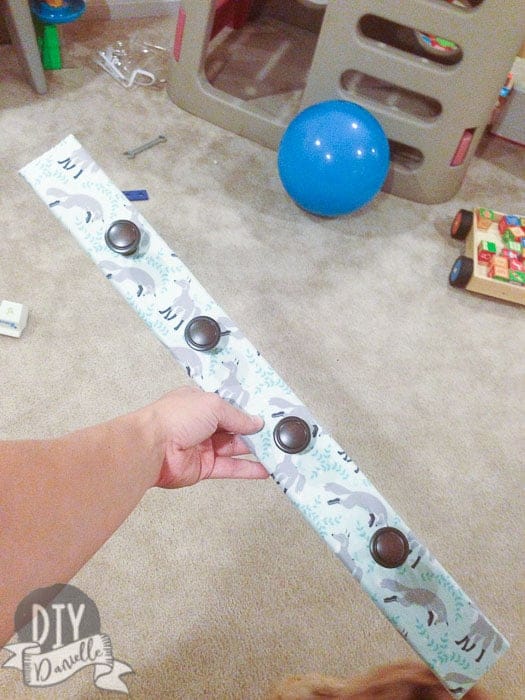 Then I screwed it between the braces.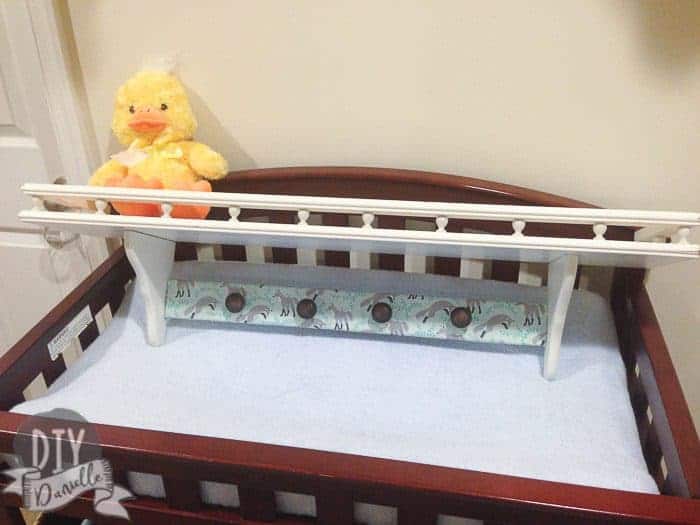 I absolutely adore DIY coat racks and have made quite a few for adults too.
Pegboard
This is pretty self explanatory. We added pegboard to the nursery wall behind the changing table to help store smaller supplies. Super convenient.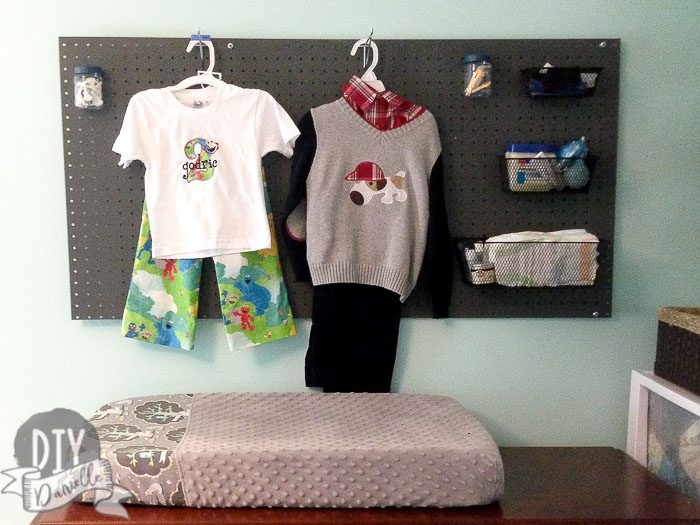 Wall Decals for Nursery
To finish off the nursery, I bought a few wall decals here and there when I saw them on sale. I love wall decals. Of course, before I was motivated enough to get any pictures (my mother-in-law was nice enough to put them on for me right after K was born), G went and peeled parts of the decals off. Gah. Oh well. I found the tree online at Amazon.com and it took FOREVER to get here (I think it was over a month). It looks nice, but it took a long time to setup correctly on the wall- which if you have a toddler who then proceeds to pull off the decal is seriously annoying. It's not a decal you can peel off and put back on.
To go with the tree, I wanted to add some pictures of family like in the picture. The tree comes with these frames for the pictures, but they're a wall decal that sticks over the photo. I wasn't a fan. Instead I used these Art Alternatives Canvas Panel (8 X 10) PACK OF 12 that I had left over to place photos on. I chose to do this because I didn't want glass frames hanging on the nursery wall, seeing my 2 year old is likely to want to take them down. These are light weight, but less likely to have fingers or other objects poke through like a normal canvas would… it's very thin so it'll sit close to the wall. Simple, cheap, and toddler-friendly!
I printed the photos on my Epson Expression XP-600 Printer in 4×6 or 5×7 photo paper. I spray painted the canvas panels because I decided I didn't want them to be white. I was going to use mod podge but instead I used spray adhesive to put the photos on. I just hot glued a soda can tab on the back to hang them from.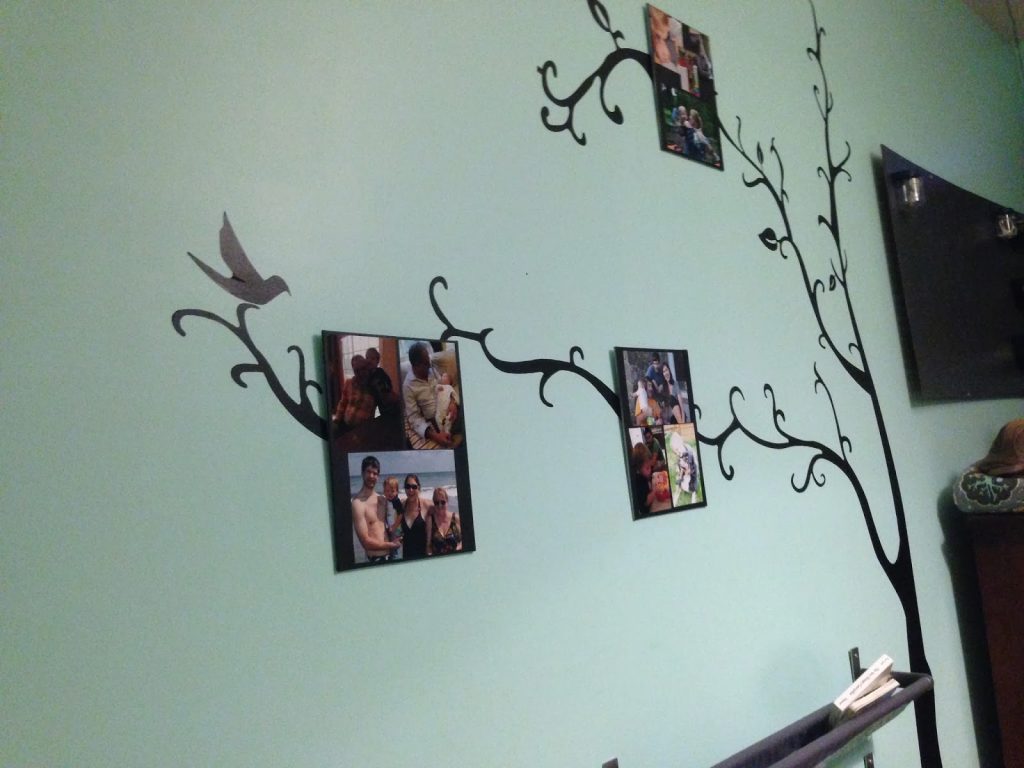 How to Make Woodland Animal Art for Nursery
I decided to make some silhouette wall art for the nursery. My friend Nena made some beautiful art for her daughter's nursery so I decided to follow her instructions.
Purchase:
Mod podge and a sponge brush
Thin sturdy foam board
Scrapbook paper (12×12)
Cardstock
1. Find coloring book pages online to print out onto the card stock. I found some cute woodland critters on these websites:
Print and cut them out.
2. Take your scrapbook paper and cut it down to fit on your foam board. Mine didn't fit the foam board exactly… my friend cut the foam board to fit the scrapbook paper, but I am not safe with sharp objects so I opted to cut two strips of black cardstock to border the blank edges.
3. Mod podge scrapbook paper on, then the strips for the sides, then your animal.
4. Add twine or ribbon or something to hang them with.
Name Art
For these, I embroidered the boys' names on scraps of the nursery fabric. I ironed it.. then I glued it onto a stiff board. I just added a ribbon to hang it after that!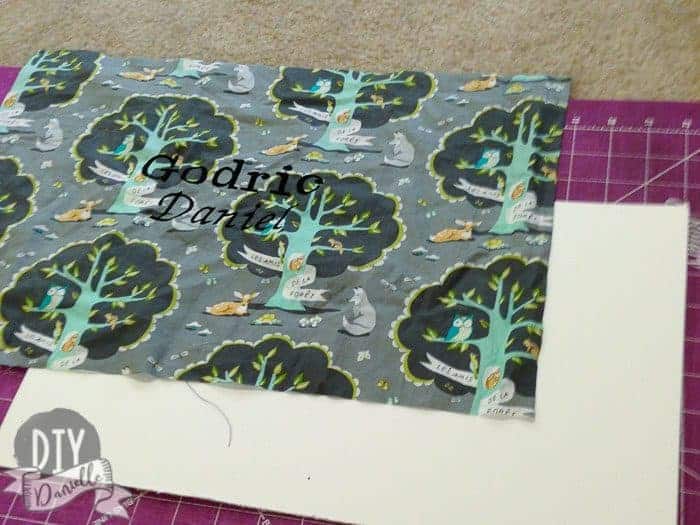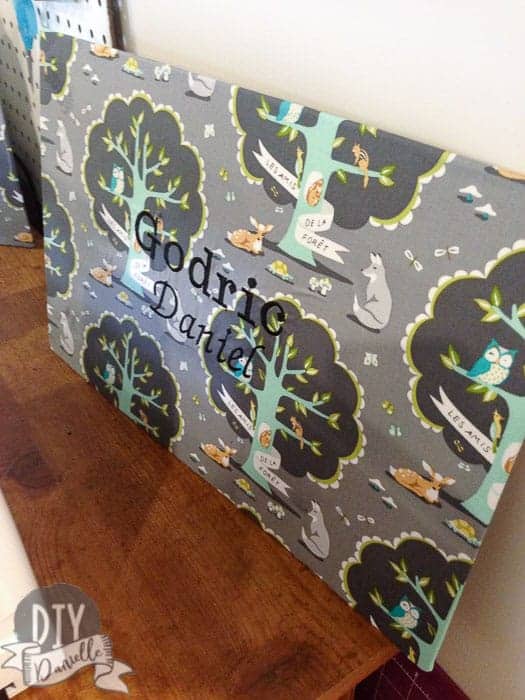 Other Canvas Art Ideas:
Other Nursery Crafts and Sewing Projects