How to safely paint a nursery so it doesn't have harmful chemicals for a pregnant mom or the baby.
I wasn't going to paint the nursery, but I loved this color that was suggested to me for our nursery. I went to Sherwin Williams and opted for something similar, although a little different because the other color didn't match as well with my fabrics once I saw it in person to compare. My paint color was "Tame Teal" in the Harmony collection at Sherwin Williams (SW6757).
I started looking into getting a low VOC paint so I could paint the room myself and DEAR GOD. Now I'm just frightened. Turns out that the VOC level of paint can permanently effect the air quality in your home, especially important for people with asthma and allergies. I always thought it was just during the painting process. I definitely have asthma and allergies sooooo… Kind of important. Now I know that, I'm willing to spend a little extra to buy a paint that won't aggravate my symptoms, not to mention that will be safer for my children. Sigh. Wish I'd known that in the past! It sort of makes me want to repaint my whole house, but gosh my husband would KILL me if I suggested that. That being said, there were a lot less fumes with the no VOC paint and it was a pretty big difference, but I can still smell the paint. There's chemicals in there, have no doubts. I kept the window open and a fan on while I painted.
Here's a couple links about painting a nursery and the low/no VOC paint deal:
Cost
I did have a lot of painting supplies already such as drop cloth so I didn't need to purchase as much as I would've otherwise.
Paint: $52.99 for a gallon, but I got a 30% discount for the first gallon ($-15.90) and when I bought the second gallon I used the $10 off coupon I received from my registry gift bag at ToysRUs and the total was $37.69. I used very little of the second gallon and I could've bought less, but I'm going to use the remainder to paint one of our bathrooms as well.
Painters Tape: $8.95
Small Brush: $2.15
Large Brush: $3.23
Six Pack of Roller Covers: $9.95

TOTAL COST: $99.06 (this will also be enough supplies for painting the bathroom)
I taped everything well, removed outlet covers and plugged in some extra lights to help me make sure I did a heavy enough coat of paint.
I'm no pro painter so I'm not even sure I do this right, but I always paint around trim and such first before I use my roller to paint the main wall.
Here's the nursery 1/4 painted.
Painting, Day 1 Complete! Not excited about these pictures which don't do the color justice. I did run out of paint so the 1 gallon didn't quite cut it. I don't have a ton left though to do and it appears like one coat will suffice. I'm hoping to get a new glider and ottoman for when Baby K comes, but we'll see. They're sort of expensive, but there's an amazing one at Toys R Us that I've been eyeballing and it's white so it would match with the decor better. Otherwise I'll probably reupholster the current chair again (yuck).
Here's Day 2, after I got the rest of my paint and finished up the room. These pictures aren't great, but the lighting isn't very good in the room at this point. Hoping to add some better lighting soon.
Updated Photos (post lighting and DSLR camera purchase):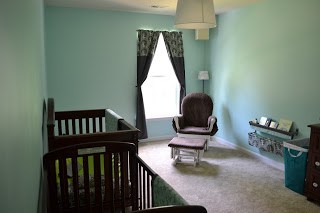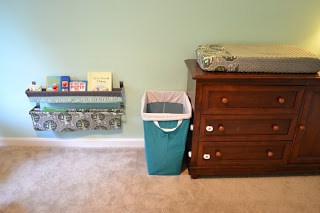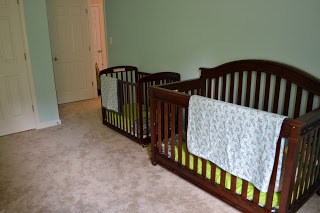 Snuggled into bed with his new bedding. You can see the nice painted walls behind him.
Other Nursery Crafts and Sewing Projects