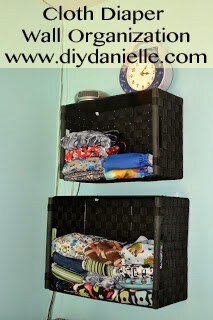 While working on the boys' nursery, I decided adding some wall organization for the cloth diapers would be ideal. It would give me some wall decor that could go next to the changing table and I could easily showcase my favorite diapers; yes, moms who cloth diapers like to show off a LOT. It's surprisingly difficult to show off those beautiful cloth diapers.
Post may contain affiliate links. Using these links helps support my blog. Thank you!
I found these shelves at the craft store. They are woven, but they
have a thick wire as a frame- perfect for holding them up on the wall.
Daddy B used these wall anchors, which are normally used for hanging wire shelving, to hang these baskets.
Once up, they seem VERY solid and the baskets should come down very easily if we need to.
Of course, G needed to "help" hang the baskets and climbed up the ladder behind Daddy. Ha.
Here's the final pictures. I put our sound machine and alarm clock on top of the highest basket because G likes them so much and I wanted them out of his reach (mean mommy!). I wish I could hide the wires, but oh well. That's where the cord for the light hangs down too so it might as well be there.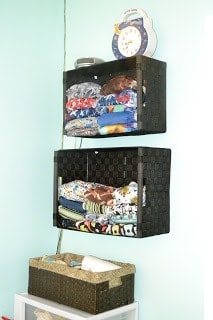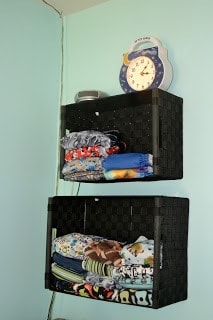 Links to all of the nursery makeover posts:
Are you considering switching to cloth products? Do you love cloth diapering? Curious about cloth products such as cloth menstrual pads, wet bags, and unpaper towels? I just released a fantastic book that is ALL about using, laundering, and sewing reusable cloth products. It even includes instructions on this project! Pick up "The Complete Guide to Using, Laundering, and Sewing Reusable Cloth" today and get started saving money and the environment!