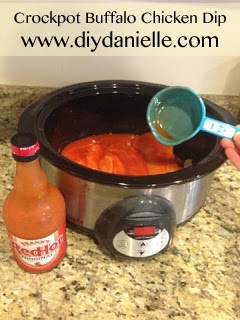 This recipe was made for my Monopoly House Party!

I love buffalo chicken dip, but hate cooking and shredding the chicken. I was having trouble finding a recipe that didn't involve doing that first or using canned chicken (I have never had chicken from a can and I'm not about to start now- meat isn't meant to be unrefrigerated).
I found this recipe to make it in crockpot because I've found chicken shreds nicest in the crockpot. So I put my three chicken breasts into the crockpot with 1 cup of Franks hot sauce and let it cook on low for 5 hours.
Recipe: Crockpot Buffalo Chicken Dip on Just A Pinch
After the chicken had cooked, I added the cream cheese and ranch dressing. I substituted fat free cream cheese for regular… it's lower calorie and my tummy prefers lower fat milk products.
I stirred in cheddar cheese right before the party started, cut up some french bread, and also offered crackers for the dip as well. Was I supposed to put something healthy to dip in this? If so, oops!