Deciding what to use for lighting in a she shed. Adding the right lighting can help make the space brighter and more welcoming.
Choosing lighting for a she shed is a small part of the process, but it's important. I was looking for fixtures that would look nice and provide enough extra light for darker days or for when I'm working in the evening. My shed is, however, climate controlled as I have a mini split that heats and cools the space. If your space isn't climate controlled, you may want to choose lighting that will work well outdoors, in the heat, or in the cold.
The other thing you should consider when choosing lighting is what type of light bulb will work best for the space. Different temperature light bulbs can create a different atmosphere for the she shed. Maybe you want a romantic feeling with dimmable lights for a relaxation retreat. Maybe you want nice bright lights to do artwork under. If you have an outdoor space for a she shed, LED string lights might be the look you're going for.
Here are some tips on the best types of bulbs and fixtures for your space.
---
This post may contain affiliate links which may earn me commissions should you click through them and take certain actions. As an affiliate for Amazon, Cricut, xTool, Home Depot, and other sites, I earn from qualifying purchases. Please DIY carefully. View my full legal disclosures here.
Please read the whole post so you don't miss any important information!
---
Cricut sent me the Cricut Bright Floor Lamp and the Bright Light Box to feature in this blog post.
Deciding What to Use for Lighting in a She Shed
The type of bulbs and fixtures you use for your shed will depend on many factors including the lighting effect you want, location of your shed, and what type of activities you will be doing.
Ambient lighting
This is how the overall space is lit up. Usually the main source of light in the shed, ambient lighting will determine how bright the lighting of the overall space is. Pendant lights, linear or tube lights, track lights, overhead and flush lights, can all be used for the ambient lighting of the space.
Task lighting
This one is for those sheds that are more task-focused. So, if you use your shed to create artwork, make DIY projects, or anything similar, you will want to have a task light at specific areas. LED strips, LED spotlights, table lamps, caged pendant lights, bunker lights, linear hanging lights, can all be used as task lighting. It is good to remember that task lighting is suitable for lighting up only a small area and not for the entire shed.
One of my favorite task lighting products is the Cricut Bright 360. This LED lamp comes in both a floor model and a tabletop model. This is a GREAT gift for Grandparents who love to do crafts or read, but it's really just an excellent lamp for anyone who crafts.
I also have a Bright Pad that I use for weeding vinyl, tracing designs, and tracing patterns. While I like the Bright Pad, I think the Bright Pad Go is probably a good upgrade because it allows you to work without being connected via a USB cord.
Accent lighting
When using your she shed as a place of relaxation or as a simple place to escape, accent lights are very important in setting the right atmosphere. While chandeliers are the most obvious forms of accent lighting, wall sconces, lamps, and even string lights could also work as accent lights. Even if you plan on using the shed as a workspace, accent lights can help add character to the space. Accent lighting can even be achieved by using fixtures like exposed bulbs, bunker lights, and industrial lights, depending on the look you're going for.
Solar lighting
Solar lights are one of the best choices if you're looking for energy-efficient options. Not only will it be environmentally friendly but will also save you from any additional electricity costs.
---
Climate Control and Lighting
For sheds that have are not climate controlled, it will be necessary to use lights that are not going to be too affected by the elements and temperature. If you are planning to use a tube light, make sure to use LED tubes since they work better in colder temperature than fluorescent lights. For sconces, pendant lights, or lamps, using fixtures that have caged guards could also be a great option.
---
Ceiling Fan/Light Combinations
Another way of lighting up your shed could be by using lights attached to the ceiling fan. This is more suitable for smaller she sheds that have the fan in the center of the room and would be well lit by having a light source at the same location. However, for larger sheds, using a ceiling fan-light combination might neither illuminate the whole shed nor provide lighting where you require. Task lighting in particular will be difficult to achieve by using this combo.
---
Types of Light Bulbs: Temperature and Color
Soft White
In places you want to create a cozy atmosphere, soft white lights are a must. These are usually marked around 2000K to 3000K
Warm White
Warm white lights still have a yellowish tone that makes the space cozy but is brighter with around 3000K to 4000K marking. This color is more suitable for areas like the kitchen and living room as well as spaces where you need to be able to sleep easily.
Bright White
For workshop-type zones, bright white lights are recommended as it creates a more energetic environment with a 4000K to 5000K rating.
Daylight
With markings of 5000K to 6000K, this color is one of the brightest and best in areas like painting zones and makeup corners, where you need to be able to see the true colors.
Neon Lights
If you're looking for some lighting that will make your shed very stylistically different from the other living spaces, try using neon lights to give the space some new character.
---
My Shed Lighting Choices
My space has five windows and an entrance door that has a window so it gets a lot of natural lighting. It's also climate controlled so I was able to use a traditional ceiling fan and light combination. While the room gets a lot of great light, I wanted enough lighting to craft in when it's dark and good lighting is VERY important in a craft space.
I also knew that despite insulation and the minisplit, the fans might come in useful for circulating the air and reducing energy costs. The downfall of the fans (and their placement) was just that it gave me fewer options when adding a loft. I also wanted LED bulbs to be more ecofriendly.
I choose two of the Ellard 52″ LED Indoor Matte Black Ceiling Fan with Light and I LOVE how these look. My husband installed them for me very early in our process. We wanted to get the fans installed first so we could use them to cool the space when we worked on it last summer.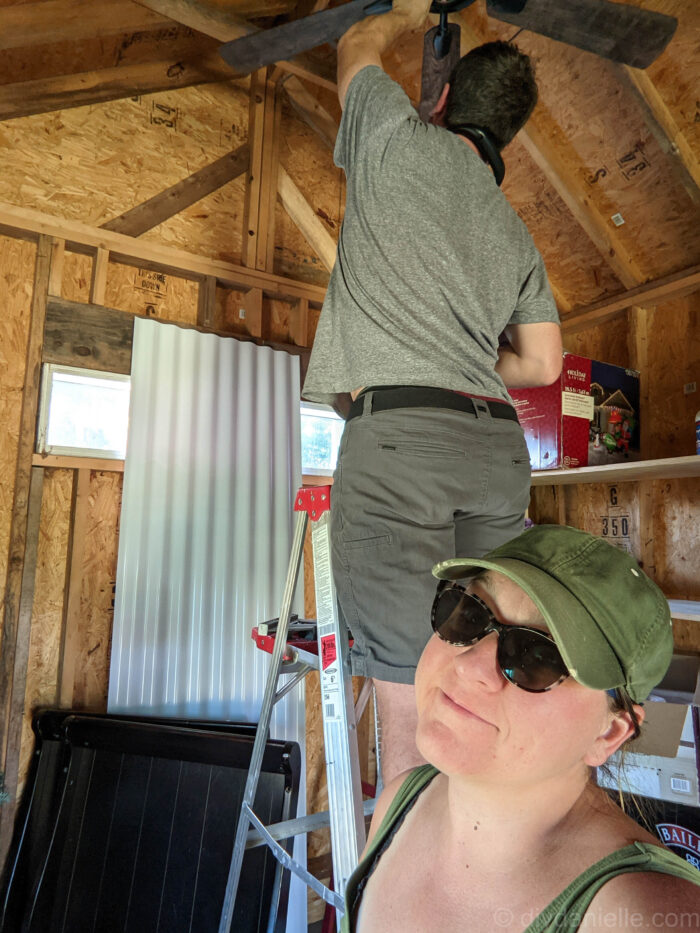 Yikes, it's crazy to look back on these photos and see how far we've come!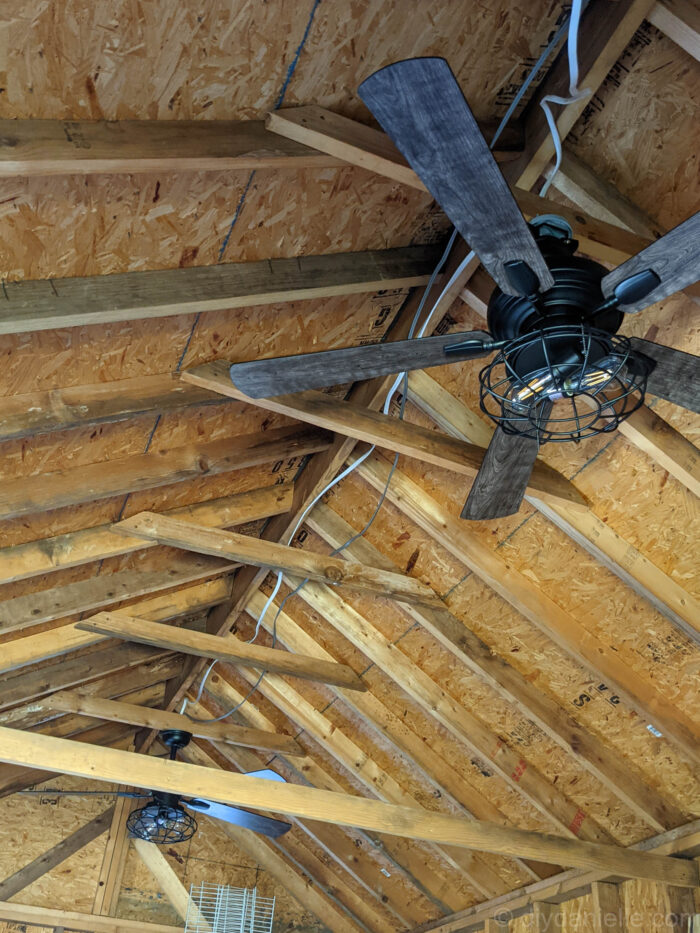 For task lighting, I choose the Cricut Bright 360 LED Floor Lamp. It is slim, but tall, allowing me to move it over my work at the couch, at my Cricut cart, or at my sewing table. I love that I can change the light color and the brightness depending on my needs.
We installed (4) windows for natural lighting. I have (2) Boom Arms that allow me to move my photography lighting around. White shear curtains adorn the window to help filter bright sunlight and they hang on pressure mounted rods. The shed is EXCELLENT for photographing in now which is really a game changer for me. I HATE trying to find the perfect lighting for photos and video!
Here's a YouTube video that I did showcasing my whole lighting setup:
Other She Shed Tutorials:
All of my DIY She Shed posts are located here, and you can find all of my DIY shed repair projects here (I have several sheds on property).
Please share and pin this post! If you make this project, share it in our Stuff Mama Makes Facebook Group. We have regular giveaways for gift cards to craft stores. You can also tag me on Instagram @doityourselfdanielle; I love seeing everything you make!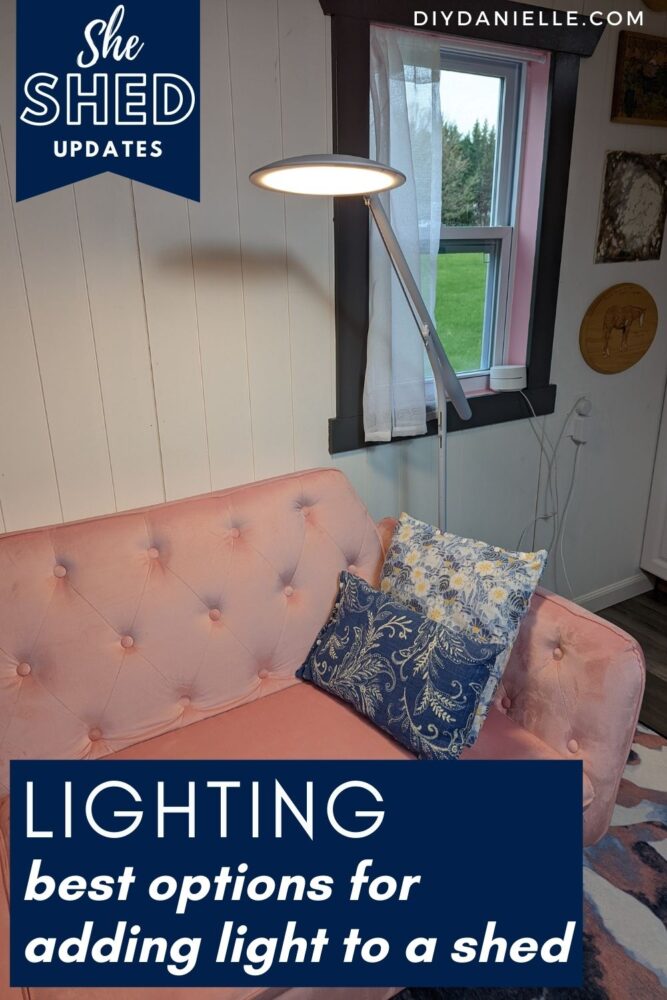 References