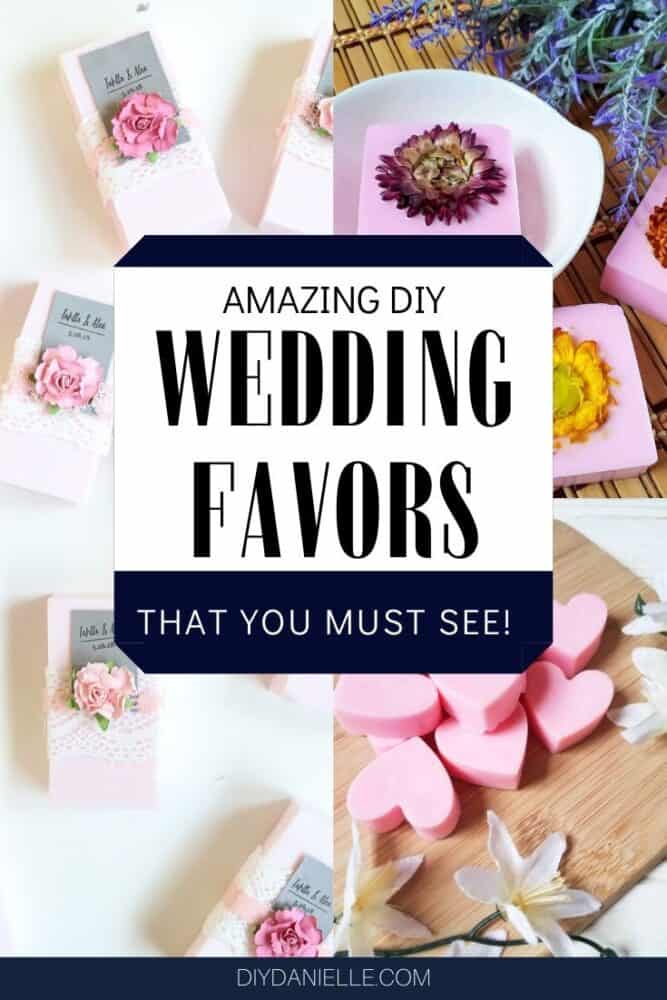 Unique wedding favor ideas, many of which you can DIY. These gifts are fun ideas that are practical and won't clutter their homes.
This post may contain affiliate links which may earn me commissions should you click through them and take certain actions. As an affiliate for Amazon, Cricut, xTool, Home Depot, and other sites, I earn from qualifying purchases. Please DIY carefully. View my full legal disclosures here.
Please read the whole post so you don't miss any important information!
I wish I'd been married in the days of Pinterest; I would have had SO MUCH FUN planning my wedding. The other day, I was thinking about what would make a great wedding favor. I love practical items that are consumable (edibles! soaps! etc.!) or useful.
Think about who your average guest is:
Are they families with young kids at home? Give something for them to take home to their kids
Is everyone traveling? Get a smaller item that can fit in their bags.
Are they families with kids attending? Bring something kid focused like candy.

Is everyone in their early 20s? Alcohol is a great gift!
At a wedding with all older married couples, household items like wine bottle openers or a pepper grinder might not make sense. They likely already have a drawer full of random kitchen items.
Here are some ideas that I thought of off the top of my head….
Easy Wedding Favor Ideas
Photo booth
Chocolate bars
Mini liquor or wine bottles
Cigar
Containers for/with a slice of cake or cupcake to go
Succulent
Sugar cookie
Homemade items: jelly, jam, wine, spices, extract, honey with a honey dipper
Fudge
Chocolate covered cherries
Candy
Koozies
Flip flops for people to use at reception
Donut table
Candy table
Make a donation in honor of each guest and leave a note regarding it on the table.
Personalized glasses for use at the reception (if your venue allows)
Small container of coffee.
Medicine kit for the morning after hangovers
Photo frame
To mail later: Professional photo of bride and groom with the guest and their family. You'll need to get the photographer on board for this one.
Bath bombs or other bath supplies
Soaps or felted soap
Luggage tags
Unique kitchen items: ie. We love our strawberry corer and our pineapple corer
Having your wedding during Coronavirus? You could make a basket of masks to hand out. If you want to get creative, you could add vinyl to the front or do themed masks.
Creative DIY Wedding Favors Your Guests Will Love
Not only are these DIY wedding favors creative, but they are all budget-friendly. You can also tailor them to match your wedding theme!
Want more DIY Wedding ideas? Check out these:
We gave out little bottle stops and bleh. I was disappointed when they came in because I didn't think they were very high quality considering the cost. My mother in law and sister and law made beautiful planters for the table with herbs that they gave to guests. THOSE were awesome and doubled as a florist item! Leave me a comment with your FAVORITE wedding favor you've received at a wedding!
Sharing is caring!