I have a wedding shower for a coworker coming up in a couple weeks at work and I wanted to get something personalized. I contemplated ways to make a book myself, but found that the books they sold in the store or on Amazon were just more reasonably priced and didn't have the margin of error that making my own would. I picked up this recipe organizer for only $19.99 and used a 40% off coupon on it at Hobby Lobby so it ended up being only around $12 (gosh hope that math was okay). I like that I can pull up the coupon for them on my smart phone and just show it to them at the register; it's just a little more environmentally friendly than printing the coupons. Amazon also has
recipe organizers
for sale, but of course you can't use a coupon on there. Our Hobby Lobby only had three options, however, and they weren't easy to find. I had to ask an employee. The only reason I didn't leave without finding them is that they had a Christmas one on one of the end caps. It was pretty neat, but come on people… it's not even remotely close to Christmas yet.
I have two of these recipe organizers, but I really like these newer books because they have cool stickers in them and a nice conversion chart. That's awesomeness! I put a couple pictures so you can see how cool this is. One word: STICKERS.
I left most of the book empty for her to fill out, but I added about 5 different recipes that I really enjoy to her book so it's a bit more personal. I'm so excited. I love finding cool gifts and I think these are so much fun.
I may see if anyone else would like to split the cost of this/the gift with me and add their own recipes. I'm not too concerned about the cost, seeing the book was really reasonable with the coupon, but I'd love to see other people's recipes in it.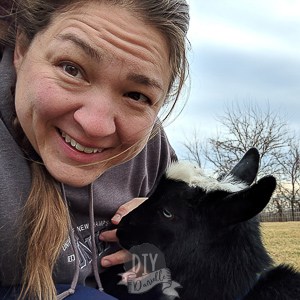 Danielle Pientka is the sewing and DIY blogger behind DIYDanielle.com. She taught herself to sew in 2011 when she wanted to make cloth diapers for her first son. She's been sewing everything from ecofriendly items to kids products to clothing since, as it has become a passion. She loves learning how to do new things and teaching others in the process. She hopes to inspire other moms to take time for themselves to find their own creative passion.
Danielle lives in Maryland with her three young sons and her husband, Brandon. In her spare time, she gardens, reads, horseback rides, and has a small homestead with goats and ducks. Visit her shop to buy patterns or her sewing eBooks. Subscribe to her newsletter to get blog updates, free patterns and other printables by clicking here.